While enjoying your trip to bella Roma, you'll taste some of the best bites ever – carbonara, suppli, fried artichokes… but there's one little snack you definitely shouldn't skip: the maritozzo! The pastry is truly a symbol of Rome, you can enjoy it all day long, though more commonly it's eaten with a quick caffè in the morning. What's a maritozzo exactly? Read on to find out and discover our favorite spots in Rome to grab one!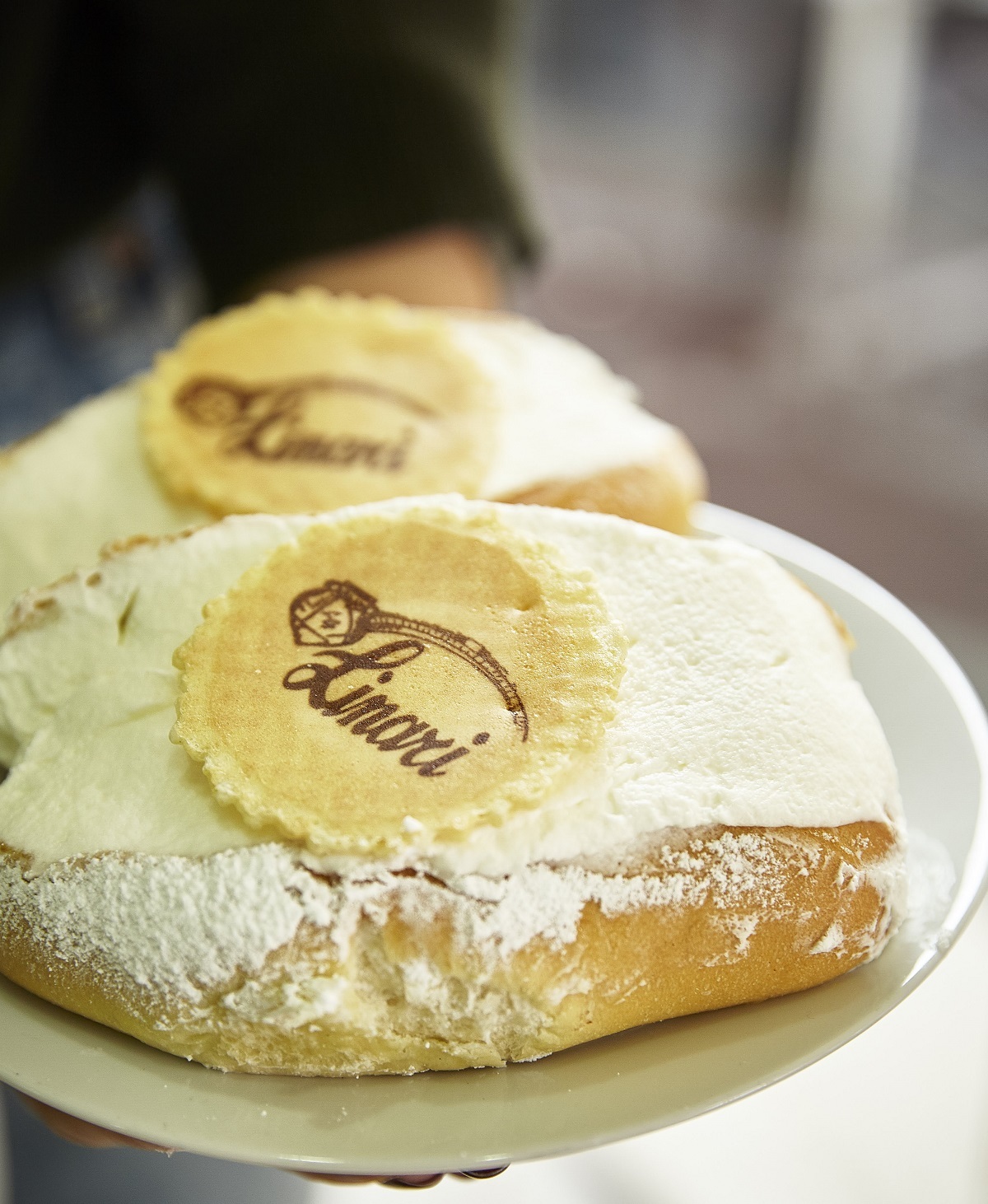 What is a maritozzo?
A maritozzo is a traditional sweet bread roll, filled with fluffy panna – like whipped cream. This little delight comes from Rome and is usually served for breakfast or as a dessert.
The bread is made with a slightly sweet yeast dough enriched with eggs, butter, and sugar. The dough is shaped into an oval bun and then filled with cream, and sometimes even extra sweets like candied orange peel or raisins. Maritozzi are often dusted with powdered sugar before serving. It is a favorite local treat in Rome and can be found at bakeries and cafes throughout the city.
How did the maritozzo come to be?
No one is too sure about how the maritozzo came around, and there is no one person credited with inventing it. However, it is agreed that the recipe has always been Roman. There are historical references to the sweet dating back to at least the 1700s.
Then if we look even further back, it appears the tradition of a sweet leavened bread roll was a popular gift even as far back as ancient Rome.
The name maritozzo is a play on the Italian word marito, which means "husband". It's said that these were given as gifts by men to their future brides, or exchanged between young lovers.
The origins of the maritozzo may still be unclear, but it remains an iconic and beloved food of Rome.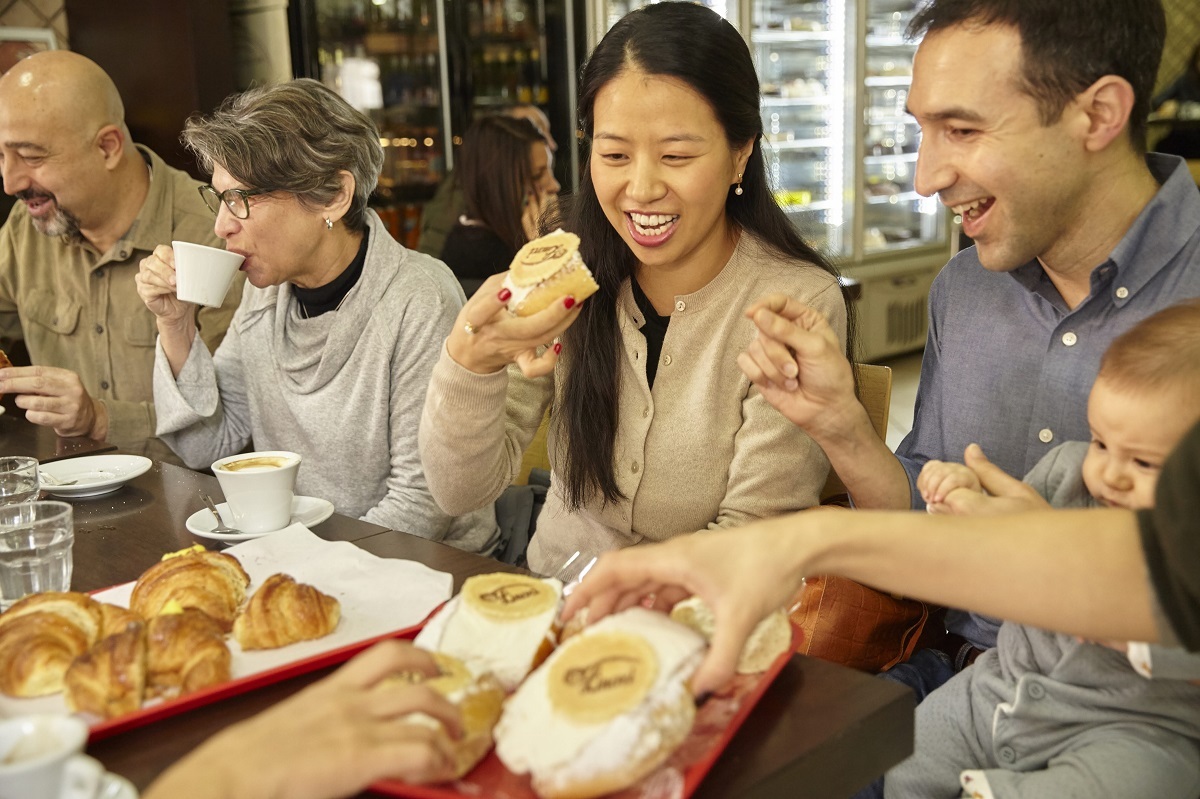 Where to find the best maritozzo in Rome
You'll find a maritozzo in nearly every pasticceria in Rome, and we have to say, we've never had a bad one, but such maritozzi just makes our mouth water more than others. Here are a few of our favorite spots in Rome for an excellent maritozzo:
Il Maritozzaro
We have to start by sharing our first hidden favorite. Il Maritozzaro is a legend. Located around the corner from Trastevere station, it is quite a ways out of the usual path through Rome. But trust us, it is worth the detour! This corner cafe is famous for its maritozzo. You'll get a freshly baked bun filled with delectable whipped cream. Sometimes they even sweeten things up a little more with a drizzle of chocolate. Next time you are headed to Porta Portese Market or find yourself near Trastevere, go a little further and grab breakfast here!
Pasticceria Regoli
A roman classic, this historic bakery in Rome's Esquilino neighborhood has been serving traditional Roman pastries and sweets since 1916. And of course, they make an excellent maritozzo. They prepare the dough a day in advance, letting it set and rise with time. When they make maritozzi during Lent, they change their recipe just a tad. During this time they leave out the fats: butter and eggs, but add pine nuts and raisins.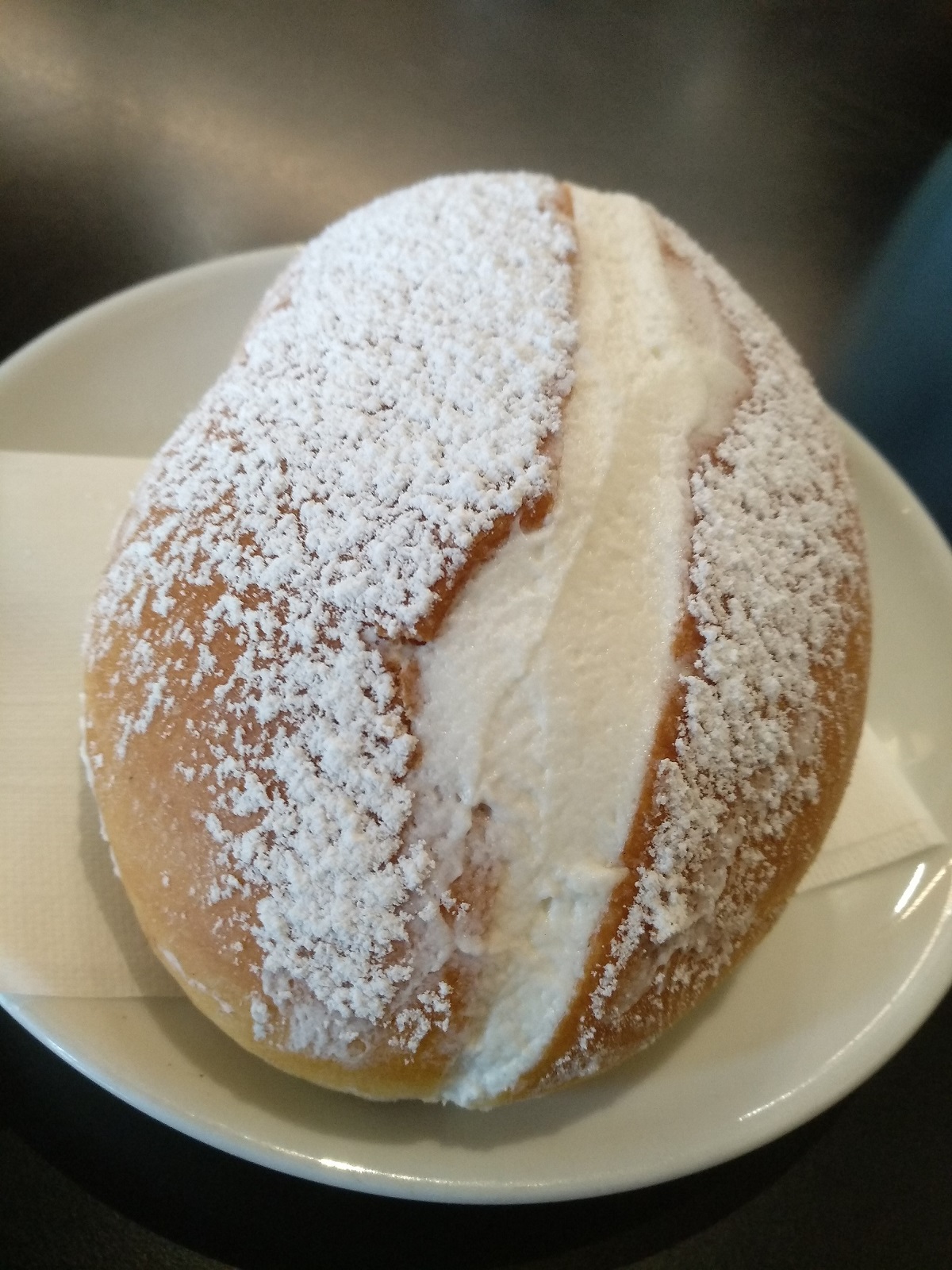 Roscioli
Much like Regoli, Roscioli is a family classic that has been serving Romans for generations. However, they only recently started serving our favorite pastries and coffee, they actually began as a local salumi shop. But the family's love for good food and visitors' love for their selection inspired them to grow to become a restaurant, and cafe. As they love to share the best taste of Rome, it's only right they serve one of the best maritozzi in the city.
Il Maritzzo Rosso
Now, to try a creative spin on the Roman classic, you have to head to Il Maritozo Rosso. Located in Trastevere, here they serve over-the-top Maritozzo, dripping with sweet pistachio cream, plus they are well known for their maritozzi salati, savory maritozzi! Every day they have a new menu, filling the fluffy bun with local delights like amatriciana sauce.
Casa Manfredi
There's no better way to start the day than with a golden maritozzo and specialty Lavazza caffè from Casa Manfredi. They serve Lavazza's 1895 specialty line and serve all their pastries baked fresh. You'll find them just around the corner from Circo Massimo. While Casa Manfredi may be a newcomer to Rome's pastry scene, the baker Giorgia Proia has already made it a must for locals and visitors alike.
These are just a few of our favorites, but Rome's streets are filled with little bakeries serving warm maritozzo. Our best advice: never say no, try them all!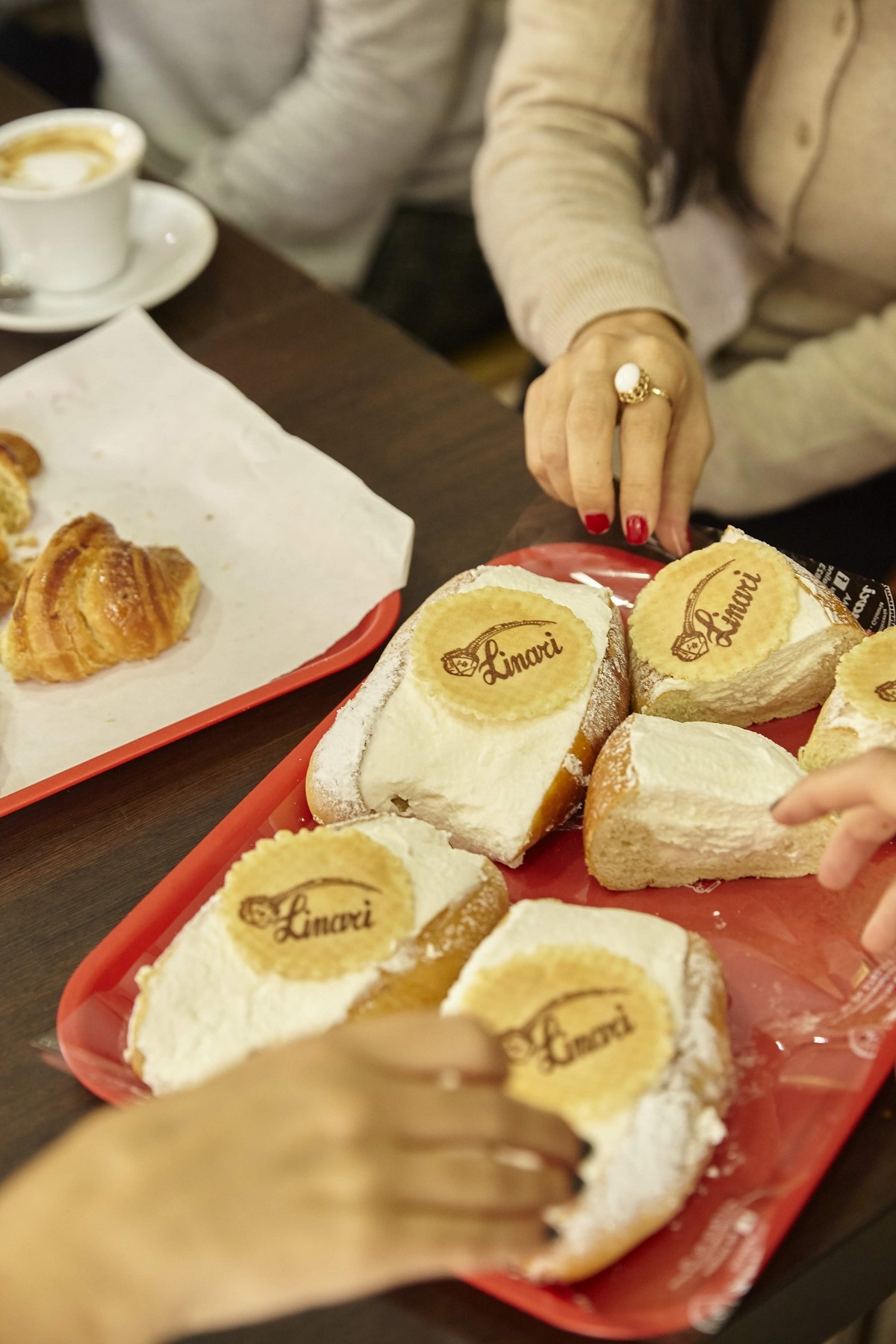 Maritozzo Recipe
When Rome is far away, make your own maritozzo!
We know this post has probably got your mouth watering, and we've got you dreaming of waking up in Rome. But even if Rome is far from home, you can enjoy a maritozzo, try this recipe to make it on your own!
Every bakery has its own recipe, but here is a recipe taken from the masters at Roscioli Caffe:
Ingredients for 15 maritozzi:
Dough:
500g manitoba flour
250 ml natural mineral water
65 g butter
65 g granulated sugar
10 g fresh brewer's yeast
2 eggs
A pinch of salt
One Lemon (Zested & Juiced)
1 vanilla bean
Coating:
1 egg white
20ml water
50 g confectioners sugar
Filling:
whipped cream
powdered sugar
Procedure:
1. Pour the flour into a mixer and gradually add the 250ml water.
2. When the water has blended, add all the other ingredients until the dough is smooth and elastic.
3. Transfer it to a large bowl, cover it with plastic wrap, and let it rest in the refrigerator for 24 hours.
4. Remove the plastic wrap and empty the dough onto a lightly oiled surface.
5. Divide the dough into 60-70 g balls. knead the individual balls, pressing gently on the ends to make slightly oval shapes. Let the maritozzi rise covered with a damp cloth until almost doubled in size.
6. Bake at 200°C for 15 minutes, making sure the maritozzi are light at the edges and golden brown at the top.
7. Whisk the egg white with the sugar and lemon juice. Slowly add the water and mix. Put on the stove on a low flame and cook for 5 minutes, never stopping stirring. Turn off the flame, and let it cool. Brush the maritozzi while still warm, but not too hot.
8. Wait for the maritozzi to cool then cut them in half lengthwise and open them slightly. Into the resulting pocket insert plenty of whipped cream lightly sweetened with powdered sugar.
Enjoy your very own maritozzo!
There's one more maritozzo spot we love, but we want you to discover it with us! Join us on our Testaccio Neighborhood Food & Market Tour, where you'll enjoy breakfast and lunch at some of our favorite spots in Rome – including a fantastic pastry shop with maritozzi!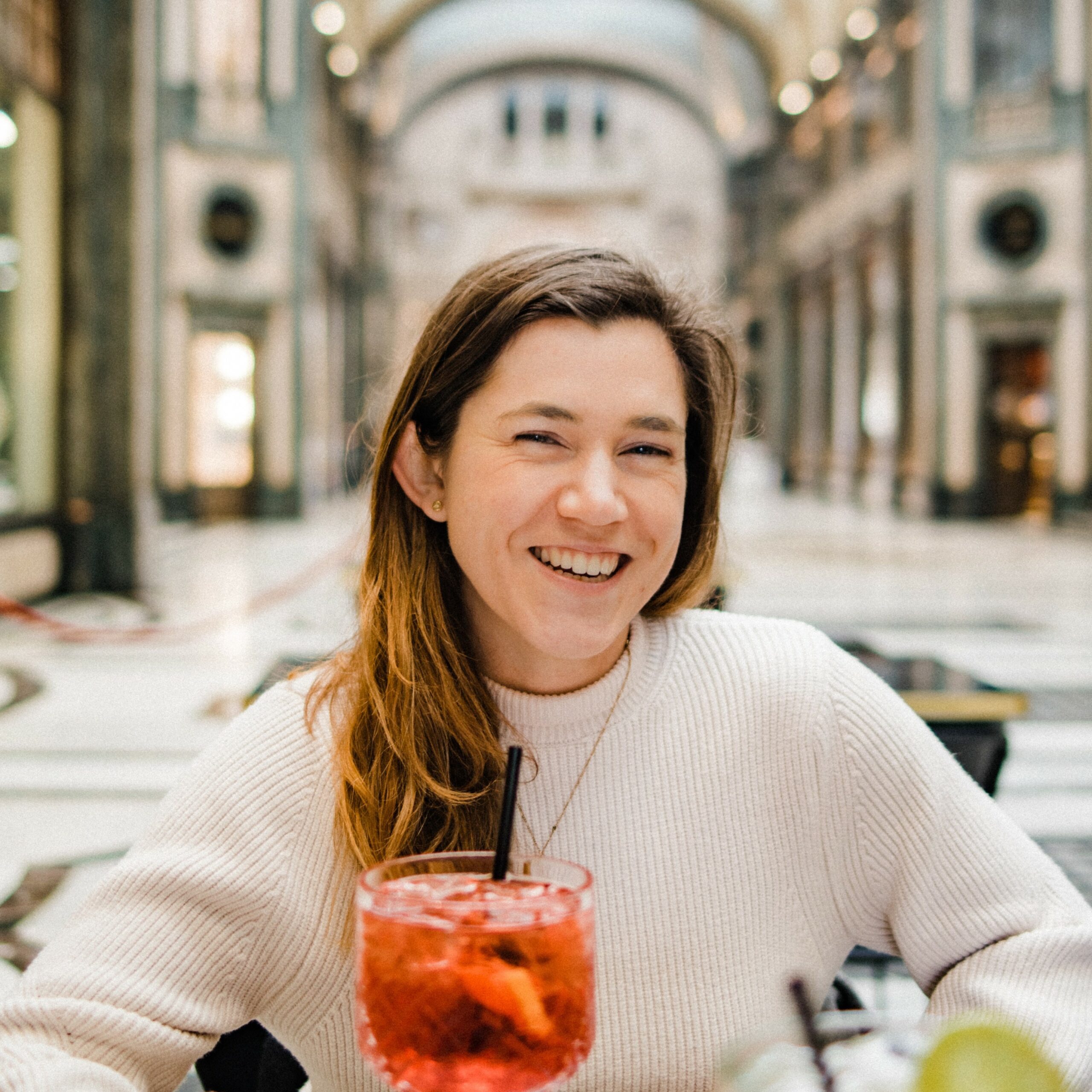 An Italy local for nearly 10 years, Evelyn has traveled to nearly every region getting overly excited about cute doors and nonni cafes. She's an archaeology and art history major who fell in love with Italian wine, getting her Sommelier and Italian Wine Scholar certifications. She's transformed her passion for La Bel Paese into a travel planning and relocation consultancy with Colline Alle Montagne. You'll find her on Instagram @collinemontagne, always sipping a glass of wine and sharing the authentic life in Italy.