If you want to see Madrid's beauty, wander its narrow streets or explore its sprawling parks. But if you want to know Madrid—its people, its culture, its vibrancy—head to its food markets. Here, the heart and soul of the Spanish capital are on display.
With 3.2 million residents, many of whom are transplants from other regions, Madrid is the most diverse city in Spain. Each of its neighborhoods has a distinct personality, and nowhere is this more apparent than in Madrid's food markets.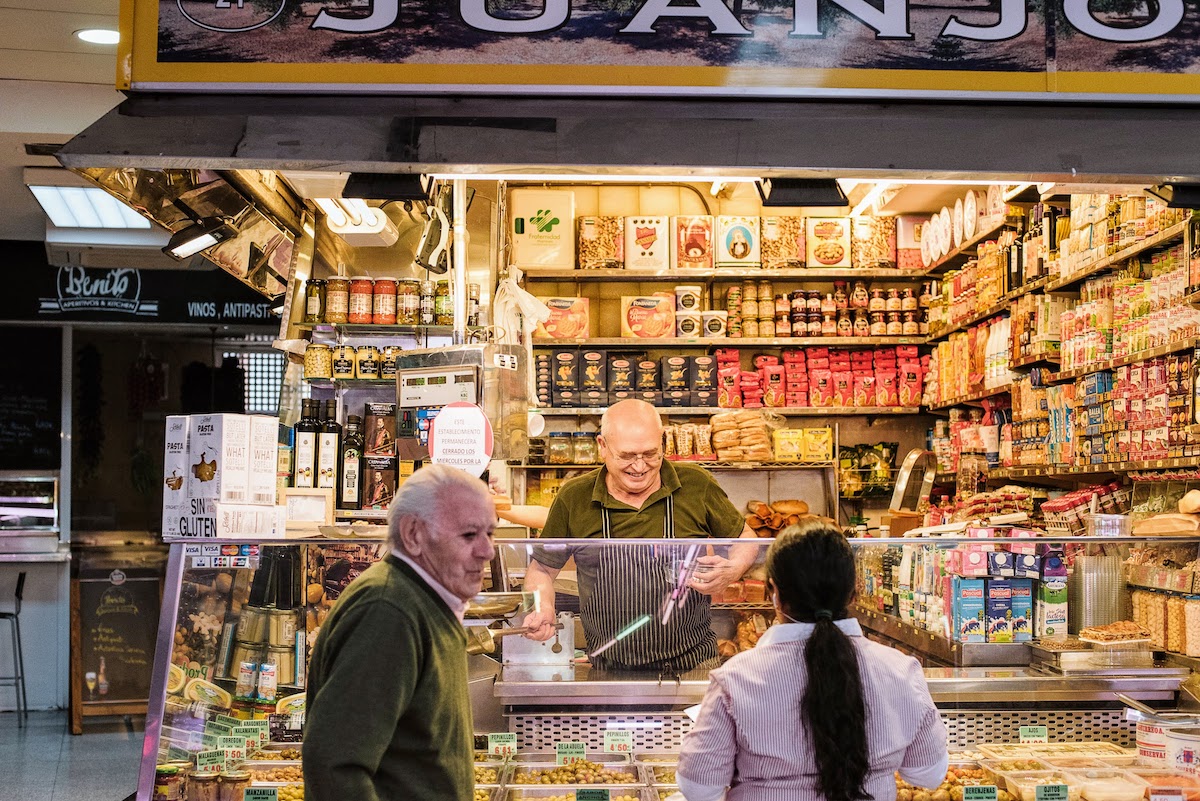 Mercado de la Paz in the ritzy Salamanca district, for example, features shops with pricey spreads and conserved delicacies. On the other hand, in bohemian Lavapiés, stands of organic foods and craft beers speckle the San Fernando Market.
If you're looking to experience the Madrid of the locals, strolling through these Spanish markets is the best way to do it! These are some of the Madrid food markets no gourmand will want to miss.
Mercado de San Miguel
With a prime location just outside Plaza Mayor, Mercado de San Miguel has become a bit of a tourist hotspot. As you stroll through this most famous of Madrid food markets, you'll see people from all around the world and feast on food from every corner of Spain.
Unlike many other markets in Madrid, where locals do their weekly grocery shopping, San Miguel is all about eating. The majority of its stands serve tapas, pastries and snacks rather than hawking fresh food products. It's a gathering place where people meet to sip vermouth and snack on everything from olives to oysters.
While it seems like a tourist trap, the Mercado de San Miguel is worth a visit, especially if you're new to Spanish food. There's no other place in Madrid where you can experience so many foods from all across Spain, all under one roof. Get familiar with some common drinks and dishes here—then you'll know what to order when you tackle the tapas bars and restaurants on your own!
Where to eat at Mercado San Miguel
With its diverse variety of food and drink, the Mercado de San Miguel might seem overwhelming to a first time visitor. (How are you supposed to pick from among so many delicious options?) Start with vermouth and local olives at La Hora del Vermut. Next, move on to La Casa del Bacalao for a taste of the ocean. Mix and match the huge selection of fresh seafood to eat like a true Spaniard!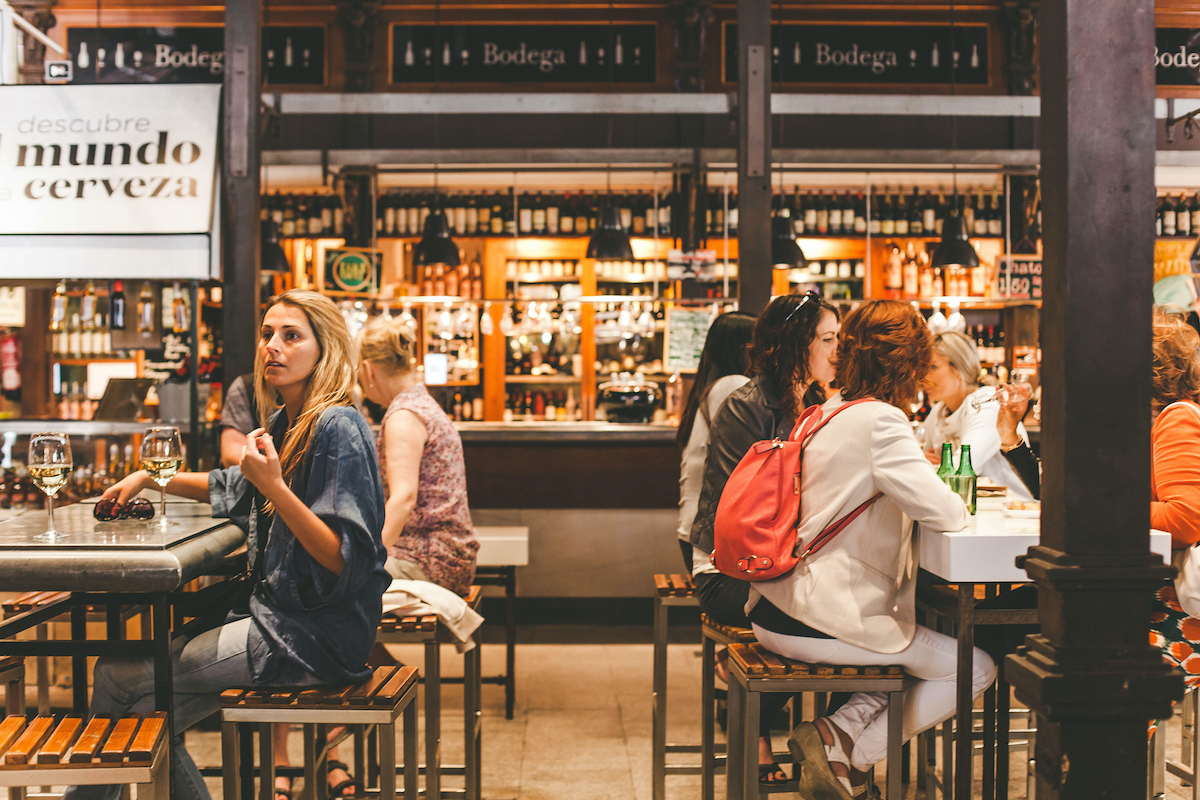 Mercado de Maravillas
The Mercado de Maravillas, another one of Madrid's best food markets, is in the Cuatro Caminos district. This market absolutely lives up to its name, which translates to "market of wonders"!
Walking through this historic market is like taking a behind-the-scenes tour of Spanish gastronomy. More than 200 stalls selling fresh fruits, fish, meats, cheeses, olives, and more create a maze of colors and flavors. Its fresh products and raw ingredients tell the story behind the flavors of everything from classic Madrid-style cocido to legendary paella.
Here you can also buy the rarest of Spanish delicacies, from live snails and crabs to cow tongues and lamb skulls. As if that weren't enough, you can also find products from around the globe, like chiles from Mexico, fresh pasta from Italy or rice from South Korea.
Where to eat at Mercado de Maravillas
Don't miss Aji Dulce for authentic Venezuelan food, including homemade empanadas bursting with flavorful fillings. Save room for a sweet treat from Ariani, a Latin American bakery serving up tasty sweets.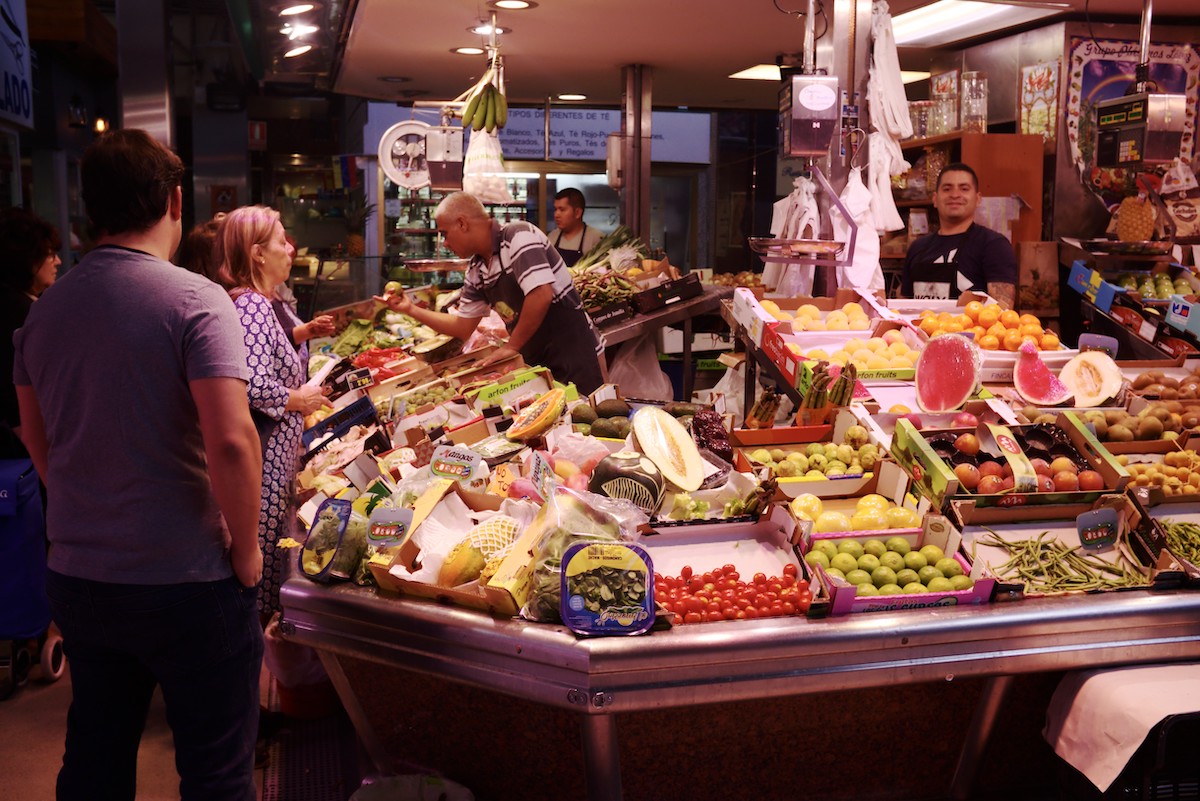 Mercado de la Paz
Mercado de la Paz is tucked away in Barrio Salamanca, one of the wealthiest and poshest areas of the city. This market is a glamorous mix of raw food stands, tapas and wine bars, and specialty food shops.
The century-old market is an ideal place to pop in for a lively afternoon tapa or to shop for a jar of expertly preserved Spanish anchovies, white asparagus or foie gras pâté. Despite its ritzy location, most vendors have been there for decades. This is one of the Madrid food markets where you'll feel right at home as you shop for Spain's best offerings.
Where to eat at Mercado de la Paz
Tortilla de patatas is the closest thing Spain has to a national dish, so why not try it at the spot that makes the best version in town? Casa Dani is well known by locals as the home of one of the best tortillas in Madrid (and it may just be the best one in Spain). Unleash your adventurous side and try the omelet with salsa de callos, or tripe sauce.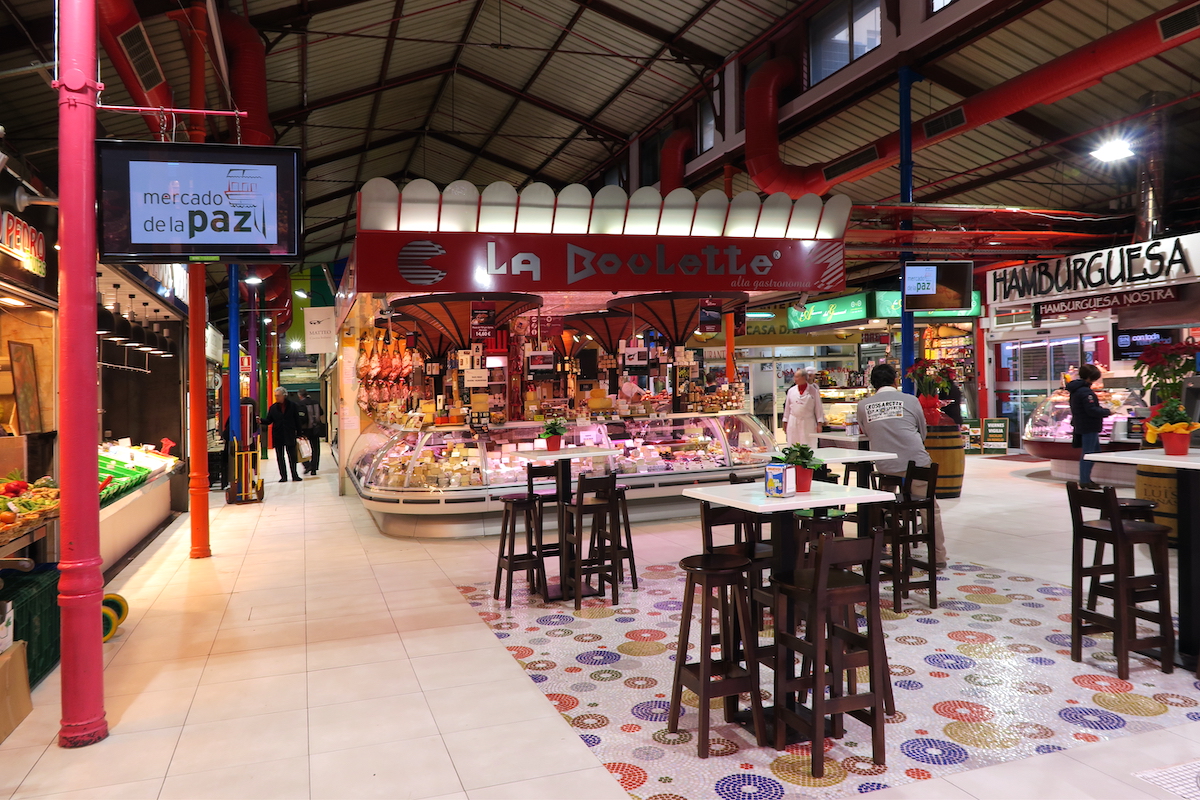 Mercado Antón Martín
You know you're getting close to Mercado Antón Martín when the typical bars and cozy cafes of the Lavapiés neighborhood are swapped for the florescent lights of butcher shops. Racks of lamb and giant cuts of beef shoulder mark the path to the market, lining the street between the Antón Martín metro stop and market.
But there's a method to this madness—the street stalls are a lasting part of the original market, which has been operating for over a century in total. The market building itself was constructed in 1941 and houses a true foodie paradise inside.
The two-story market building itself is packed with organic food stalls, wine bars, and Iberian ham and cheese shops. There's even an area dedicated to cooking demonstrations and small art exhibits and a shop that sells only craft beers!
The "indie" vibe of this market is a direct reflection of the neighborhood it is in. Straddling Madrid's immigrant neighborhood and the historic literary quarter, the market and its surroundings have a distinctly bohemian vibe.
Where to eat at Mercado Antón Martín
This is one of our favorite Madrid food markets to visit for a bite to eat, so it's a bit hard to narrow down! For ice-cold beer and exquisite Spanish seafood, El Tarantín de Lucía is a fantastic stop. For something more international, check out the Italian fare at La Saletta or Yokaloka for some of the best Japanese in the city.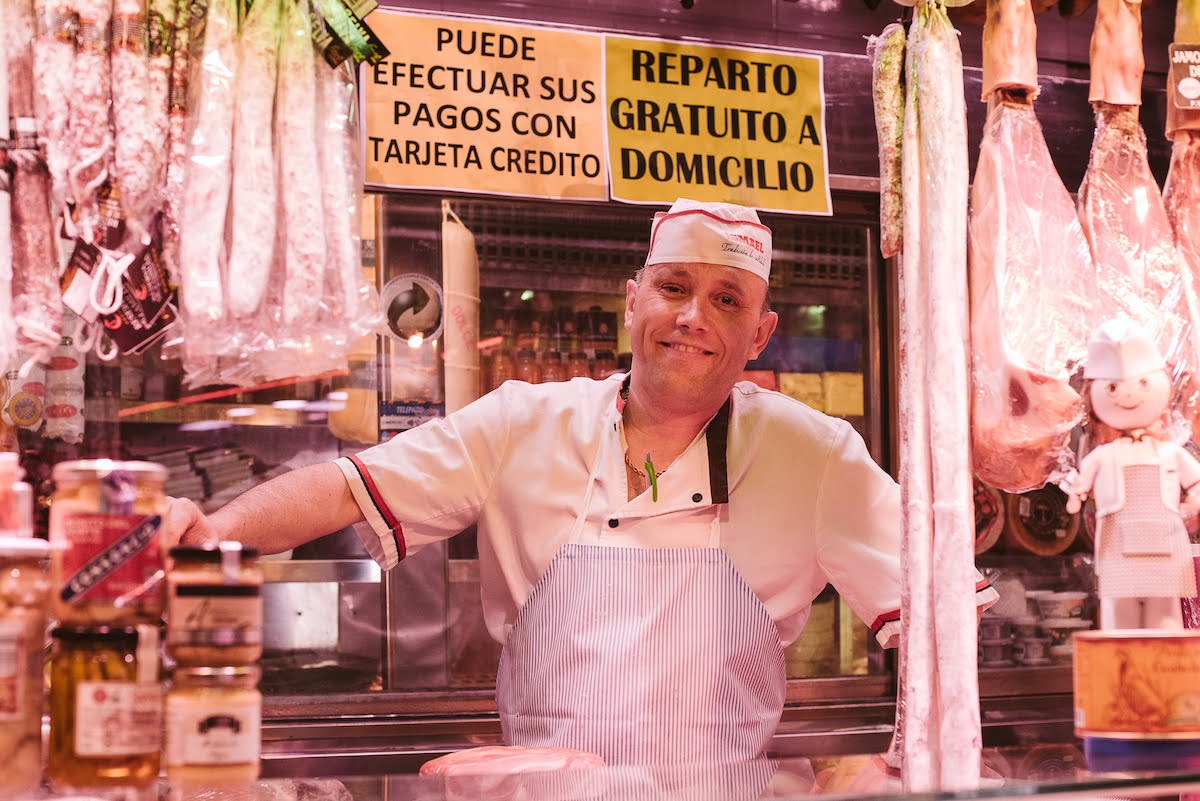 Mercado de San Antón
Steps from the namesake plaza of Madrid's colorful Chueca neighborhood sits the Mercado de San Antón, a multi-story gastronomic paradise. Here you can enjoy tapas from each region of Spain, shop for organic olive oil or gourmet hamburger meat, or enjoy a beer and incredible views at one of Madrid's best rooftop bars.
Mercado de San Antón may seem a bit like the Whole Foods of Madrid food markets, with its sleek modern design and array of fresh fruits, vegetables and prepared meals. However, at its core it's still a local food hall dedicated to promoting the best of Spanish gastronomy.
Where to eat at Mercado de San Antón
The market's rooftop restaurant and bar, La Cocina de San Antón, serves up modern takes on Spanish classics in a vibrant and colorful space. They even offer fun group events, such as cocktail workshops, wine tastings, and jamón-cutting master classes!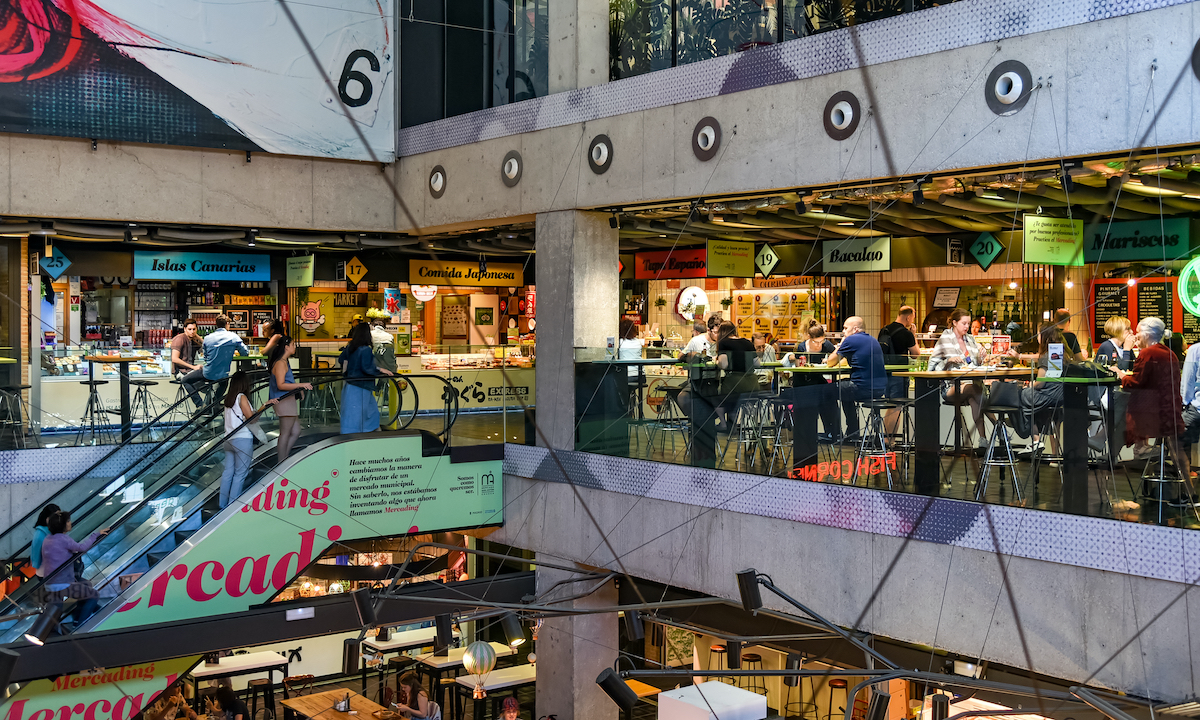 Mercado de San Ildefonso
The trendy and cosmopolitan Mercado de San Ildefonso was Spain's first market dedicated entirely to street food. It occupies the same space that an old traditional market of the same name once did. While you won't find any fresh food stalls or locals grocery shopping here, the contemporary San Ildefonso Market stays true to its roots, using high-quality products in every dish at every stall.
Here, you can truly eat your way around the world. From customizable Venezuelan arepas to simply really good grilled Iberian steaks, you can find everything you've ever dreamed of all under one roof.
Where to eat at Mercado de San Ildefonso
The Korean-Japanese fusion at Akma is unlike anything else you'll try in Madrid. Take your tastebuds on a trip to Asia and enjoy the mouthwatering flavors of two of the continent's most incredible cuisines.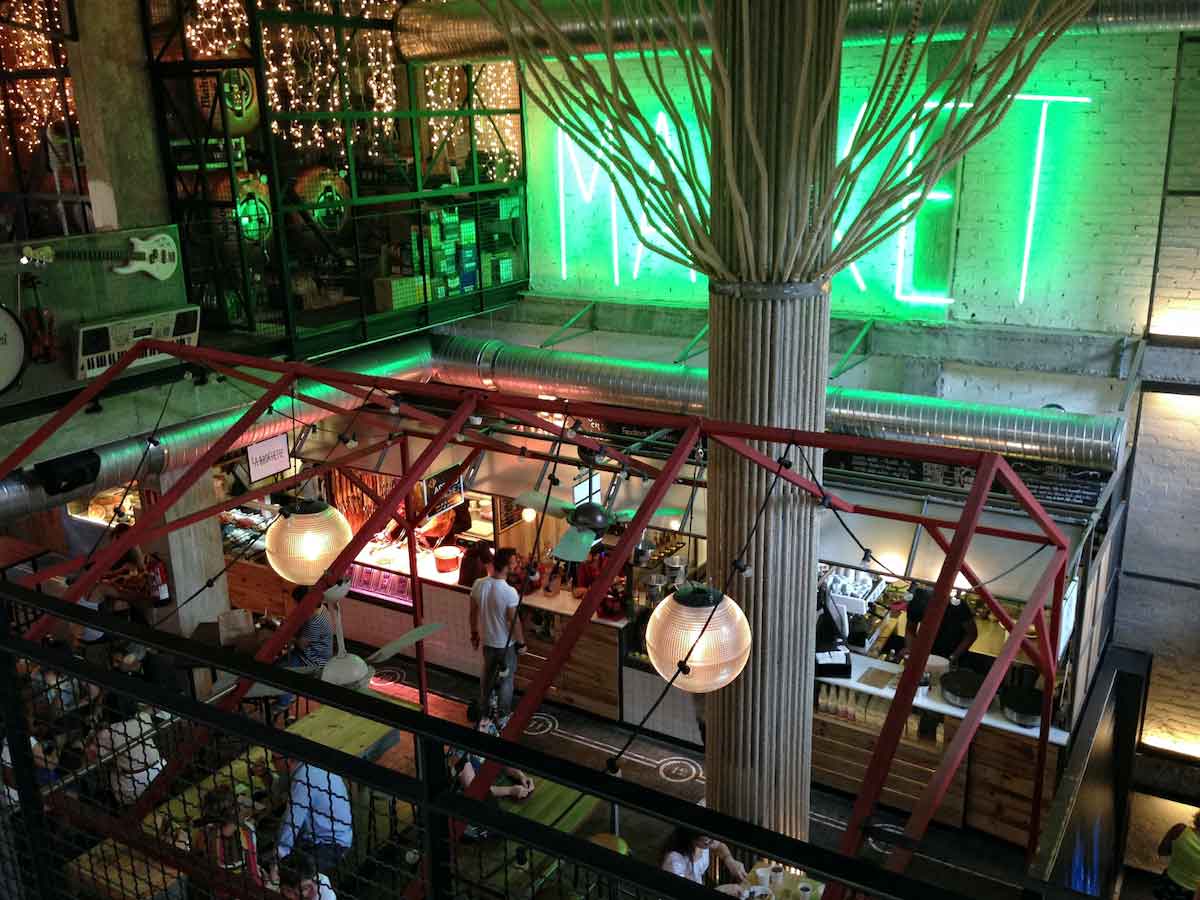 Mercado de San Fernando
You'll find a little bit of everything at the Mercado de San Fernando. Another neighborhood gathering place in multicultural Lavapiés, this market sells everything from fresh produce to clothes and even books.
But we know you're really here for the food, and it certainly doesn't disappoint on that front. Here, traditional grocery stalls stand alongside international food offerings in a perfect representation of Lavapiés itself. A recent renovation gave the market a fresh new look, but it hasn't lost any of its charm in the process.
Where to eat at Mercado de San Fernando
Chow down on delicacies from Spain's western neighbor at Mercadillo Lisboa, a tiny Portuguese bar with tons of character. And don't miss the incredible tacos made with market-fresh ingredients at Mexican favorite La Tentación.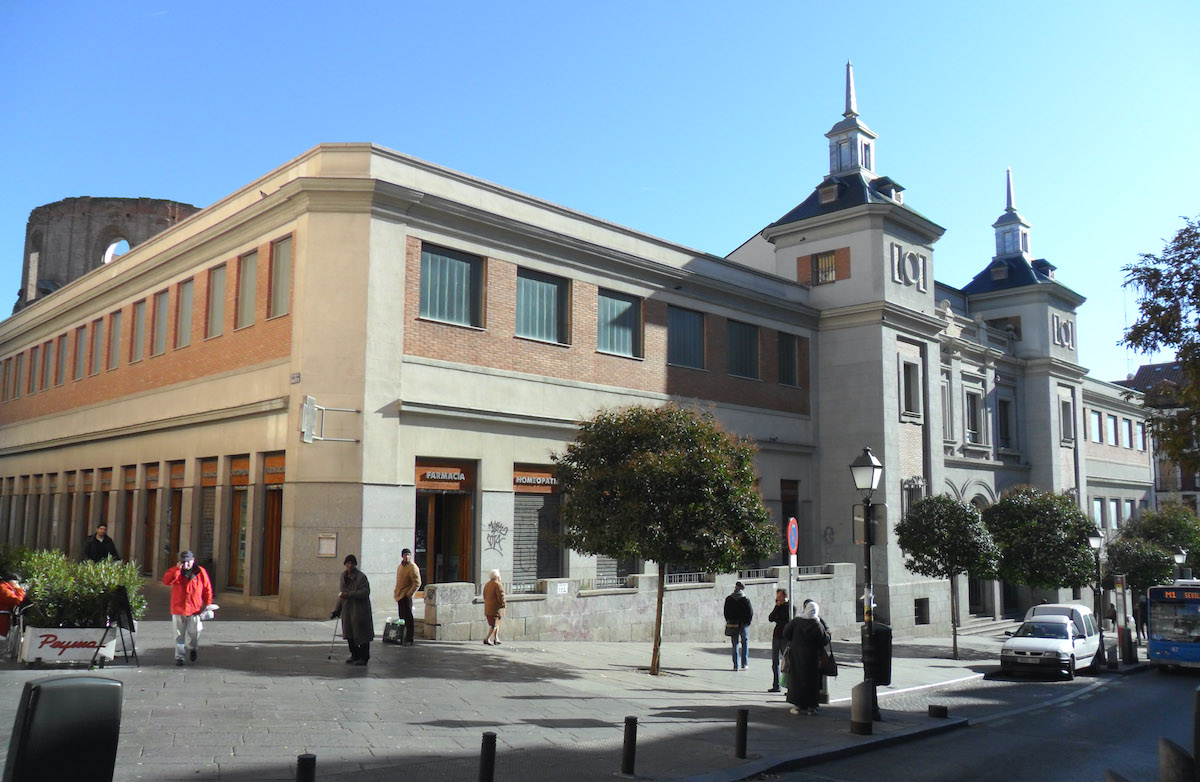 Mercado de Mostenses
Despite its location just a few blocks off of busy Gran Vía, Mercado de Mostenses couldn't feel more local. It's one of the oldest food markets in Madrid, and the perfect place to witness how the city's gastronomic culture has evolved over the decades.
Here, you can stock up on essential fruits, veggies, and meats for the day while also stumbling upon some unexpected delicacies from across the world. The market is home to a large variety of Latin American and Asian stalls, showcasing Madrid's proud immigrant culture and offering a rich blend of flavors from all corners of the globe.
Where to eat at Mercado de Mostenses
This market is home to some of the best Peruvian cuisine in Madrid. El Chiringuito Peruano and Cafetería Lily both offer an incredible, fairly priced look at this fascinating gastronomical offering. You can't go wrong with either!
Mercado de la Cebada
La Latina has long been considered one of Madrid's best neighborhoods for foodies. And the local food market, Mercado de la Cebada, is proof of that.
This colorful gastronomic space has been one of the best Madrid food markets since 1875. Taking only a brief hiatus in the 1950s in order to construct its current building, it has consistently thrived throughout the decades.
If you're in town on a Saturday, be sure to stop by around lunchtime when all of the market's seafood stalls convert into pop-up tapas bars—a tradition known as la mariscada.
Where to eat at Mercado de la Cebada
Discover a fascinating world of flavors at Té y Mi Gordy, which sells premium loose-leaf tea from all over the world. A fusion of new-world and old-school, they still let patrons pay in pre-Euro pesetas! Beer enthusiasts will love Bier Pause, a German stand with sausages, pretzels, and of course, tons of beer options. Finally, classic Madrileñan fare such as croquettes, pig's ear, tortilla, blood sausage, and more can be found at more traditional stands like Bar Doña and Barcologico.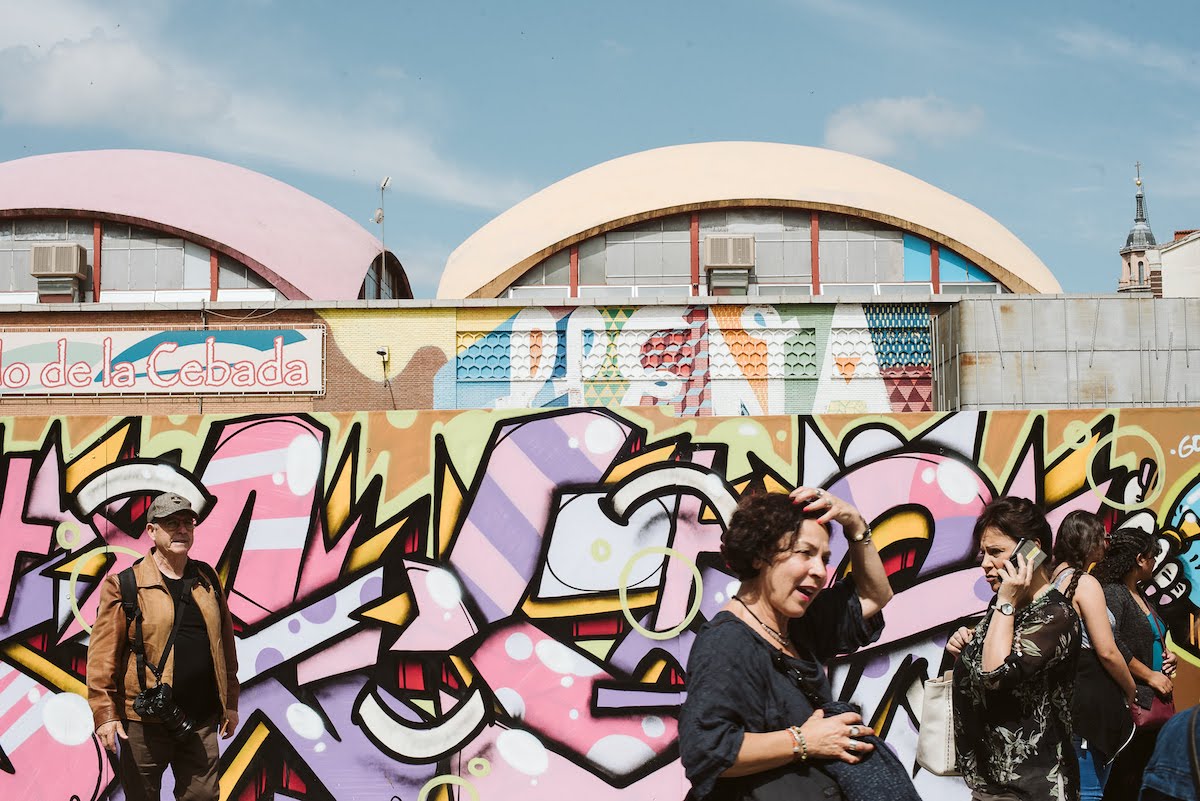 Food Markets in Madrid FAQs
What is the name of the famous market in Madrid?
The most famous Madrid food market is the Mercado de San Miguel. Its central location, gorgeous architecture, and offerings of food from across Spain make it a popular stop for visitors to Madrid.
What market do the locals shop at in Madrid?
Most Madrid locals will shop at their closest neighborhood market. It's not uncommon for madrileños to become friendly with their favorite stall owners and meet up with friends and family for a drink or a bite to eat at a market bar after shopping. Markets are more than a place to buy food—they're social gathering spaces!
Update notice: This post was updated on June 26, 2023.