You could climb the Eiffel Tower, stroll down the Champs-Elysées, and spend the rest of your time in the French capital getting lost among paintings in the Louvre. But if you don't eat out in Paris, you'll have missed out entirely.
Food is an integral part of French culture. So much so, in fact, that UNESCO declared the French way of eating an Intangible Cultural Heritage in 2010!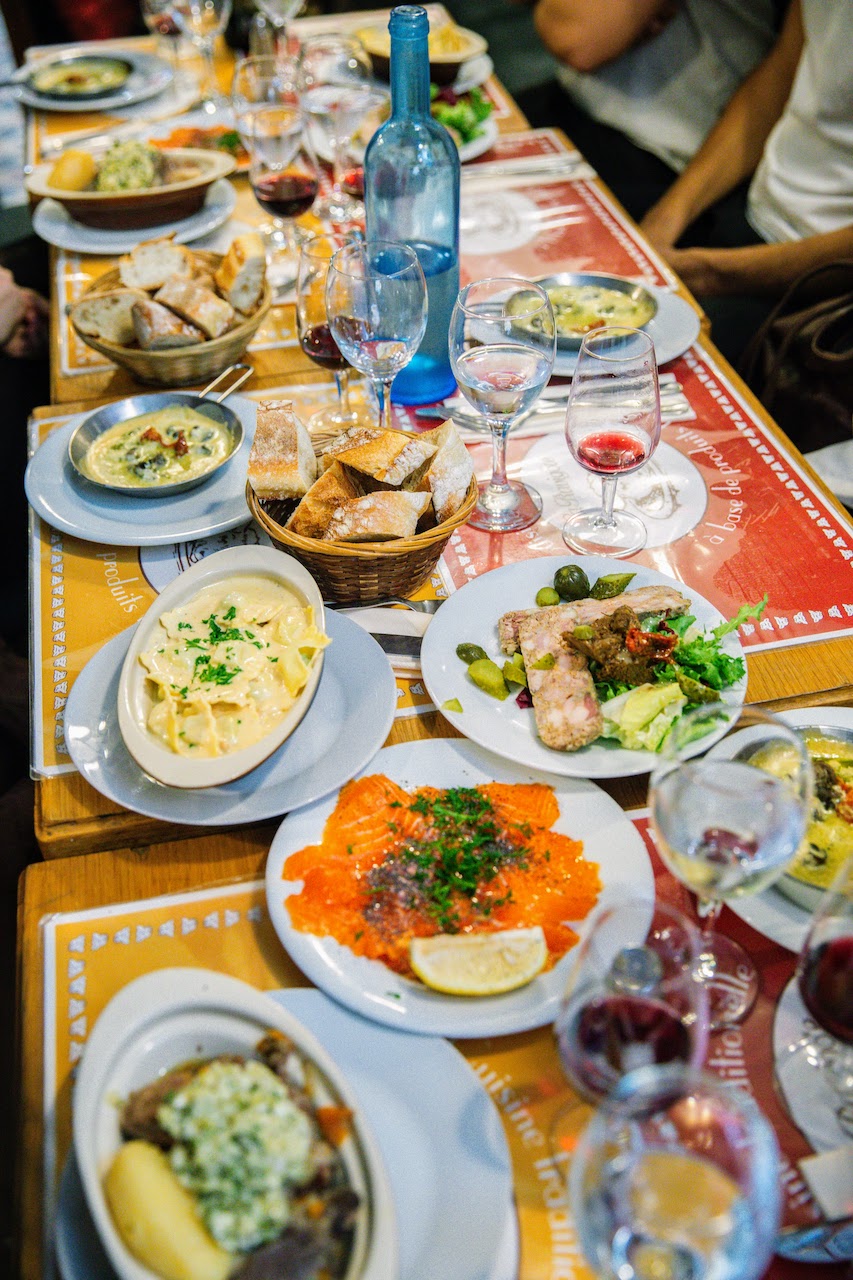 To better understand the country's love for our gastronomy, there's only one way: eat it all! Or at least, start with some of the most famous food in Paris.
These seven examples of famous food in Paris are the perfect way to fall in love with French cooking. To make your mission easier, we've even included a recommended address or two where you can try each bite. Bon appétit!
The Most Famous Food in Paris—And Where to Try It
Croissants: Cheap, yet unforgettable
Start your day like a true Parisian and get yourself an all-butter croissant for breakfast!
Croissants may look simple, but these perfectly flaky pastries require time (we're talking several days!) and a whole set of skills to perfect. Whether you have them with your coffee, orange juice, or on their own, croissants are guaranteed to brighten up your morning!
And no need to worry about missing out on precious sightseeing time to sit down for breakfast. While lunch and dinner are more sacred sit-down affairs, breakfast on the go is completely acceptable here in France, so you can enjoy your croissant wherever.
Where to try them: Stay away from frozen industrial croissants and only order your pastries from true artisan bakeries. A great option is La Maison d'Isabelle (47ter Boulevard Saint-Germain), which has received an award for the Best Croissant in Paris. This boulangerie makes truly unforgettable croissants using organic flour and certified butter from the Charente-Poitou region. 
For another one of our favorite croissants in Paris, join our Paris Pastry & Chocolate Tour!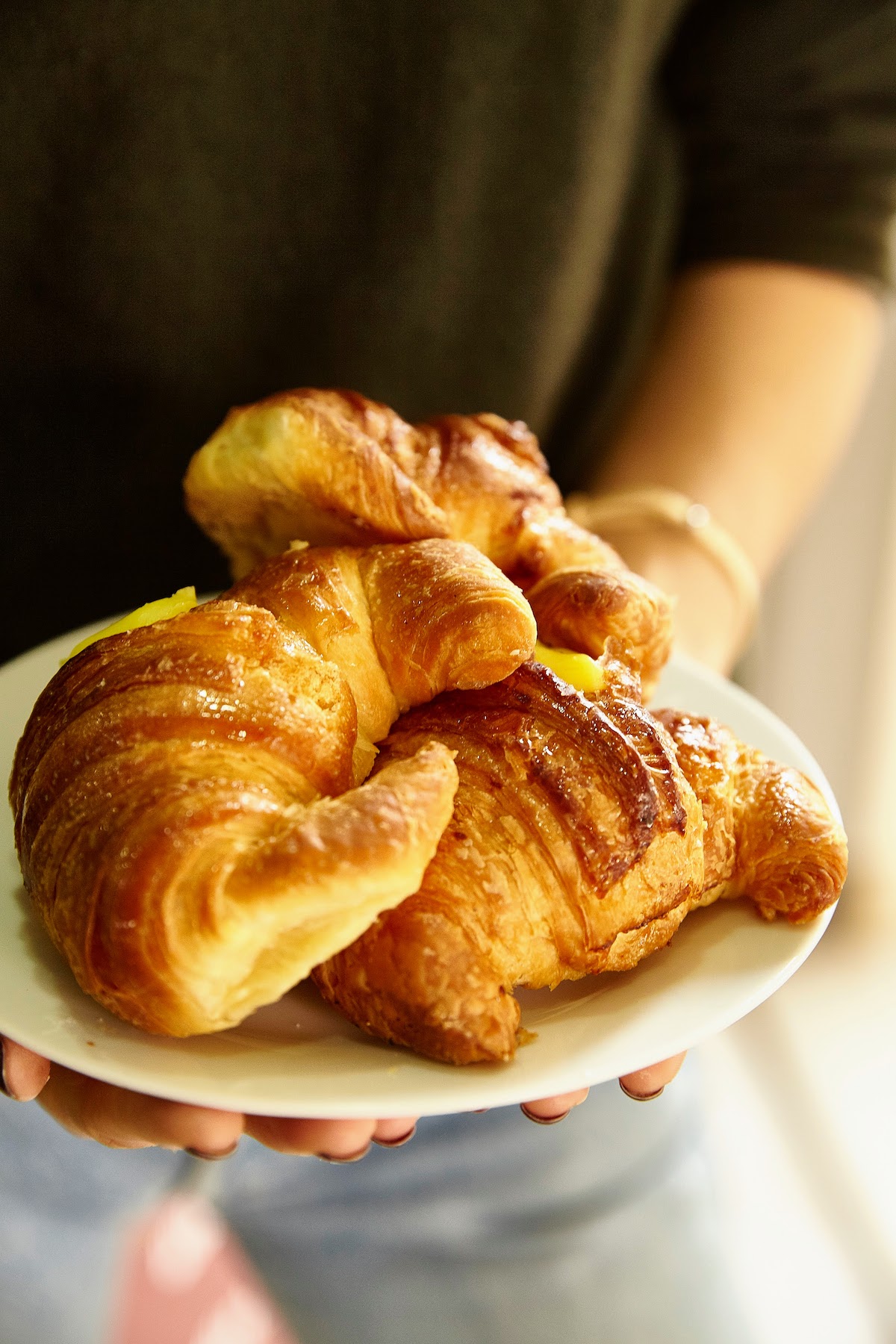 Escargots: A national symbol
You just can't leave Paris without trying them!
Though we enjoy snails cooked in a variety of ways in Paris, the Burgundy recipe remains the most popular. The escargots (usually a dozen of them) are presented in their shells and stuffed with a mouthwatering combination of garlic, herbs, and butter.
However, escargots are now so popular that countless Paris restaurants have put their own creative spin on the dish. You'll now find snails served with Roquefort, truffle, curry-based sauces, and so much more.
Want to know the best part? Not only are escargots delicious, but they're also rich in iron and magnesium.
Where to try them: L'Escargot Montorgueil is a true Parisian institution that has been serving snails for nearly 200 years. You can sample the traditional Burgundy variety, or spice things up and try the curry, foie gras, or truffle butter versions.
Insider's tip: Can't get enough escargot? Check out even more fabulous spots to try snails in Paris.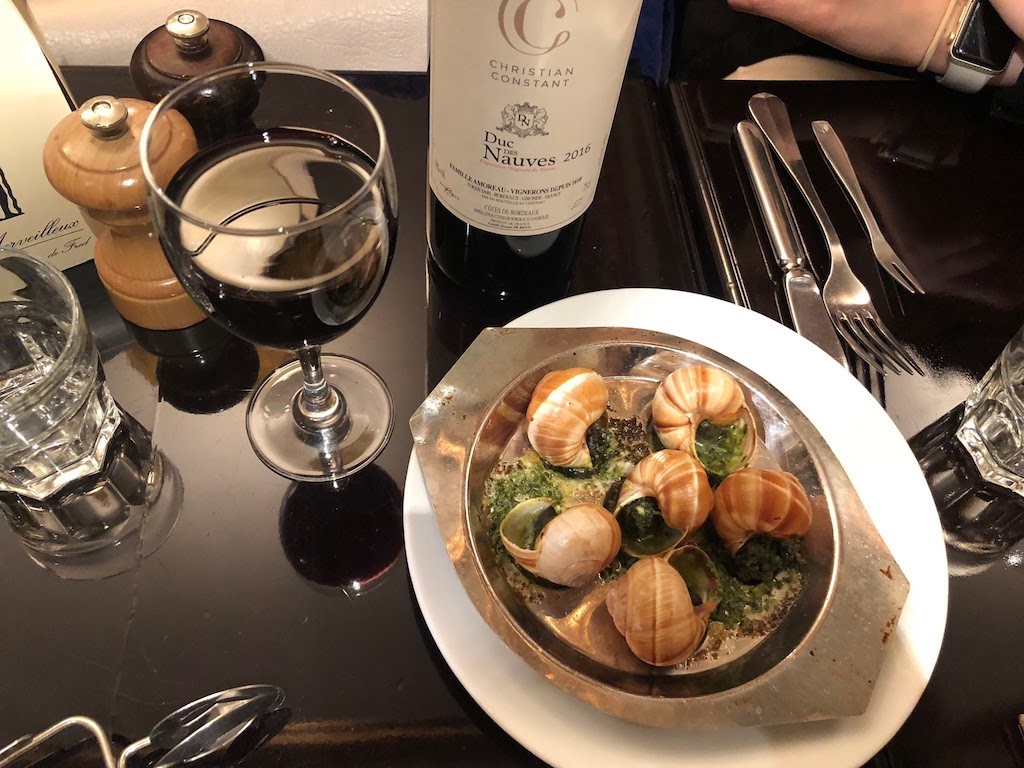 Macarons: Bite-sized works of art
Not to be confused with macaroons (shredded coconut delicacies), macarons are possibly the best thing that ever happened to French sweets. Their delicate and airy shells are made of almond flour, and filled with a rich, luscious interior.
Nobody is quite sure where, exactly, these iconic treats come from. Some stories credit Catherine de Medici with the idea; others, a late 18th-century French Carmelite convent. But no matter which version of the story you believe, macarons might just be the most famous food in Paris today.
Popular flavors include pistachio, chocolate, vanilla, or raspberry, but don't be scared to try some of the more unusual options, such as salted butter caramel, green tea, or rose petals.
Where to try them: Paris abounds with macaron specialty shops, most of them offering incredible quality. Pierre Hermé remains a clear favorite of ours for his creativity—and his Balinese dark chocolate macaron.
Dessert lovers should also try "Symphonie," an innovative recipe by Tokyo-born Sadaharu Aoki. His scrumptious violet macaron comes filled with violet and earl grey creams as well as fresh raspberries. Délicieux!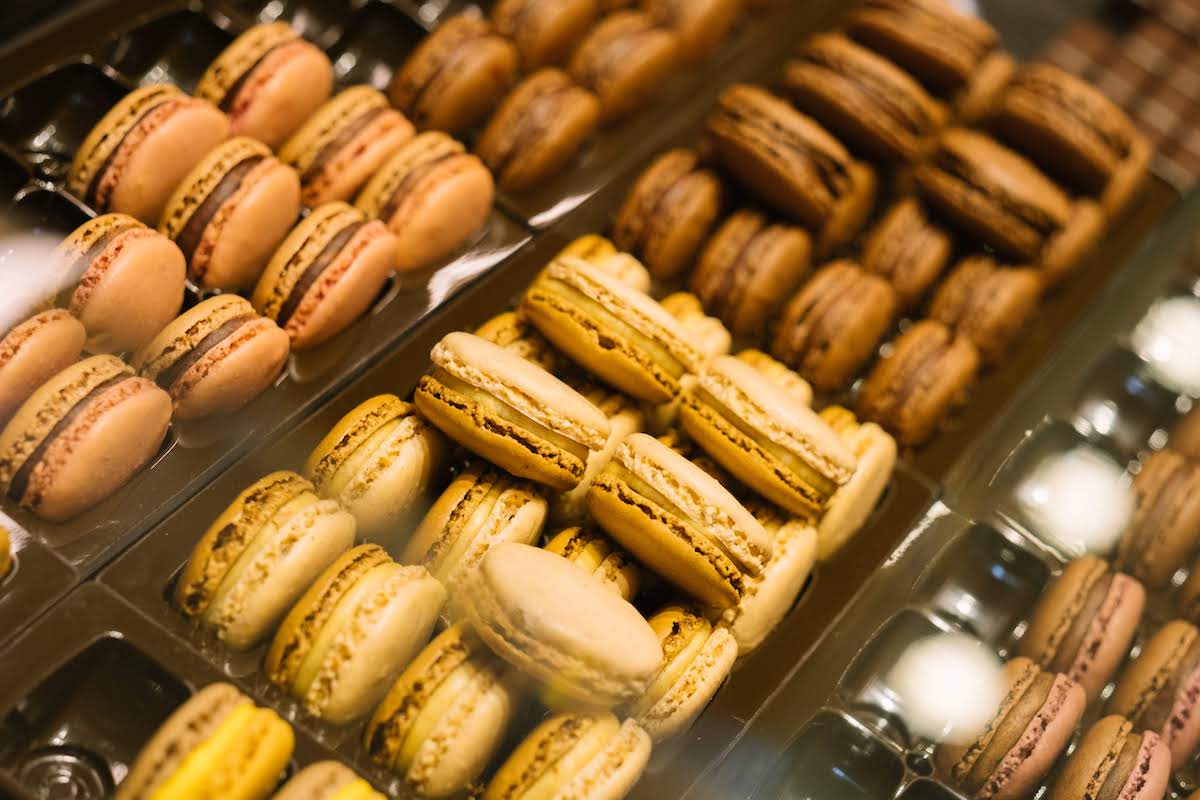 Jambon-beurre: Paris street food at its best
Who knew sandwiches could taste so good?
Simplicity is key for this beloved lunch snack. A great jambon-beurre is all about the quality of its only three ingredients: Parisian ham, butter and, of course, the deliciously crispy baguette that's holding the magic together.
But because the ingredient list is so short, it's worth it to ensure that each one is of the utmost quality. That means a perfectly crusty baguette, excellent French butter, and real Parisian ham. (And yes, there's a difference between this and your standard ham.)
Where to try it: Made from carefully-selected ingredients, the jambon-beurre sandwich at La Fontaine de Belleville is famous throughout the city. You can opt to have it to go, or sit down at the terrace and enjoy it alongside a green salad.
Steak tartare: A bistro classic
Eating raw meat may not be for everyone, but for daring foodies, the reward promises to be extremely flavorful!
Steak tartare is a bistro classic that consists of raw ground beef seasoned with capers, onion and black pepper. Traditionally, you'll find it served with a raw egg yolk on top.
Despite its popularity in France today, steak tartare actually came to the area by way of modern-day Mongolia. In the 17th century, Russian sailors brought it to Europe, and the rest is history.
Where to try it: Le Severo is heaven for carnivores, so you can expect the meat quality to be absolutely top notch. Their amazingly tasty steak tartare comes with french fries or green beans.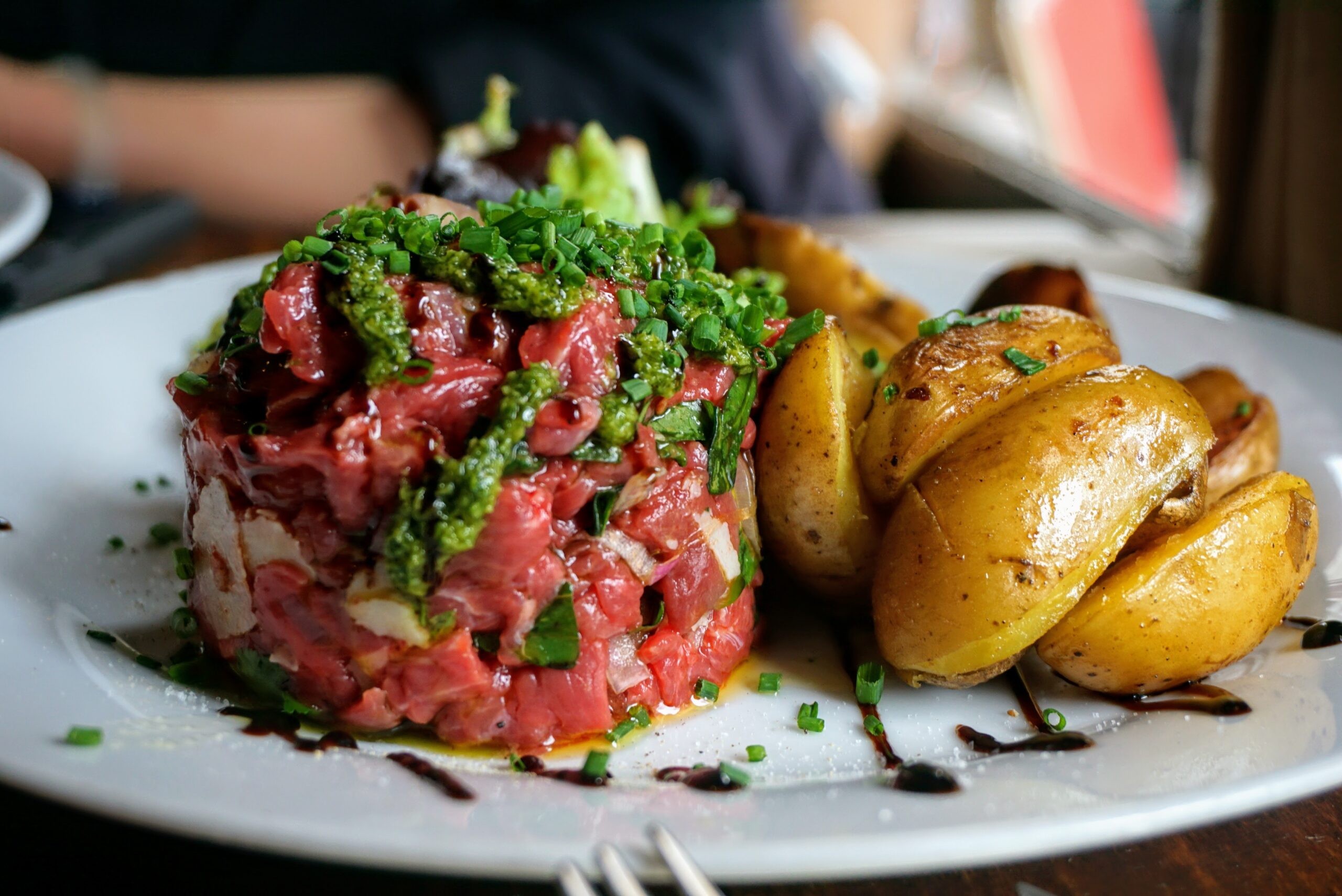 Cheese: A world of possibilities
"How can you govern a country which has 246 varieties of cheese?" former French president Charles De Gaulle famously asked. We don't have the answer, but we do know that visiting such a country is bound to be a treat!
In fact, France offers more than 300 varieties of cheeses, ranging from creamy Brie de Meaux to pungent Munster. That's over 300 possibilities to fall in love with French fromage!
Cheese is so highly regarded in France today that it's even earned its place as part of the meal. A cheese course is traditionally served between the main course and dessert (or sometimes in place of the latter).
Where to try it: Fromagerie Laurent Dubois is a cheese lover's dream come true. If you're seeking a recommendation, don't hesitate to consult one of the knowledgeable cheese experts on staff. Our personal favorites?A matured Comté or the distinctively delicious Roquefort.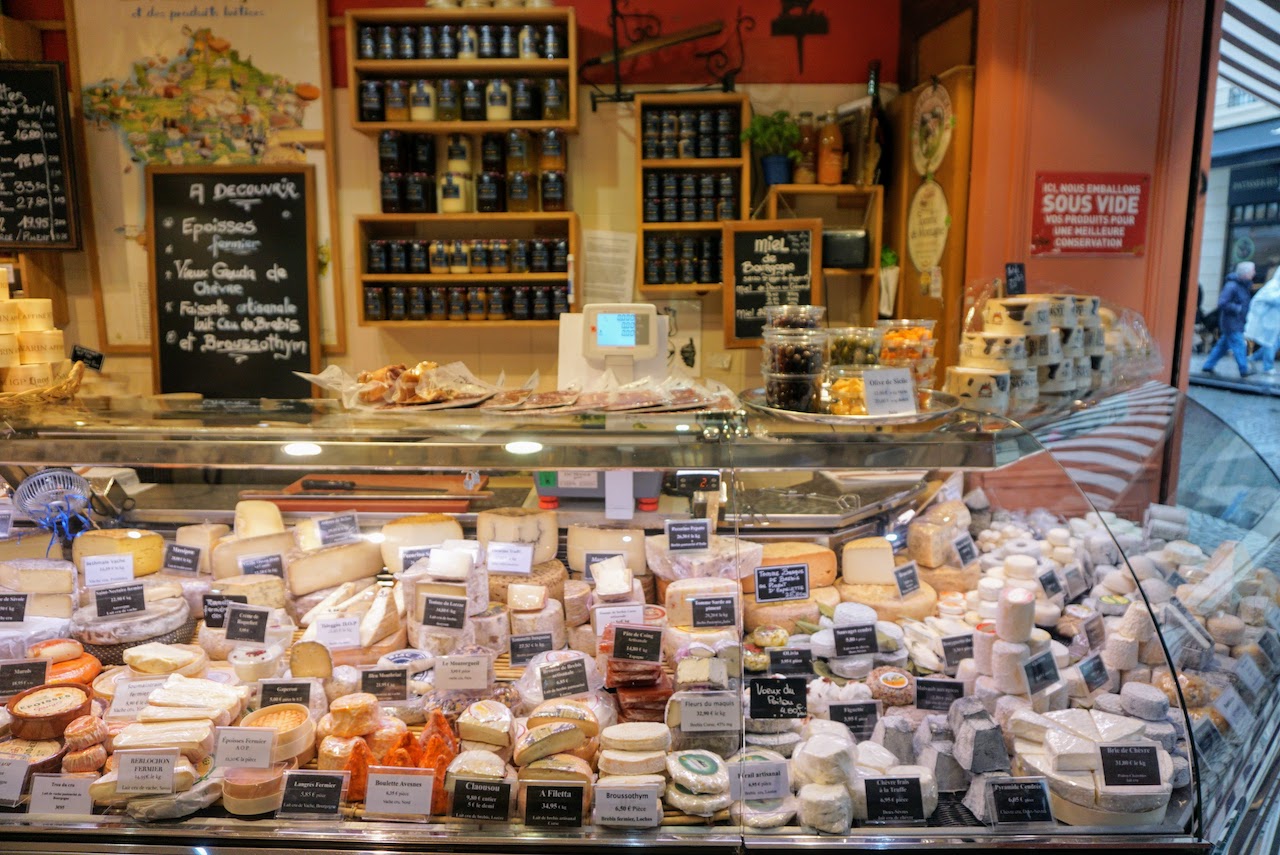 Onion soup: The ultimate comfort food
Another famous food in Paris, onion soup is about as comforting as it gets.
According to legend, the recipe was invented by Louis XV nearly three centuries ago. Nowadays, the caramelized onion and beef broth is served gratinéed with crusty croutons and a slice of Gruyère cheese on top. And, oui bien sûr, it tastes as good as it sounds.
The preparation of traditional French onion soup is as simple as it gets, and a testament to how seriously we take our gastronomy here in France. What other place on earth could take the humble onion and elevate it to such culinary heights?
Where to try it: Order it from the excellent Bistrot des Vosges, where the onion soup is maison (homemade), and to die for. 
The French onion soup at a beloved Marais eatery is a favorite on our Ultimate Paris Food Tour—but you'll have to come along with us to find out where it is!