Madrid is home to food from every region of Spain and much of the rest of the world. But we can't forget about the home-grown classics! This breakdown of the most typical foods in Madrid will help you narrow down what to try!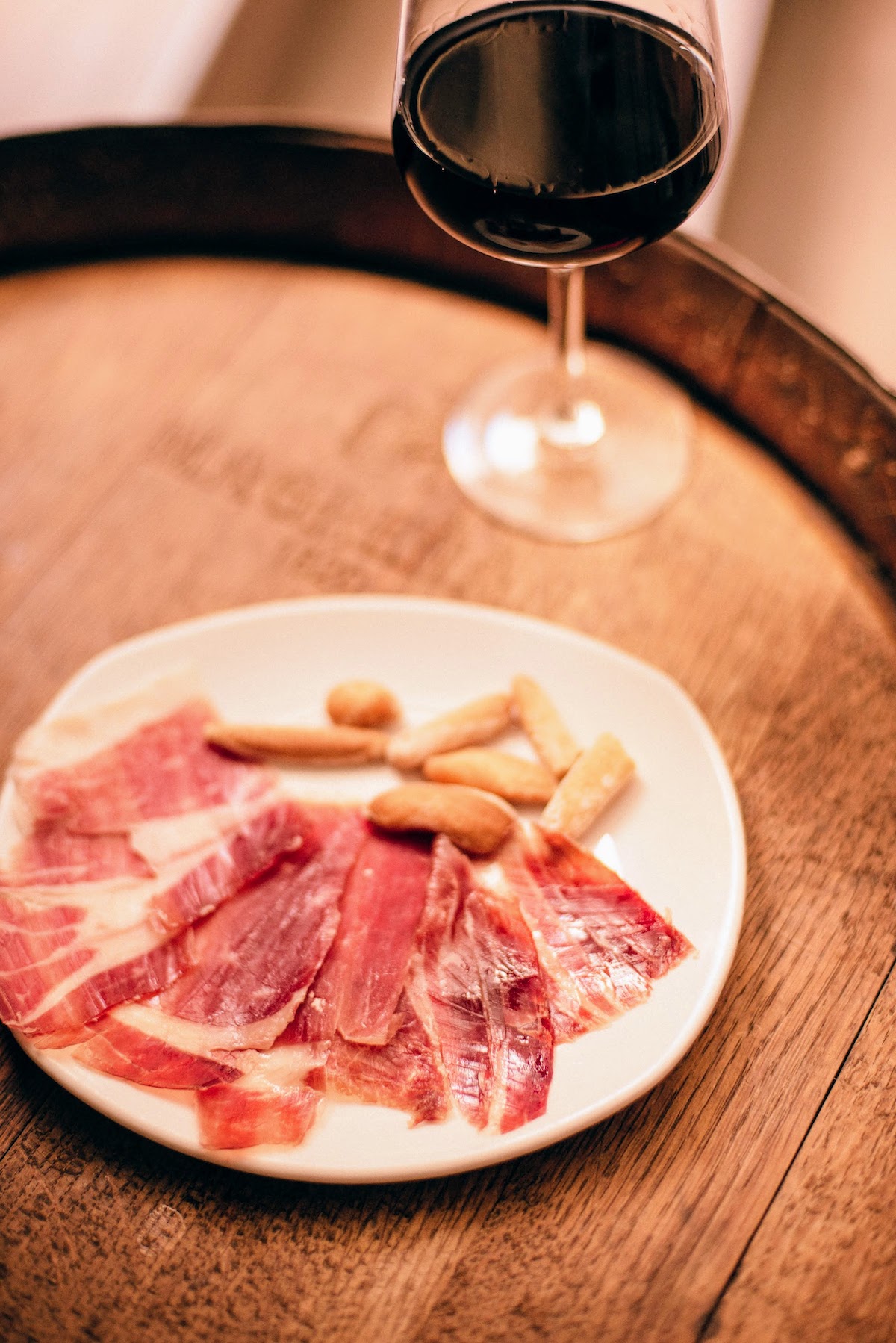 Spain's capital city is a melting pot of typical food from every region of the country. Andalusian bars boasting refreshing gazpacho and salmorejo sit alongside Galician restaurants advertising heaping plates of pulpo a feira (Galician-style octopus). It's possible to eat your way around Spain without ever leaving Madrid.
But Madrid's own traditional delicacies are well worth your time, too. No trip to the Spanish capital would be complete without tasting these typical foods in Madrid.
Cocido Madrileño
As the weather gets cold, the smell of this simmering pork stew begins to waft through the streets of Madrid. Cocido madrileño is the definition of Spanish wintertime comfort food, but not for the faint of heart (or stomach).
The most common take on this traditional Spanish stew usually consists of a flavorful broth full of vegetables, chickpeas, chorizo sausage, and pork. The stew simmers for upwards of four hours, creating a blend of heavenly, robust flavors that make for the ideal cure to Madrid's wintry weather.
The typical way to eat cocido madrileño is in two or three courses. Once the chickpeas, meats, and vegetables are finished cooking, cooks separate the broth and use it to make soup with small vermicelli noodles. This steaming soup becomes the first course.
The rest of the flavorful ingredients make up the main dish, often in two rounds. The chickpeas and veggies come first, followed by the stewed-to-perfection meat. Some places serve both portions at once, which helps abbreviate the meal a bit.
Insider's tip: Taberna La Bola is our favorite place for cocido in Madrid. This family-run spot has been making cocido in the center of Madrid since 1870!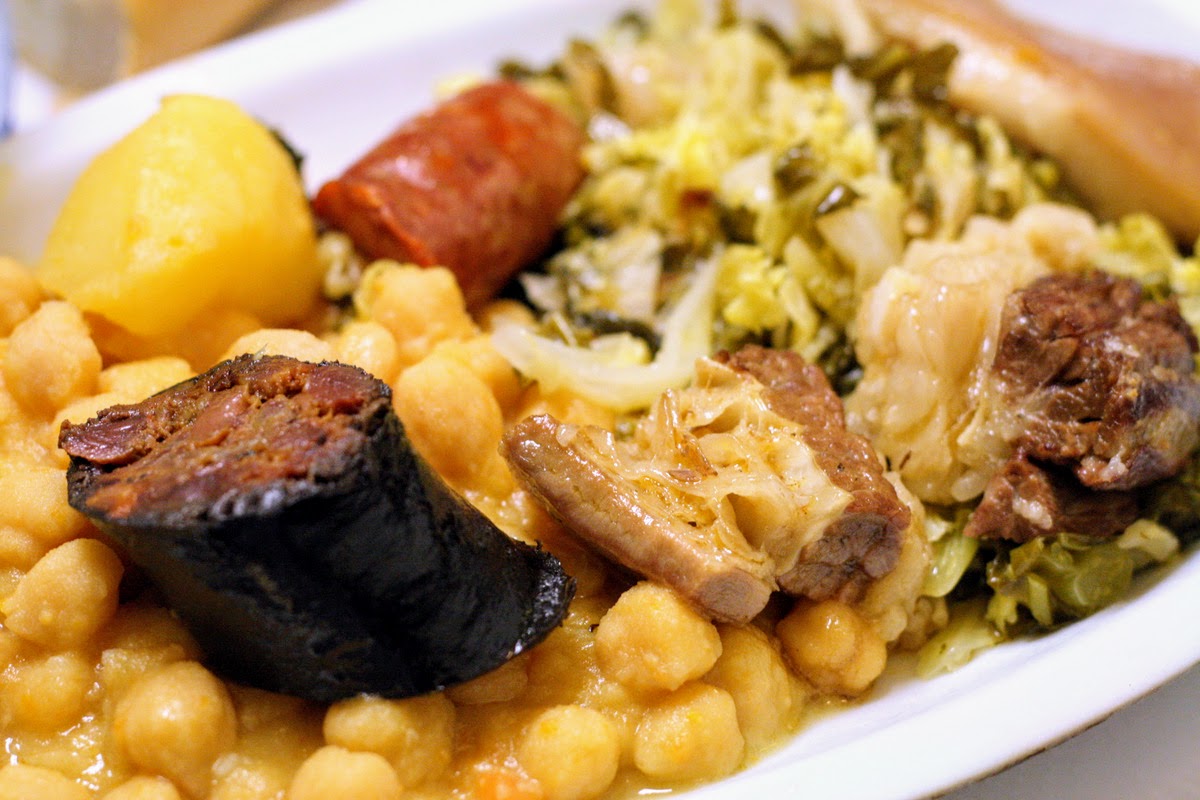 Huevos Rotos
Traditional Spanish cuisine is very meat-and-potatoes. Nowhere is this fact more deliciously evident than in a steaming plate of huevos rotos, which literally translates to "broken eggs."
This typical Madrid dish is a plate of potatoes which are freshly fried in Spanish olive oil and tossed with sea salt. The potatoes are topped with perfect over-easy eggs. Depending on where you go, you'll either break the yolks with the edge of a crusty piece of bread or your server will break them, often at the table.
You can find some of the best huevos rotos in the city at Taberna Los Huevos de Lucio, one of many great places to eat in the La Latina area. Check out our full guide to where to eat huevos rotos in Madrid.
Insider's tip: Many restaurants add bits of chorizo or cured ham to the mix for a burst of color and flavor. However, you can simply specify that you'd like with no meat if you're looking for a vegetarian option.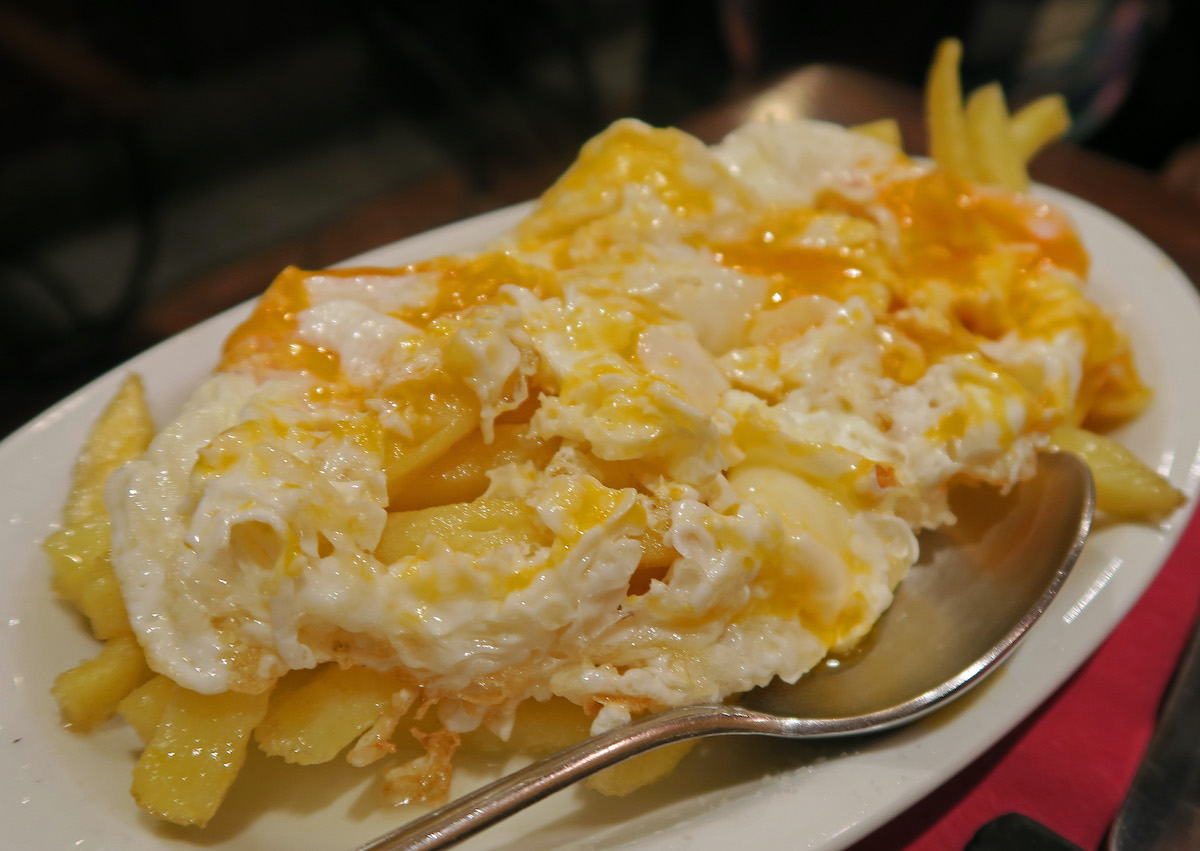 Bocadillo de Calamares
No trip to Madrid is complete without tasting the city's most famous sandwich: the bocadillo de calamares, or fried squid sandwich.
The most basic (and most traditional) bocadillo de calamares consists of fresh, crusty bread loaded with flour-coated, deep-fried rings of squid, and nothing else. Some Spaniards top the two-ingredient creation with tomato and paprika puree or homemade garlic mayonnaise. For the full experience, make sure to wash your bocadillo down with a cold caña of beer.
The many side streets around Madrid's grand Plaza Mayor are home to some of the city's best calamari sandwich bars. (Yes, you can find great food near tourist attractions!) Our favorite is La Campana, a stop on our Ultimate Spanish Cuisine Tour.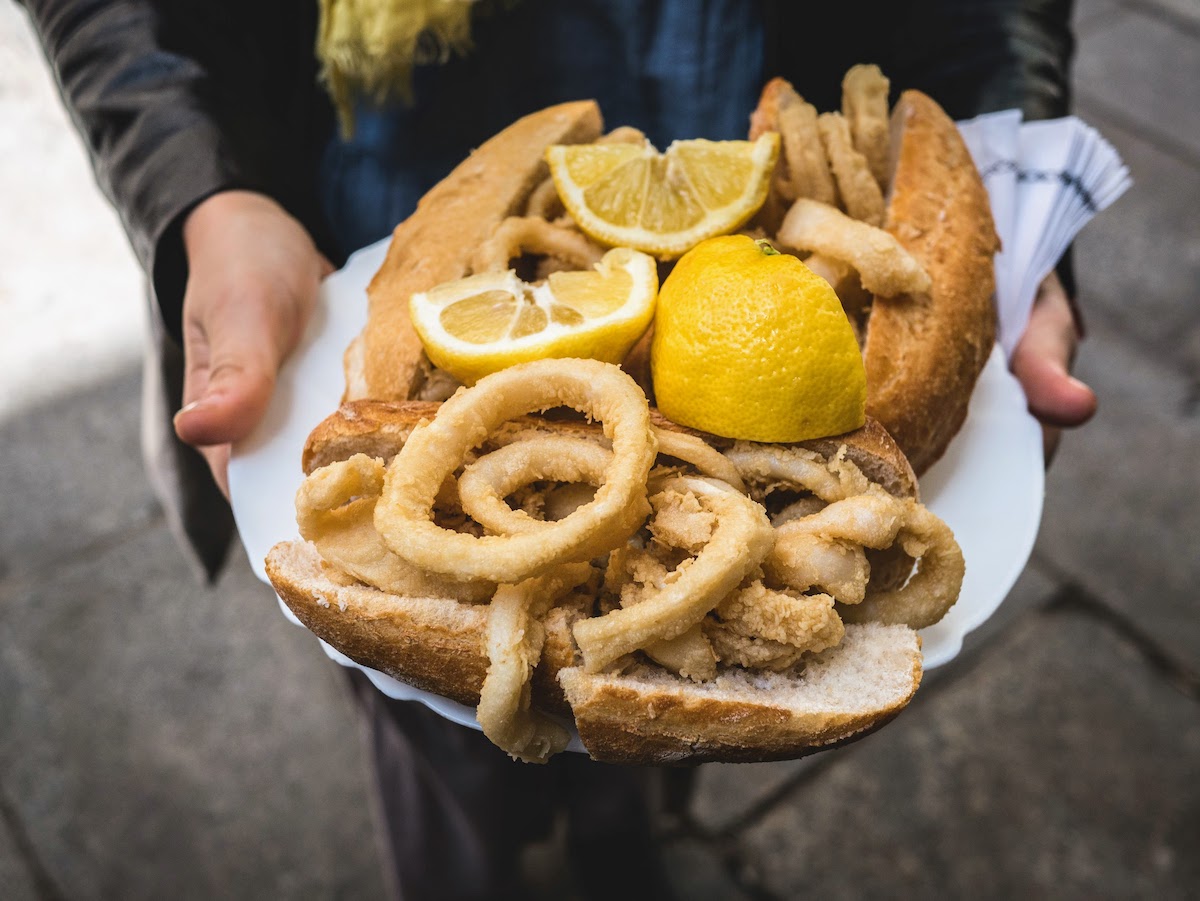 Callos a la Madrileña
Callos is another one of the most typical foods in Madrid during the winter. Normally served in a clay dish, it consists of strips of beef tripe (stomach), chunks of chorizo, and slices of morcilla (blood sausage). Many versions add paprika for flavor, resulting in a reddish-brown color.
This smoky, savory stew has been a popular cold-weather dish in Spain's bars and taverns for hundreds of years. In fact, the first known recipes for callos date back to the 16th century! Today, you can find it in most bars and restaurants throughout the capital city during the winter months.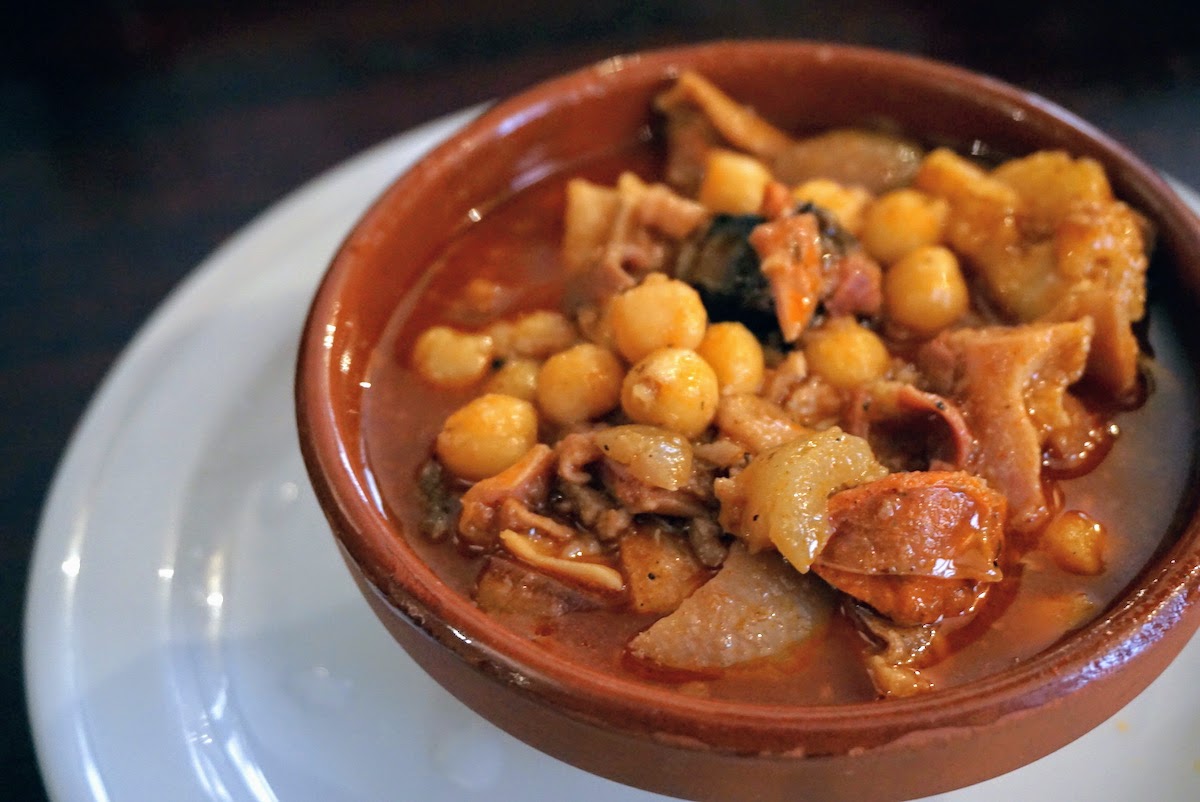 Churros con Chocolate
Churros are a staple of Madrid's after-hours nightlife, and a definite must-have for partiers on their way home during the wee hours of the morning. For non-nocturnal madrileños, churros with a cup of steaming hot, thick chocolate are a common afternoon snack for the 6 p.m. merienda, and are even occasionally eaten for breakfast!
The most famous place to get your hands on a plate-full of churros—or their thicker, richer cousin, porras—is San Ginés, where madrileños and visitors alike have been devouring the sweet fried treat for more than 100 years. We also love the homemade porras and churros at Bar Chocolat, one of our food tour partners in the Huertas neighborhood.
Oreja a la Plancha
When in Spain, eat as the Spaniards eat! And in this case, that includes pig ear.
A popular dish among locals, oreja is typically only for the boldest of foreign travelers. Oreja a la plancha, literally "pan-seared ear," is typically served as a ración, or large portion, and eaten with toothpicks. It is often sprinkled with salt or paprika and occasionally fresh-squeezed lemon.
Unlike other parts of Spain where oreja is almost always served by itself, in Madrid you can often find chunks of bacon or mushrooms mixed in with the dish.
Tortilla de Patatas
Tortilla de patatas, or potato omelet, is a staple of Spanish cuisine and one of the most typical foods in Madrid. Here in the capital, the huge diversity of this simple dish is on prominent display.
There's a tortilla de patatas for everyone, no matter what your tastes may be. Some are runny piles of egg and potato that you have to scoop up with bread. Others are firm slices featuring everything from caramelized onions to mushrooms to sausage to peppers.
Most bars in Madrid will serve a small square of tortilla with a toothpick as a tapa. But to fully enjoy this dish, a pincho (slightly larger slice) of tortilla is a must! Be sure to check out our guide to the best tortillas in Madrid for the most delicious experience possible.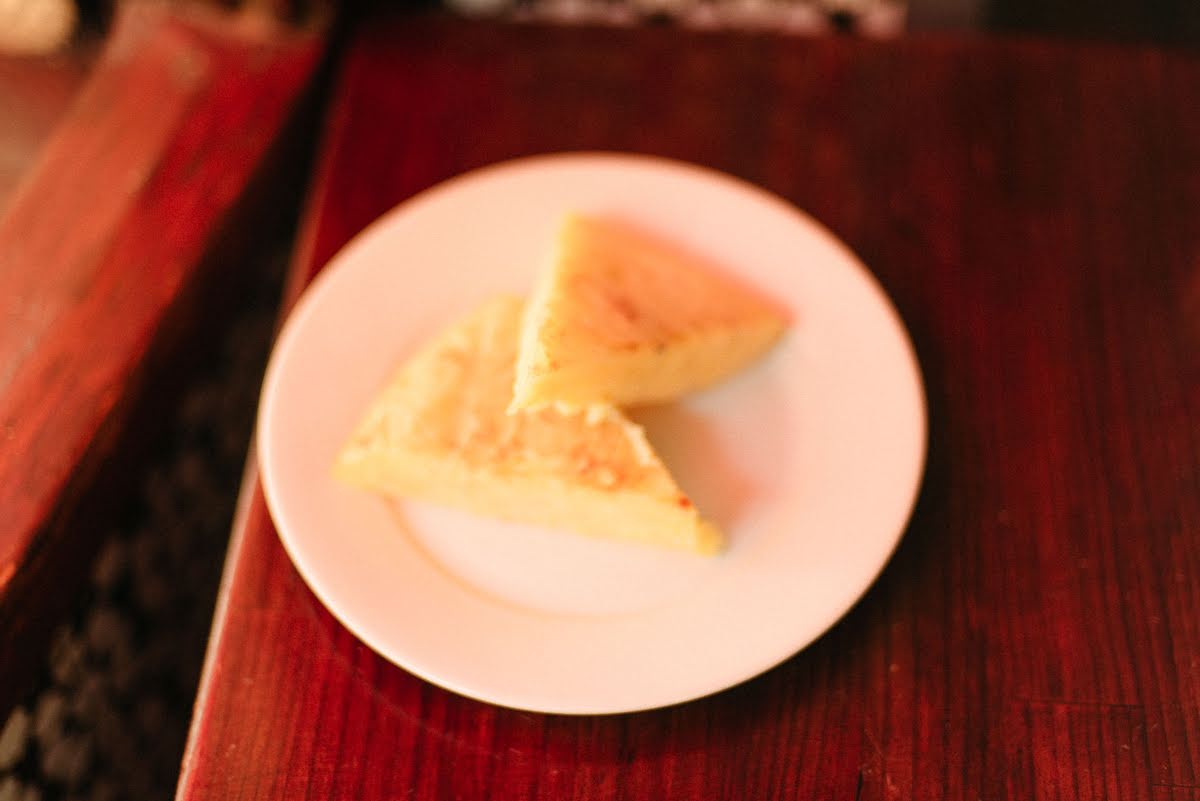 Croquetas
No list of the most typical foods in Madrid would be complete without croquetas.
Crispy on the outside and creamy on the inside, Spanish croquettes can be filled with just about any savory option you can imagine. We're partial to croquetas de jamón, but other delicious options include mushroom, chicken, salt cod, and even pea and mint!
The next time you find yourself in the Spanish capital, be sure to eat your way through our complete guide to the best croquetas in Madrid. (You can thank us later.)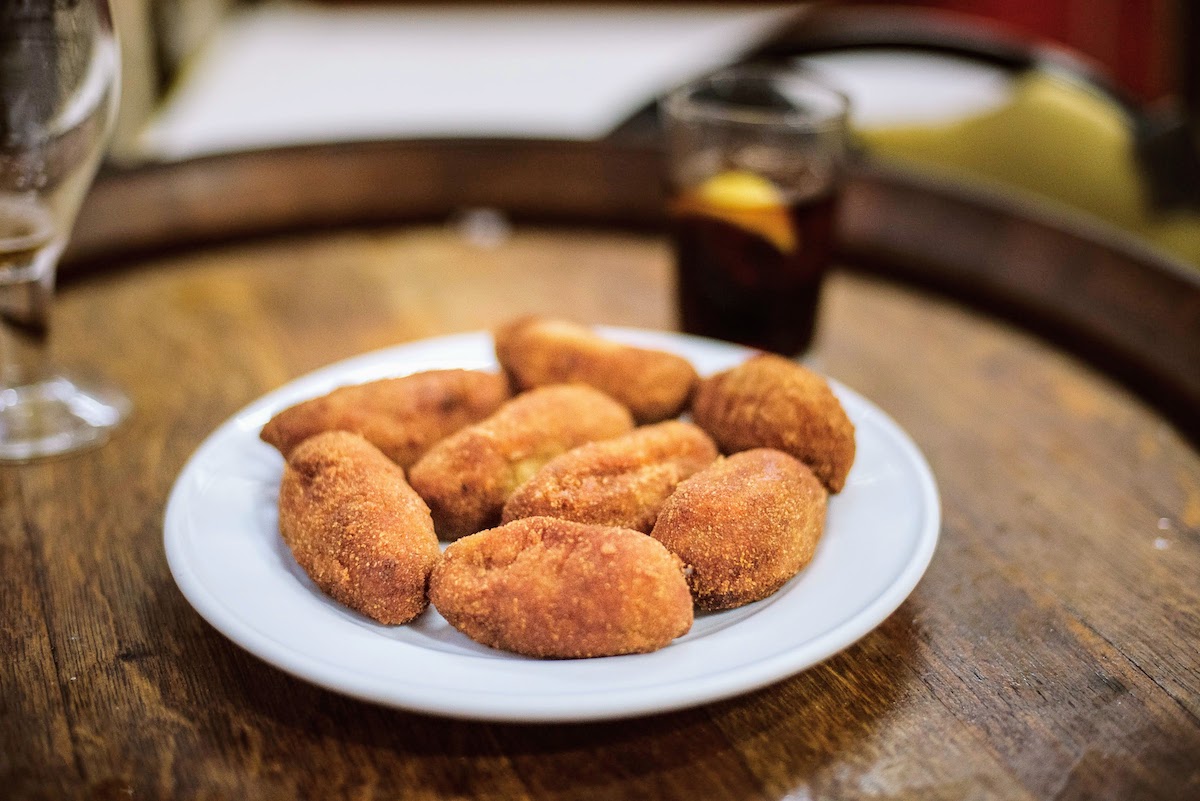 Gambas al Ajillo
It might surprise many first-time visitors to Madrid to learn that fresh seafood is plentiful here. Isn't Madrid about as landlocked as a city can get?
Indeed it is, but as the seat of Spanish royalty, the capital has long benefitted from special roads and train lines built for the specific purpose of bringing fresh seafood in from the coast. And gambas al ajillo—fresh shrimp sautéd in a sizzling garlic sauce—might just be one of our favorite ways to eat it.
Invented after the Spanish Civil War at the classic tapas bar La Casa del Abuelo, gambas al ajillo have since become popular all over Spain. But there's no better place to try them than the bar where it all began, preferably with a glass of their famous house wine. It's one of our guests' favorite stops on our Tapas, Taverns, & History Tour!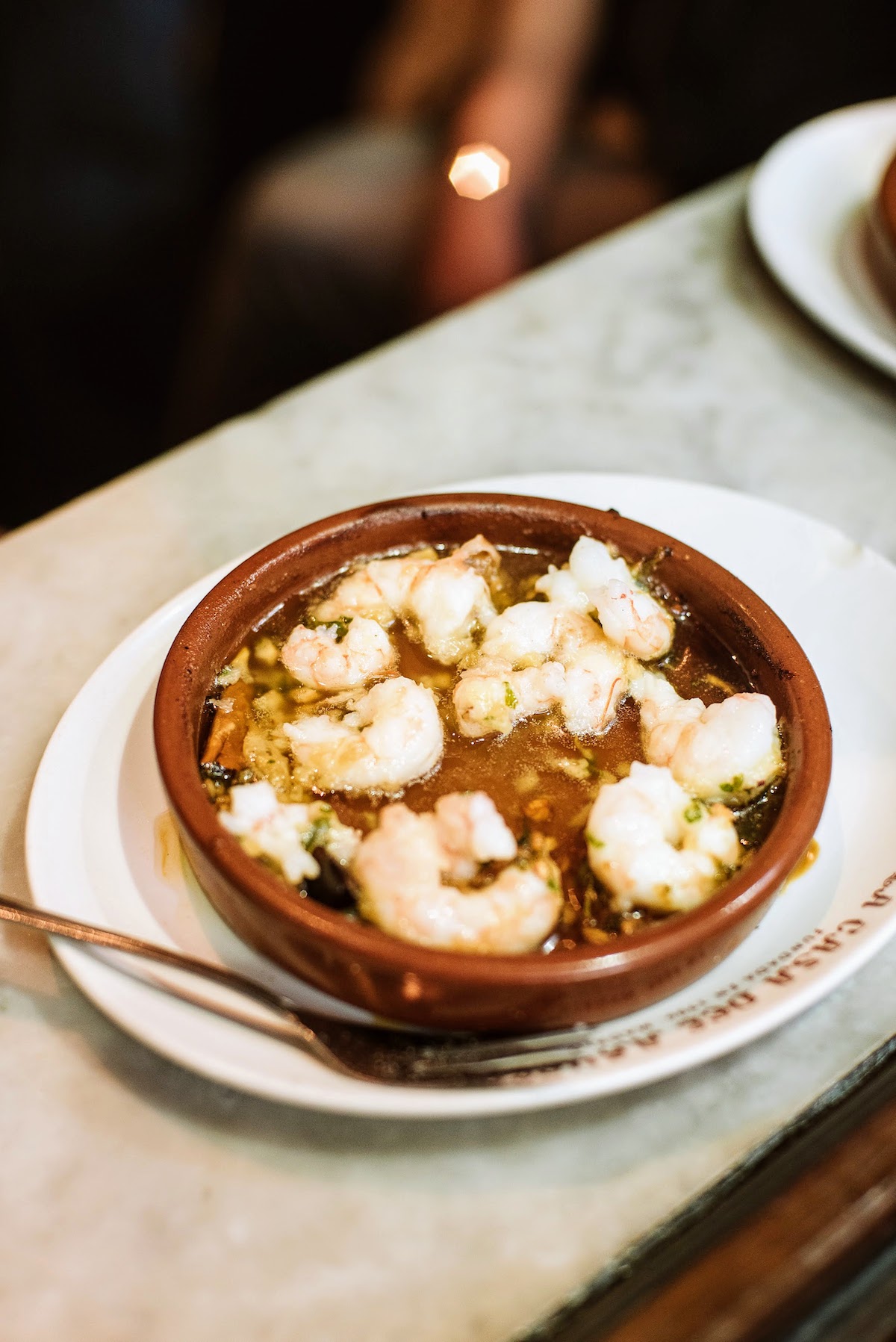 Pisto
It's no secret that Spain is a meat-loving country. With so many menu options revolving around different styles of pork or seafood, it would be easy to assume that vegetables are somewhat lacking.
But there are some great plant-based typical foods in Madrid—you just need to know how to look for them. And one of our all-time favorites is pisto manchego.
Consisting of slow-cooked vegetables simmered for hours, pisto is often considered to be a Spanish answer to ratatouille. It's the perfect warming dish on a chilly day, and even carnivores will be able to appreciate the depth of flavor it offers.
If you follow a vegan diet, note that pisto is occasionally served with a fried egg on top. Be sure to specify that you'd like yours "sin huevo, por favor."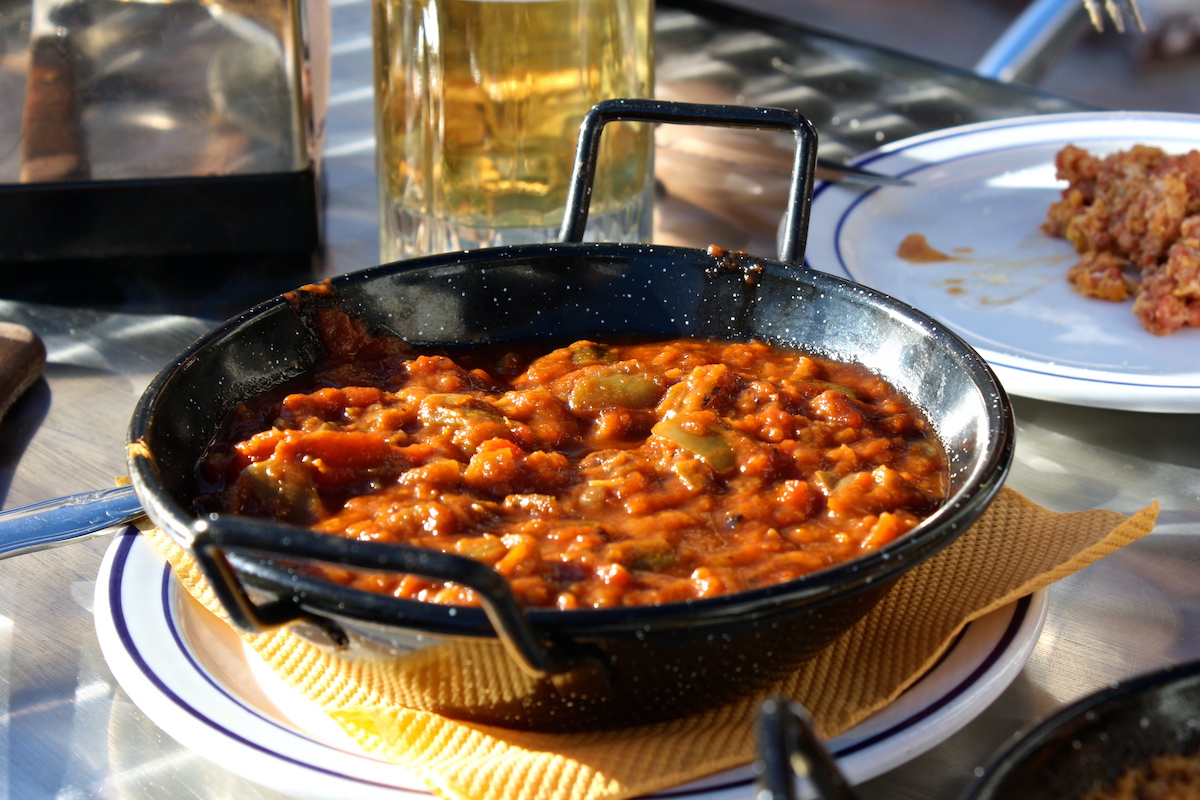 Huevos Rellenos
Lots of people have had deviled eggs. But have you had Spanish-style deviled eggs?
Huevos rellenos are a staple around the holiday season in Spain, and you'll also find them as an option in many Madrid tapas bars. The traditional filling is tuna and red pepper mixed into the egg yolk, but this is one of those dishes where it's super easy to incorporate your own twist.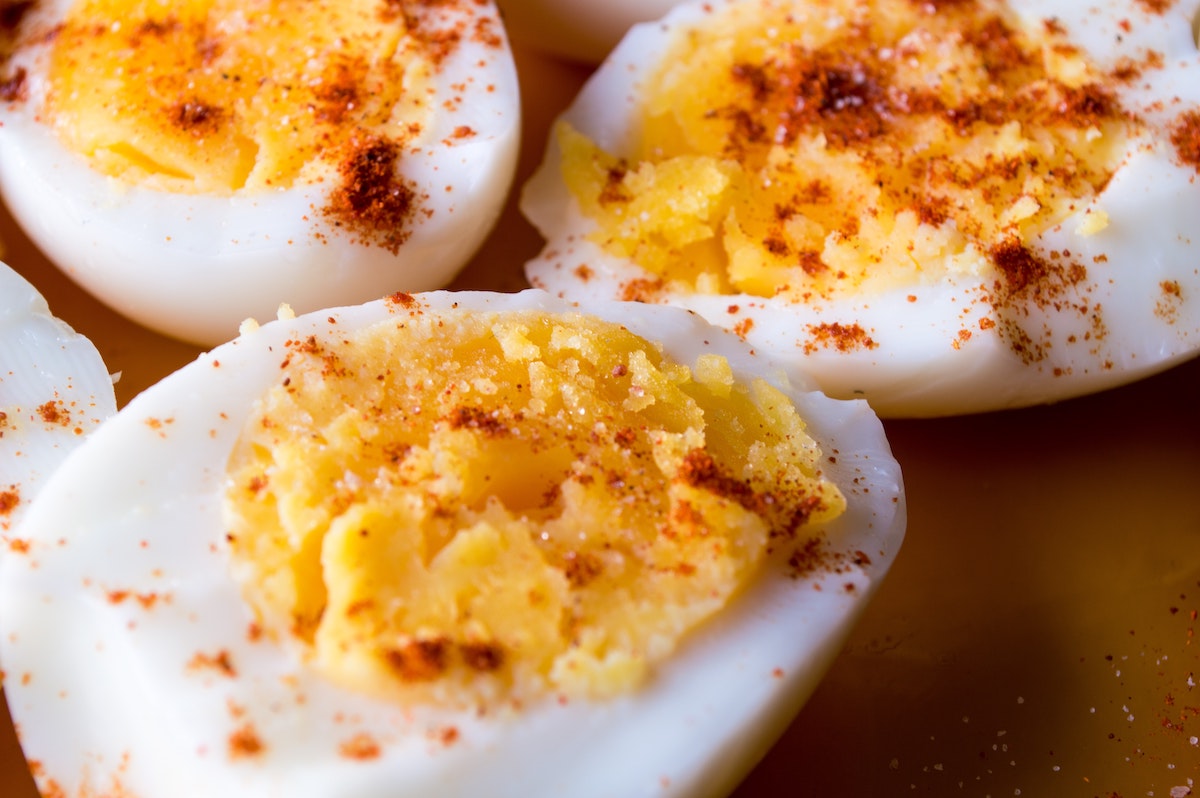 Salt Cod Fritters
Another excellent addition to Madrid's surprisingly strong seafood scene, the salt cod fritters at local institution Casa Labra are so iconic that they regularly earn lines out the door of the bar. These little bites are quite simple, but when done right, they make for an unforgettable culinary experience.
Fun fact: You'll sometimes hear locals refer to these as soldaditos de Pavía, or "Pavía's soldiers." The nickname comes from the fact that the fritters are traditionally served with a roasted red pepper draped over the top. Legend says that because of this, they're reminiscent of uniforms worn by the troops of a 19th century Spanish general named Pavía: a red jacket under a pale outer coat.
Ensalada Navideña de Col Lombarda
When the holiday season rolls around, one dish you'll find on nearly every table in Madrid is red cabbage salad with pine nuts and other winter goodies. It's a true testament to how seriously we take seasonal eating here in Spain, and a deliciously festive way to kick off any holiday meal.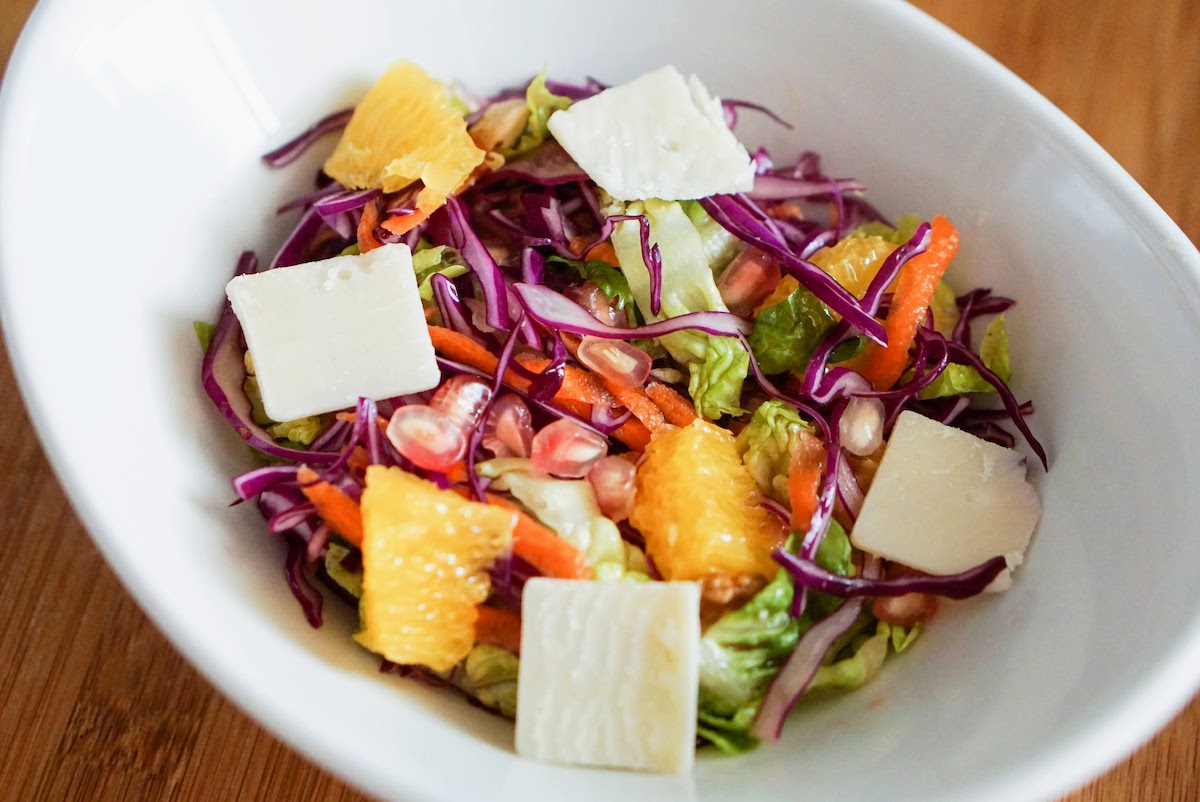 Mushrooms
We're big on mushrooms here in Madrid. Whether grilled, stuffed, or fried, you'll likely find them in one way or another on countless tapas bar menus throughout the city.
Two of our favorite options for champis (as we call them—short for the Spanish champiñones) are Casa Toni and Mesón del Champiñón. Casa Toni does a fabulously simple grilled version, while Mesón del Champiñón stuffs theirs with chorizo, garlic, and parsley, with a squeeze of lemon juice for an extra kick.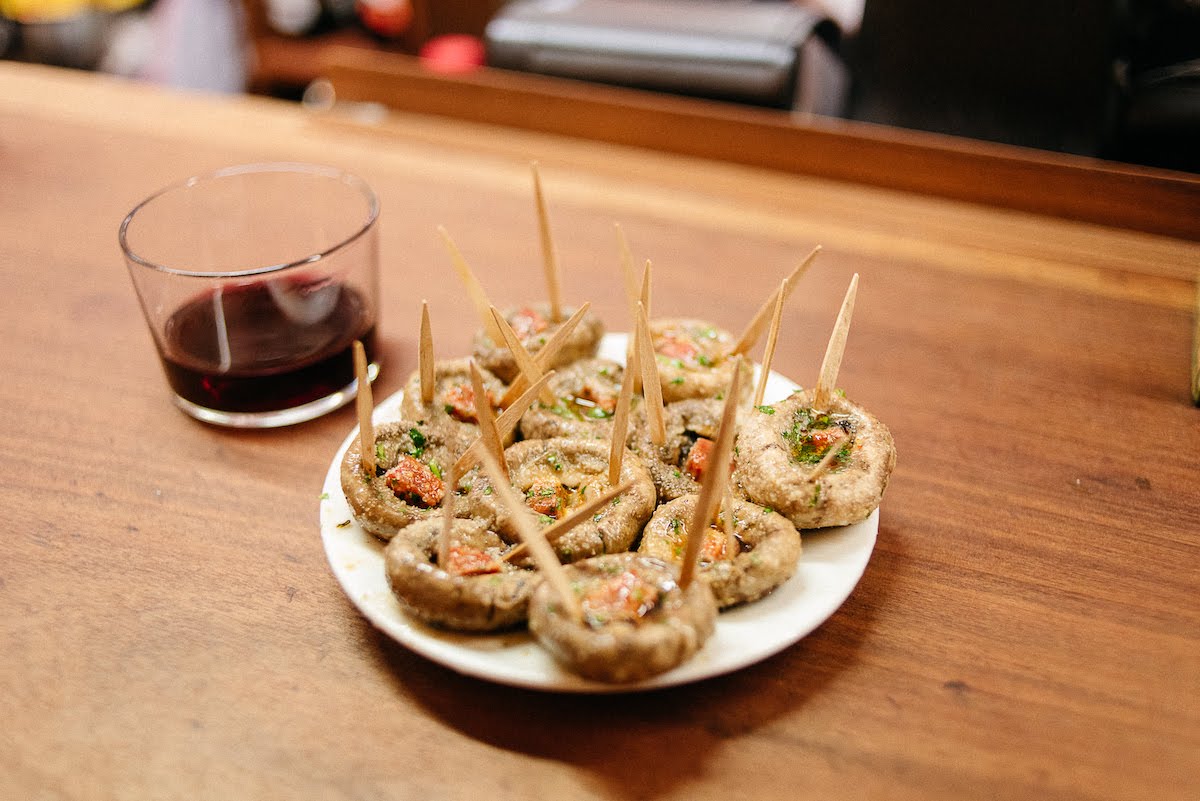 Regalitos de Rabo de Toro
Spain's famous bull tail stew, rabo de toro, has its roots in the southern city of Cordoba. But here in Madrid, you'll be able to find one of the most unique—and delicious—presentations of it in all of Spain.
At El Anciano Rey de los Vinos, owner Belén came up with a delicious modern twist on this Andalusian favorite. After cooking low and slow for several hours, the bull tail meat is packaged up into a neat savory pastry parcel and topped with a roasted red pepper. A drizzle of extra sauce on top makes the perfect final touch.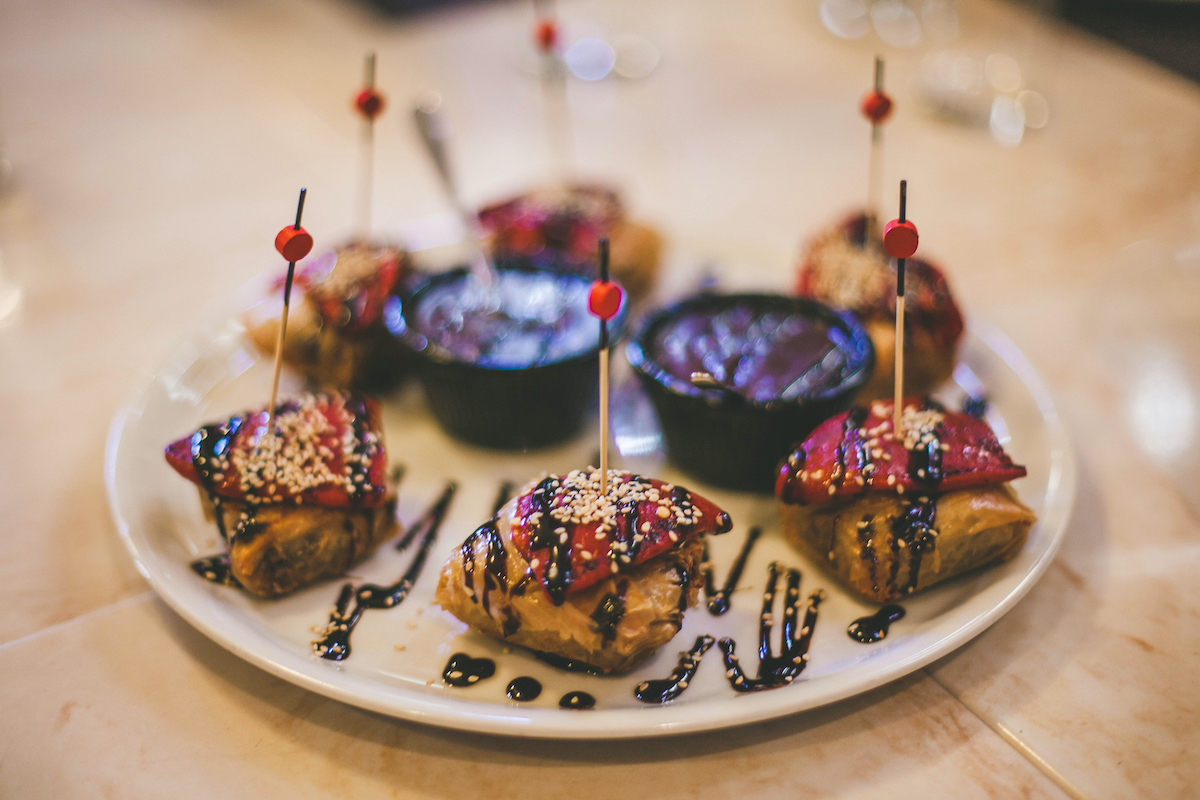 Cordero Asado
Succulent roast lamb is a popular option for many Madrid families for Christmas Eve dinner, and a perfect warming winter meal all season long. Like most of the best typical foods in Madrid, cordero asado is quite simple, and best enjoyed as part of an hours-long weekend lunch with family, friends, and plenty of wine.
Baked Fish
Whole baked fish, usually sea bream (besugo) or another hearty white fish, is another testament to landlocked Madrid's surprisingly strong seafood tradition. Whether you try it in the summertime while dreaming of the beach, or as part of a soul-warming winter meal, it's a simple dish that's always guaranteed to impress.
Pollo en Pepitoria
Pepitoria chicken has truly ancient roots: it uses classic Moorish ingredients such as saffron and almonds, and in fact everything on the ingredient list was available in Spain prior to the Spanish colonization of the Americas. Older versions were traditionally made with hen, but today most Madrid cooks use chicken instead.
As one of the most typical foods in Madrid, you'll often find pollo en pepitoria as a lunch option on a menú del día. 
Buñuelos Rellenos
The smell of buñuelos being freshly fried at outdoor street stalls is a sure-fire sign of the holiday season in Spain. These addictive little fried dough puffs can be topped with anything from powdered sugar to rich Spanish hot chocolate, but they're also perfectly delicious on their own. No matter how you choose to enjoy them, they're one of our favorite Madrid street foods!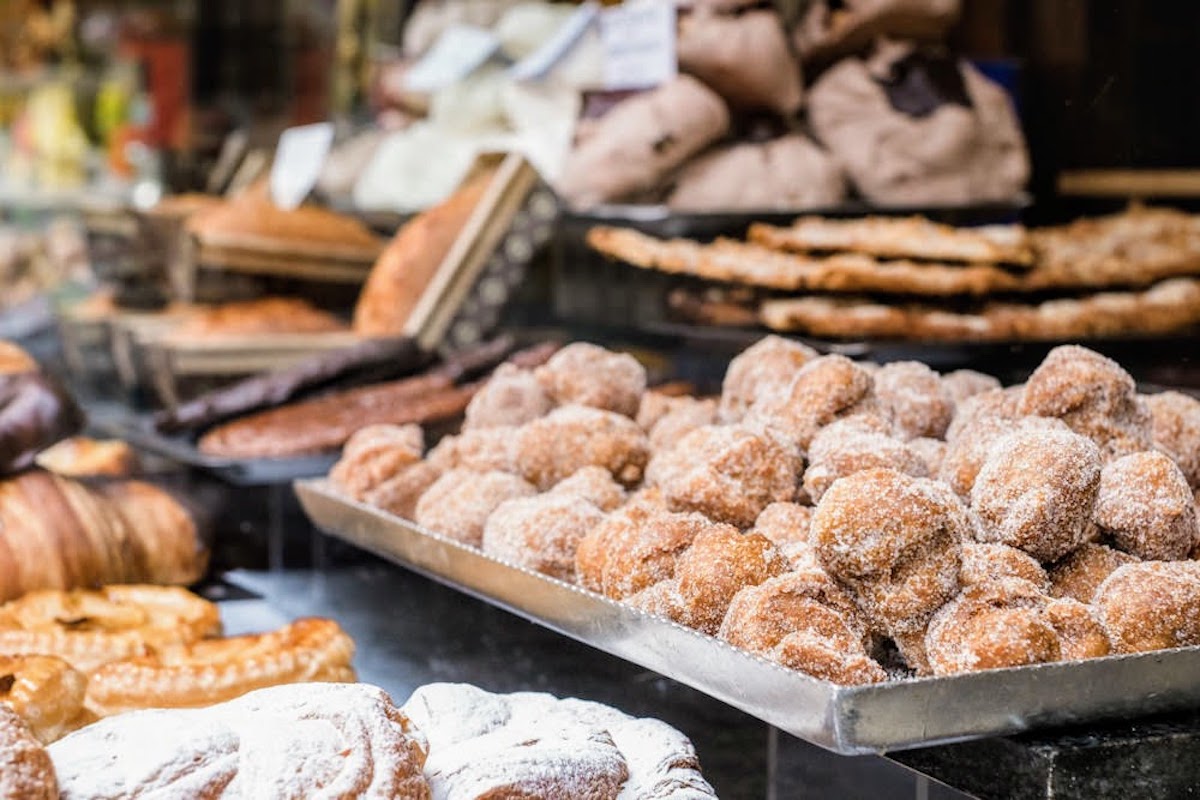 Flan
Last but not least, you can never go wrong with treating yourself to a perfectly made flan. Whether as a lunchtime dessert while eating out or a cozy at-home snack, this traditional Spanish dessert is always worth indulging in. The traditional recipe was based on just eggs and sugar, but today you can find all sorts of flan flavors: coffee, chocolate, caramel, and more!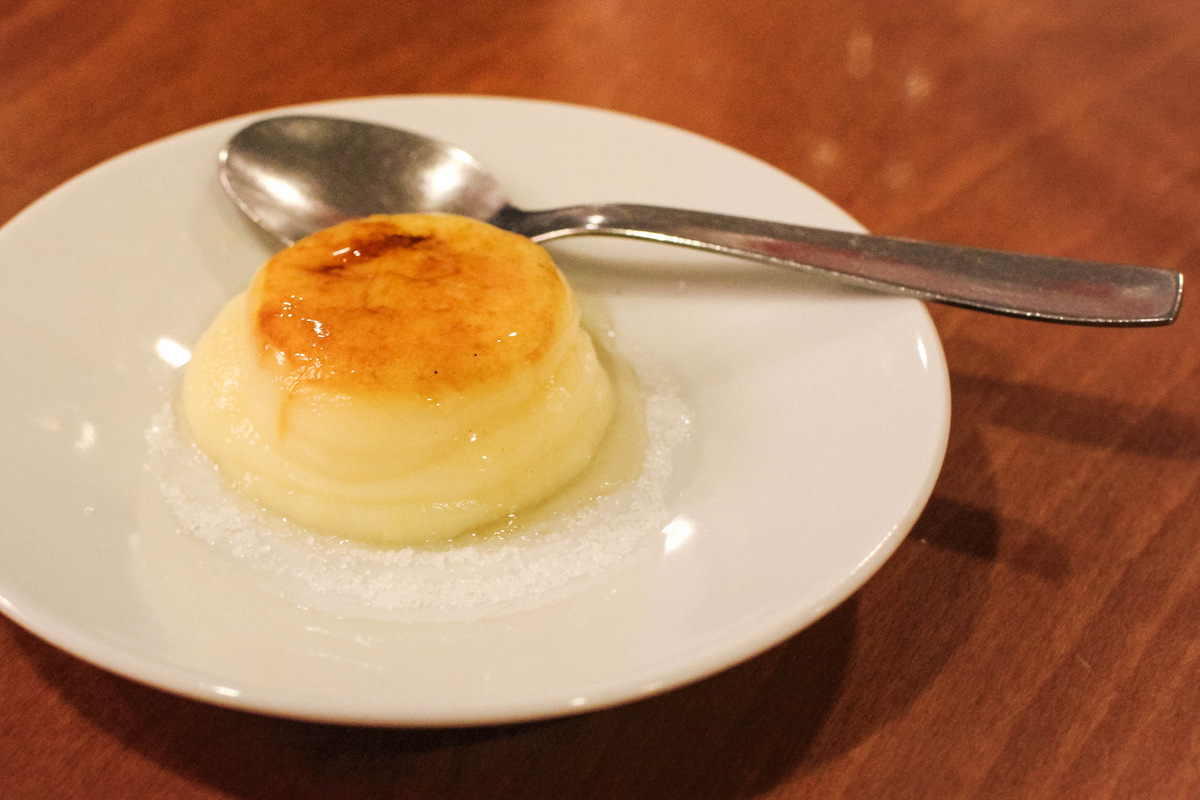 Typical Foods in Madrid FAQs
What do they eat for breakfast in Madrid?
Typical breakfast foods in Madrid include pastries such as croissants, toasted bread with olive oil and tomato (and sometimes cured ham), or a slice of potato omelet. Coffee and orange juice are often drunk with breakfast.
What is a specialty in Madrid?
Some of Madrid's best-known local specialties are callos a la madrileña (tripe stew), cocido madrileño (a multi-course stew made with chickpeas, meat, and veggies), and oreja a la plancha (grilled pork ear).
Note: This post was originally published on January 14, 2014 and was updated on August 17, 2023.
Want to upgrade your experience by exploring Madrid alongside an expert guide? Join our Ultimate Spanish Cuisine Tour to discover local secrets and sample more of the city's best bites!