So, you're looking for a Port tasting in Lisbon? This delicious fortified wine is originally from Porto, but if you're sticking to the capital, these bars will happily pour you a glass (or two).
Even if you're just getting started with Portuguese wine, odds are you've heard of Port, or Vinho do Porto. Hailing from the north of Portugal, it's a sweet fortified wine usually served in a small glass as a digestif or generously poured over desserts like pêras bêbedas (poached pears soaked in wine).
It's made with grapes from the Douro Valley region and stored in cellars at Vila Nova de Gaia, across the bridge from the city of Porto which gave it its name. But these days, you can find it at wine stores across the globe.
Most people think Port is red, but actually, there are several styles, with colors ranging from white to rosé, and yes, your typical scarlet red. Some Port wines, like Ruby, you can drink straight away, while others need time to mature, like a Colheita or Vintage, which can age up to 40 years. Luckily for you, Port wine production has been around for many centuries, so you can sample all of these today in a single tasting.
If you don't have time for a trip up to Porto, don't worry, below are the best places for a Port tasting in Lisbon.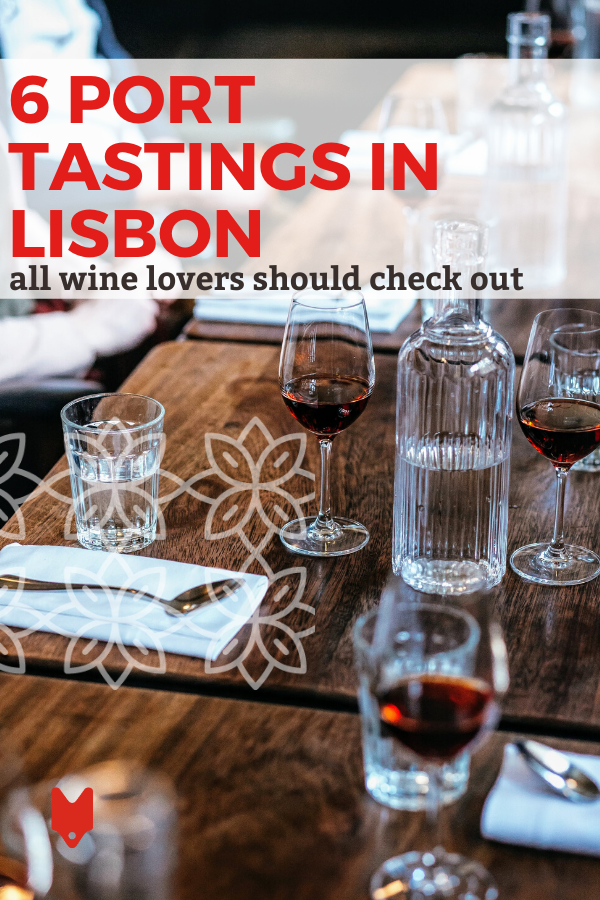 Where to drink Port in Lisbon
1. Taylor's Port (Alfama)
Established in the 17th century, Taylor's is one of the oldest brands of Port wine in Portugal. They've had their cellars in Porto for decades, but they've recently opened a shop and tasting room in Lisbon, right in the heart of Alfama.
Each day, they offer 15 Port wines to try, starting at €5 a glass. You can also order a thematic tasting like the Introduction to Taylor's, which includes five Port wines from different styles and ages. In the summer, there are Port-inspired cocktails like the Taylor's Chip Dry and Tonic, a twist to your average gin and tonic.
To pair with the wine, they offer a selection of Portuguese cheeses and cured hams, as well as sweet treats like our beloved pastel de nata.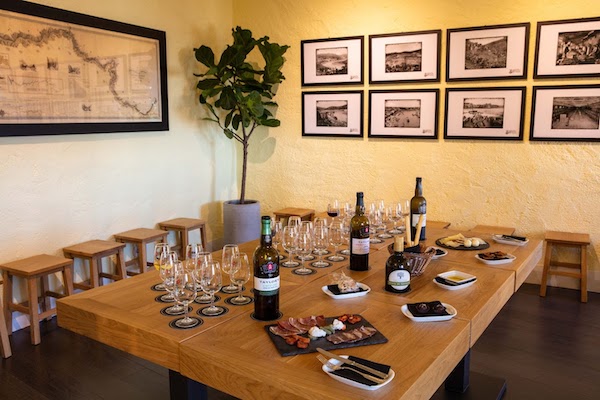 2. Lisbon Winery (Bairro Alto)
Lisbon Winery is the meeting spot for wine lovers visiting the city. If you're looking for a quiet wine bar away from the crowds in Bairro Alto, this is the place for you.
The 16th-century cistern is the first thing you'll notice when you first walk in, along with the boxes stocked with wine bottles. There are over 100 Portuguese wines on the menu, with a focus on small producers.
You can come for a glass, share a bottle, or book a tasting and learn from their passionate Port wine experts. The €79 tasting takes around two hours and includes five Port wines, a selection of local cheeses and sausages, traditional jams, olive oil, bread, and water.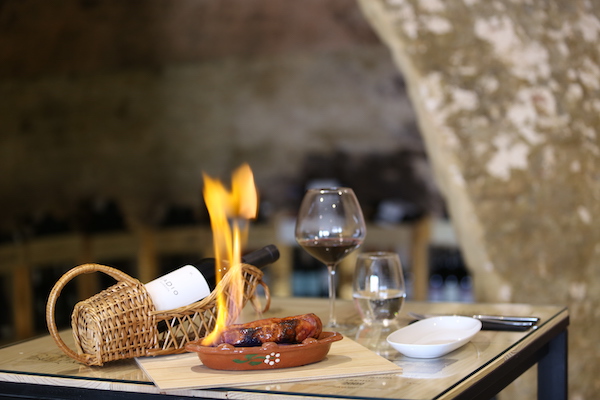 3. Grapes & Bites (Bairro Alto)
Food, wine, and a bed for the night—you can get it all at Grapes & Bites. Yes, it's a hostel, but it's the cozy bar downstairs that keeps the wine crowd coming. Dedicated to Portuguese wine, it has over 650 varieties available by the glass, including Port. They also offer tastings, if you want to sample a variety of Port wines in one go.
The bar opens at 3 p.m., but it gets busier in the evenings with their live music sessions. When you start to feel peckish, you can order a meal or get a round of petiscos to share. We suggest the garlic shrimp, and don't forget to dip the bread in that delicious sauce before they take it away!
Insider's tip: The area can get a bit noisy at night, so keep that in mind if you're planning to sleep here.
4. Donna Taça (Avenida)
Wine specialist Fernanda Rosa traded her hometown in Brazil for Lisbon to open Donna Taça. Located just off Avenida da Liberdade, this bar features a selection of more than 1000 wines, both Portuguese and international.
With so many wines on offer, it can be overwhelming to pick one; luckily, there's a team of experts on call ready to give you a recommendation and tell you the story behind the wine. The Port here is usually available by the glass, which ranges between €5 to €12. For the complete tasting experience, you can always get a cheese board or a flaming chouriço assado.
Donna Taça also opens doors to upcoming artists who can exhibit their work on the bar's walls. If you like what you see, you can take a painting home, along with a bottle of your favorite Port. It sounds like a fair deal to us!
5. Chafariz do Vinho (Príncipe Real)
If you're strolling around Príncipe Real and need a wine break, head over to Chafariz do Vinho. The name translates as the "fountain of wine," since this used to be part of a 19th-century water reservoir, and you can still see traces of this in its stone walls.
There's no shortage of wine here, but if you're coming for the Port, they offer a tasting called "100 years of Port." It allows you to taste four kinds of Port aged in wooden barrels, from 10 to 40 years. You can also order Port by the glass, which starts at €6.
Insider's tip: Before heading to the bar, you can visit the nearby Reservatório da Mãe d'Água, one of the most beautiful water reservoirs in Lisbon.
6. Wine Room Lisboa (Ajuda)
Not many tourists make it to Ajuda, but this neighborhood hides many attractions. There's the former royal palace, Palácio da Ajuda, a botanical garden, and yes, there's a wine bar too.
The Wine Room gives locals and newcomers a taste of delicious Portuguese wine, curated by the house sommelier, Carla Reis. From red to sparkling and fortified wines like Port, everything is available by the glass and comes from small producers.
For €35, you can get a tasting flight of fortified wines for two people, and they can also organize personalized workshops for bigger groups.
To pair with the wine, they serve a series of innovative petiscos, such as the alheira de caça com creme de castanhas e baunilha (game meat sausage with chestnut and vanilla cream) or the escabeche de pato com doce de marmelos e especiarias (duck escabeche with quince jam and spices).
Insider's tip: There are several ways to reach Ajuda, but if you want to hop on a Lisbon tram, the 15 and the 18 will take you there.