Sure… the Colosseum, the Vatican and the Pantheon should definitely be on your to-do list during your Roman holiday.
But let's get real for a second: no trip to Rome is complete without diving into its culinary culture. And essential to that culinary culture are Rome's food markets. So buckle up and get ready to discover a whole new world with these five food markets in Rome!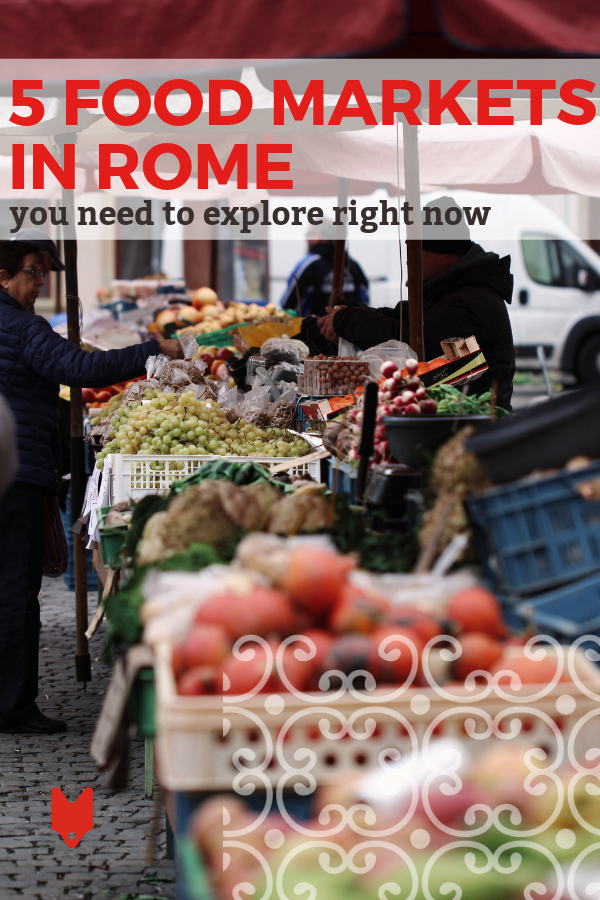 1. Mercato Testaccio
We're obsessed with tasting local dishes. Should we try the amatriciana, the porchetta or the carciofo alla romana? How about all of them?
But where?
That's when you wish you could have all of Rome's best restaurants serve you in just one place. Lucky for you, there's a place where you can actually go to taste the best Rome has to offer. It's called Mercato Testaccio, and it's the food market you can't leave Rome without trying!
Open Monday through Saturday from 7 a.m. to 3:30 p.m., the Testaccio food market is the perfect place to taste Roman street food. For delicious express handmade pasta get yourself to Le Mani in Pasta; for panini with Roman specialties like porchetta don't miss out on Mordi e Vai; and for the gelato lovers, you can't go wrong with a couple of artisanal scoops of gelato from Frigo!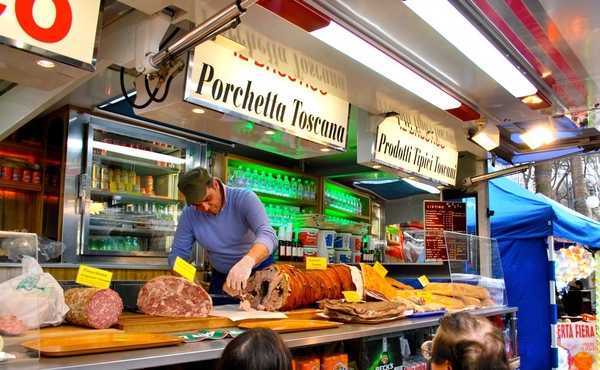 The marketplace is full of delicious street food-style bites, like Roman porchetta. Photo credit: zero.the.hero
2. Mercato Centrale
If you've got a train to catch at the Roma Termini station, we've got some great news for you: there's an underground food market where you can spend your time stuffing your face with amazing local specialties. Those Trenitalia waiting times actually have a purpose now!
Take the escalators and you'll be welcomed to Mercato Centrale, a.k.a. one of the best food markets in Rome open 365 days a year from 8 a.m. to midnight! Enrico Lagorio mans the meat stand, serving exclusively Chianina meat. If you're in the mood for a burger, his Tuscan meat stand is the place to go, serving only grass-fed beef.
Feeling like something completely Roman? Head to Stefano Callegari's shop to taste the trapizzino: a pocket of pizza bianca, crunchy on the outside and soft on the inside, filled with tasty ingredients like meatballs and parmigiana di melanzane.
Craving some pizza? Pier Daniele Seu's crunchy pizza is heaven on a plate, not to mention Gabriele Bonci's pizza al taglio!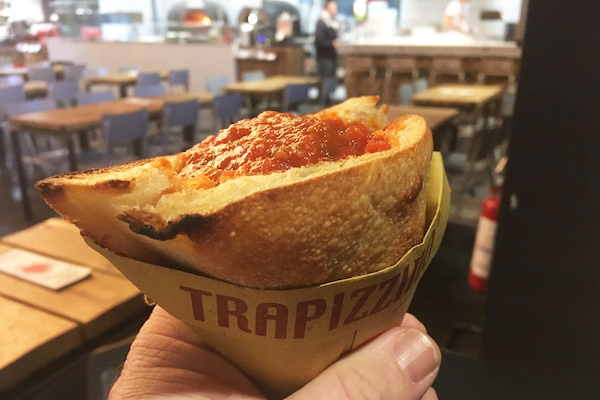 A meatball Trapizzino always hits the spot.
3. Mercato Trionfale
Get a taste of a real Roman food market by strolling through Mercato Trionfale near Vatican City. Unlike other more contemporary food markets like Mercato Centrale and Mercato Testaccio, this food market is exclusively for purchasing fresh produce.
With its 273 stands, it's the largest food market in Rome, not to mention one of the largest in Italy and in Europe! But don't worry about getting lost—the market is made up of halls filled with boxes of different colors. Each color represents a food category: green for vegetables and fruits, red for meat and blue for fish.
Stop by box 229 for fresh handmade pasta. From tagliatelle and fettuccine to lasagne, Anna Maria Moretti's Le Mani in Pasta won't disappoint. For honey, fresh eggs, jams and organic produce, da Peppino's box 192 is not to miss. Open since 1924, the stand is now in the hands of the family's third generation, and is one of the most historic stands in the market.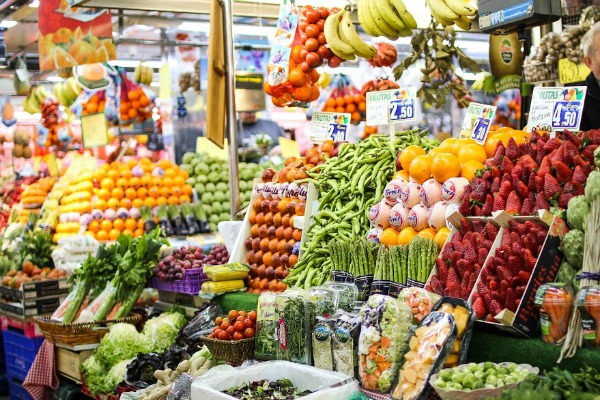 4. Mercato Campo de' Fiori
While Campo de' Fiori is more famously known for attracting locals and tourists for its nightlife, it's definitely a catch during the day too.
If you don't trust us, just take a stroll through this picturesque piazza Monday to Saturday between 7 a.m. and 2 p.m. You'll discover it's home to an incredible food market, which just so happens to be one of the oldest in Rome, dating back to 1869.
Initially, Mercato Campo de' Fiori was famous for its fresh fruits and vegetables brought in every day from the countryside. It wasn't until a while ago that the piazza began attracting stands selling meat, cheese, fish, flowers and practically anything else you can imagine. From fresh artichokes to guanciale for your carbonaras, you'll find that Mercato Campo de' Fiori is the perfect pit-stop before lunch in the nearby trattorias.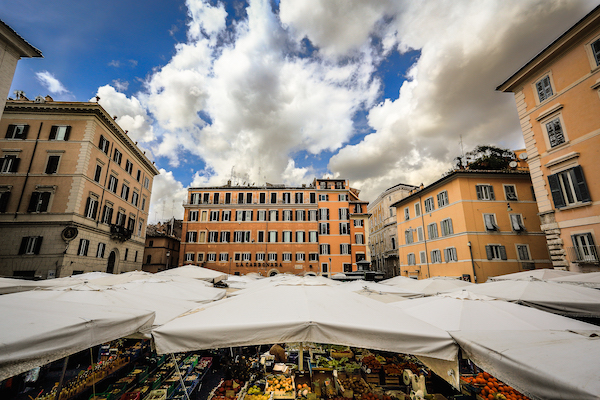 5. Nuovo Mercato Esquilino
The former Piazza Vittorio market, now baptized as Nuovo Mercato Esquilino, is the most diverse food market in Rome. Unlike its sister food markets which mainly offer Italian produce, the Nuovo Mercato Esquilino is the go-to place for foods from around the world.
It's no wonder it's located in the Esquilino neighbourhood, a.k.a. Rome's multicultural quartiere! If you're on the hunt for Chinese noodles and soy sauce, Romanian meats and vegetables or various spices from Morocco, you're in the right place! The atmosphere definitely reflects the food: vivid and unique.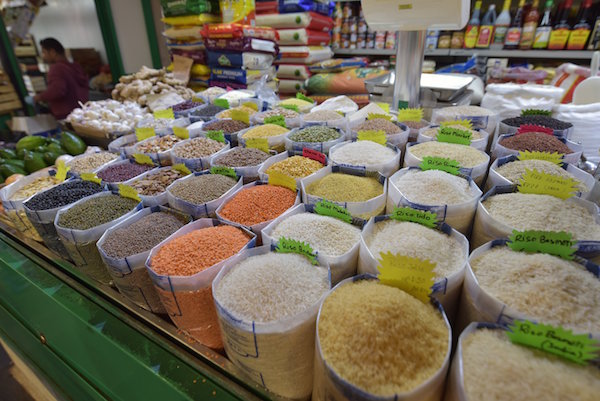 Want to step into a real Roman market and see what it truly means to shop like a local? Our Testaccio Neighborhood Food & Market Tour takes you behind the scenes of the district's eponymous market, where you'll sample local goodies (did someone say pizza and cheese?) and meet our friends who make the magic happen. We hope you're hungry!