Sundays in Madrid mean one thing: the El Rastro market. Over 100,000 people come to this sprawling open-air market every weekend to treasure hunt their way through more than 700 stalls.
The Rastro is a flea market, but it's so much more than that. It's true that you can find centuries-old antiques, vintage furniture, war memorabilia, records, paella pans and every type of souvenir.
But the El Rastro market is also a social gathering place for madrileños. Locals come every Sunday to shop, stroll, and grab a bite at the generations-old tapas bars that dot the neighborhood.
You can find just about anything at Madrid's El Rastro market—if you know where to look.
The Rastro can be massively overwhelming if you don't know where to go or what you're doing. With these tips, you'll be navigating the most popular Madrid Sunday market like a local in no time!
What Is El Rastro?
El Rastro is the largest and most popular open-air flea market in Madrid. On every Sunday and public holiday, hundreds of stalls set up shop in Madrid's La Latina neighborhood. They hawk ceramics, leather goods, vintage books, home decor, clothes, and so much more!
The Rastro has roots as a secondhand goods market. By the 1960s and 70s it was arguably the most important antique market in all of Europe. Customers' tastes have shifted over the past few decades towards newer items, but the Rastro is still a fantastic place to find a little bit of everything.
History of El Rastro
El rastro literally means "the trail." In this case, the trail in question is a rather bloody one.
The Rastro's name refers to the trail of blood that used to stain the streets of this part of La Latina. Madrid's first official slaughterhouse was built in 1497 at the northern edge of Plaza de Cascorro—right on the outskirts of town. At the time, Madrid was still a small farming village—it would be another 70 years before it became the capital of Spain!
Along with the slaughterhouse came tanneries, many of which were located along Ribera de Curtidores, which is El Rastro's main thoroughfare today. Cattle hides were transported to these tanneries from the nearby slaughterhouses, leaving trails of blood along the street. (We promise you won't slip in any cattle blood while you're out treasure hunting at this giant market nowadays!)
The slaughterhouse and tanneries soon made this area the place in Madrid to get fresh meat and leather goods. In the 1730s, the neighborhood started to morph into the market that we see today, as more trades moved in.
It all started with the ropavejeros—people who would sell used clothes in wooden, make-shift stalls on the streets. That's where the Rastro tradition of secondhand treasures began—and the rest is history!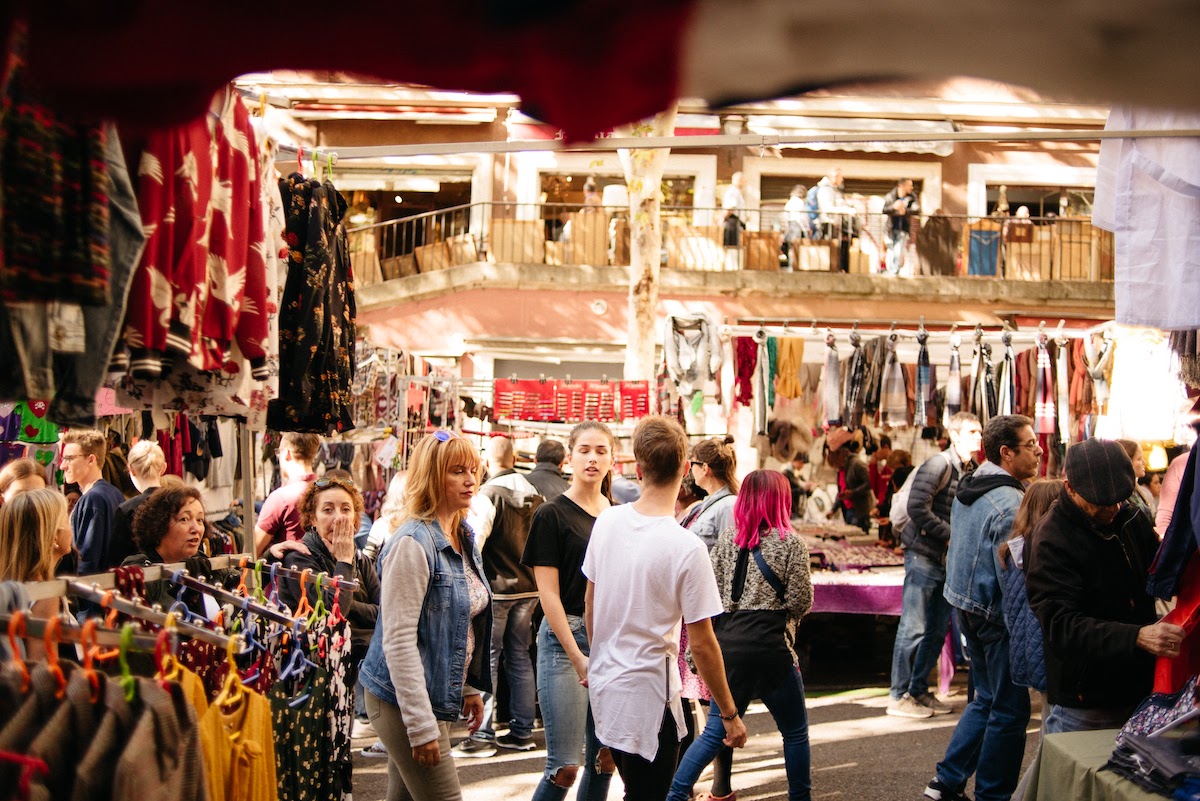 Visiting El Rastro
When & Where Does El Rastro Take Place?
El Rastro takes place in the La Latina neighborhood, in the triangle-shaped area formed by Calle Embajadores and Ronda de Toledo. It runs along Ribera de Curtidores and through Plaza de Cascorro.
If you're taking the metro, your best bet will be to get off at either the La Latina station (to work from the top of the market down) or the Puerta de Toledo station (to work from the bottom of the market up).
You can visit El Rastro from 9 a.m. to 3 p.m. every Sunday, as well as on all public holidays throughout the year. We suggest arriving as close to the opening time as possible in order to beat the crowds. El Rastro is at its busiest around 11 a.m.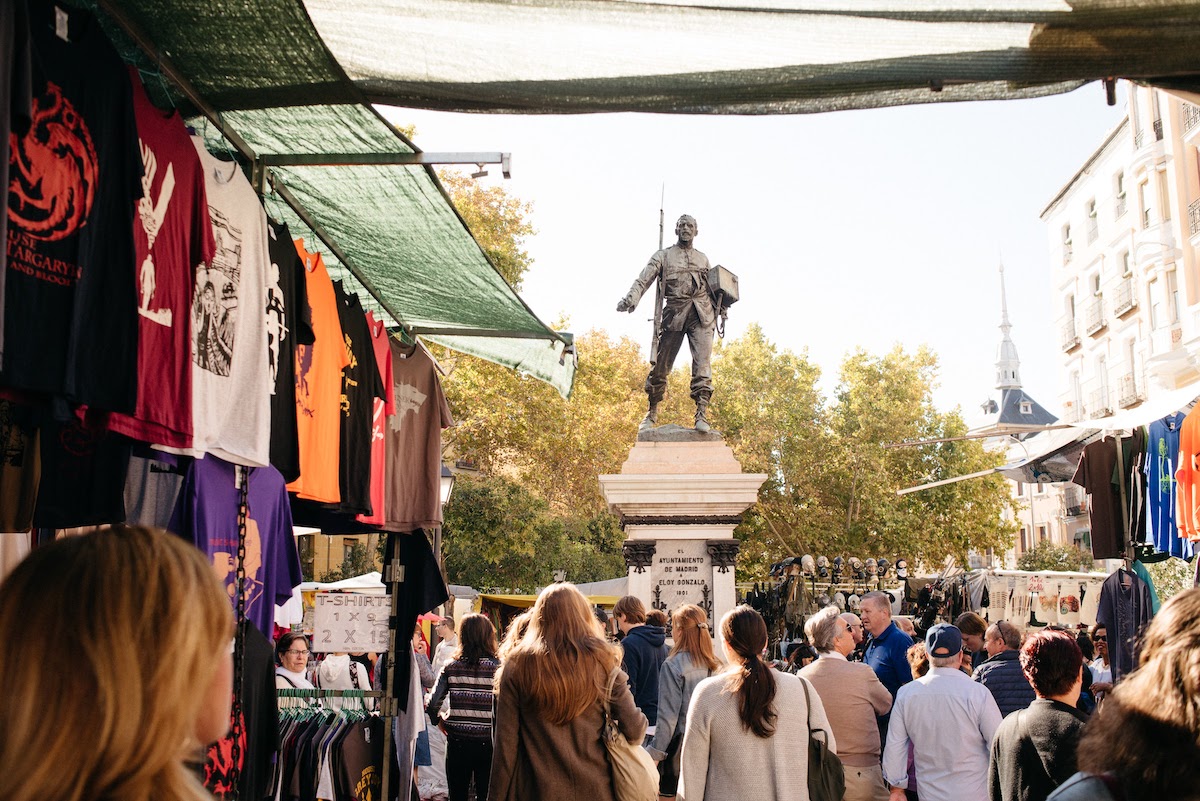 What to Buy at El Rastro
What can't you buy at El Rastro? (Not much!)
This beloved Madrid flea market boasts a huge variety of products, both new and used. Additionally, the surrounding neighborhood is home to a number of fantastic antique shops, which open especially for the market crowds.
You can find anything from clothes, jewelry and handbags to gas masks, underwear, and even live birds. Let's put it this way: you'll never get bored when visiting El Rastro.
Need help narrowing it down? Here are a few of our favorite stalls and shops that line the streets of the El Rastro market area.
Tienda Hípica El Valenciano: Opened more than 120 years ago by the current owners' grandfather, this is the oldest leather shop in the Rastro! It is one of the few remaining vestiges of the tanneries that used to dominate this neighborhood. This is a great place to buy equestrian goods as well as botas de vino, or handcrafted traditional wine-carrying sacks.
Ceramics stall (in front of Fotocasión, Ribera de Curtidores 22): Run by a father-son-uncle team, this is where to find the best ceramics in the Rastro (and perhaps in all of Madrid!). All the ceramics are handmade and hand painted by the family that sells then, and the prices are unbeatable.
Galerías Piquer: This gallery-style collection of shops is the best place in Spain to buy old, rare and unique antiques! It's a testament to the Rastro's roots as a secondhand goods market, as well as a great place to treasure hunt.
Pedro's rural relics stall (in Plaza General Vara de Rey on the corner with Calle Amazonas): Pedro is the third generation that has run this Rastro stall, dedicated to recovering and refurbishing forgotten relics of rural Spain. Both literally and figuratively, Pedro is right in between the "old Rastro" and the "new Rastro." He is still selling used things and antiques, but he's refurbishing them to make them new and in line with more modern trends!
Santa y Señora: Founded by local actress Lorena Toré, this is a vintage clothes and decoration shop with a micro theater downstairs.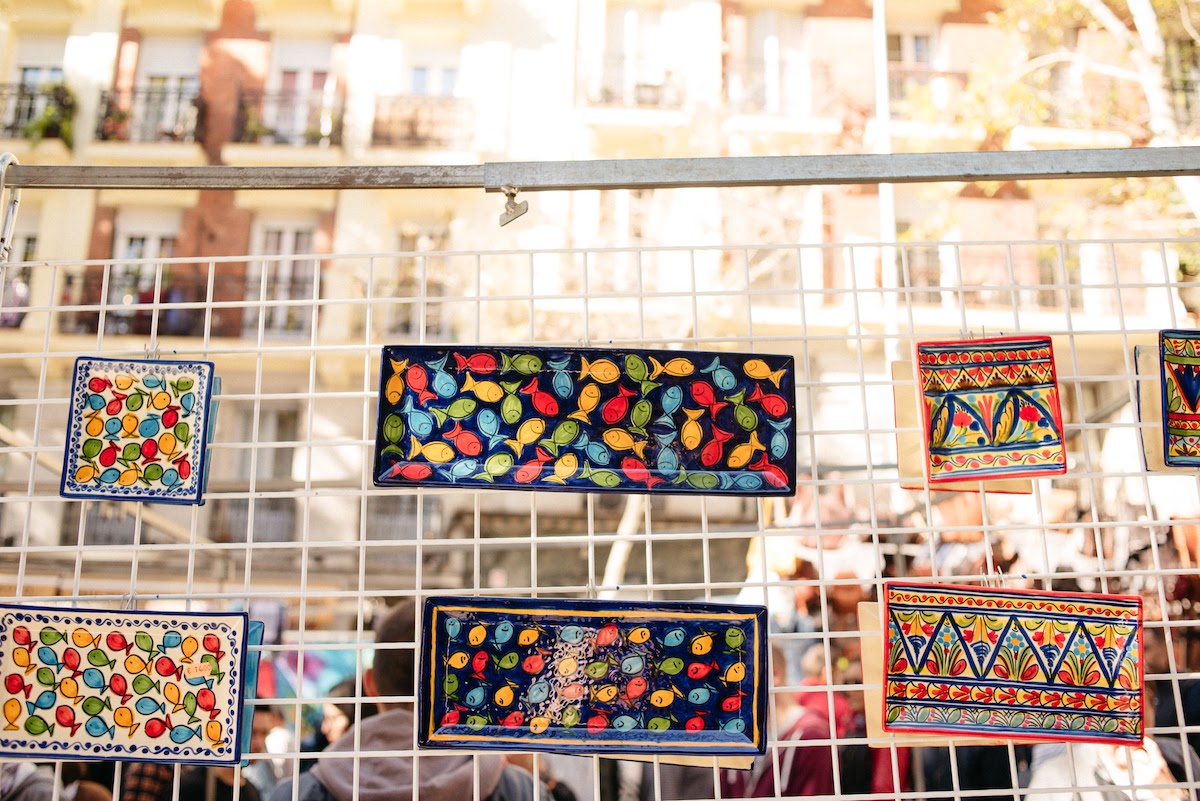 Shopping & Safety Tips
Many vendors at flea markets like El Rastro are still unable to accept credit cards. Come with cash!
It's easy to get caught up in exploring the pop-up stalls, but don't skip the actual shops lining the streets of the Rastro area, either.
Like every big city, Madrid has its share of pickpockets—and El Rastro is one of their main target areas. Be alert, and avoid carrying valuable objects in easy-to-reach places.
You can still enjoy El Rastro if you don't plan on shopping—after all, the real treasure of El Rastro is its atmosphere! Allow yourself to get caught up in the wave of people eagerly searching out a bargain and let your curiosity guide you through the stalls and along the winding side streets. Street performers strumming guitars, beating makeshift drums, and blowing air across glass bottles provide an eccentric soundtrack for exploring.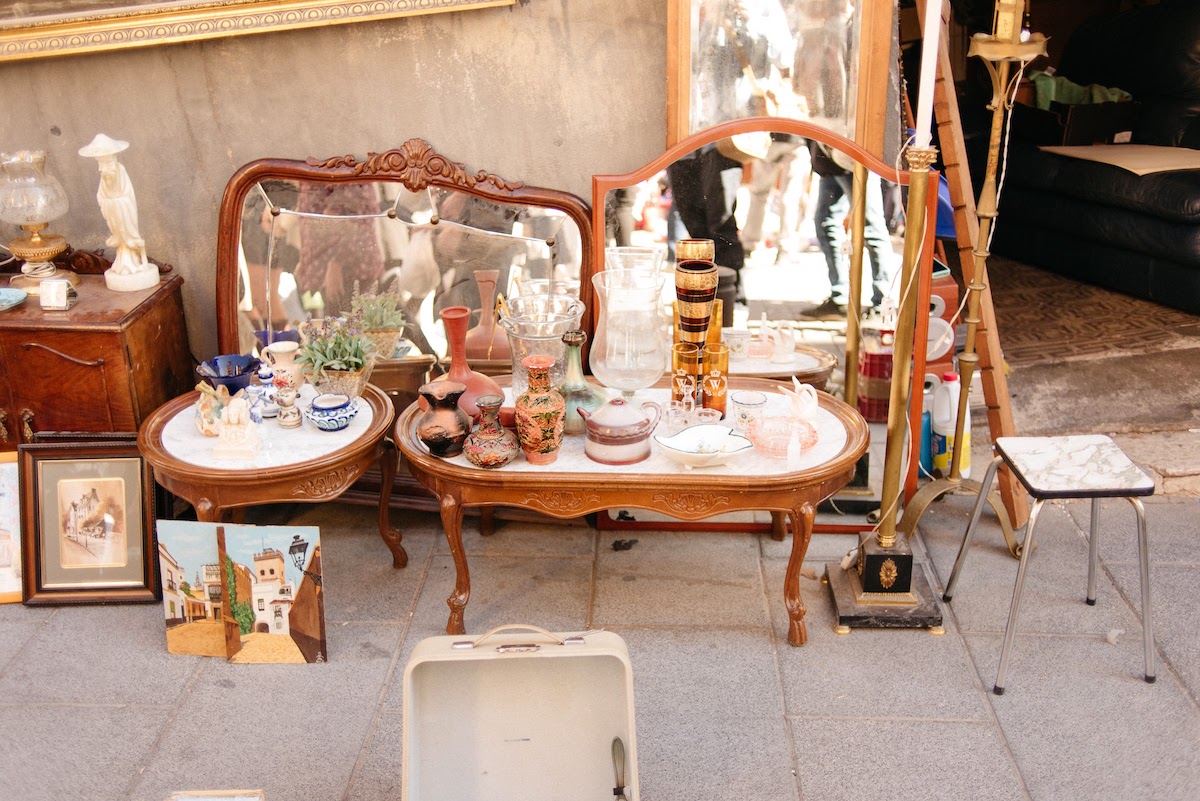 Where to Eat Near El Rastro
While the huge variety of wares and wearables is what attracts people to the El Rastro market, no trip would be complete without stopping into one of the nearby tapas bars. Grabbing a beer after a long morning of shopping is local tradition, and a must if you want to really do this flea market like a pro.
There are dozens (if not hundreds) of excellent places to eat in La Latina. Here are just a handful of our favorites in and around the Rastro area.
Aceitunas Jiménez: This traditional olive store (Plaza del Gral. Vara de Rey, 14) serves their own marinade blends in the traditional way. They've been using the same method since 1935!
La Paloma: La Paloma is a true institution when it comes to Rastro tapas bars. No day at the market is complete without a taste of the best no-frills seafood in Madrid here!
Los Caracoles: This place has been a staple of the Rastro tapas scene for more than 95 years. Los Caracoles (Calle de Toledo, 106) has belonged to the same family for three generations and they pour the best caña in the city. The specialty of the house is in the name—if you don't speak Spanish, it's snails!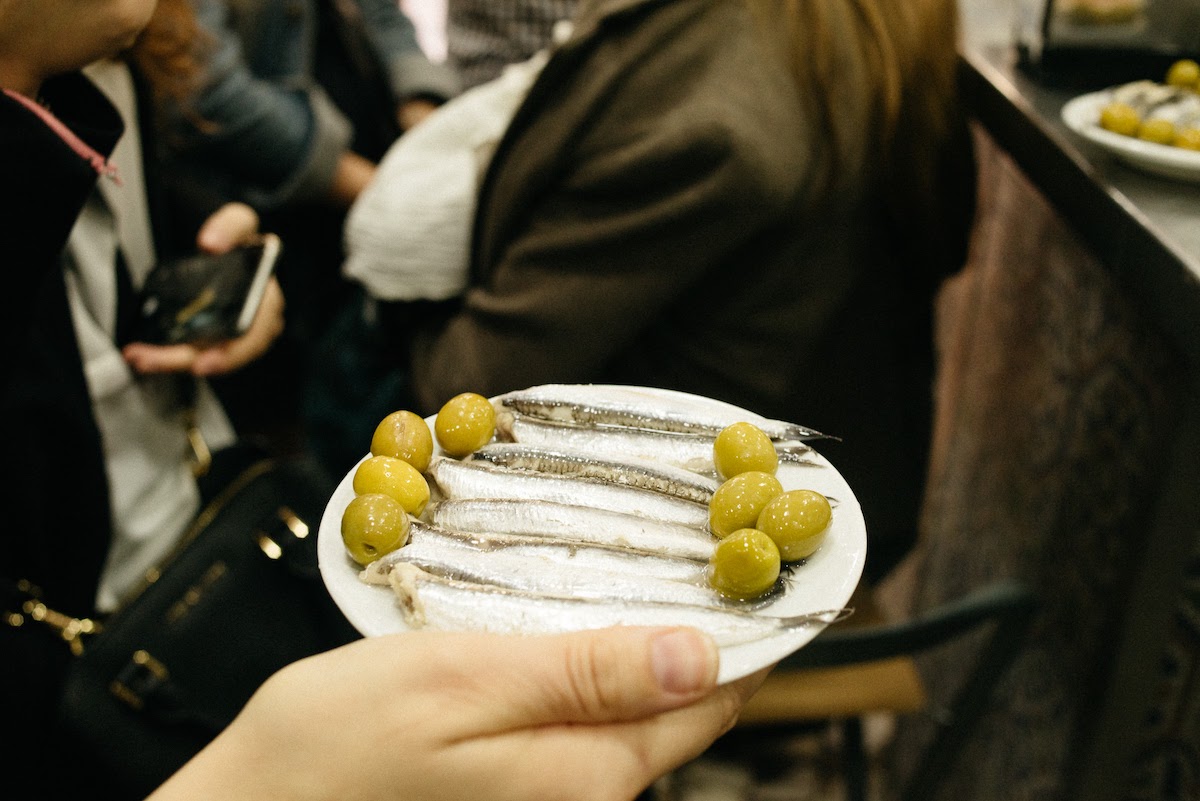 El Rastro Market FAQs
Where is El Rastro market in Madrid? 
El Rastro takes place in the La Latina neighborhood. Its main drag is Calle de la Ribera de Curtidores, but you can also find plenty of excellent shops on the surrounding streets.
How do you say "flea market" in Spanish?
The literal translation of the term is mercado de pulgas, but that's rarely (if ever) used. Instead, you'll hear Spaniards refer to flea markets such as El Rastro with the word mercado ("market") or its diminutive, mercadillo. You can also use the term mercado al aire libre ("open-air market") to avoid confusion with interior markets.
What are some of the best flea markets in Spain?
El Rastro may be the most famous, but if you're exploring further afield than Madrid, you're in luck. Most large Spanish cities and even many small towns host regular flea markets. A few of our favorites are the Mercadillo El Jueves (Thursday Market) in Seville, Els Encants Vells in Barcelona, and the Alcaicería bazaar in Granada.
When did El Rastro start?
El Rastro began as a secondhand goods market in the 18th century and has been going strong ever since!
Can I haggle at El Rastro?
Sometimes. If you're eager to try out your bargaining skills when visiting El Rastro, plan on arriving either as close to opening time or as close to closing time as possible. If you're successful, vendors might shave 15–20 percent off the price.
Update Notice: This post was updated on August 21, 2023. 
Worked up an appetite after all that browsing? Join us on the Madrid Tapas, Taverns & History Tour to experience the best bites in the city!