This blog post was originally posted on May 23, 2016, and was updated on January 24, 2018.
When you are coming to Seville, checking out a flamenco show is a must, but which is the best flamenco show in Seville for you?
Every flamenco show has their own unique qualities, so sometimes it really depends on what kind of experience you are after. Do you want an intimate experience where you witness foot stamping flamenco up close and personal? Or, trade in authenticity for a show with dinner? Or maybe you simply want to go see flamenco in the most traditional way possible– stopping by a local bar. Whatever experience you are after, we're here to help you chose the best flamenco show in Seville to suit your needs. Check out our pics by category here!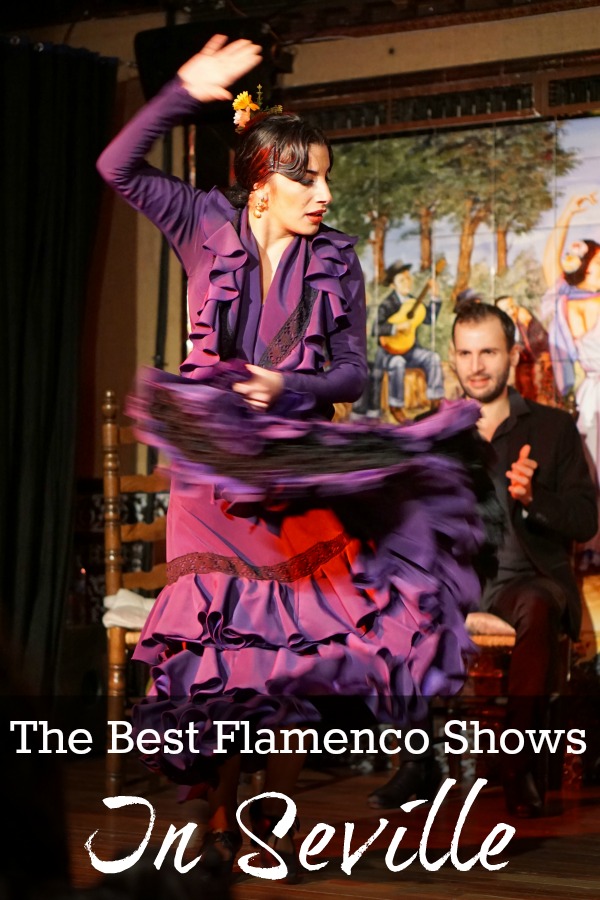 Best Traditional Flamenco Show
We adore the traditional flamenco shows, usually housed in small, intimate venues and performed by groups of passionate local artists. These shows provide the best flamenco show in Seville– authentic, but also great quality. The ticket price for these shows is generally 18 euros and the performances last around an hour. But, the question is, which is the best place to go?
For us, there are two amazing places. Casa de la Memoria, a cultural center dedicated to preserving the Andalusian arts, has a nightly show held in a small, intimate venue near Seville's famous Las Setas monument. Here you are up close and personal with the performers. However, to be safe, arrive up to 45 minutes early to secure the best seats!
Then, Casa del Flamenco, located at the back of the Santa Cruz neighborhood also has a nightly show, housed in a typical Andalusian patio with a regular rotation of performers (biographies of the performers are available on their website). The audience sits in a horseshoe shape around the stage, meaning there isn't really a bad seat in the house. What makes this experience stand out as arguably the best flamenco show in Seville is artists perform without any microphones or amplification.
Check out this video from our local expert, Sara, describing what to look out for when searching for an authentic flamenco show and reaffirming what makes Casa del Flamenco so special.
Best Show For A Local Atmosphere
Peñas are not-for-profit cultural associations, and this is where locals go to see flamenco shows and live the flamenco culture. Our favorite is Peña Cultural Flamenca Torres Macarena, which is located a short walk from the city center in the Macarena area.
Shows take place at 9 pm on Wednesdays and Fridays, and you can call to book your seat in advance. The performances are very good even though the performers are not professional. However, these artists are some of the most passionate you will ever encounter. To breathe the true sevillano flamenco atmosphere, this is the best flamenco show in Seville!
Best show with dinner
While for authenticity and performance quality we would choose other places, we understand that some people want to see a more theatrical take on flamenco (perhaps you are traveling with kids?) or simply want to have the experience of enjoying food and drinks while watching the show. While the food is not super memorable, Palacio Andaluz is the place to go for a show with dinner! The performance is more theatrical than authentic, but it is still quite good and good fun.
Do be warned: The art of flamenco is not respected here like in other venues. Be prepared for people chatting among themselves and taking photos throughout the show (something that you generally won't find in other flamenco places in Seville).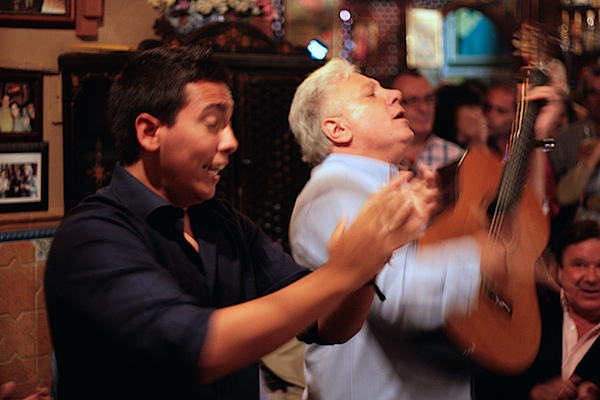 Best flamenco in a bar experience
There is nothing quite like experiencing lively flamenco in a bar. The buzz of people clapping the palmas, shouts of olé flying across the room, the crowd joining in when they feel like. However, the downside is that flamenco is completely spontaneous. This means that it is not a planned show, and while there are places where they will often do flamenco in a bar, you could sit around all night waiting for some music that may or may not begin.
To avoid this, the best flamenco in a bar experience in Seville has to be Casa Anselma (Calle Pagés del Corro, 49). This local hotspot is in Triana, where lively sevillanas (local folklore songs) are the game of the day. Namesake Anselma herself even joins in on the action. That is when she's not making sure you are parting with your hard earned cash at the bar! Entrance to the bar is free, but you are expected to purchase a drink.
If you are willing to take a chance with the more spontaneous kind, head down to Quitpesares (Plaza del Padre Jerónimo de Córdoba, 3). This bar was once owned by renowned local performer Pepe Peregil and now run by his son Álvaro. This is a very local bar, and on weekend nights expect to find the songs of sevillanas filling the bar.