Wondering through San Francisco Chinatown's colorful streets and alleyways on foot is a fun way to discover the neighborhood's unique, vibrant shops and eateries. A turn-down Ross Alley from Washington or Jackson Street will take you to the sweet-smelling Golden Gate Fortune Cookie Factory. As the only San Francisco fortune cookie factory making the lucky treats by hand, it's a must-visit stop for any itinerary.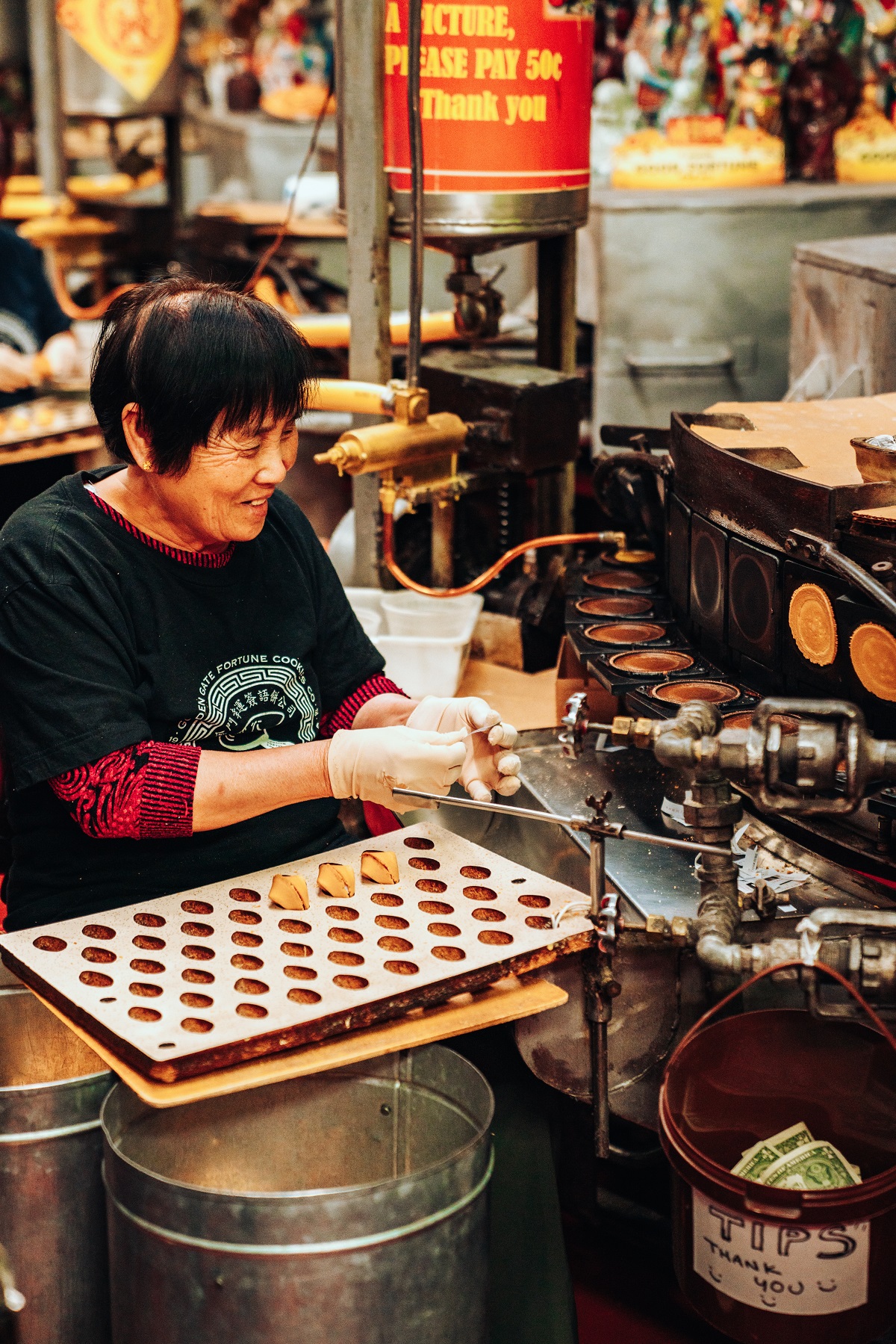 In the United States, fortune cookies complete a meal of Chinese food. Diners crack open the crunchy folded vanilla wafer to uncover the paper fortune inside, usually an insightful life message. Surprisingly the fortune cookie's origin goes back to Japan, not China.
Japanese immigrants brought the folded cookie techniques to San Francisco in the late 19th century. Chinese restaurants included the cookie with meals, eventually manufacturing them as well. When most fortune cookie bakers decided to automate their cookie-making process, Golden Gate Fortune Cookie Factory opened in 1962 with a mission to preserve the hand-folding tradition.
Visiting the Golden Gate Fortune Cookie Factory
You can visit the Golden Gate Fortune Cookie Factory on your own or as part of a tour like Devour Tour's Ultimate San Francisco Food Tour: North Beach, Chinatown & Beyond to meet the locals behind the cookies. If you arrive mid-day, expect to wait in a line spilling into the alleyway with other culturally curious visitors. If you want to avoid the crowds, try visiting during the first and last few hours the factory is open.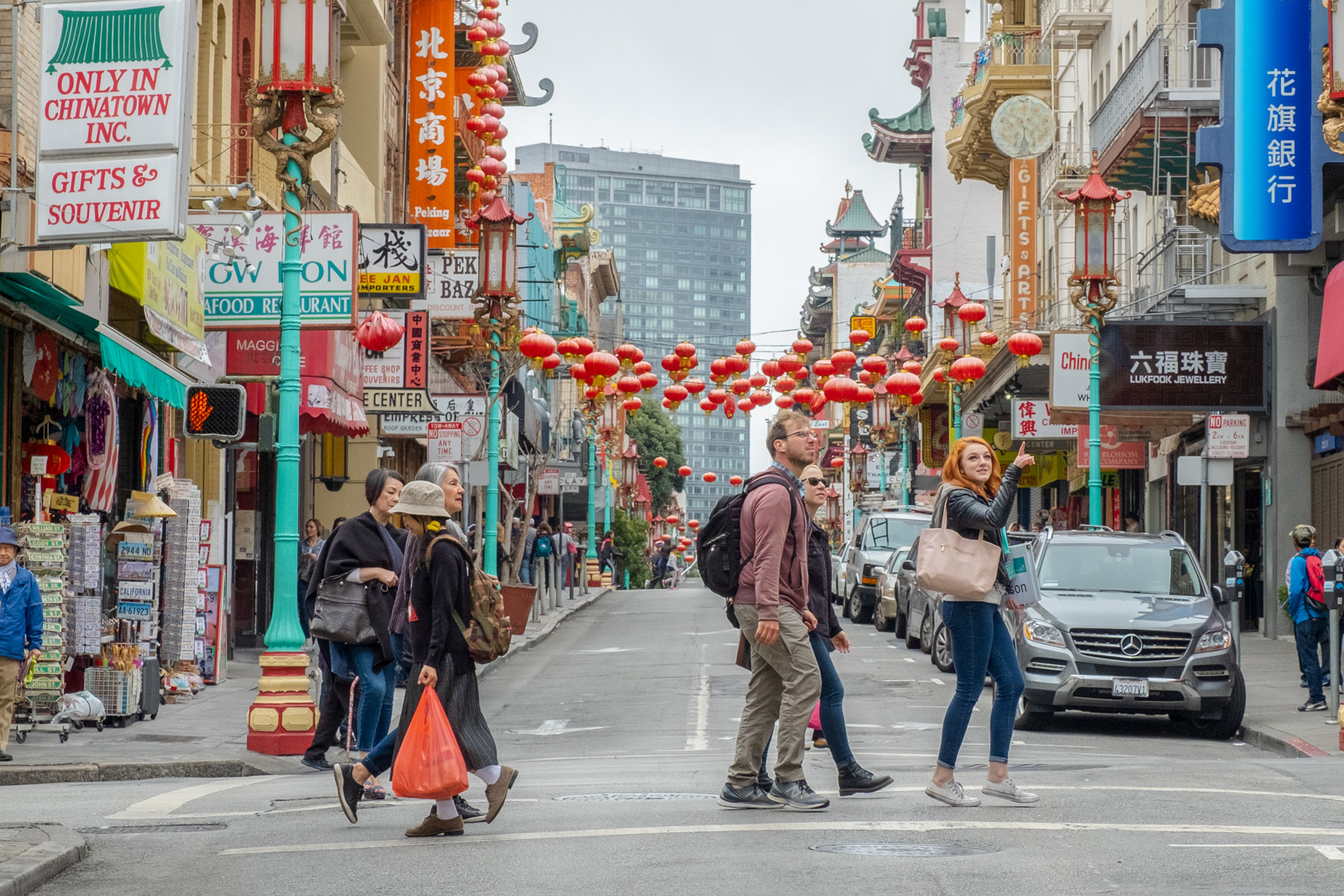 The factory's enticing scent of fresh griddled cookie dough attracts locals and visitors alike to its doors. While waiting to get a peek inside the factory, Ross Alley's exciting Chinatown's essence entertains with red lanterns strung overhead and the pagoda-style storefront painted in bold red trim with jade green awning.
But the best thing about the wait to get inside the factory is the free cookie. Factory employees hand out flat pancake-like cookies—a fortune cookie that missed the fold—to nibble on.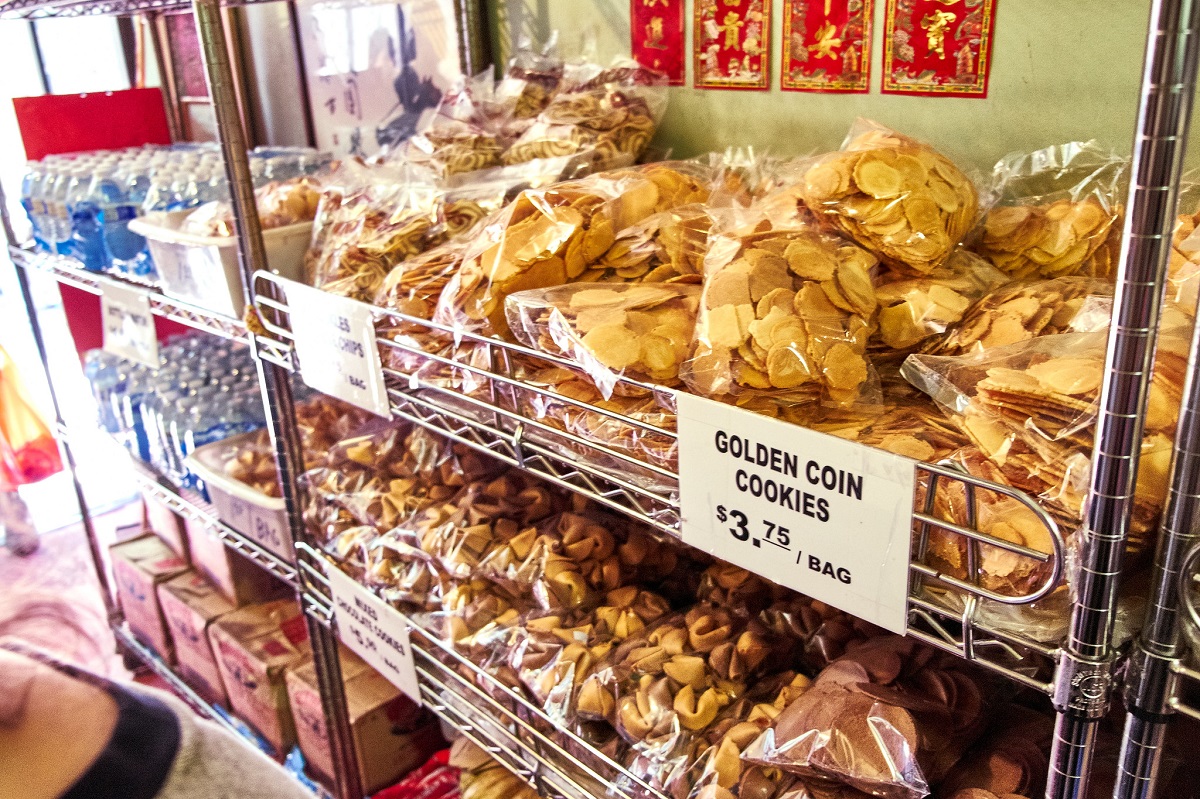 What can you see at the Fortune Cookie Factory?
Once you get inside the Golden Gate Fortune Cookie Factory, there's much to see. The unpretentious storefront factory has bags of freshly baked cookies on one side of the narrow room and the handmade artisan cookie production line on the other.
Three vintage fortune cookie machines portion cookie batter onto hot griddles pressing the cookies as they rotate clockwise, releasing them when they are still soft enough to fold. At each station, a fortune cookie factory worker takes the cookie wafers off the hot press, inserts a fortune in each one, and folds them into cookies made with love. Then repeat.
It's estimated that the factory makes about ten thousand hand-folded fortune cookies daily. You can request a personalized message be inserted into a fortune cookie during your factory visit. Or you can pre-order a pack of fifty or one hundred cookies with a special custom message inside to pick up on your visit.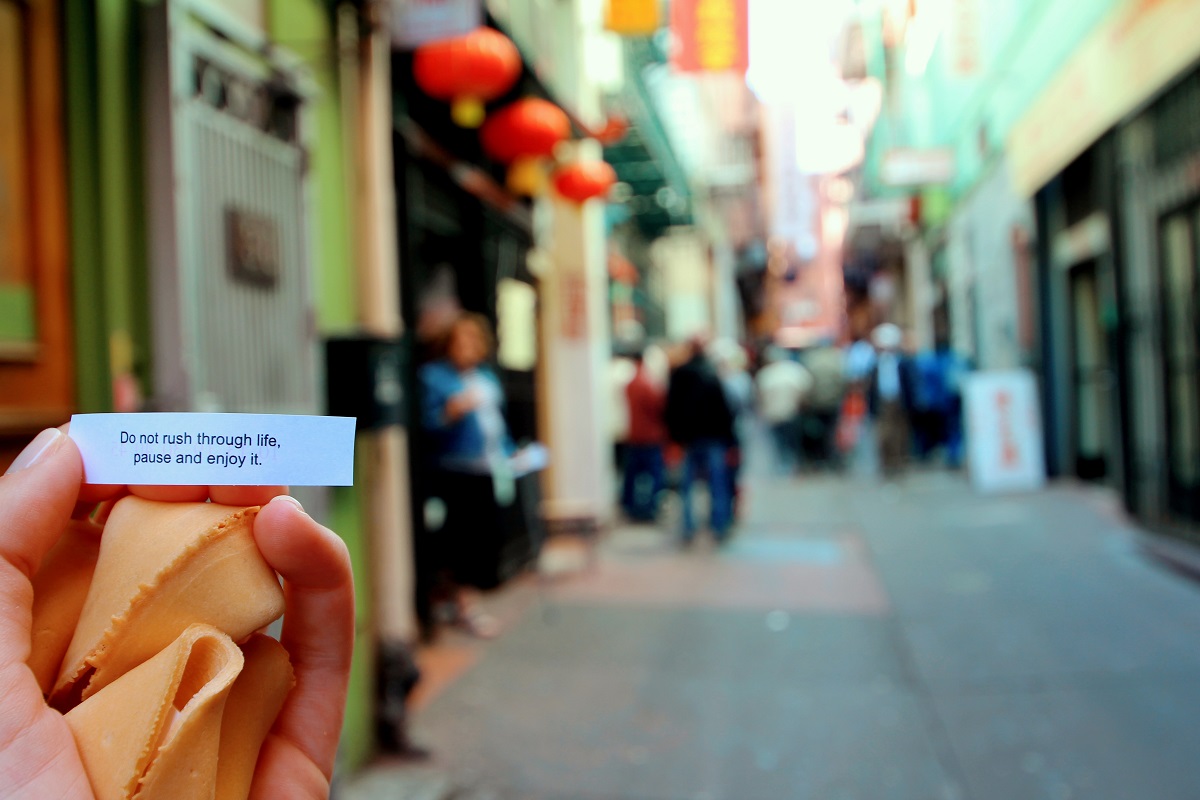 Besides the traditional vanilla flavor fortune cookie, the factory also makes chocolate, strawberry, green tea, and glazed cookies. They also make oversized novelty fortune cookies to keep as a unique souvenir or to crack open and enjoy.
In 2022 Golden Gate Fortune Cookie Factory celebrated its 60th year and has the distinction of being a San Francisco Legacy Business. Now in its second generation as a family-run business, the factory is a cultural hub for the community. Filling the wall above the griddle wheels are large-scale urban-style paintings that pay homage to the legendary cookie makers depicting them hard at work on their craft.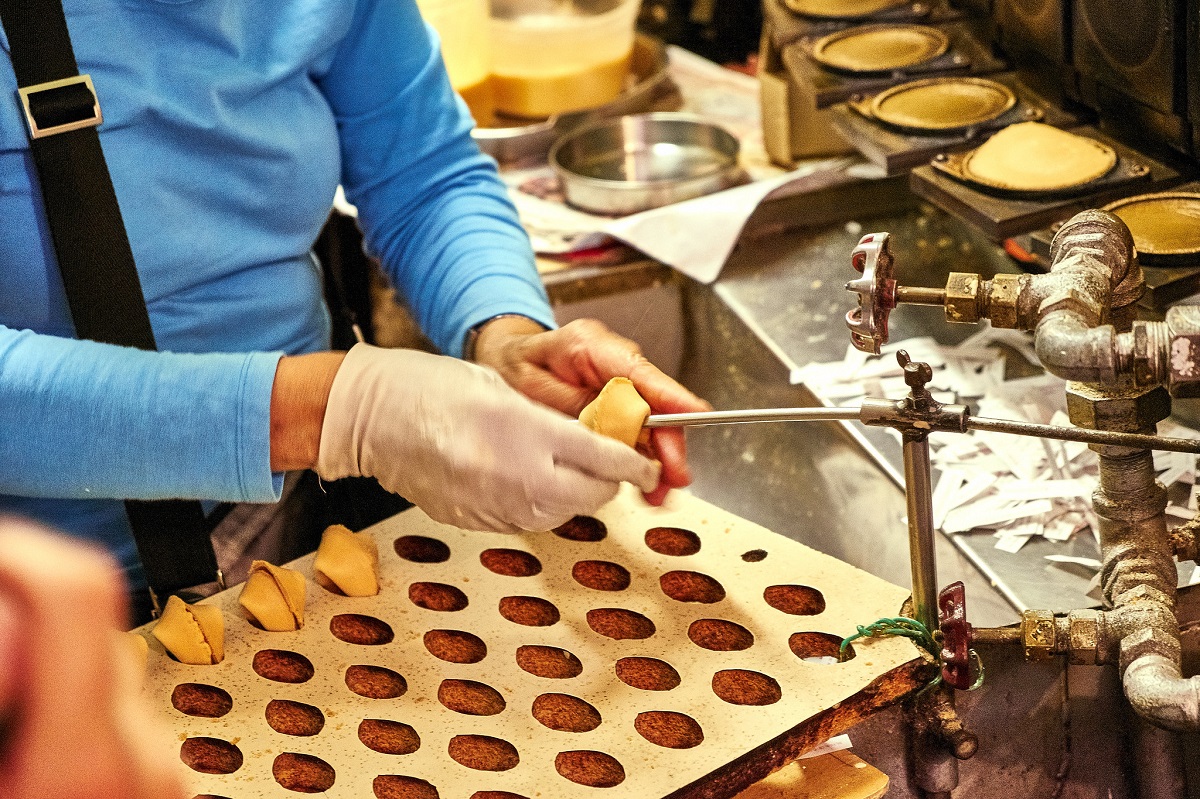 The factory is a can't miss San Francisco attraction for tourists and a popular hot spot for visiting celebrities and politicians. Warriors basketball star Klay Thompson visited the factory and tried his hand at the delicate art of cookie folding. And in 2018, the factory was featured as a challenge on The Amazing Race television show where contestants had to make perfectly folded cookies.
Devour Tour's Ultimate San Francisco Food Tour makes a stop at the Golden Gate Fortune Cookie Factory a stress-free experience for guests. Our guides check in with factory staff and ensure you'll have a few minutes to watch the cookie folding process, have a chance to buy a bag of cookies to take home with you, and of course, enjoy a delicious cookie hot off the press. Join us on a tour!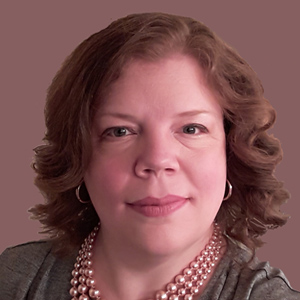 Eva Barrows is a San Francisco Peninsula freelance writer and book editor. She writes for regional magazines PUNCH (The Spirit of the Peninsula) and Edible Silicon Valley and contributes to the Kampgrounds of America (KOA) blog. She visits San Francisco and its restaurants on weekends when she needs an adventure. Read more of her travel and food writing at www.evabarrows.com.