Spain is a country of gorgeous landscapes, stunning architecture and passionate culture.
That being said, it can be hard to narrow down exactly where to go. Each region is seemingly more beautiful than the last! That's why there's no better way to see the country than by taking a road trip in Spain. Next time you're here, be sure to set aside a few weeks to drive around the country and experience life in each stop along the way—like a local!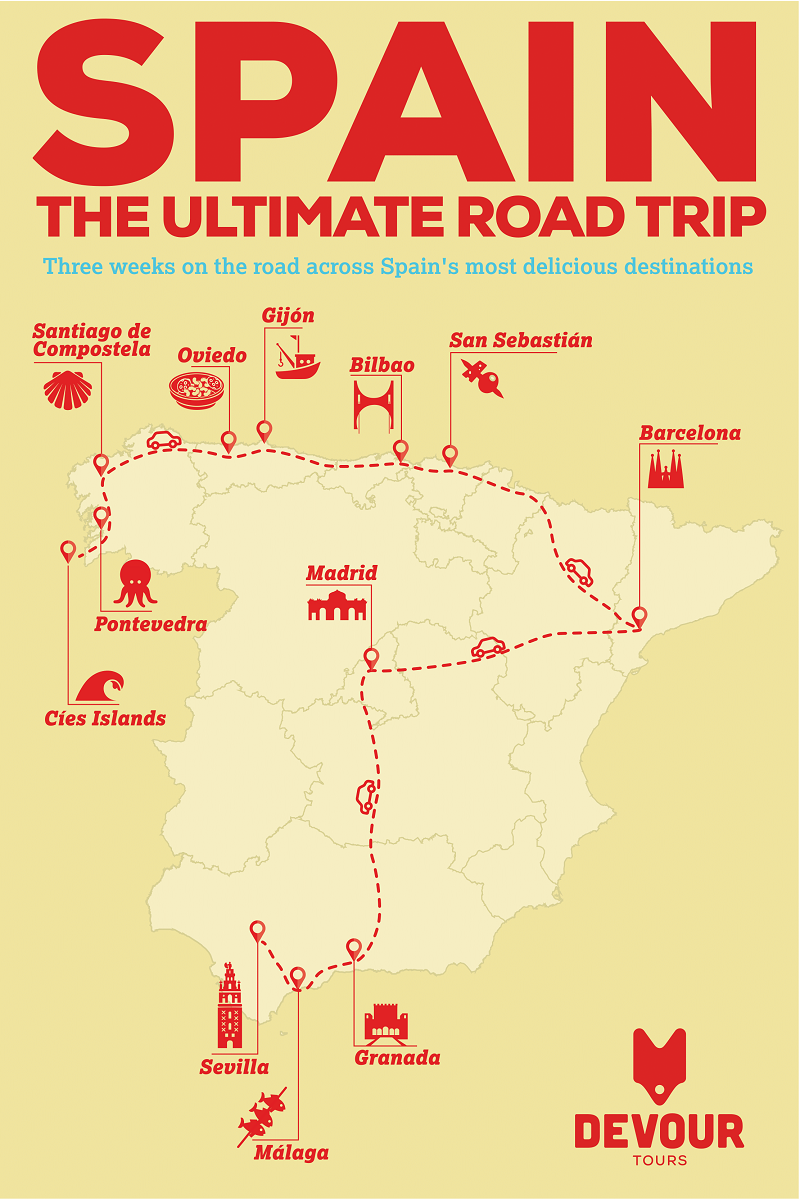 Click to expand or embed this image on your site
Driving in Spain
Renting a car is one of the easiest and most convenient ways to take a road trip in Spain. Use a price comparison site to check out various rental companies and find the best option. When it comes to driving in Spain, keep in mind that we drive on the right and most cars are manual transmission. (Automatic cars are available to rent, but tend to be pricier.) Drivers from the EU can use their European licenses in Spain, and those from elsewhere in the world should apply for an International Driving Permit at home to stay legal on the road.
Don't want to drive? No worries! The vast majority of the cities listed here are connected to one another by train. Use the Renfe train website to help plan your journey.
Now that you know the basics of renting and driving cars, let's hop in and start our unforgettable road trip in Spain!
Galicia
We'll start our road trip in Spain with four days in one of the country's most gorgeous unspoiled regions. Galicia, situated in the northwest corner of the Iberian Peninsula, is home to lush greenery as far as the eye can see, as well as some of the most incredible beaches in Spain.
Start things off in Pontevedra, home to a gorgeously preserved medieval city center. As a bonus, it's considered one of the most walkable old towns in Spain. The ease of mobility in Pontevedra and its small, compact size make it a great place to start your road trip in Spain.
Spend a day discovering the city and take another day to head out to the Cíes Islands just off the coast. You can easily catch a ferry to the islands from nearby Vigo, a lovely city which is also worth exploring if you have time. The islands, however, are among Spain's most incredible natural treasures. The white sand beaches and crystal-clear waters are calling your name!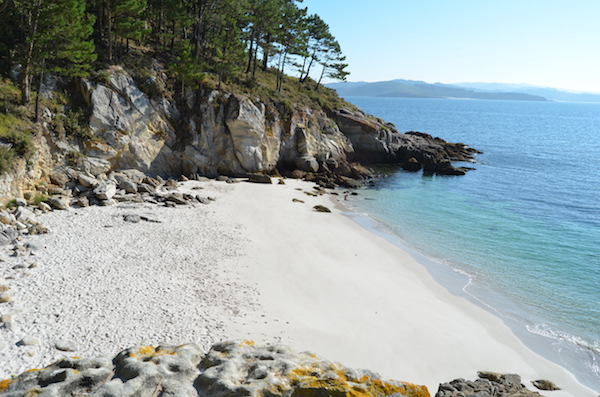 After getting to know Pontevedra and the islands, continue north on your journey until you reach the crown jewel of Spain's most famous pilgrimage route: Santiago de Compostela. However, you don't need to be a pilgrim on the Camino de Santiago to appreciate this gem of a city. The emblematic cathedral enchants and amazes visitors from all over the world and offers spectacular views of the city from its rooftop. The city also has a fantastic wine scene, with dozens of wine bars lining Rúa do Franco. As a bonus, many also offer free bites with each drink, making it a great way to sample Galician delicacies!
Recommended time: Spend one day each in Pontevedra and the Cíes Islands. Santiago will take you about two days to fully appreciate.
Best bites: You can't go wrong with Galicia's famous pulpo a feira! Spaniards all over the country rave about this tender octopus dish, piled atop Galician potatoes and generously doused in smoked paprika. It's at its best in its home region!
Asturias
Continue discovering the emerald jewel that is northern Spain as you make your way to Asturias, Galicia's next-door neighbor. Another region that most tourists tend to overlook, Asturias more than delivers when it comes to gorgeous scenery and authentic small cities.
First, we'll stop in Oviedo, which is about a three hour drive northeast of Santiago. The route takes you past some of the region's beautiful coastal towns, so stop and explore a few of them if you have time! Oviedo itself is a comfortably sized city that's home to some of the oldest Christian buildings in the country, as well as plenty of Celtic influences and remnants from the Spanish Civil War.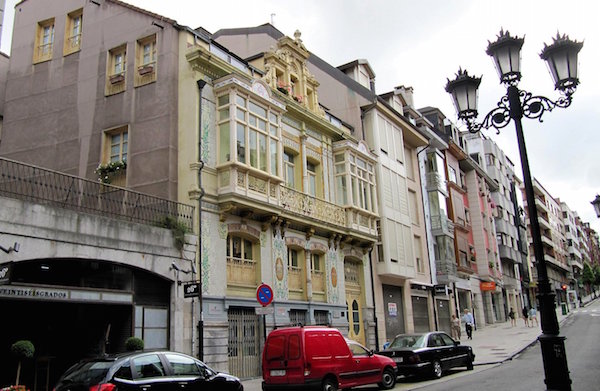 Since you'll likely have a car, drive up Mount Naranco to check out the incredible old church poised on the hillside. Santa Maria del Naranco was completed in 848 AD and is a true testament to the skill of its architects. The attention to detail is breathtaking considering the early time period in which it was constructed.
Another city absolutely worth a visit in Asturias is Gijón, just a short half hour drive north. This coastal city boasts a proud maritime heritage and one of Spain's most vibrant fishermen's quarters. However, it's also home to an international arts center and some of the best cider houses on Spain's northern coast. If you're looking for a different kind of beach town on your road trip in Spain, Gijón certainly delivers!
Recommended time: Both Oviedo and Gijón are comfortably sized cities where you could easily spend a day each.
Best bites: A hearty helping of fabada (Asturian bean stew with morcilla and chorizo sausages) always hits the spot.
País Vasco
Home to a rich and varied culture unlike any other you'll find in Spain, the Basque Country is the next stop on our trip. Basque locals are fiercely proud of their unique cultural identity and language, and love helping visitors feel at home.
Less than three hours from Gijón, you'll come to Bilbao. Industrial-chic, artistic and home to a great food scene, it's unlike any other stop on our road trip in Spain. Even if you're not an art aficionado, the world-class Guggenheim museum is absolutely worth a visit (and not just for its spectacular architecture, though the famous exterior does make a great photo op!). The stunningly modern design of buildings such as the museum contrasts pleasantly with the old-fashioned charm of the old town.
Next, it's on to San Sebastian to experience some of the absolute best food in the country! From dozens of Michelin-starred restaurants to humble, down-home pintxos bars, you can't really go wrong with anything you eat here. Spend an evening discovering the city's many gastronomic delights and work it off the next day with a hike up Monte Iguelo or Monte Urgull. Either way, you'll be rewarded with spectacular views of the city and La Concha Bay.
Recommended time: Spend two days each in Bilbao and San Sebastian to fully appreciate the best of each city.
Best bites: The beauty of a pintxos crawl is that every bar along the way has a different specialty. Pop into several different places throughout the night and discover the pride and joy of each!
Barcelona
Catalonia's crown jewel and one of the most essential cities in all of Spain, Barcelona gets plenty of hype. Luckily, we're happy to report that it more than exceeds expectations! The Catalan capital is worth a stop of several days on your road trip in Spain! It'll take you about 6 hours to reach from San Sebastian, but the drive takes you through some other lovely smaller cities worth exploring, such as Pamplona and Lleida. If you have time, consider spending a day or so in one of these towns on your way to Barcelona. Not only will it break up the drive, but you'll also experience a different side of Spain not as many tourists get to see.
Barcelona itself is completely beyond words. From the whimsical modernist architecture to the sleek, cosmopolitan rooftop bars, Barcelona is a city made for relaxing and enjoying as you discover the sights. Yes, you should take the time to marvel at the Sagrada Familia and Park Guell, but allow room in your schedule to relax on the beach or people-watch in Parc de la Ciutadela, too!
Recommended time: Three days in Barcelona is the perfect amount of time to discover the city's main sights.
Best bites: If you like paella, you'll love fideuà. This tasty noodle-based dish is closely related to the iconic Valencian rice, but is a more authentic option in Barcelona.
Madrid
Time to head from one iconic Spanish metropolis to another. Madrid, the lively and vibrant national capital, is one of the most important stops on our road trip in Spain. With plenty of incredible sights and local charms alike, it's easy to fall in love with this colorful and passionate city.
Madrid is home to dozens of world-class museums, including the Prado—home to hundreds of artistic masterpieces—and the fascinating National Museum of Natural Sciences. If you'd like to spend some time outside, you're in luck! As one of Europe's greenest capitals, there's no shortage of lovely parks where you can kick back and relax. End each day with a sunset drink at one of the city's spectacular rooftop bars before heading out on a tapas crawl.
Recommended time: Like Barcelona, about three days in Madrid will be perfect.
Best bites: There's no better place than the capital to experience Spain's classic tortilla de patatas.
Andalusia
End your road trip in Spain in one of the country's most vibrant and passionate regions. Andalusia, the sun-drenched southernmost region of the country, is the birthplace of flamenco dancing, sherry wine, and some of the most iconic tapas scenes in Spain.
Start off in Granada, where you'll visit the magnificent Alhambra in all its glory. It's no wonder this spectacular complex of grandiose palaces, tranquil gardens and imposing towers is one of the most popular sights in the country. From there, take some time to explore the winding backstreets of the ancient Albayzín quarter. Head to the city center for an evening tapas crawl. You'll enjoy the local custom of receiving a free tapa with every drink you order!
From there, it's on to sunny Malaga. This laid-back seaside city makes for the perfect penultimate stop of an exciting trip. Take your time exploring sights such as the Alcazaba and Gibralfaro Castle. Both offer unbeatable views of the city down below. End your time in Malaga with a well-deserved day at the beach!
There's no better place to end your road trip in Spain than gorgeous Seville! As Andalusia's exciting capital, it's full of magnificent history and especially fascinating culture around every turn in the storied cobblestone backstreets. Let your jaw drop as you step inside the glorious cathedral. Then, make your way to the top of the building and take in the views from the top of the Giralda tower. Head to the Alcázar nearby and wander through the lovely and peaceful gardens. As the sun sets, you can't beat the evening views from atop Las Setas. The free drink at the rooftop bar that's included in your entry ticket doesn't hurt, either!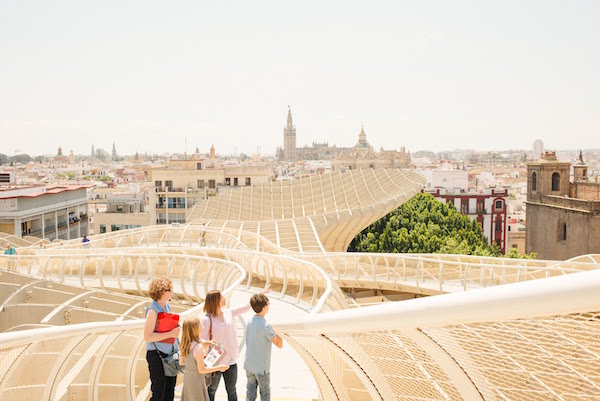 Recommended time: Two days each in Seville, Granada and Malaga should be just about perfect.
Best bites: Nothing is more andaluz than a tapa of fresh pescaíto frito and a crisp, dry sherry such as manzanilla. If you're in Malaga, feel free to swap out the fried fish for espetos!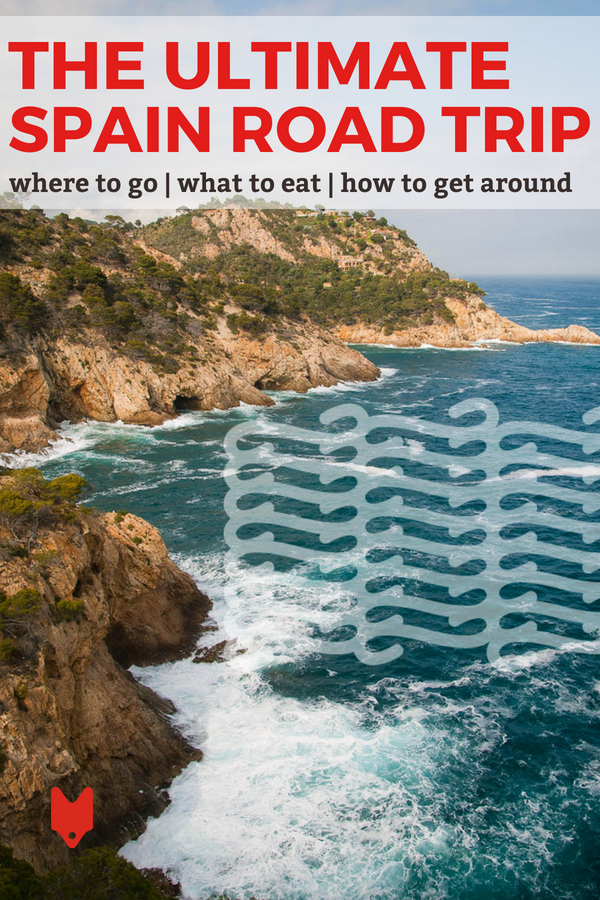 Photo Credit: lifacolor, Text Overlay: Devour Madrid Food Tours