They say that the rain in Spain stays mainly in the plains. Unfortunately, though, Madrid is smack-dab in the middle of those plains. But don't despair! These are some of the best things to do in Madrid when it rains, so you can still make the most of every moment in the Spanish capital.
The normally sunny Spanish capital gets, on average, five rainy days per month. Generally, it's little more than a light drizzle, but that's still not ideal for seeing the sights. Especially if you are visiting in the fall, expect to deal with more than a smattering of rain during your Madrid adventure. Make sure to pack your umbrella!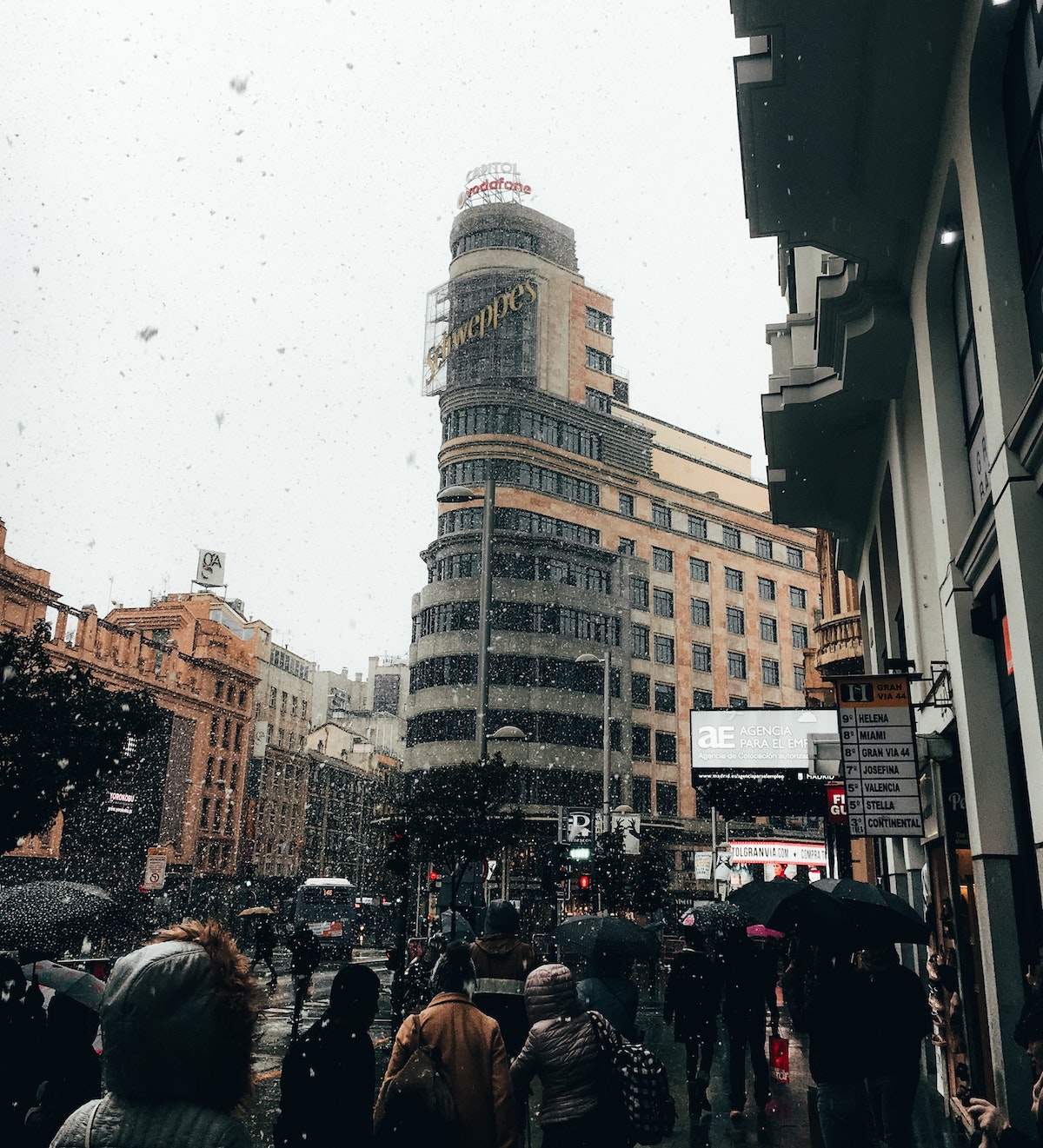 The great thing about Madrid is that it's still possible to enjoy much of what it has to offer even while staying inside. Its world-class museums, excellent theaters and performance venues, and plentiful shopping opportunities are among some of our favorite ways to enjoy Madrid no matter what the weather. But when the rain arrives, they start to become even more enticing.
Without further ado, here are some of our favorite things to do in Madrid when it rains!
Visit a Museum
Madrid is home to many legendary museums: the Prado, the Reina Sofía and the Thyssen. But some of our favorite museums are a bit more off the beaten path.
You can walk in the footsteps of Spanish literary icons at Lope de Vega and Cervantes' former homes, check out fascinating exhibitions at Fundación Telefónica and CaixaForum, and so much more. Keeping dry while learning something new: check and check!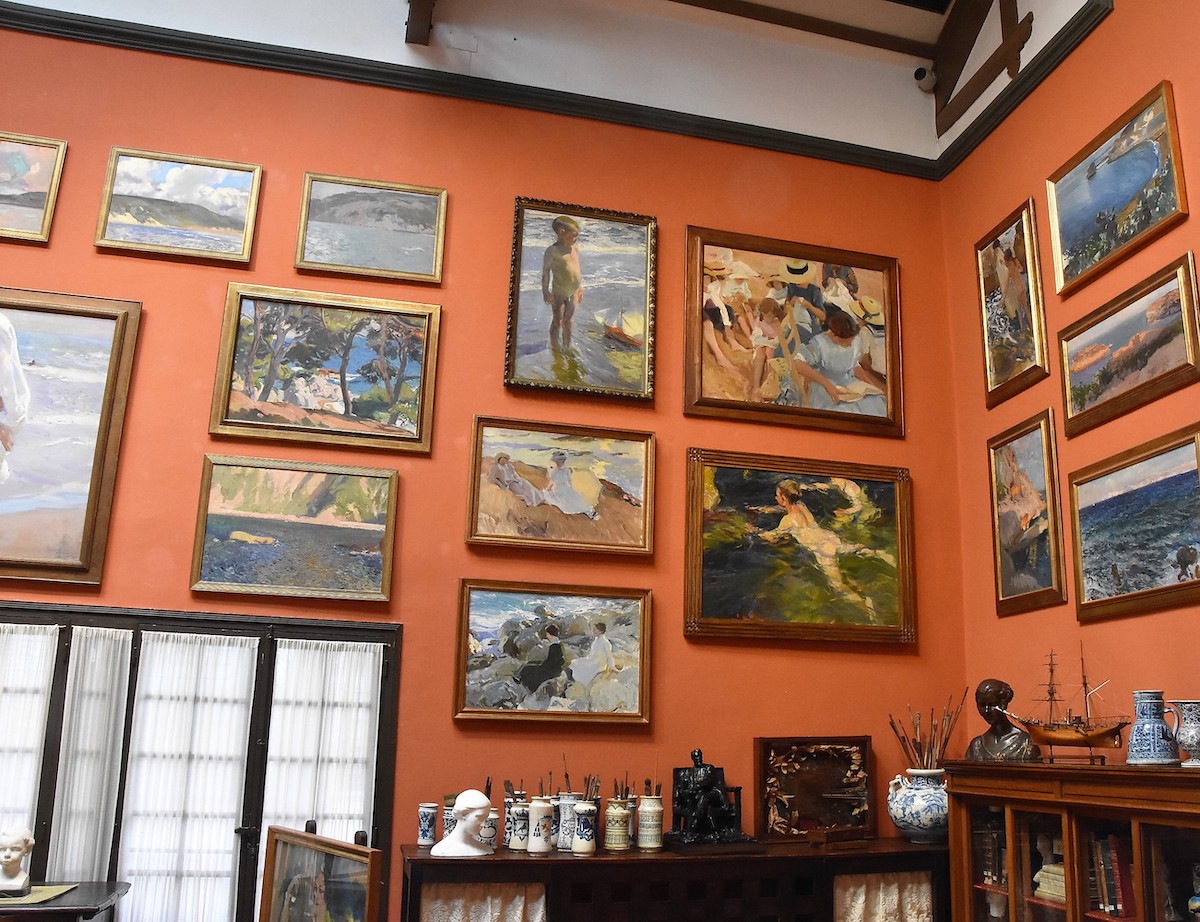 Andén 0
One of our favorite rainy day activities in Madrid, especially for history buffs, is Andén 0. The old Chamberí metro station was built in 1919, closed in the 1960s, and sat abandoned and untouched for decades. A recent project to restore it to its former glory transformed the station into a fascinating mini-museum.
The beautiful interior has hardly been touched since the 1920s (though has since been made accessible). It's a great way to explore Madrid's history, and it's one of the best free things to do here, too!
Insider's tip: While you're there, make sure to ask for information on visiting anothe rkey section of the exhibit, the Pacífico Engine Shed, which houses three impressive diesel engines. Built between 1922 and 1923, the engines are part of a display of machinery which, in the past, were used to generate and transform the energy used to power Madrid's trains. It's another one of the most fascinating things to do in Madrid when it rains!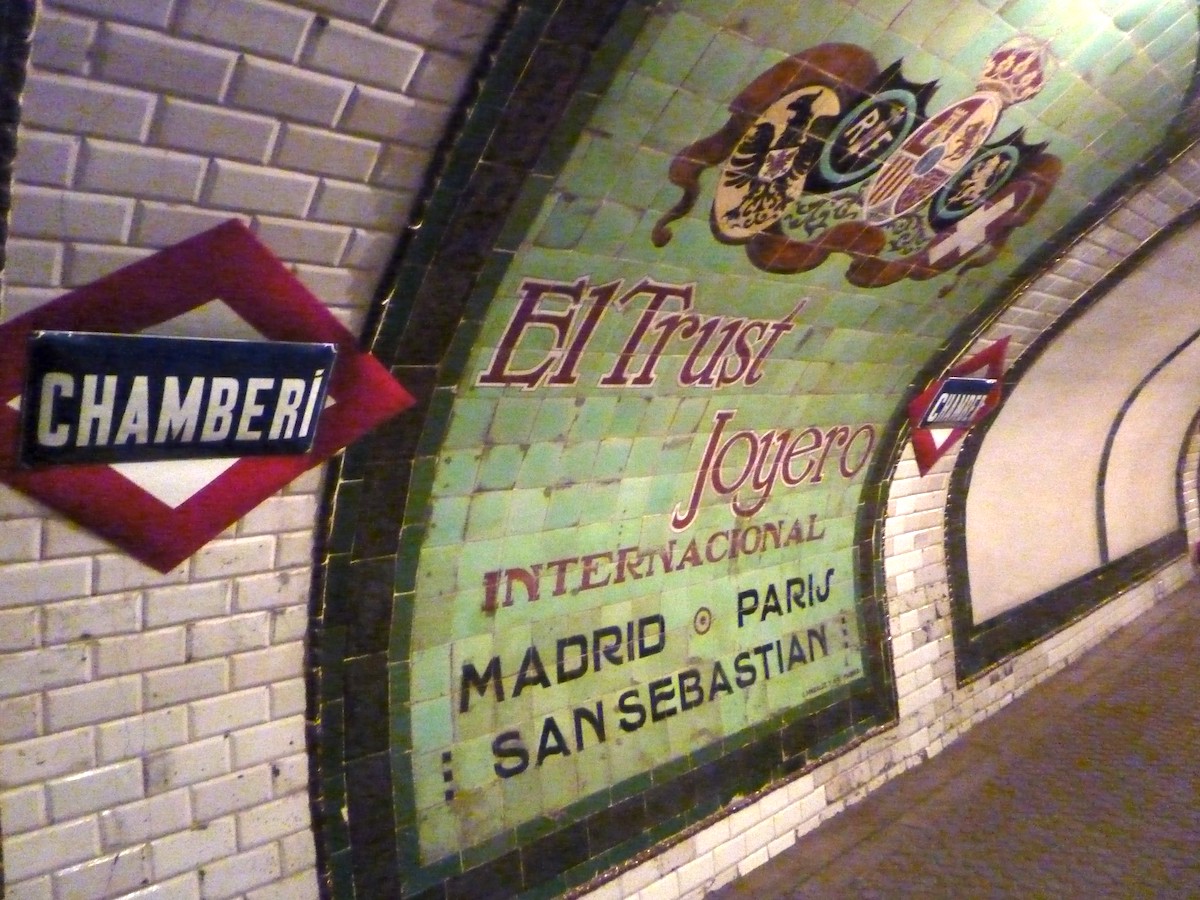 El Matadero
One of the best things to do in Madrid when it rains is to visit El Matadero, a former slaughterhouse-turned-contemporary arts center. Located just south of the city center in the Arganzuela neighborhood, the cold storage unit has exhibitions on everything from architecture and fashion to literature and cinema.
Still not convinced? There are also trendy bars, avant-garde theater shows, music and dance performances, concerts and festivals. The Matadero itself is a piece of art, too—it's the perfect example of Madrid's emerging architecture style, which uses recycled and preexisting elements to transform history into new space.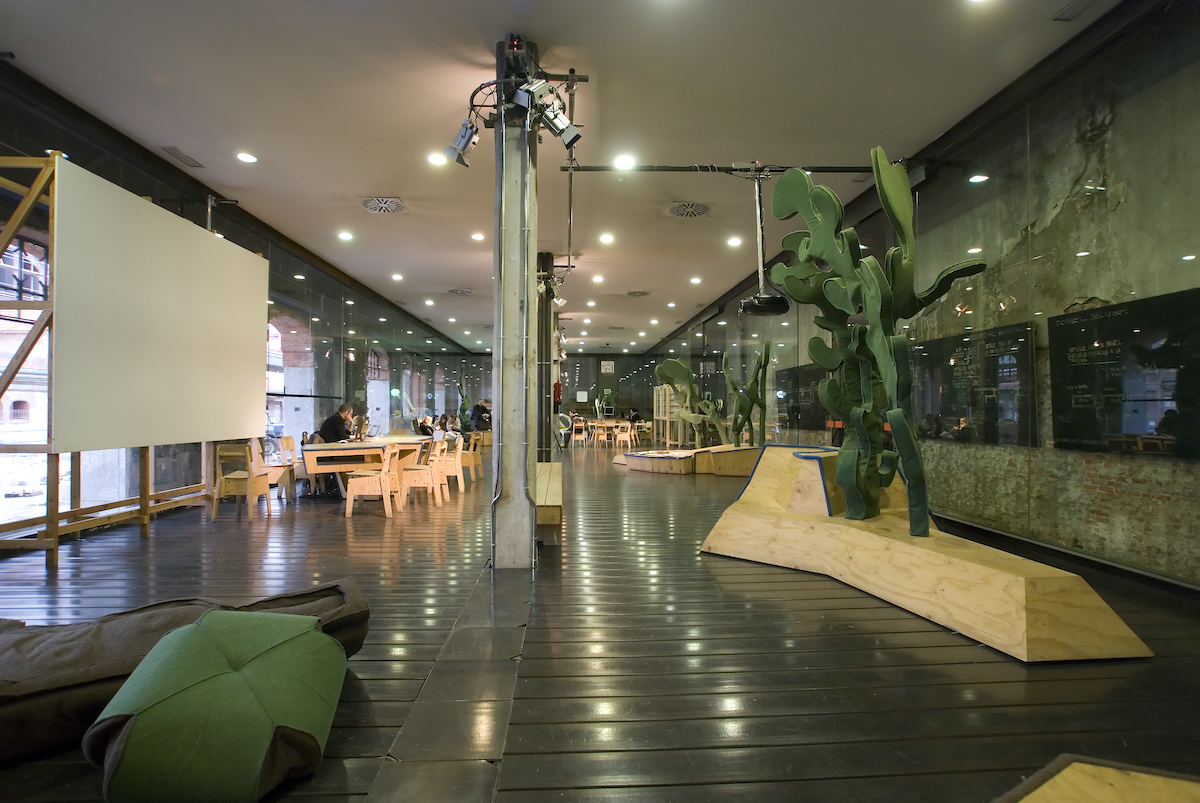 La Central de Callao
Of the many things to do in Madrid when it rains, La Central de Callao is definitely the best choice if you're a "curl up with a good book" sort of person.
Situated in the very heart of Madrid in a beautiful palatial home, this three-story bookstore has more than 70,000 volumes lining its shelves. They have books on just about any topic you can imagine, but specialize in philosophy, history, social sciences and literature.
After your book browsing, you can peruse your purchase while sipping a drink at their cocktail bar, or or a cup of joe in their indoor patio. La Central is also a great place to look for one-of-a-kind souvenirs.
Hammam Al Ándalus Arab Baths
Not in the mood to soak up some culture? How about just soaking – in a thermal bath, that is!
A bath, a relaxing massage, a cup of hot tea and a bit of steam…what could be more heavenly? When it comes to rainy day activities in Madrid, we think a little pampering is a must.
Hammam Al Ándalus Baths is the only Arab bath house in Madrid. Conveniently located close to Plaza Mayor and Puerta del Sol, it's a lavish oasis right in the middle of the capital's bustling city center.
Here, you'll find three different thermal baths, each with a different water temperature—the contrasting temperatures promote tranquility and circulation. There's also a steam room and, for an additional fee, they offer scented massages.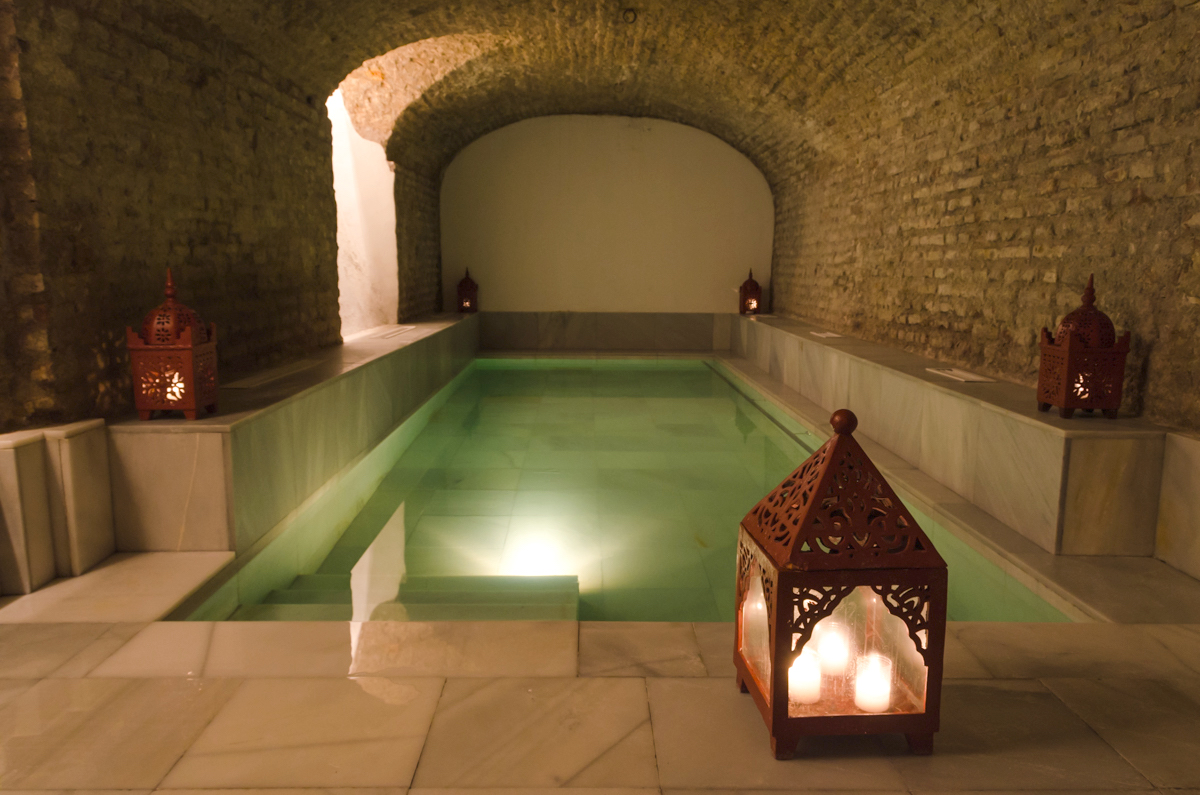 Explore a Food Market
Spanish food markets are among our favorite places in Madrid, period. But when the weather is less than ideal, they're the perfect place to take shelter from the rain.
Here in Spain, food markets aren't just a place to shop—they're a space for people to see their favorite vendors and meet with friends for a drink. Some of Madrid's food markets are transforming into full-on gastronomic spaces with dozens of sleek restaurant stalls, but even the most old-school traditional market will likely have at least one bar.
So pop into your nearest market and spend an hour or two shopping, eating, and exploring while you wait out the rain. (Bonus points: Practice your Spanish as you order.)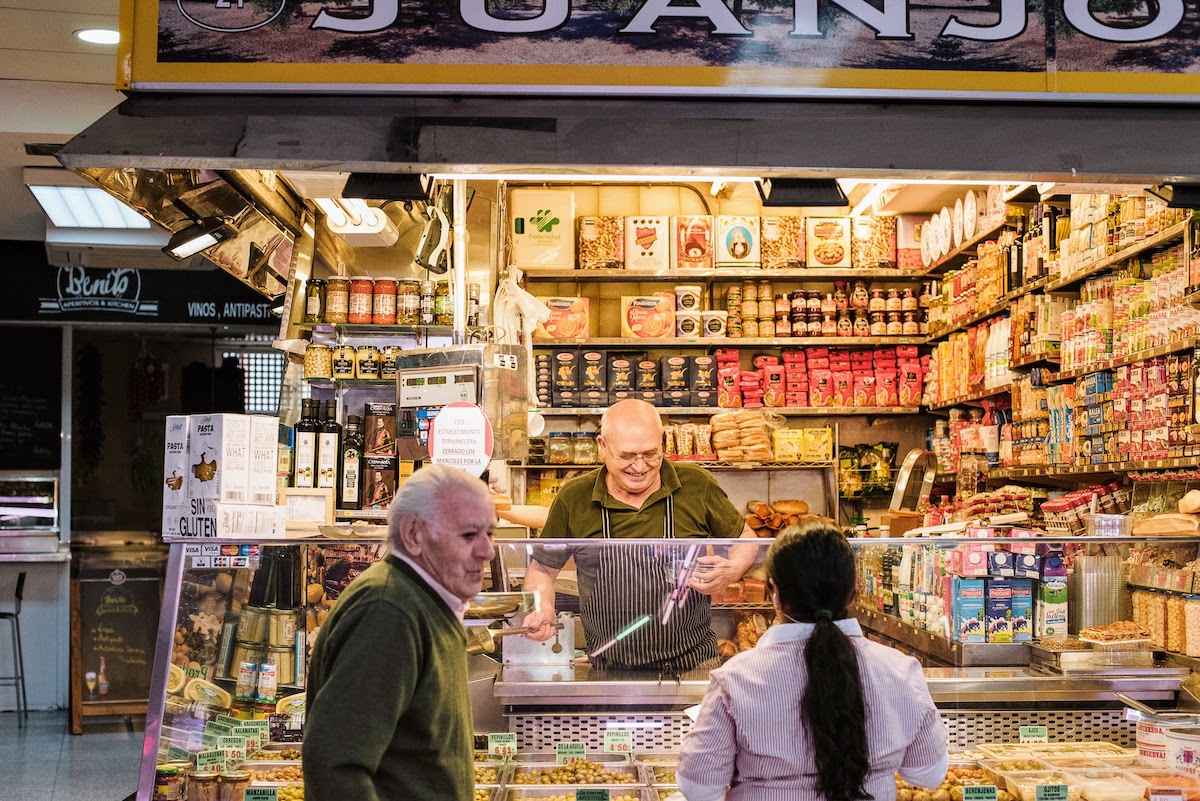 Eat Churros & Hot Chocolate
Snacking on freshly fried churros and rich hot chocolate at a cozy cafe while the rain falls outside? Yes, please.
You'll find plenty of bars in Madrid serving up churros, especially first thing in the morning for breakfast and around 5 or 6 p.m. for the afternoon snacking period known as merienda. But for an especially perfect churros-eating experience, you'll want to find somewhere that makes them fresh.
Our pick: Chocolat in the Huertas neighborhood, where you can enjoy churros fried to order in a bright, friendly space among locals. If you're closer to the city center, try San Ginés—a popular spot for sure, but deservedly so (they've been frying fresh churros since 1894!).
See a Movie
Settling in to watch a movie at the theater, bucket of popcorn in hand, is a classic rainy day activity no matter where you are in the world. But here in Madrid, where many cinemas are works of art themselves, it becomes even more enticing.
Most media here in Spain is dubbed into Spanish, but you'll be able to find plenty of movies shown in their original language (be it English or anything else) with Spanish subtitles. Look for the acronym VOSE (versión original con subtítulos en español) when perusing the movie listings. Or, if you're really in the mood to practice your Spanish, try your hand at the dubbed version!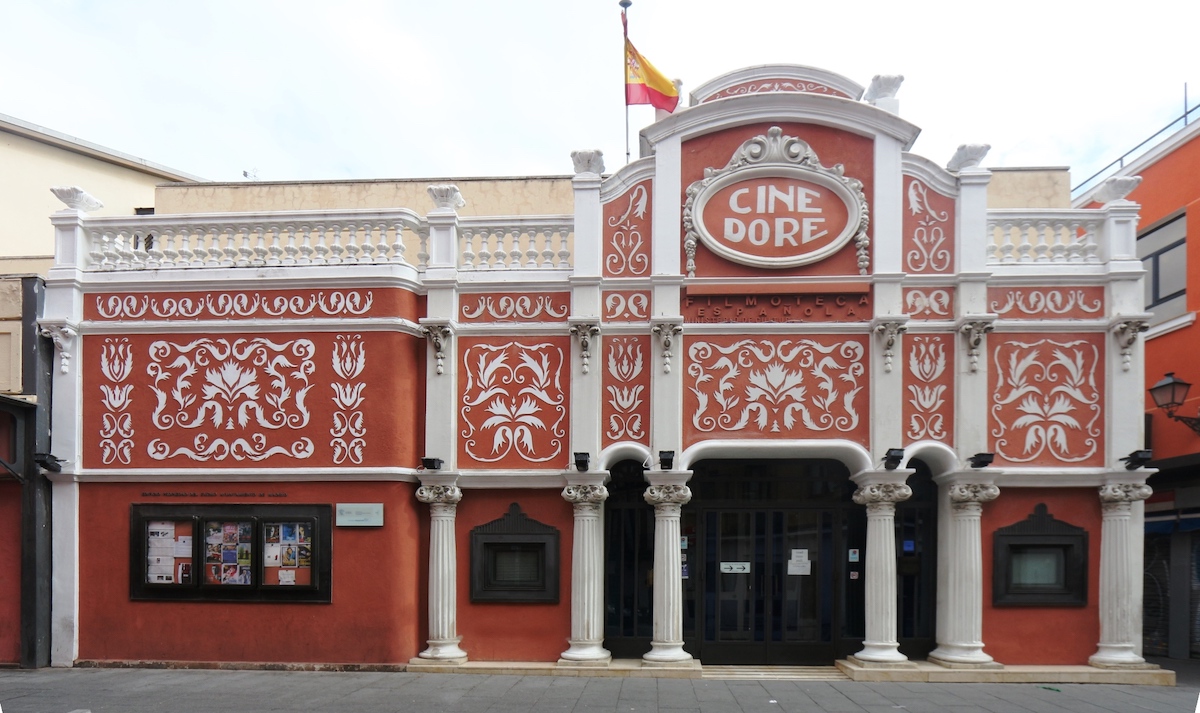 Go Shopping
Madrid's shopping scene is among the best in the world. Here, you can find everything from glitzy international brands to hidden boutiques and vintage shops, often with more affordable prices than in other European capitals. It's no wonder why a shopping spree is one of the best things to do in Madrid when it rains.
Some of the best shopping areas in central Madrid are Malasaña and Chueca just north of Gran Via. For an ultra-luxe experience, head a bit further out into glamorous Barrio Salamanca. And if you don't feel like running in and out of the rain to get from place to place, no worries—shopping malls and big department stores like El Corte Ingles are also fun to browse!
Enjoy a Long Spanish Lunch
Though long, leisurely midday meals are often relegated to weekends in today's busy culture, lunchtime in Spain is still an opportunity to disconnect and relax with some great food.
No matter where you are in the city, you'll certainly find someplace nearby offering a menú del día. Spain's ubiquitous lunchtime meal deal typically includes one or two dishes, dessert or coffee, bread, and a drink for one economical price. And a rainy day is the perfect excuse to linger over a home-cooked meal with a glass of wine!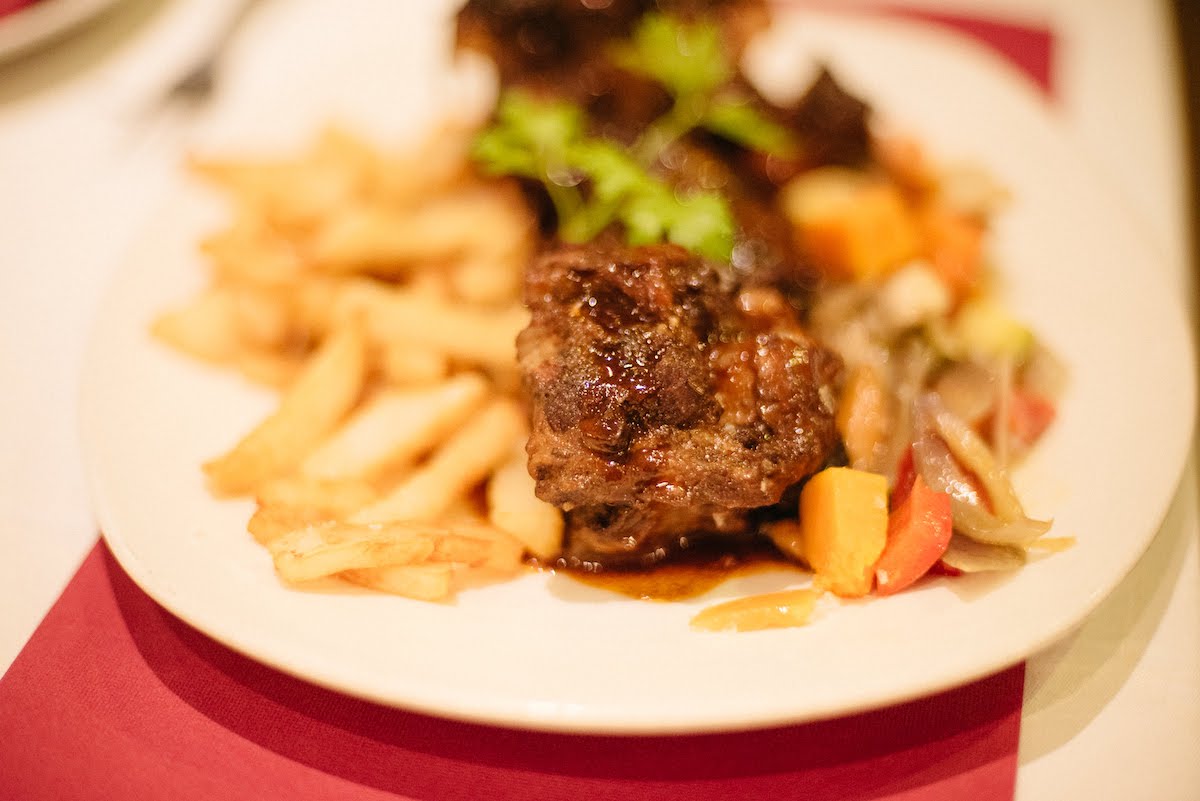 Rainy Days in Madrid FAQs
How many days a year does it rain in Madrid?
Madrid sees an average of 63 rainy days per year. The spring and fall tend to be the rainiest seasons, and summer is the driest.
What is the rainiest month in Spain?
On average, November sees more rain than any other month of the year for most places in Spain. The average monthly rainfall is about 111 millimeters (4 inches).
Update Notice: This post was updated on September 6, 2023.
Another great idea for a rainy day: join us for the Tapas and Wine: Small Group Literary Quarter Tasting Tour! Enjoy 8 tapas tastings paired with 5 Spanish wines and vermouths at three bars with your expert guide. You'll gain the knowledge and skills you'll need to order tapas and wines like a pro during the rest of your time in Spain.