In Spain, life happens in the street, like a never-ending block party. And nowhere is this more than in Madrid.
You can't visit the Spanish capital and not notice that there's a buzz in the air—it's electric! Madrileños fill the streets at all hours of the day: shouting, laughing, drinking, and of course, shopping. On weekends, these Madrid street markets always draw crowds of eager locals who come to shop and socialize.
There's nothing more quintessentially Spanish than spending a weekend morning perusing an outdoor market. It's the perfect way to dominguear—literally, "to spend a lazy Sunday"—as they say here in Spain!
The most famous of all is the Rastro, and we'll share why it's well worth all the hype it gets. But the world of Madrid outdoor markets goes far and beyond its most legendary.
Without further ado, these are the street markets you can't miss when visiting Madrid!
Update June 2021: Due to the ongoing COVID-19 pandemic, many events such as these outdoor markets in Madrid are operating under local restrictions such as limited capacity and opening hours, or may even be unexpectedly canceled. We've worked to make sure this information is accurate, but please be aware that sudden changes can still happen!
1. El Rastro (La Latina)
Let's start with the quintessential Madrid street market: the iconic Rastro.
Every Sunday, this sprawling, centuries-old flea market sets up shop on and around Ribera de Curtidores in the La Latina neighborhood. 700 stalls, dozens of nearby antique and vintage stores, and a cool 100,000 guests have cemented the Rastro's status as the perfect way to spend a Sunday morning in Madrid.
There's not much you can't buy at El Rastro, with stalls selling everything from home decor to leather goods to vintage clothes. Browsing the stalls and shops will surely make you work up an appetite, so when hunger calls, join the locals on a tapas crawl as you hop from one of the area's historic bars to another.
To learn more about where to shop, what to eat, and how to enjoy this famous flea market, check out our complete Rastro guide!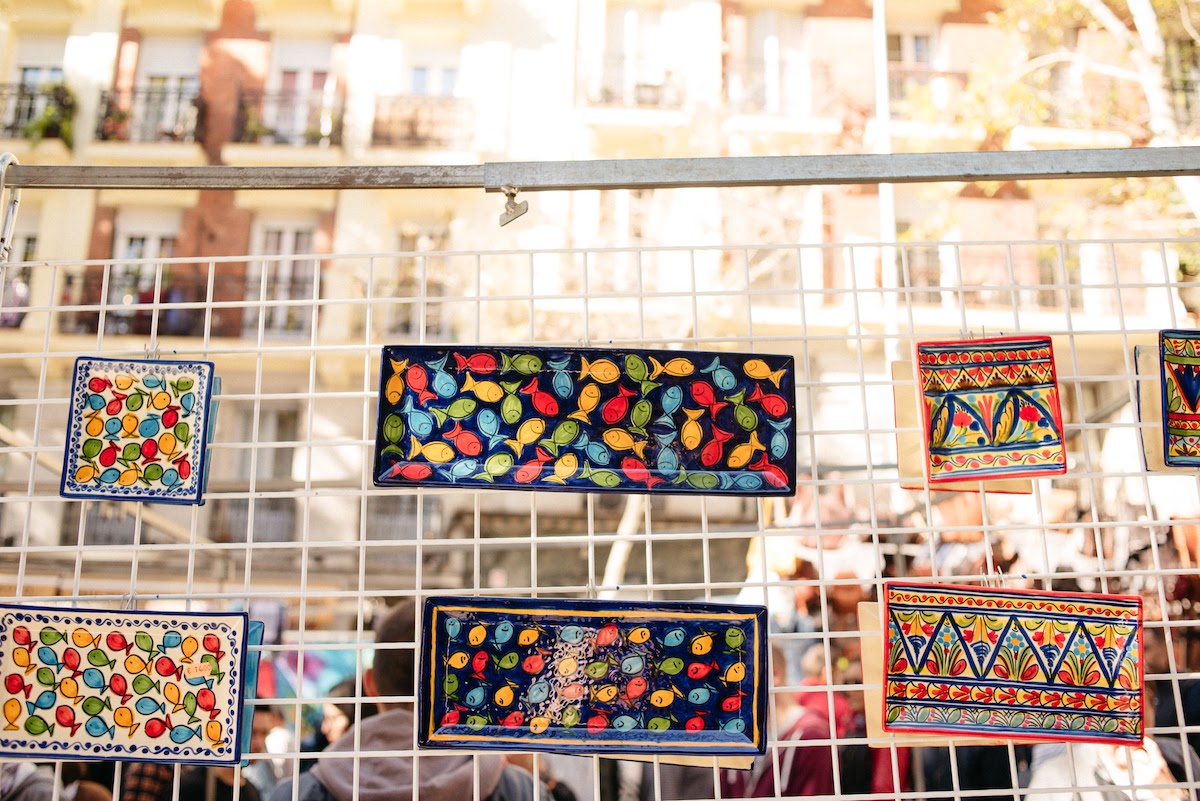 2. [The Festival] (Salesas Village)
Right in between Chueca and Barrio Salamanca you'll find the Salesas Village neighborhood of Madrid. Despite its proximity to the city center, Salesas Village is just that—a tranquil, almost village-like oasis smack-dab in the middle of the urban jungle. Known for its artistic and cosmopolitan appeal, the Village is where you come when you're looking for something special.
At its monthly outdoor market, [The Festival], shopping isn't just shopping. It's brunch and a cocktail, live music, mingling with innovative designers, artists and craftspeople, all while browsing for gourmet pastries and artisan products. It's a serendipitous meeting of the senses and a must on our list of street markets in Madrid!
Arguably Madrid's most stylish and exclusive outdoor market, [The Festival] takes place the first Saturday of every month except January, August, and September. You'll find it along Calles Campoamor, Santa Teresa, and Argenosla.
3. Malamarket (Plaza Dos de Mayo)
Located in the Plaza Dos de Mayo, Malamarket hopes to give the Rastro a run for its money and become the flea market of preference in Madrid. And it stands a good chance considering it's located in Malasaña: a neighborhood where old and new collide, where you'll spot historical architecture standing alongside all that is trendy and environmentally friendly.
Taking place every Saturday of spring and fall, Malamarket is the hipster version of [The Festival], with good prices and great vintage finds. Plus, there's always the people watching (so many man buns to see!) and plenty of live entertainment (swing dancing classes, anyone?). Or you can always just grab a beer and soak up the Spanish sun in this picture-perfect plaza.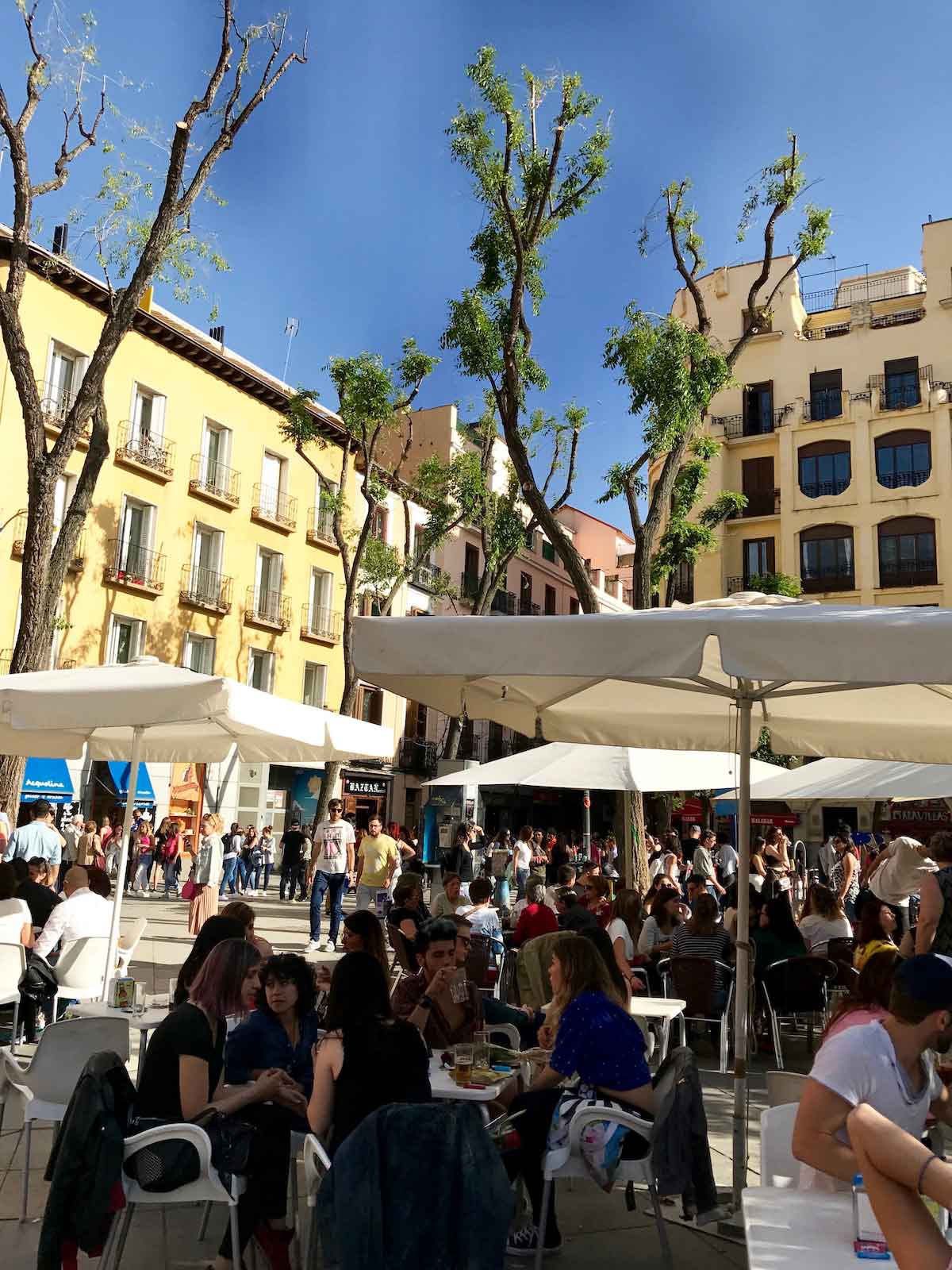 4. Vogue Flower Market (Calle Jorge Juan)
This isn't so much a Madrid street market as it is the event of the season. But hey, that's to be expected when Vogue Spain gets involved.
Every winter and spring, Calle Jorge Juan—already one of Barrio Salamanca's prettiest streets—becomes a modern day Garden of Eden at Vogue's Mercado de las Flores. The restaurant-lined avenue is decorated with rows on rows of beautifully arranged bouquets and VIP areas offering appetizers and drinks. A DJ, of course, is there to set the mood.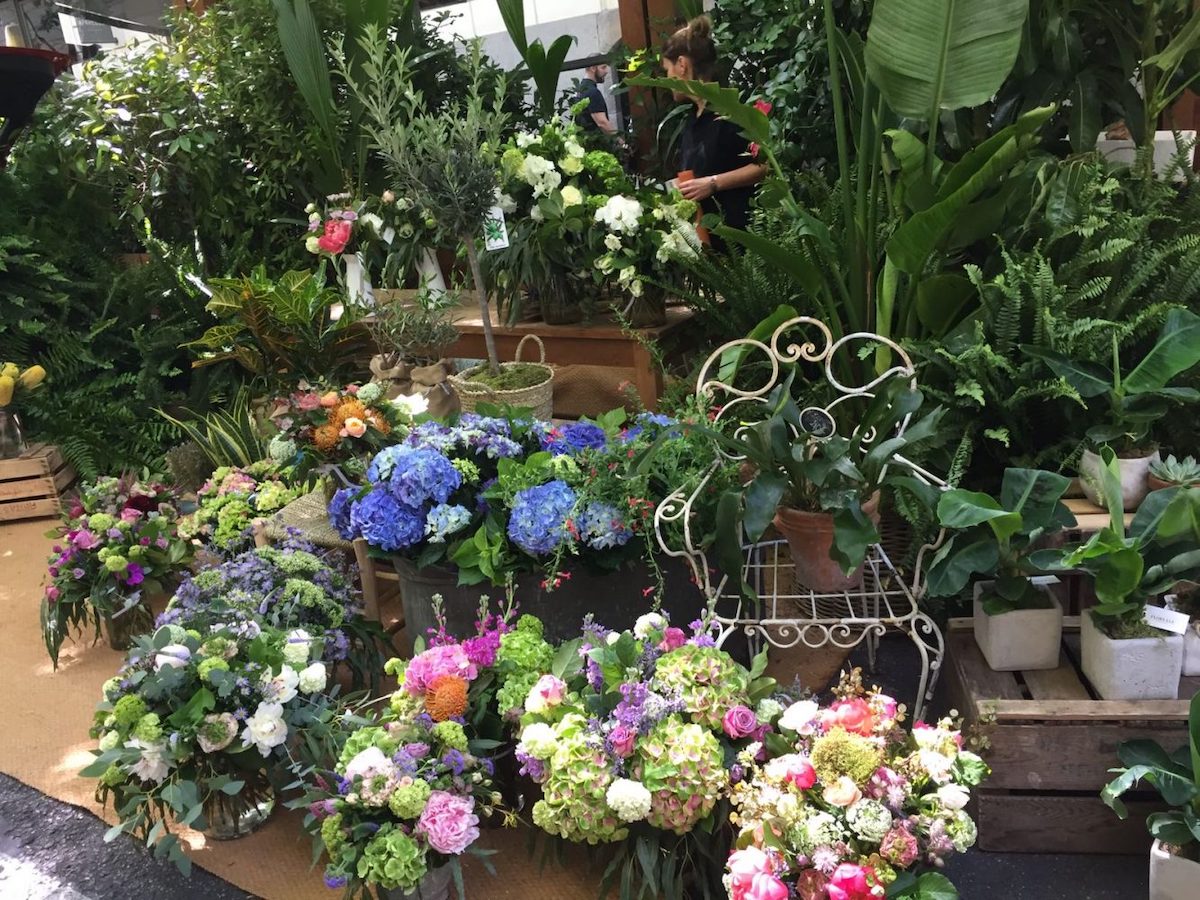 5. Mercado de las Ranas (Literary Quarter)
Once home to the great writers of the Golden Age of Spanish literature (think Cervantes, Quevedo, and Lope de Vega), Madrid's Barrio de las Letras (Literary Quarter) is still a local landmark. However, recently the neighborhood has gained fame for its many museums—the Prado, Reina Sofía, and the Thyssen-Bornemisza are all nearby—and for the action-packed Calle de las Huertas.
This lively street scene, packed with bars, restaurants and unique boutiques, becomes one big outdoor market on the first Saturday of every month for the Mercado de las Ranas. The Barrio de las Letras neighborhood association even organizes tons of special events for the day—you name it, they have it!
6. Mercado de Motores (Delicias)
Last but certainly not least on our roundup of Madrid street markets: the Mercado de Motores.
To be fair, this isn't entirely a street market—but it's still well worth your time. Part of the event is housed inside the Museo del Ferrocarril (Railway Museum), which occupies a gorgeous old train station from the 1880s (Dr. Zhivago was filmed here!).
But this mercadillo does spill out onto the street with its hundreds of vendors selling everything from furniture and gourmet food to vintage clothes and accessories. As if that weren't enough, there's also live music, food trucks and a number of free activities. This market usually takes place the second weekend of every month, and is so popular that the line can stretch around the block—so make sure to get there early!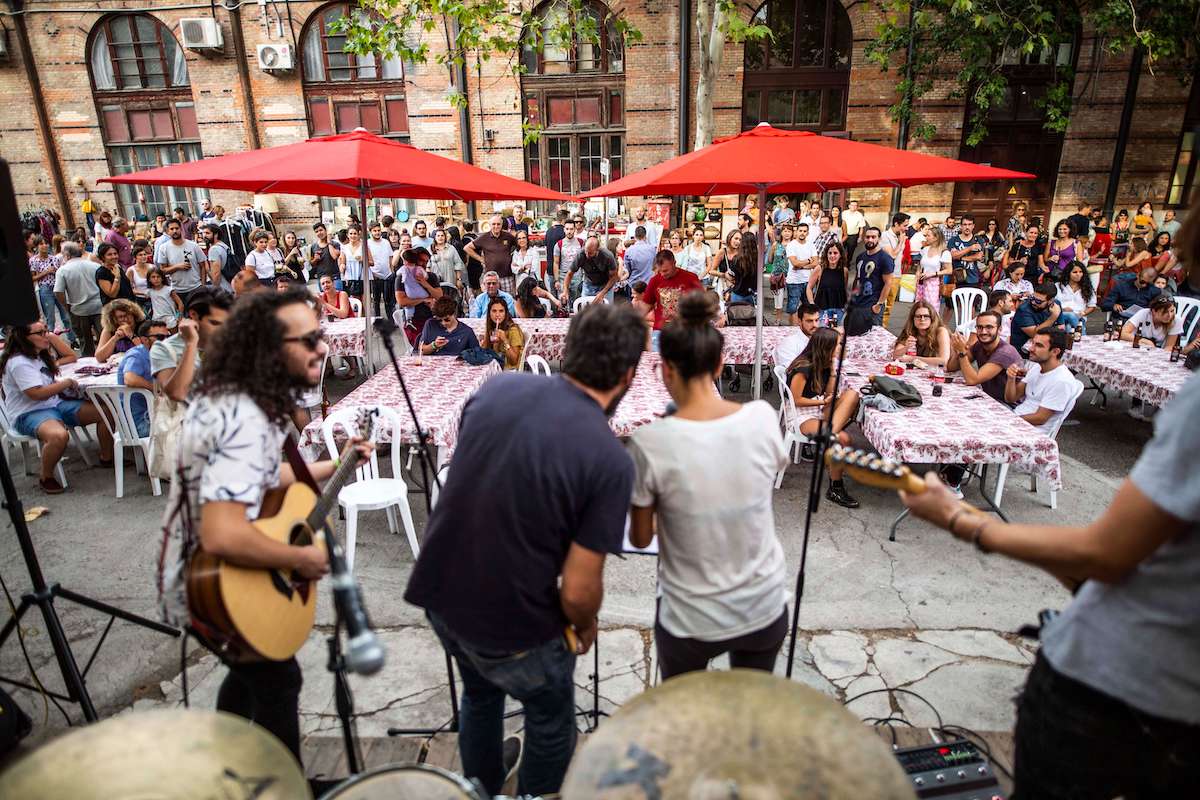 Madrid Street Markets FAQs
What is the largest outdoor market in Madrid?
El Rastro is the largest and most famous of Madrid's street markets. It takes place every Sunday in the La Latina neighborhood and draws around 100,000 visitors every week!
What can you find at Madrid's Rastro market?
El Rastro sells a little bit of everything: refurbished home furnishings, hand-painted ceramics, vintage clothes, handmade jewelry, and so much more. You can shop at both the pop-up stalls themselves as well as the many permanent storefronts throughout the area.
When are Madrid's street markets open?
This really depends on the specific market. In general, though, most street markets take place on weekends during the morning and early afternoon. Some take place every week; others have more limited openings (e.g. the first Saturday of every month).
Update Notice: This post was originally published on February 23, 2018 and was updated with new text and photos on June 2, 2021.