Heading to Madrid for work? Here's how to make the most of your business trip—from transportation tips and our favorite hotels to the best bars for tapas and networking!
In addition to being the geographic and cultural heart of Spain, Madrid is an epicenter of global commerce. The city hosts several major conferences, and is a popular location for international business meetings. It's also a lovely place to visit for fun—so if you're here for work, we highly recommend extending your stay to create the ideal bleisure getaway.
If you're coming to Madrid for a conference or meeting and want to take full advantage of your time here, we've got you covered! These are our top tips for enjoying every bit of the Spanish capital, from its fascinating history to cutting-edge culture and world-class cuisine.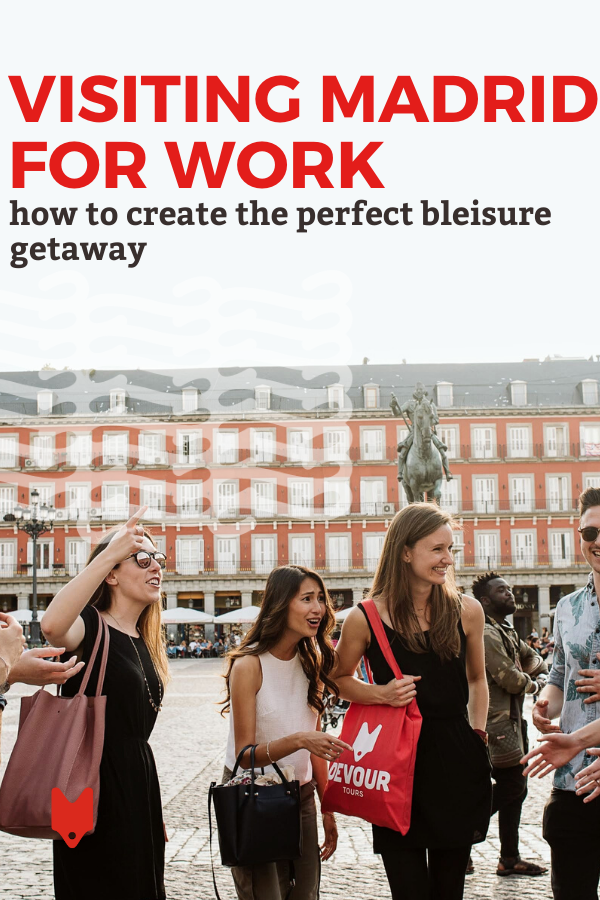 How to move around in Madrid
Madrid is a wonderfully walkable city, especially if you stick to the central areas. But while the main tourist attractions are fairly close together, the business and financial districts are a bit farther away. If you're attending meetings or an event at the IFEMA conference center, you'll need to find other modes of transport.
The most efficient way to move around Madrid is by using ridesharing and taxi services. Both Uber and its Spanish counterpart, Cabify, operate in Madrid. The Free Now app is also a great option, allowing you to hail a taxi from your phone. Beware that traffic can be problematic, especially on the way to IFEMA, so give yourself some extra time if you're going by car.
Alternatively, take advantage of the highly efficient and affordable public transportation in Madrid. The metro is the easiest way to get around the city, with 13 different underground lines. For longer distances, the Cercanías trains are always a good bet, and there's also an extensive bus system.
If you're staying in the city center and commuting to IFEMA, the best way to get there is by metro. The Feria de Madrid station is located right across from the south entrance to the venue, on Line 8 (the same line that leads to the airport). You can catch it at Nuevos Ministerios, which also connects to Line 6, Line 10 and Cercanías.
Keep in mind that if you want to use the Cercanías or the metro, you'll have to buy a rechargeable card for €2.50!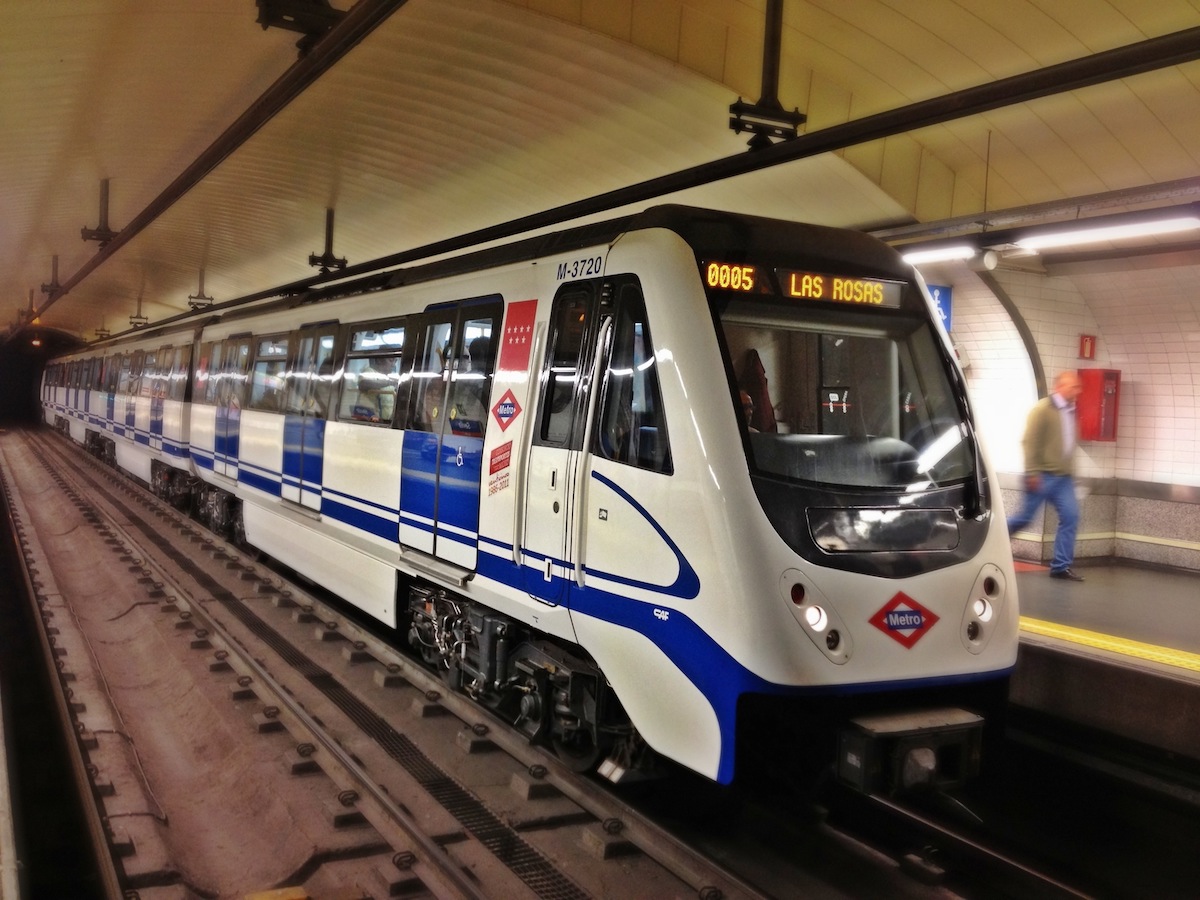 Getting to and from the airport
If you're arriving at Madrid-Barajas Airport, you'll need to find transportation to the center. The easiest option is to take a taxi, or to use one of the aforementioned ridesharing apps. The city's official taxis, which you can call through Free Now, have a €30 flat rate for all trips between the city center and the airport. Prices for Uber and Cabify vary.
If you want a cheaper option, there are a few alternatives. You can take the superfast Cercanías train from Terminal 4 to one of five different stations in Madrid proper for just €2.60. Or take the metro from any terminal to Nuevos Ministerios, where you can easily connect to the rest of the city.
No matter your final destination, a metro ride to or from the airport has a special surcharge on top of the regular ticket price, adding up to a total of €5 per trip.
The best places for bleisure travelers to stay in Madrid
When it comes to accommodation in Madrid, you have plenty of options. If you're here for work, your company will probably want to book a hotel near IFEMA or the business district. In that case, your best bet is to look in the northern part of the city, near Salamanca or Chamberí. This way you can connect with Line 10 at the Nuevos Ministerios, Gregorio Marañón or Alonso Martínez metro stations.
There are plenty of awesome hotels in these areas. In Salamanca, try the ICON Casona 1900 for modern luxury in one of Madrid's most elegant neighborhoods. For something a bit more low-key, reserve an apartment at the Downtown Boutique – MADFlats Collection in Chamberí.
Soccer fans will appreciate the location of the trendy H10 Tribeca hotel, right beside Santiago Bernabéu Stadium. We also love the Meliá Castilla in Chamartín, which has its own convention center, auditorium and 7,000 square meters of meeting space.
Extend your trip at a hotel in central Madrid
If you decide to tack on a few extra nights to your trip, we suggest booking a hotel in one of the city's coolest neighborhoods. Check out Chueca's trendy restaurants and boutiques, or Malasaña's amazing nightlife and hipster vibes. We also love Huertas and La Latina, historic neighborhoods with authentic local spirit and tons of traditional tapas bars.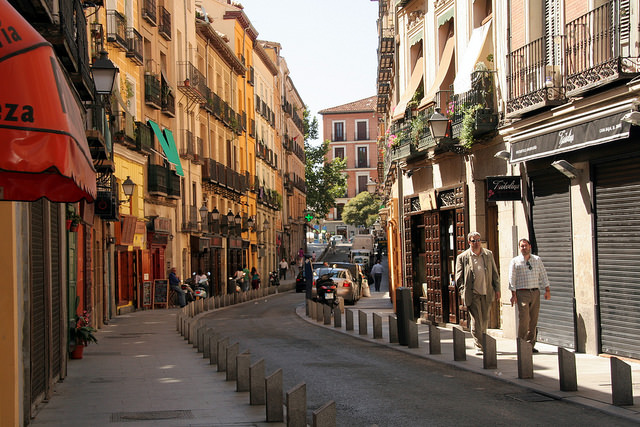 In Chueca, we recommend the B&B Apartments at Fuencarral 46 for chill and affordable accommodation. If you want to stay in Malasaña, Petit Palace Triball offers a sleek and modern ambience—and delicious breakfast. It's also right by Gran Vía, making it easy to reach other parts of the city.
Farther south, we love 2060 The Newton Hostel and The Hat Madrid, two awesome hostels that offer affordable private rooms and rooftop terraces. If you're looking for affordable accommodation in the Huertas neighborhood, book a room at Hostal Persal, right beside the beautiful Plaza de Santa Ana.
SEE ALSO: Where to Stay in Madrid: Neighborhood Guide & Top Hotel Picks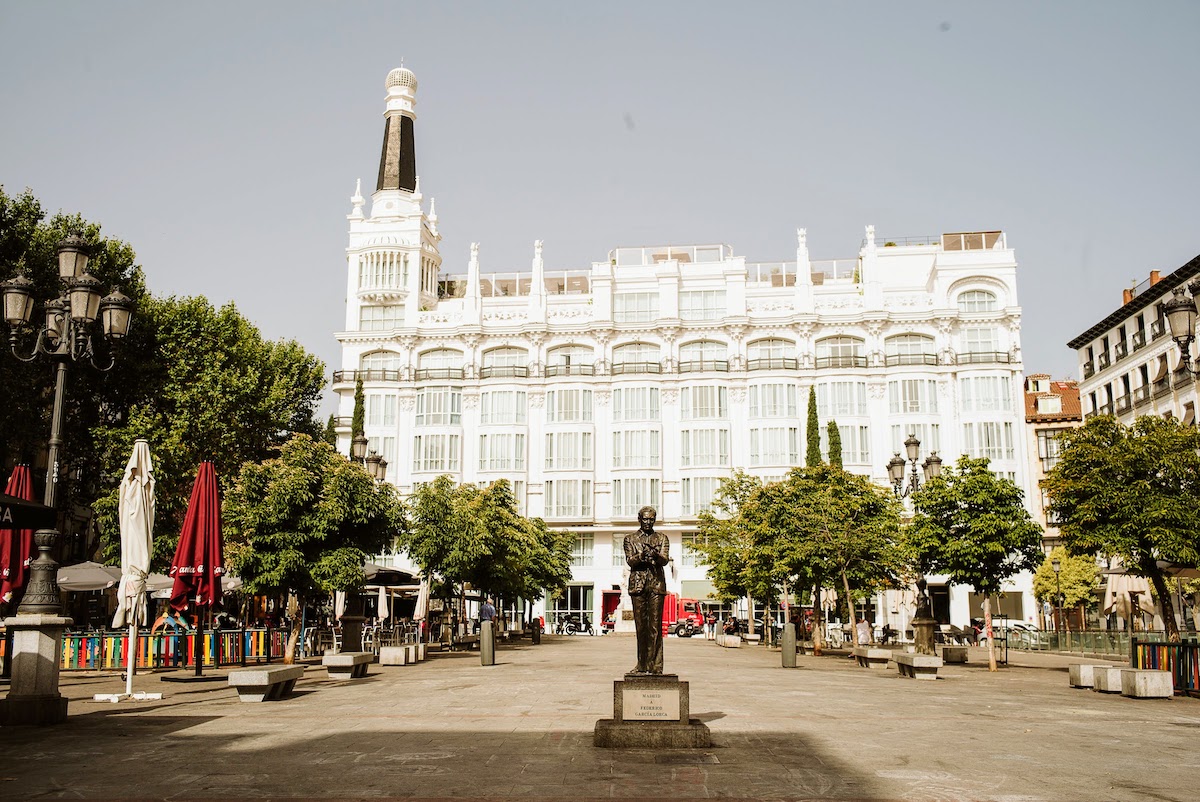 Where to eat during your business trip
If you're attending a conference at IFEMA, you'll find several dining options at the venue itself. But if you'd rather take a break and explore, there are some awesome eateries nearby. La Gran Pulpería is perfect for lunch out, offering great Galician food just a quick taxi ride from the conference center.
For something different, grab some Nepali and Indian food at Buddha Palace Tandoori, only a five-minute drive from IFEMA. Or ride the metro one stop to Mar de Cristal, where you'll find Restaurante El Güero. This place offers incredible Mexican and Venezuelan cuisine, plus a three-course menú del día (weekday lunch menu) for just €13.
The best restaurants for a nice dinner out
Once the sun sets and the day's work is over, it's time to enjoy a night out in Madrid. There are plenty of places for an impressive—yet casual—meal with clients or colleagues.
A favorite of ours is Taberna La Carmencita, one of the city's oldest taverns. It has a private room that can be reserved for groups, and serves organic products from Cantabria and other regions of Spain. This is the kind of place that makes everyone feel at home, thanks to its cozy ambience and authentic traditional dishes.
If you want something slightly fancier, try Fismuler, an upscale eatery near Alonso Martínez. Specializing in seafood and creative takes on Spanish cuisine, it's the kind of place you'll want to stay for hours—whether you're negotiating deals or just enjoying the evening.
Madrid's best spots for solo dining
There's an endless number of incredible restaurants in Madrid, from traditional Spanish tabernas to avant-garde cuisine. We could go on for hours about our favorite spots, but a good place to start is the La Latina neighborhood. Here you'll find dozens of quality places within easy walking distance, so you can create your very own tapas crawl!
It's also obligatory to experience the city's markets, which are ideal for a meal on your own. Wander among the stalls to sample a little bit of everything, or pick one of the incredible restaurants within. Although traditional markets are usually liveliest in the morning, there are several that specialize in dinner and drinks. Some of our favorites are Mercado de San Antón, Mercado de San Fernando and Mercado de Antón Martín.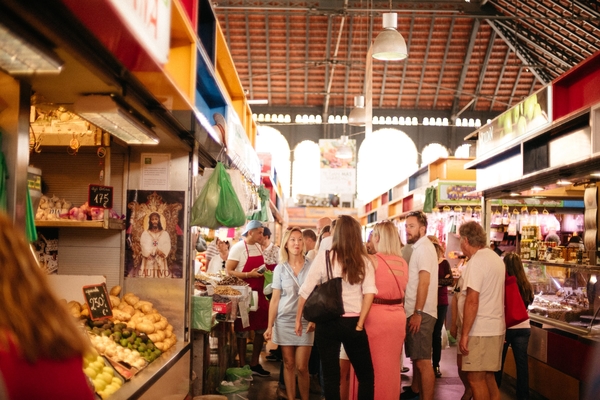 Don't want to eat alone? Come have dinner with us! Our evening tapas tours are a great way to taste authentic Spanish cuisine at all our favorite spots, and meet fellow food lovers along the way. These interactive experiences are the perfect activity for solo travelers in Madrid—after all, tapas are best enjoyed in good company.
How to enjoy Madrid in your free time
This city is jam-packed with culture, history and art, so there's no shortage of ways to fill the time when you're not working. After a long day packed with meetings and events, take advantage of the evening to merge business and pleasure. This is the ideal opportunity to combine networking with Madrid's vibrant nightlife.
If you're meeting up with colleagues or new contacts, head to one of our favorite wine bars in Madrid to talk business over a glass of Rioja or Spanish sherry. Alternatively, try some of the city's best cocktails at 1862 Dry Bar or Museo Chicote. And for something extra special, spend sunset at a rooftop bar with spectacular views; we especially love Picalagartos.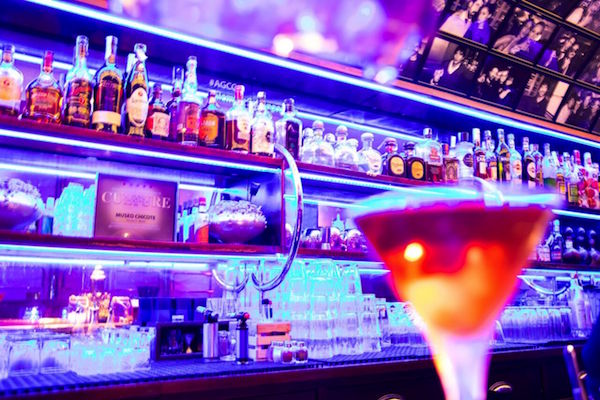 The best daytime activities in Madrid
If you decide to extend your trip, there are plenty of ways to spend a day in Madrid. Explore the Golden Triangle of Art, head to Retiro Park for some fresh air, or just wander around the city's streets and explore at your own pace. Don't miss out on Madrid's unique cultural experiences, from La Tabacalera to the Sunday-morning Rastro flea market.
Want to get away from the city for a bit? Consider taking a day trip from Madrid to one of several fascinating towns nearby. Toledo offers medieval heritage and incredible views, while Segovia is famous for its Roman aqueduct and delicious roast pork. You can also drive or take a Cercanías train to the mountains surrounding the city. Escape the urban chaos for a few hours, get some fresh air and enjoy incredible natural beauty, hiking and outdoor sports.
Melissa first moved to Madrid to explore her interests in linguistics and communication, and quickly fell in love with the city's culture and cuisine. She's particularly passionate about Spanish vermouth and canned seafood, and makes it a point to drench absolutely everything in olive oil.