Roasted chestnut stands are popping up in plazas. Giant strings of lights are lighting up over busy streets. Supermarket aisles are glistening with the shiny gold wrappers of turrón… it can only be Christmas in Madrid!
While Santa statues and flying reindeer can be spotted in many shop windows, the Christmas traditions in Madrid are uniquely Spanish. Spain doesn't stop with the typical holiday season celebrations (Christmas and New Years), instead stretching out the fun into more than two weeks of revelry.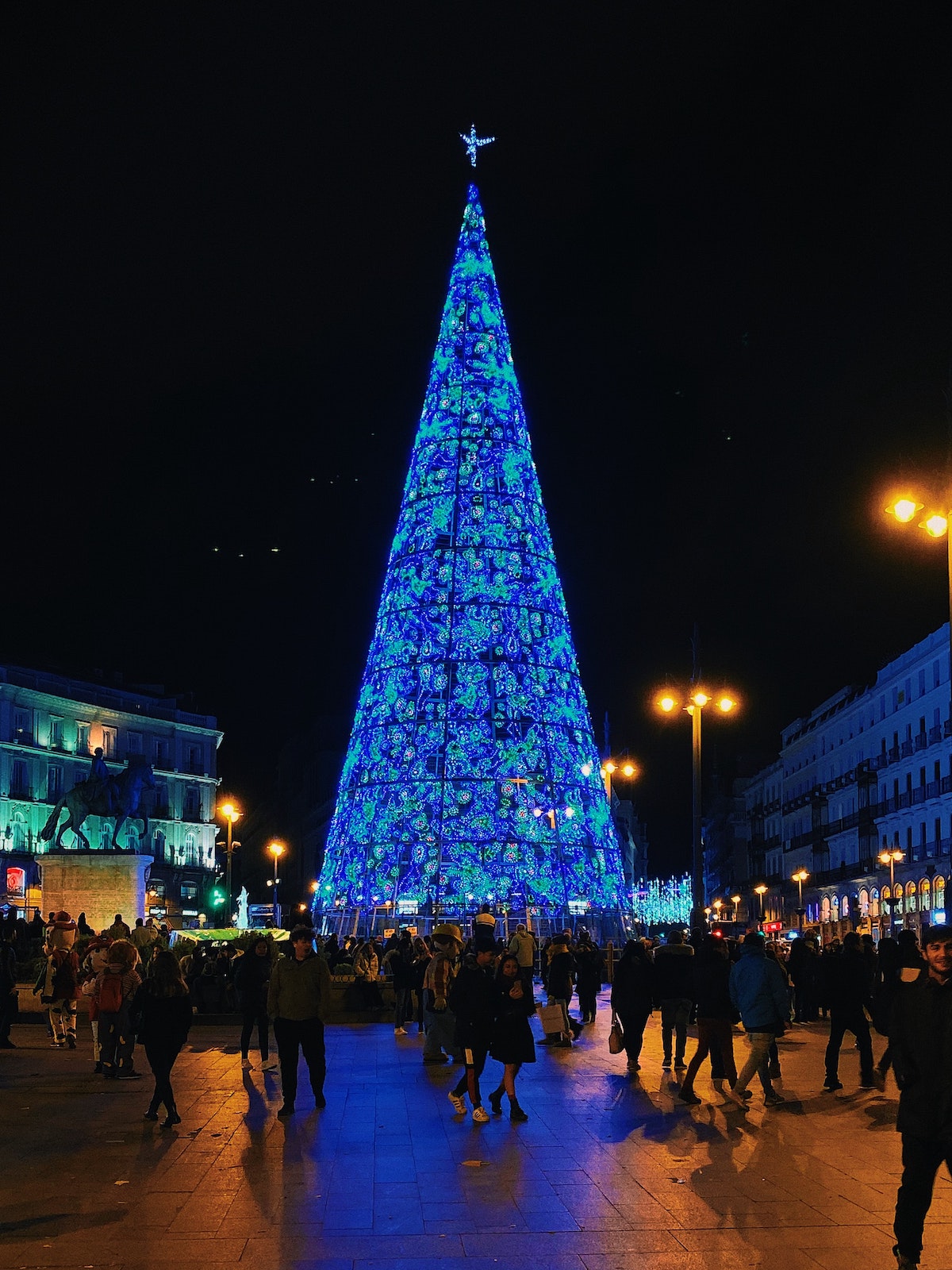 Madrid at Christmas is basically a winter wonderland. You've got all the fairytale magic of winter in Europe, but with a unique Spanish twist to keep things interesting.
Plus, while it does get a bit chilly, the weather feels much milder compared to other destinations further north. What's more, here in the city, you won't usually have to worry about snow!
We're so happy you've decided to come spend the holidays here in Spain's gorgeous capital. Here's how to make the most of Christmas in Madrid!
The Holiday Season in Spain
Here in Spain, the winter holidays kick off firstly with children singing winning lottery numbers on December 22 and end with a visit from the biblical Three Wise Men on January 6. In between, there's plenty of festive fun as well.
Confused on what to celebrate and when? Here's a quick rundown of what to expect throughout the Christmas season in Madrid, as well as throughout Spain.
December 22: Spanish Christmas Lottery
If ever there was a time to try your luck at winning the lottery, it is during Christmas in Madrid. Everywhere you look, from grocery stores to elementary schools, people buying tickets for the Spanish Christmas lottery, locally known as el gordo or "the fat one." This state-run lottery is surprisingly the largest in the world, with total prizes regularly totaling into the millions of euros.
On average, Spaniards spend about €60–70 on lottery tickets every holiday season trying to hit the jackpot. But the prizes are open to anyone, not just Spanish citizens. So while doing your holiday shopping in Madrid, stop by a lottery ticket booth to try your luck at el gordo—after all, it's tradition!
The moment of truth comes on December 22, when the winners are announced during a special live telecast. That's when Spaniards across the country watch breathlessly as students from the San Ildefonso elementary school in Madrid randomly choose the winning numbers and sing them out.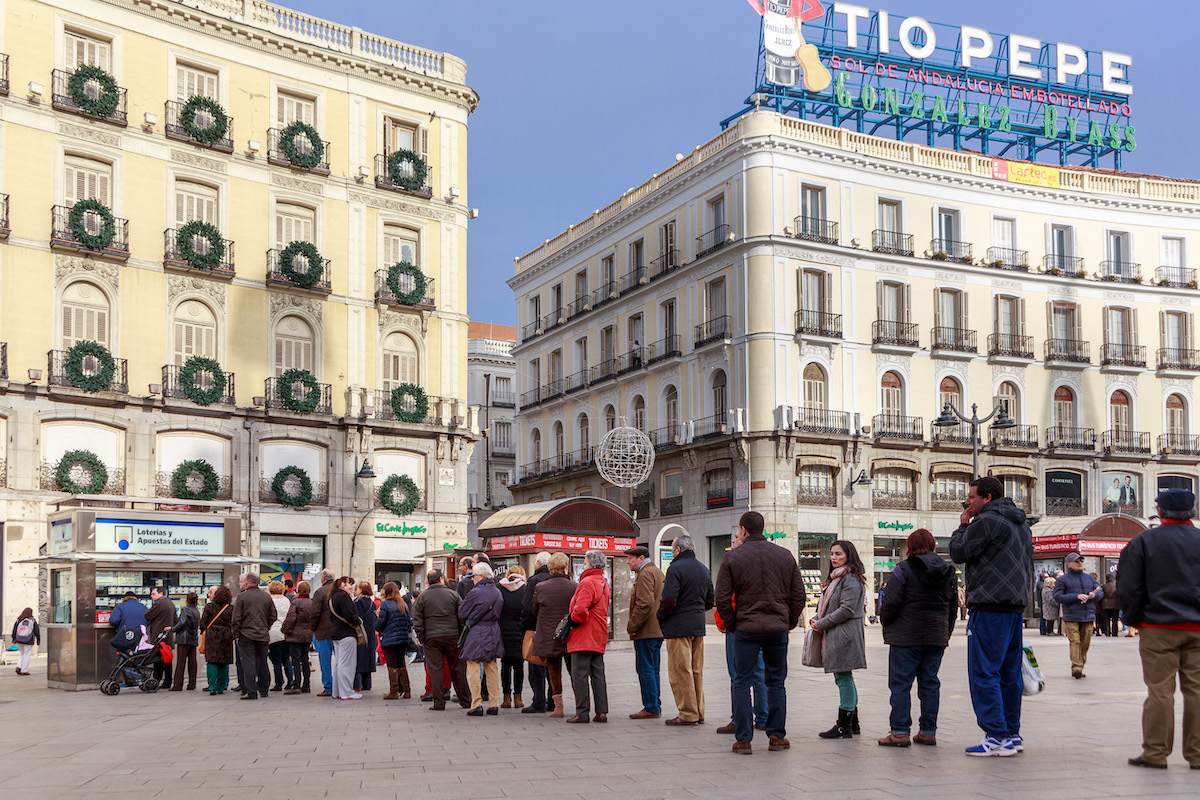 December 24: Christmas Eve (Nochebuena)
Nochebuena, or Christmas Eve, is all about family and food. Spaniards flock to their family's homes to feast on seafood and sip sparkling cava.
Christmas Eve is arguably more important than Christmas Day in Spain—at least when it comes to celebrations! Because traditionally most people eat dinner with their families at home, many bars and restaurants do close on the evening of December 24. However, it is still possible to find places to eat in Madrid on Christmas Eve (though keep in mind you may have to reserve ahead of time).
In Spain, Christmas Day takes a backseat to Three Kings Day as the main gift-giving holiday. (More on that in a bit.)
Though not traditional, many Spanish families have adopted the Santa Claus custom in recent years. Some children do wake up on December 25 to find the area under their tree laden with presents from the jolly man in his famous red suit. What is common, though, is to share another large meal on Christmas Day, this time at lunch.
If you're visiting Madrid, a good number of bars and restaurants do open on Christmas Day, so you'll have an easier time finding something to eat. While shops and tourist attractions are closed, there are still plenty of things to do on December 25!
December 31: New Year's Eve (Nochevieja)
New Year's Eve sees Madrid's streets packed with revelers celebrating the countdown and eating their yearly dose of good-luck grapes. The main place to be is Puerta del Sol, which fills to the brim with spectators especially eager to watch the clock atop the Casa de Correos building strike midnight.
Before heading out, Spaniards traditionally get together with their families to enjoy another massive holiday dinner. Although many restaurants do close on New Year's Eve, some stay open and offer a special festive set menu.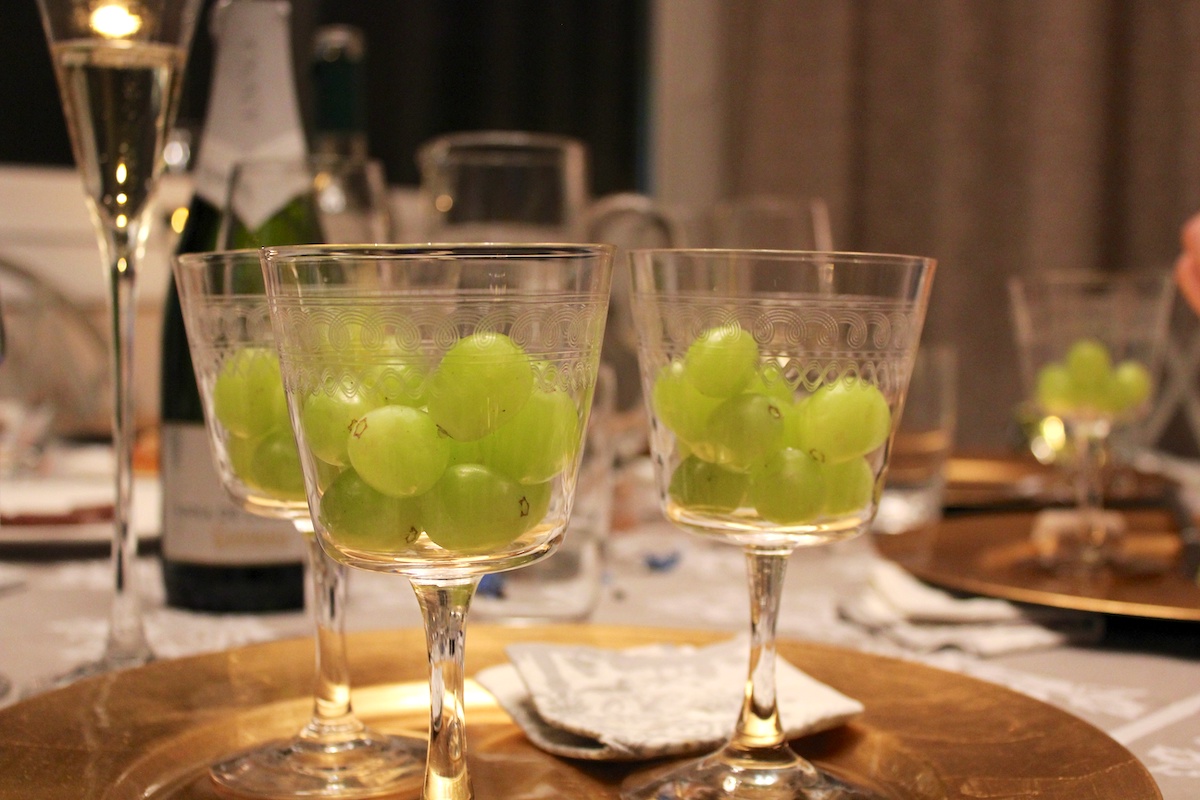 January 1: New Year's Day (Año Nuevo)
The new year in Spain often begins with a heaping helping of churros and hot chocolate. This is the most delicious way to greet the first sunrise of the new year after an all-night celebration! Like on Christmas Day, you'll likely find more bars and restaurants open, but most other places will be closed.
January 5: Three Kings Parade (Cabalgata de los Reyes Magos)
The eve of the Epiphany is many Spanish children's favorite day of the year. On this evening, the Three Wise Men travel through Madrid in a spectacular parade throwing candy to the eager locals lining the streets.
The parade route is along Paseo de la Castellana from Nuevos Ministerios to Plaza de Cibeles. Grab a spot and let yourself be enchanted by the elaborate floats and costumes! Just be sure to watch out for the flying candy.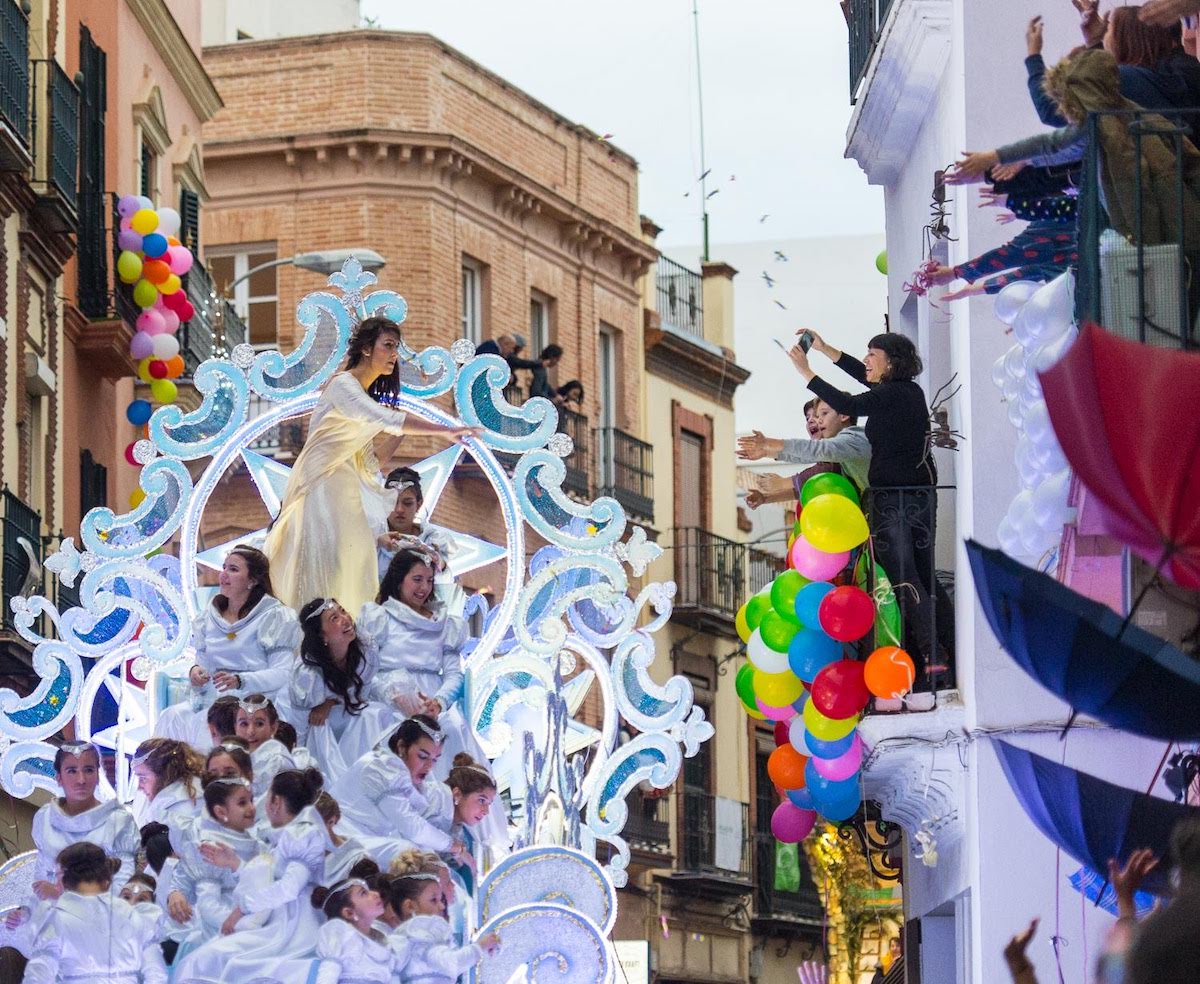 January 6: Three Kings Day (Día de los Reyes Magos)
Día de los Reyes Magos, or Three Kings Day, is when most Spaniards open their Christmas gifts. The traditional crown-shaped cake known as roscón de Reyes is an essential part of the celebration. Don't leave Madrid without trying it!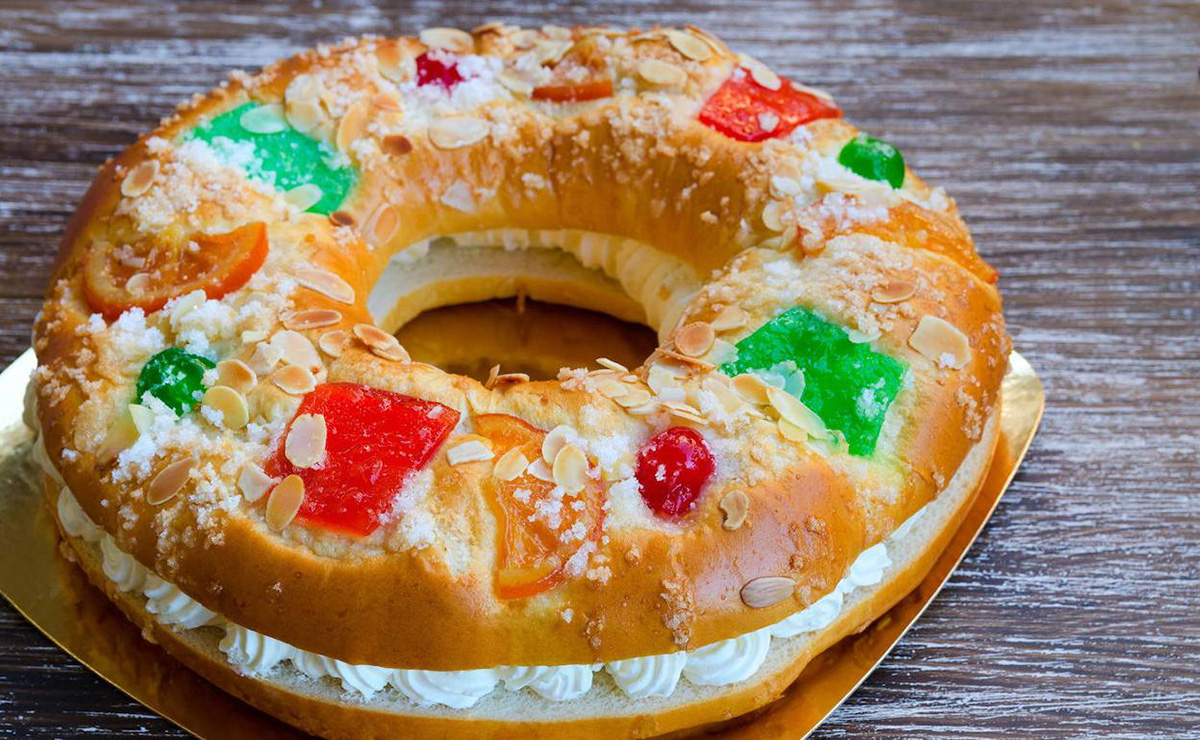 Things to Do in Madrid at Christmas
While the celebrations are pretty much nonstop during the above several days, Madrid is a flurry of Christmas excitement from November until the second week of January. And this might just be the perfect time to visit Madrid.
Tourists are scarce compared to the summer months. The city is at its most beautiful, glittering under a blanket of twinkling lights. And the seasonal food is unbeatable.
No festive tour of Spain's capital would be complete without checking these Christmas traditions in Madrid off your list.
Go Christmas Shopping
From the sleek, glitzy international brands in Salamanca to funky indie boutiques in Chueca, shopping in Madrid holds a world of wonders just waiting to be discovered. The city's eclectic shopping scene takes on new life at Christmas, when locals and visitors alike take over the shops in their quest to find the perfect gifts and best deals.
We personally love the hustle and bustle of holiday shopping in Madrid at Christmas, but if you'd prefer to avoid the crowds, try heading out during the week (most people leave their shopping for the weekend). There are so many incredible options for great gifts from Madrid, and if you really want to impress your loved ones, consider bringing them a delicious foodie souvenir.
Shopping is enough to wear you out, so treat yourself once you're done. Head to a local pastry shop (we're big fans of El Riojano on Calle Mayor) to enjoy delicious homemade treats and rich, soul-warming Spanish-style hot chocolate.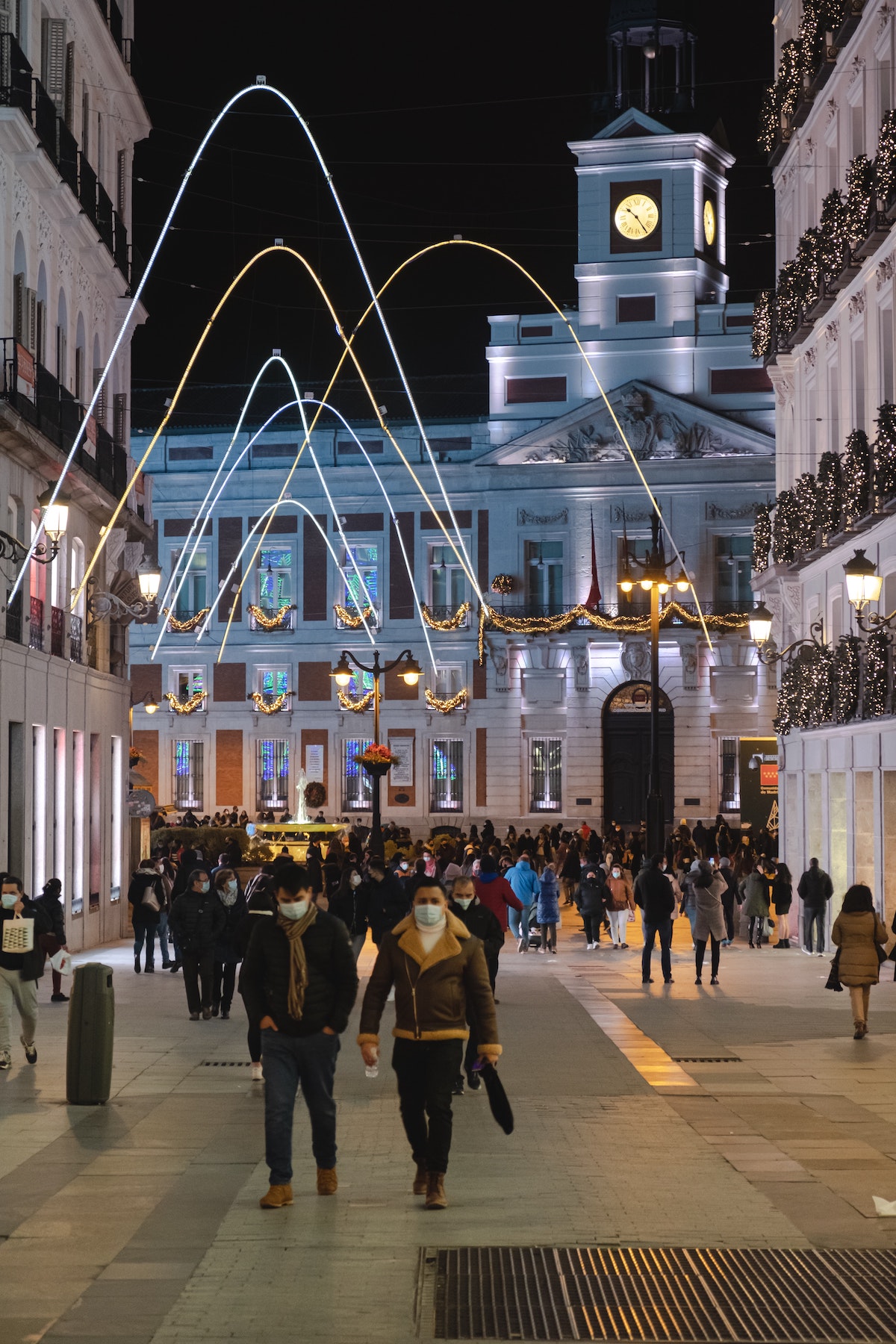 See the Christmas Lights
To truly experience the magic of Christmas in Madrid, there's nothing better than taking an evening stroll to marvel at the lights. Starting in mid-late November, the holiday lights twinkle throughout the city, giving a tangible sense of Christmas magic. If you don't want to walk around in the cold, you can even take a special bus tour to enjoy the lights!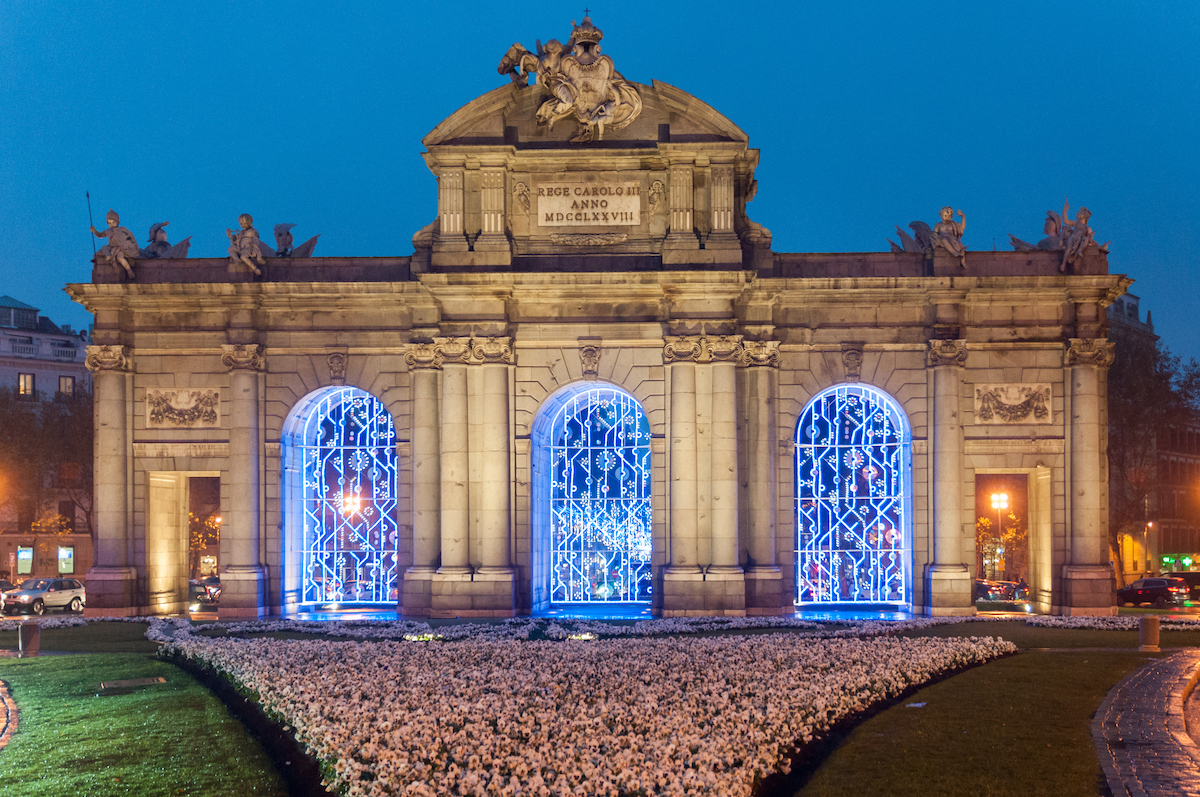 Eat Churros & Chocolate
Warm up after a walk around town by popping into San Ginés, the most iconic churrería in the city, for our favorite cold-weather treat: churros con chocolate!
Want to indulge, but not sure how to go about ordering? Check out the video below, where Devour Madrid expert guide Joy shows you how to enjoy this delicious tradition like a born-and-bred madrileño.
Visit the Christmas Markets
Winter in Europe means charming Christmas markets, and Madrid is no different. You'll feel as if you're walking through a scene from a storybook as you browse the plethora of goodies available at the handful of Christmas markets scattered throughout the capital.
One of the most classic and traditional markets graces the center of Plaza Mayor. Here, you'll be able to find everything from handcrafted decorations to funky hats and wigs for a truly unique souvenir!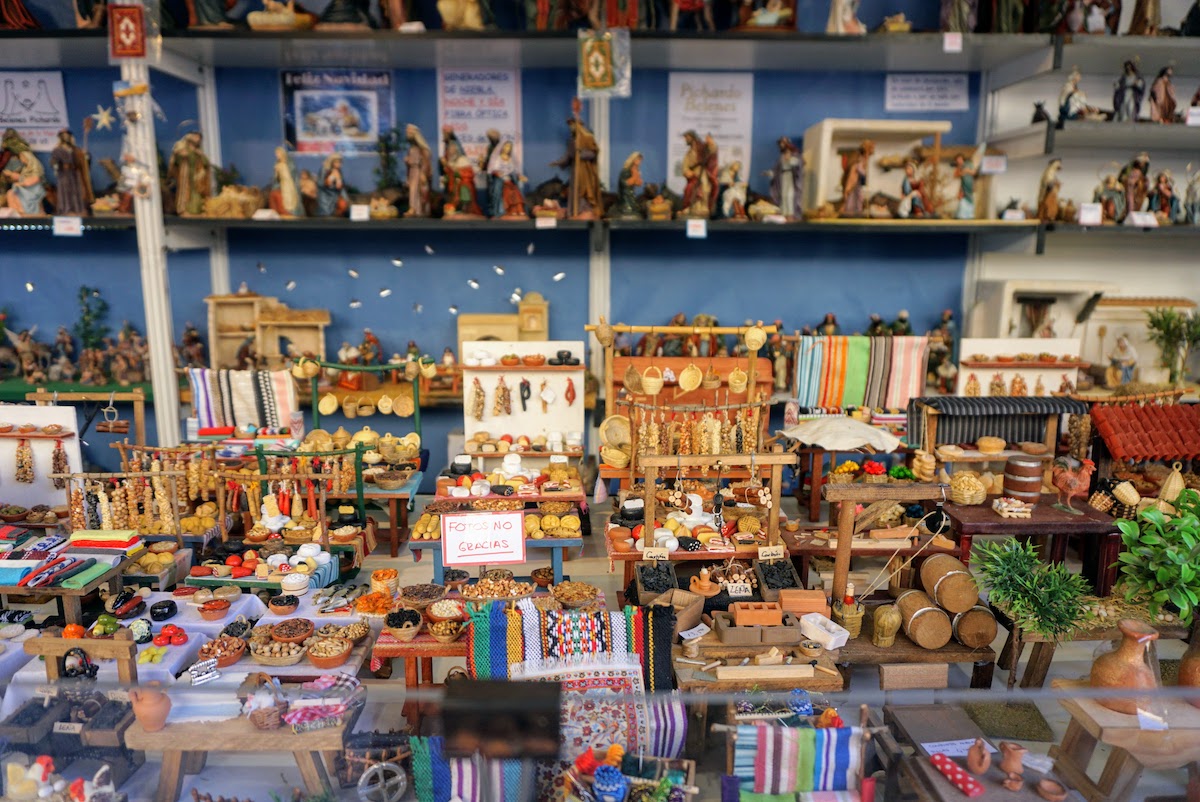 Buy a Lottery Ticket
Lottery ticket booths are easy to spot during the holiday season, thanks to the long lines that stretch out of them (sometimes for blocks). Be sure to pick one up if you're visiting Madrid at Christmas—you never know if luck might be on your side!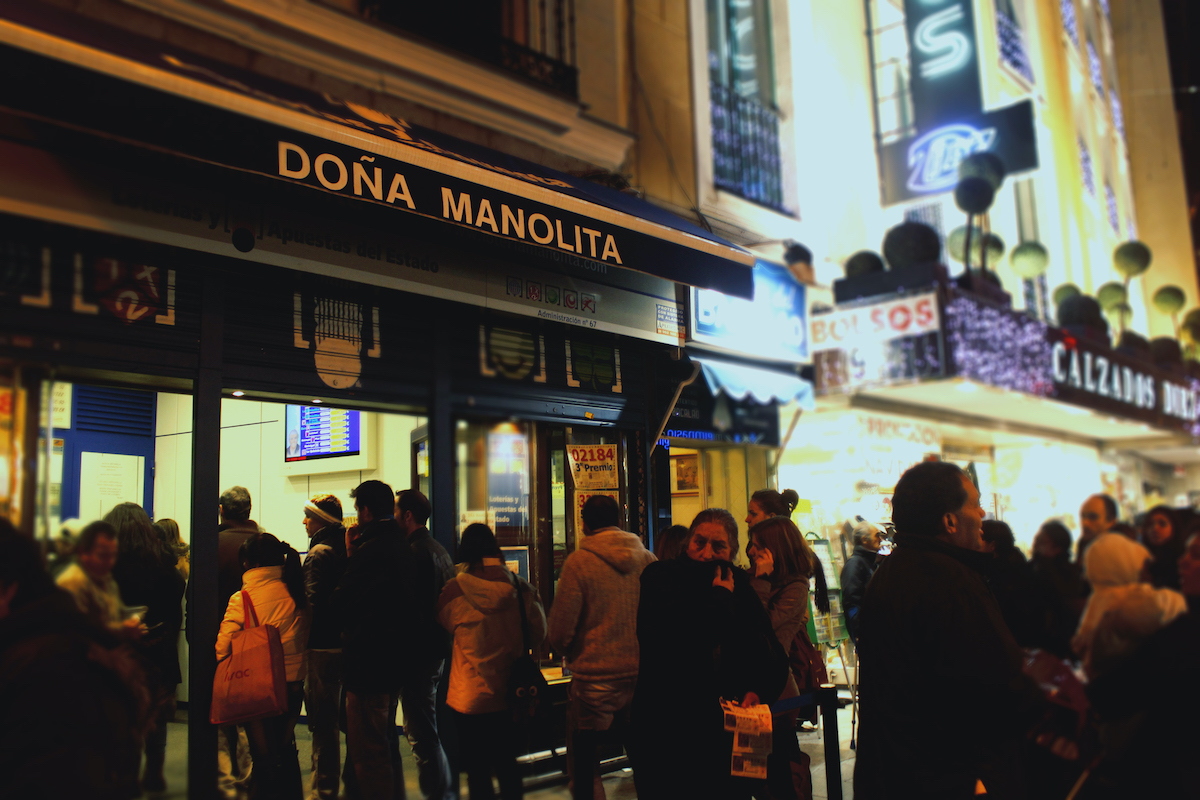 Ring In the New Year in Puerta del Sol
Puerta del Sol is the epicenter of Madrid's New Year's Eve celebration. Thousands of people pack the plaza on New Year's Eve to sip cava and watch the huge clock on the Real Casa de Correos building tick down to midnight. The 150-year-old clock is Spain's equivalent of NYE ball drop in Times Square, and millions of Spaniards tune in to watch the clock ring in the New Year.
When the huge clock's resounding dongs echo across the city, Sol doesn't fill with shouts and cheers. The thousands of spectators are too busy hurrying to eat their 12 grapes before the bell finishes its 12 strikes. Tradition dictates that each grape you eat as the clock strikes midnight on New Year will bring you one month of good luck in the following year!
If you want to avoid the madness of a Times Square-style New Years Eve in Sol, you can join hundreds of madrileños for a New Year's "dress rehearsal" on December 30! Hundreds of people pack the plaza 24 hours before the New Year, clad in Santa hats and toting cava and bags of sweets, for the preuvas (literally "pre-grapes"). It's a fun way to practice the midnight countdown!
What began as a technical run-through to make sure Sol's giant clock and bells were functioning properly for the New Years' celebration has turned into a huge pre-New Years party where people practice eating their 12 grapes in anticipation of the big night. Many revelers, though, can be seen popping twelve M&M-like candies instead of grapes. Superstition says eating the 12 grapes before the true New Year is bad luck!
What to Eat in Madrid at Christmas
Any time of year is perfect for devouring Madrid! However, local cuisine really gets taken to the next level when the holidays roll around.
From unique seasonal treats at pastry shops to special holiday menus at restaurants, there's nothing better than eating in Madrid at Christmas! Here are a few festive delicacies you can't leave Madrid without sampling.
Fried Salt Cod
By now you know that Puerta del Sol is the place to be in Madrid in December. And if there's one thing you need to eat while you're in the area, it's fried salt cod (bacalao).
Many of the best places to eat near Sol are famous for this flavorful fried fish. As they do their Christmas shopping or stroll to admire the lights, many madrileños will pop into Casa Revuelta or Casa Labra for a tapa of bacalao and an ice-cold beer. You could consider it the unofficial snack of Christmas in Madrid!
Cocido Madrileño
Madrid's signature stew is the ultimate in Spanish comfort food. Cocido madrileño is a mainstay on restaurant menus throughout the winter. Though time-intensive to make, many eateries will offer it at least once a week alongside (or as part of) the usual lunchtime menú del día.
The stew is served in two or three courses, starting with a simple noodle soup made with the broth the rest of the ingredients cooked in. Next up is a healthy portion of veggies, chickpeas, and several different kinds of meat.
When it comes to eating cocido, there are only two unwritten rules. Come hungry, and accompany your meal with plenty of wine!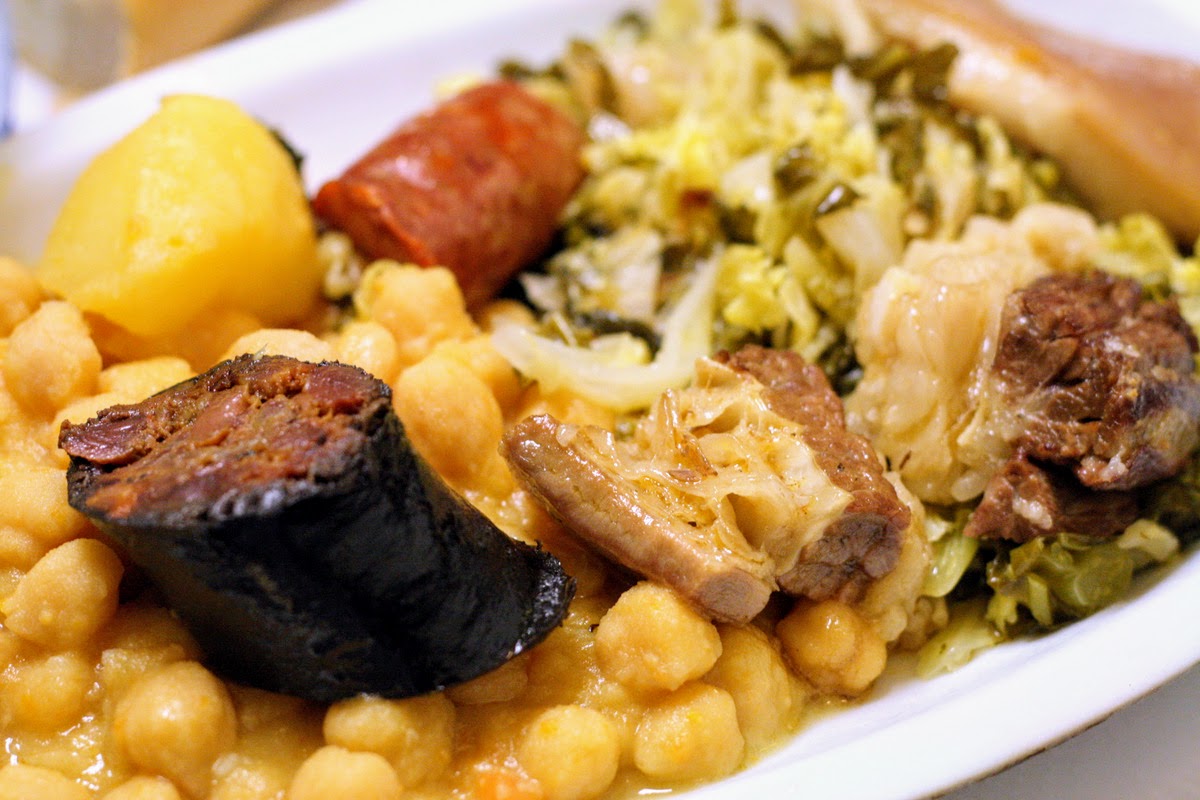 Pollo en Pepitoria
Another popular Spanish winter dish in Madrid is chicken in almond sauce, or pollo en pepitoria. If you're craving something cozy but aren't feeling up to devouring an entire cocido, this is the way to go!
You'll find pollo en pepitoria as an option for lunch in Madrid all winter long. It's also a popular fixture in many Spanish homes during the holidays, and makes a great option for a festive main dish.
Turrón
Turrón is the undisputed king of Spanish Christmas sweets. Its three distinct styles—blando (soft), duro (hard), and chocolate—make it versatile enough to be universally loved. 
Turrón blando is a caramel-colored bar made from almond paste and egg yolk. Turrón duro is a hard nougat usually stuffed with whole Marcona almonds.  And chocolate turrón comes in a plethora of varieties, from negro con arroz (dark chocolate with puffed rice) to Oreo.
There are so many varieties of turrón that supermarkets dedicate entire aisles to the Christmas treat. The only logical step here is to try as many as possible and discover your favorite!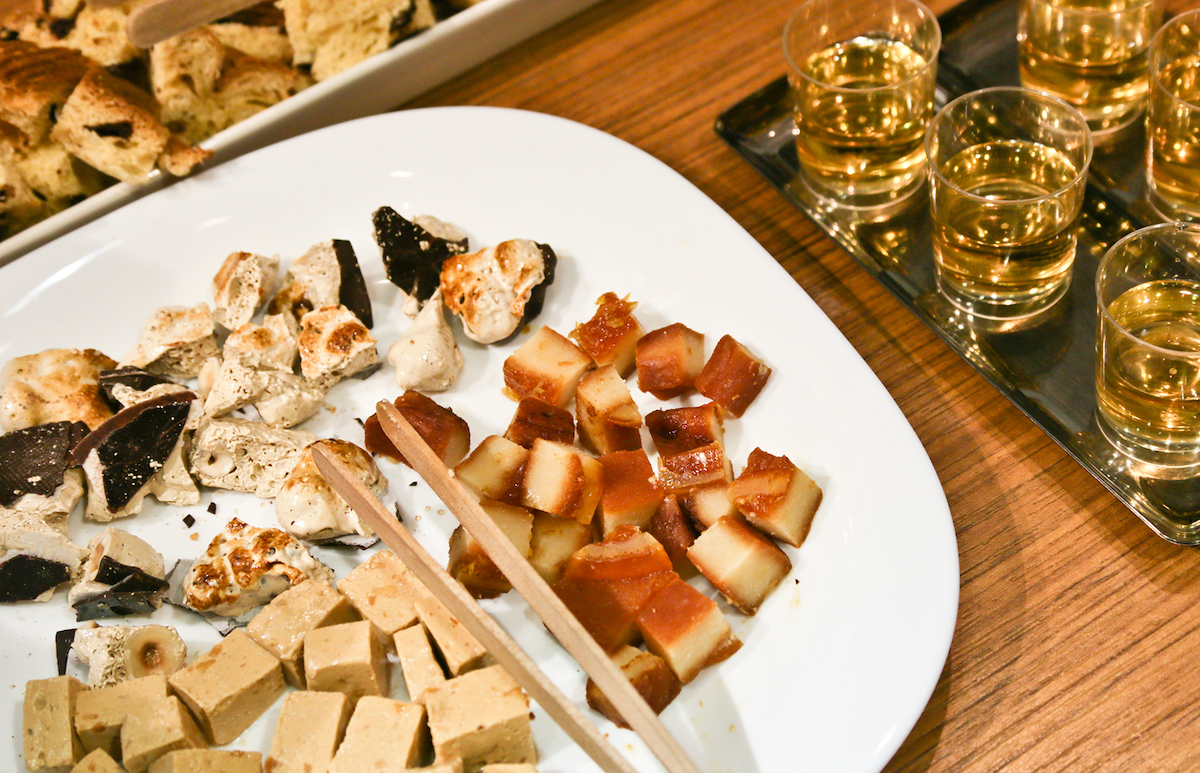 Mantecados & Polvorones
Another delectable option in the Christmas treats aisle are the small, individually wrapped Spanish cookies, mantecados and polvorones. These shortbread-style cookies come in a delicious variety of flavors, and a tray full of different kinds is present in many Spanish homes all winter long.
Churros & Chocolate
There's never a bad time to eat churros and chocolate during Christmas in Madrid. They're a great pick me up during a holiday shopping break, a post-midnight snack on New Year's, and a delicious accompaniment to the roscón de reyes on Three Kings Day. Be sure to indulge in this beloved sweet treat at once during your stay in Spain!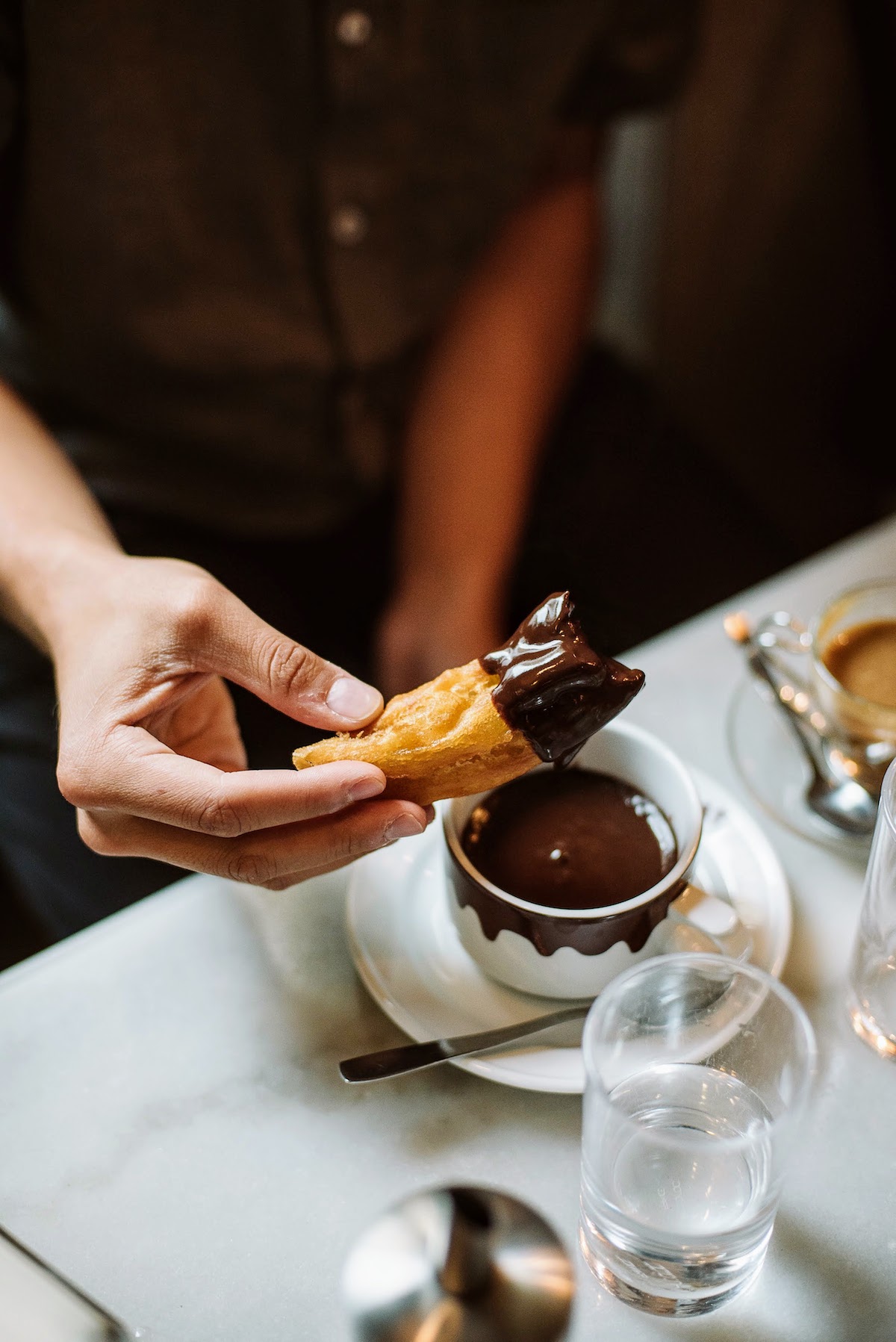 Roscón de Reyes
Last but not least of the foods you have to try during Christmas in Madrid is the famous Three Kings Day cake, or roscón de reyes. This brioche-like cake is decorated with candied fruit to look like a bejeweled crown and often stuffed with sweetened whipped cream. The holidays in Spain wouldn't be the same without it!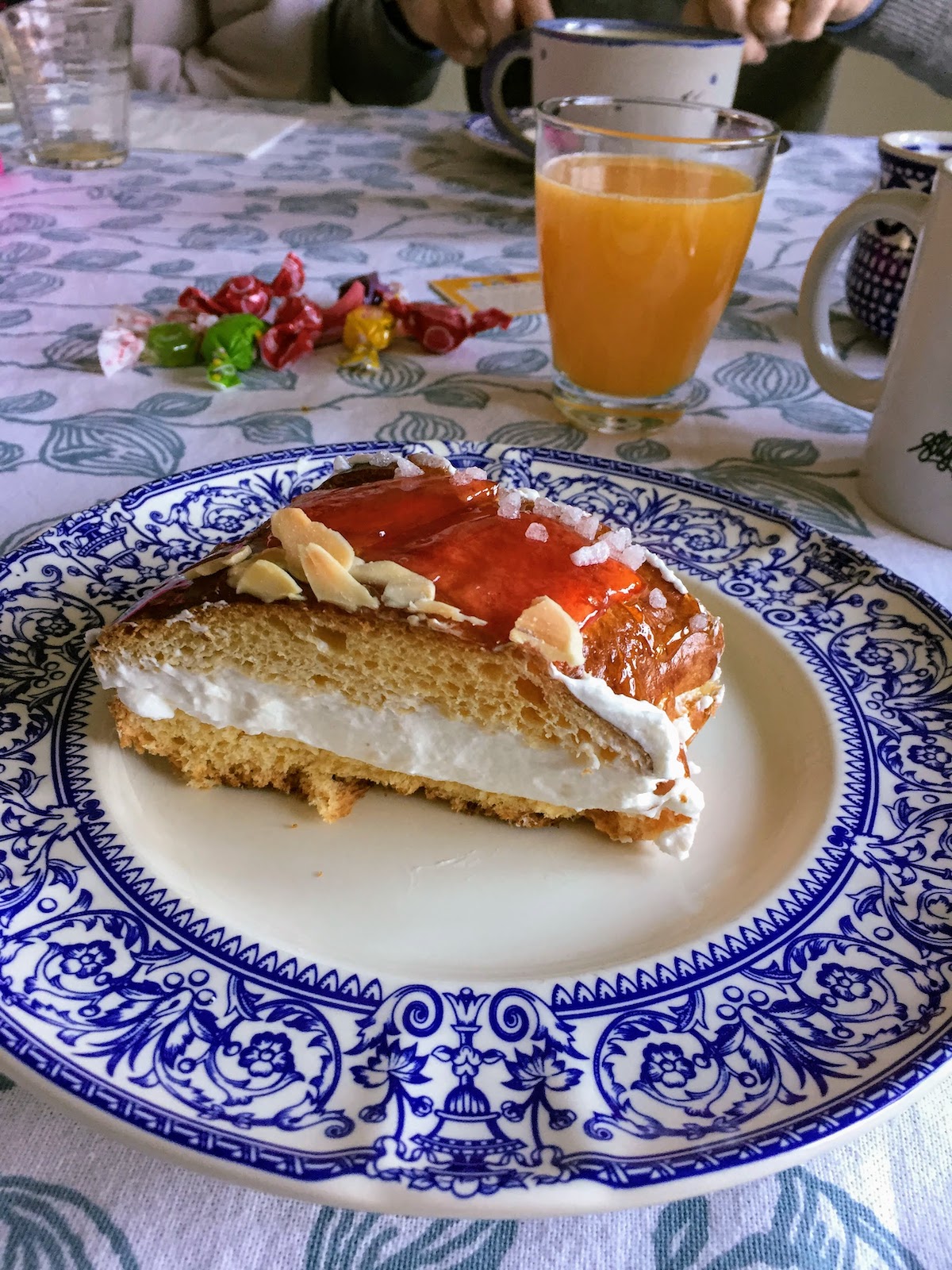 Christmas in Madrid FAQs
What is Madrid like in December?
Madrid is one of Spain's most festive destinations in December. The holiday lights and Christmas markets provide plenty of aesthetic charm. While the weather is chilly due to the city's high altitude, snow is relatively rare. And although winter is low season for tourism in Spain, plenty of locals are out and about at any given time, doing their holiday shopping and enjoying the festive atmosphere.
Does Madrid have Christmas markets?
Madrid does have several incredible Christmas markets! The most famous is the one in Plaza Mayor, but you can find more scattered throughout the city.
What foods are eaten in Madrid Spain during Christmas?
Fish and seafood are popular holiday foods in Madrid. Many locals will stop to enjoy a tapa of fried salt cod while doing their holiday shopping, and whole baked fish is a common sight at Christmas Eve dinner. Typical sweets include turrón (nougat and almond candy bars), mantecados and polvorones (crumbly shortbread cookies), and of course, churros and chocolate.
Are stores open on Christmas Day in Madrid?
Retail and grocery stores are not open on Christmas Day in Madrid. You will likely be able to find a few smaller convenience-type stores that are open should you need to make a run for basic food or toiletries.
What is there to do on Christmas Day in Madrid?
While many stores will be closed, a surprising number of restaurants do open on Christmas Day in Madrid! This is because the main holiday meal is eaten at home on Christmas Eve. Head out for lunch and enjoy a walk in one of Madrid's beautiful parks, such as Retiro or Casa de Campo.
How do families celebrate Christmas in Madrid?
Spanish families gather together for a festive dinner on Christmas Eve. This multi-course meal can last for hours and is often accompanied by cocktails and card games. On Christmas Day, some children wake up to find presents under the tree from Santa (a non-Spanish tradition that some families have started to observe in recent years). There is another big family meal on December 25, this time at lunch.
Update Notice: This post was originally published on December 5, 2014 and was updated with new text and photos on July 9, 2021.