New York is where people go to find good food. But it's practically impossible to taste everything with so many possibilities around the city. If you're anything like us, you probably wish there were more meals during the day and sometimes wonder if life would be better if you could eat even more before feeling full.
With that in mind, visiting one of these food markets in NYC is easily the best way to spend some time during your trip.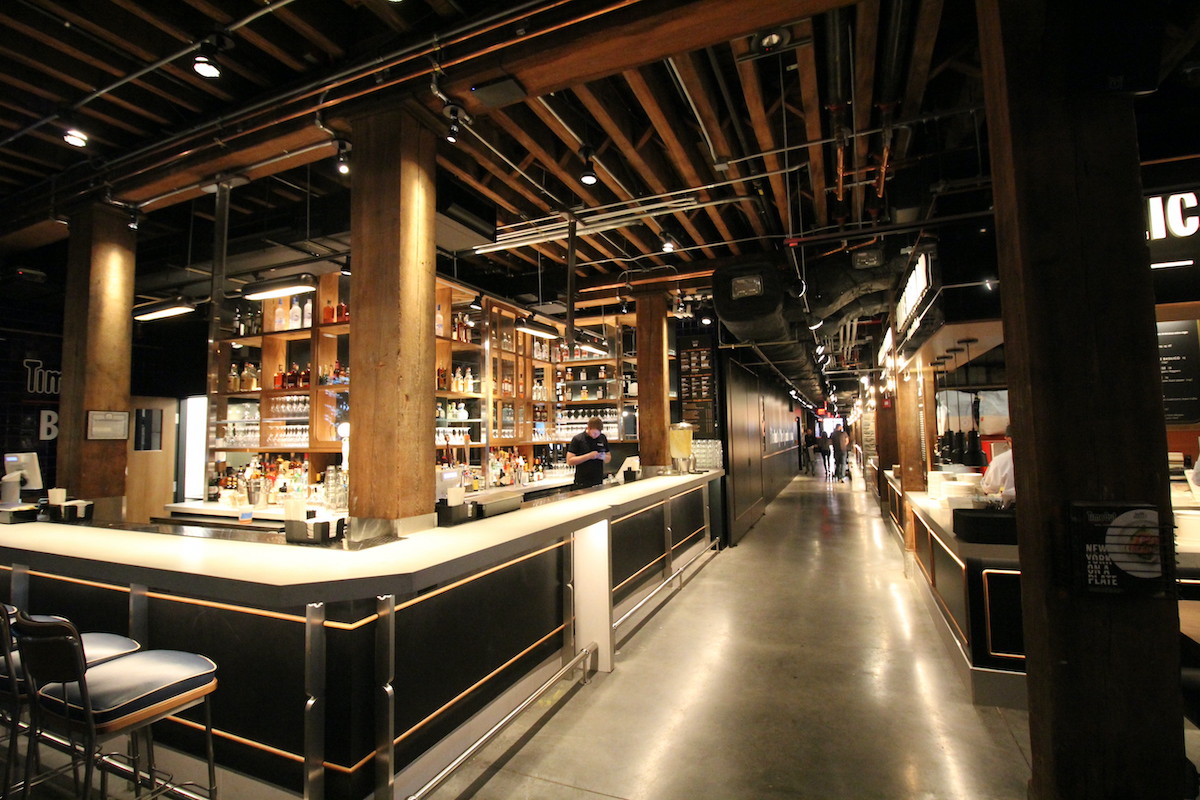 These food markets in NYC are perfect for savoring small portions of different foods, trying a little bit of everything and fulfilling the gourmet explorer inside your soul (or stomach)! So, if you feel like tasting the world without leaving the city, head to one of these 15 food markets in NYC and be ready to munch until you're fully delighted.
Chelsea Market (Chelsea)
Chelsea Market is probably the most famous food hall in New York. Here, you can find stalls selling foods from all over the world and other products like home decor, wine, books, and clothes. Everything you see is of the highest quality, from gourmet cheeses to whole animal butchery. It's common to find tourists and locals alike here, eating anything from fresh lobster to pasta or burgers.
There is a unit of Los Tacos No. 1 inside serving some of the best tacos in the city—so don't be confused if you see a long line.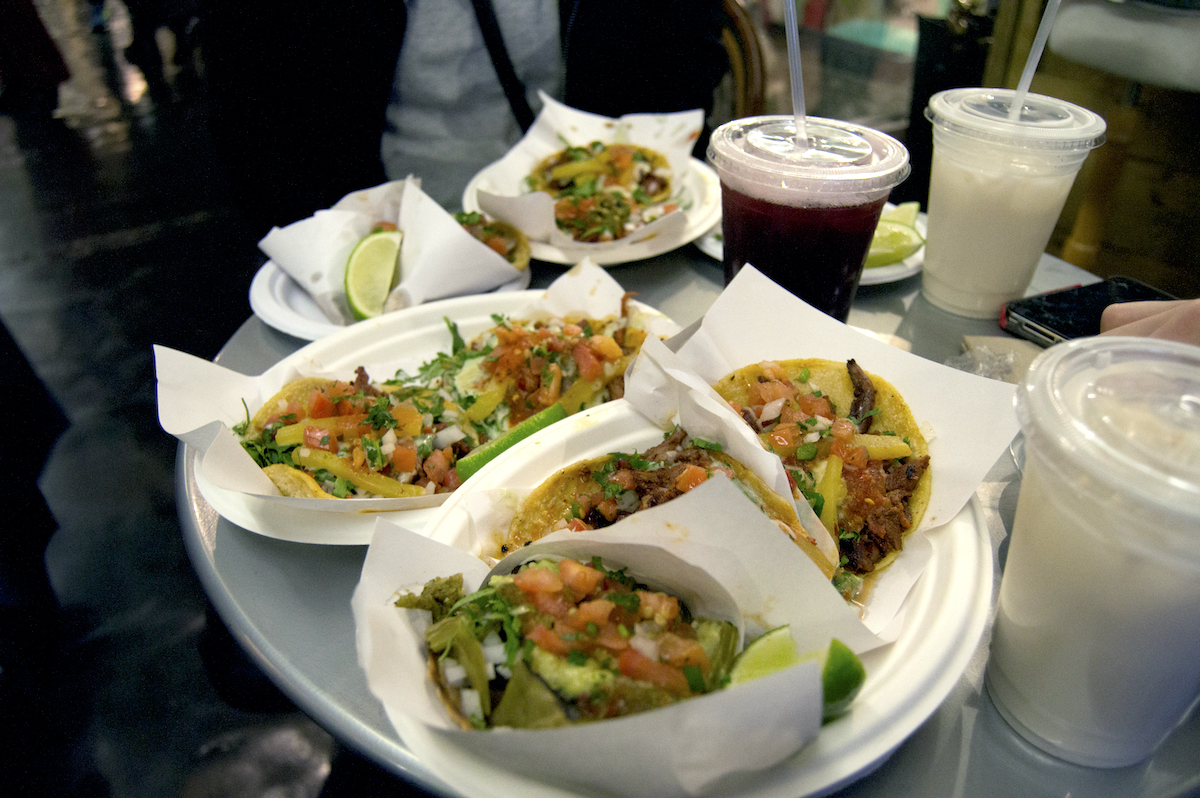 Related Reading: Want a full guide around this foodie wonderland? Check out our post on the Best Food in Chelsea Market!
Essex Market (Lower East Side)
Essex Market has been around since 1818, and it's recently transitioned to a more modern space just across the street from the original venue. You'll find a grocery section where you can buy products from different places around the globe, like Southeast Asia, China, or Central America.
The food hall also hosts culinary wonders from all over the world—a taco place, a Brazilian tapioca shop, Thai noodles, Korean dumplings, and more. We have to give a special shoutout to the banh mi at the small Vietnamese shop and the Indian cuisine from Dhamaka.
Insider's Tip: Riverdel and Formaggio Essex, two of our favorite cheese shops in NYC, are also located here.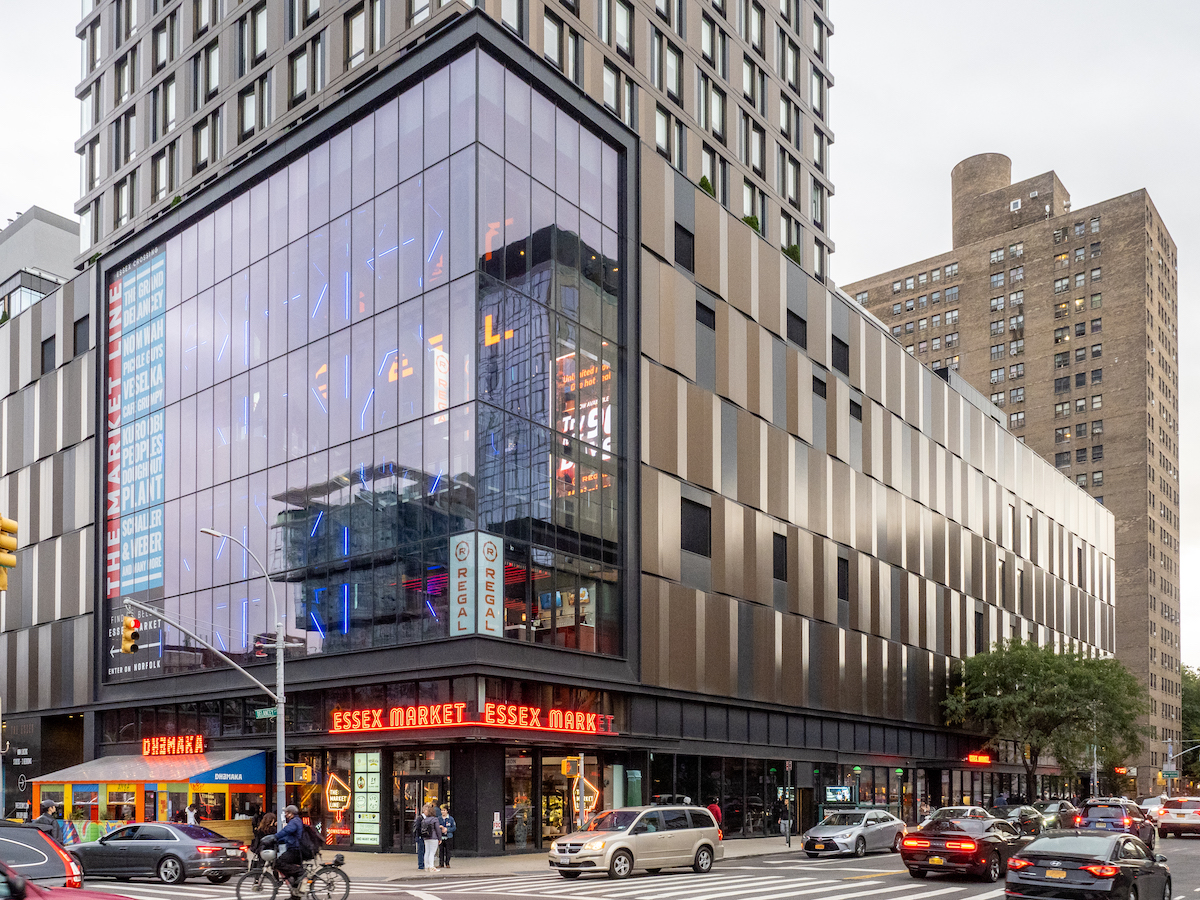 Gansevoort Market (Meatpacking District)
The Gansevoort Market is very close to the famous Chelsea Market, and you might even be able to visit both on the same day (if your stomach is brave enough for the experience!).
The market has an industrial and rustic decor, with food stalls selling cuisines from different corners of the world. Here you'll find more eating space than at Chelsea Market, and the dining area is brightened up with natural light and flowers decorating the environment.
Go to Mission Ceviche and get a classic Peruvian fish dish if you like fresh food.
Mercado Little Spain (Hudson Yards)
Right by The Vessel, you will find The Shops. Head downstairs and see the red and yellow wonder that is Mercado Little Spain.
It was founded by the Adrià brothers—who are renowned for their multiple Michelin starred restaurants in Spain—along with José Andrés, another famous chef from the European country. The Mercado is a piece of Spain in New York, with multiple kiosks serving traditional Spanish foods and produce. Croquetas, tortilla de patata, jamon ibérico, paella, patatas bravas…. all the Spanish food you could want!
Enjoy some tapas at La Barra with a glass of sangria and relax for a while!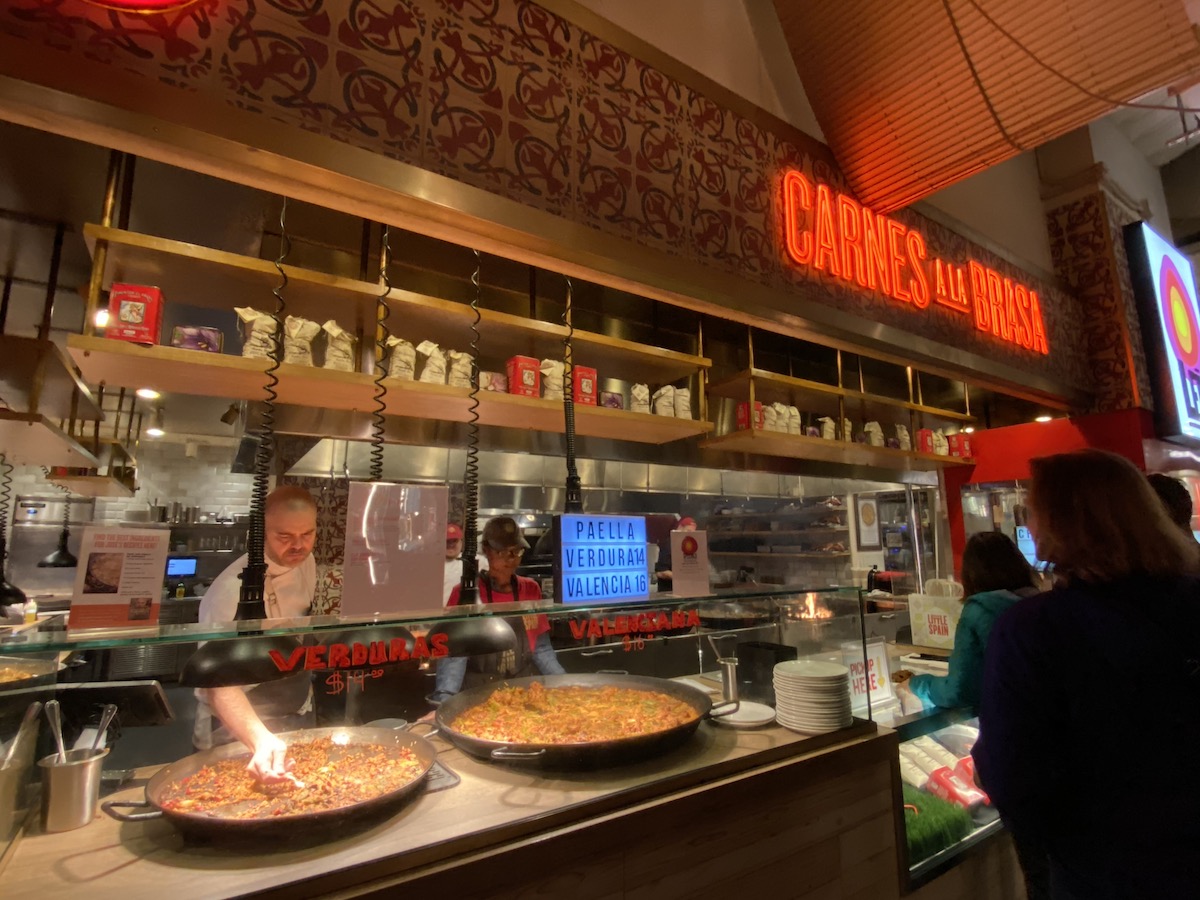 Eataly (Flatiron)
If you feel like traveling to Italy without leaving New York, this is your place. Located right by the famous Flatiron building, Eataly is the market that gathers all the best products and foods imported directly from the gastronomic capital of Europe.
Drink espresso standing by the counter and pair that up with an almond pastry. Shop for dozens of different cuts of pasta and ravioli fillings, and eat Sicilian-style pizza or cold cuts from Calabria. Don't forget to order a glass of wine with your gnocchi, and maybe finish with some classic Italian gelato.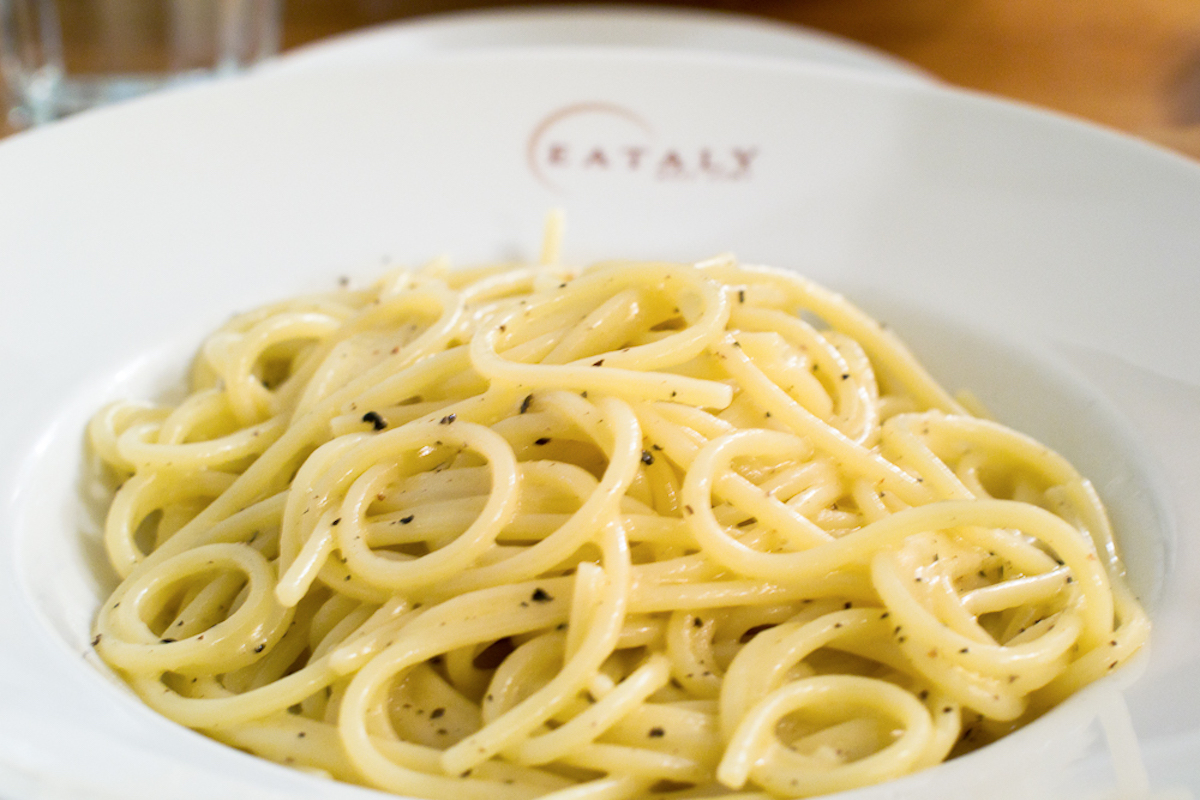 Urbanspace Vanderbilt (Midtown East)
Urbanspace Vanderbilt is perfect for those who want to grab a quick bite while exploring Midtown Manhattan. The pitaya and açaí bowls from Playa Bowls are a must, especially during the summer when you need a flavorful refreshment!
Large windows cover the food hall in the middle, letting plenty of natural light in. There are plenty of healthy, vegan, and vegetarian options, as well as tacos, burgers, pasta, sushi, and cocktails—endless possibilities for those who can't decide what they want to eat.
Urbanspace Lexington (Midtown East)
Urbanspace Lexington is not so different from its sibling at Vanderbilt. It has nine food stalls that work with a grab-&-go concept, where all dishes are practical and can be taken home (or maybe on a walk around the city and even a picnic at the park). Drink a glass of wine, eat kebabs, tacos, and pizza, or try the bao combos at Bao By Kaya.
Gotham West Market (Hell's Kitchen)
Gotham West Market is close to the Chelsea Pier and Times Square, making it the perfect spot for lunch during a touristy exploration of the west side of town. The chic and casual kiosks offer foods from all over the world. The market covers the ground floor of an entire block, offering different dining options like the renowned La Palapa taco bar and velvety ice creams from Mikey Likes It.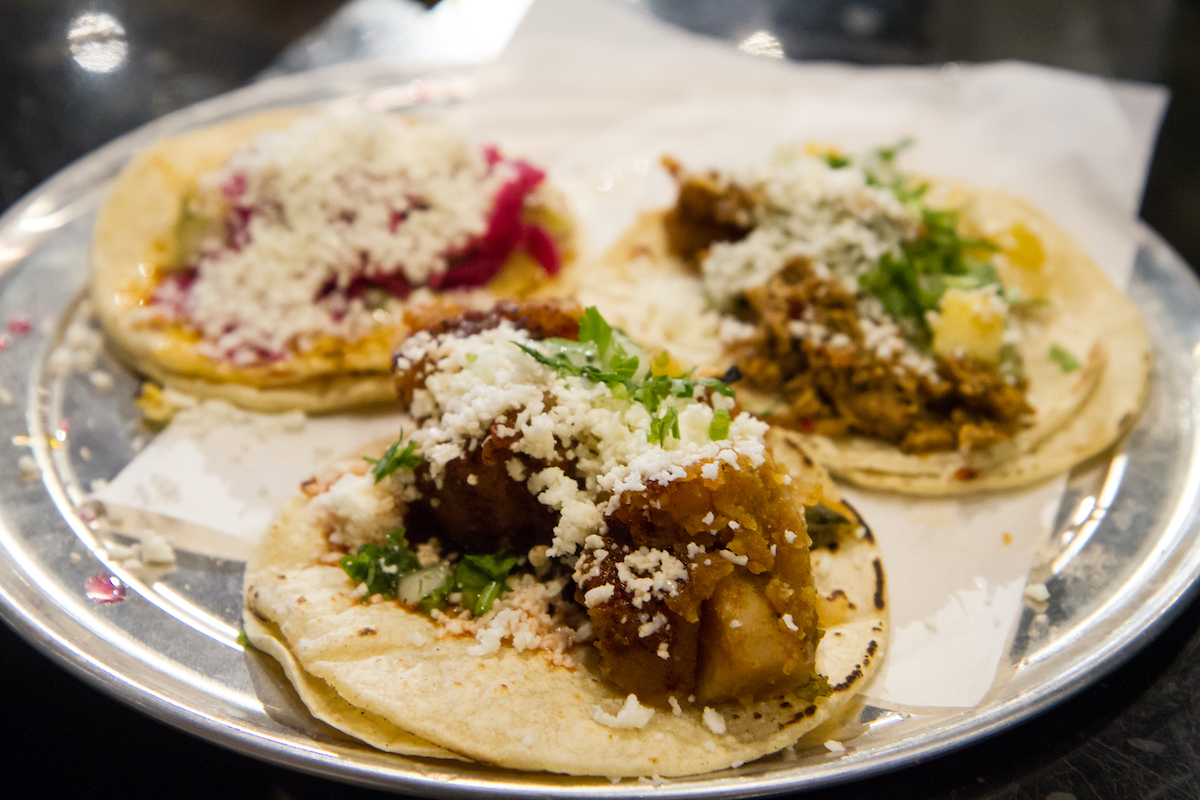 Turnstyle Underground Market (Columbus Circle)
Turnstyle Underground Market, as the name suggests, is a subterranean collection of shops connected to the Columbus Circle station. One of the most unique food markets in NYC, it covers an entire block in length, and it has a vast array of food vendors to pick from.
Lisa's Dumplings are a favorite choice among those who visit the market, as well as Empanadas Criollas and Champion Pizza for those who want flavors that are closer to home. Other venues that sell everything from hot sauce and soap are also available.
Related Reading: Check out our picks for the best dumplings in NYC!
Smorgasburg (Williamsburg)
Smorgasburg is the largest open-air weekly food fair in the entire country! It offers unique gastronomic experiences in New York as the birthplace of many of the city's famous culinary fusions.
The fair takes place in the East River State Park on Saturdays and in Prospect Park on Sundays (from 11 a.m. to 6 p.m.). Make sure to come with friends so you can sample as many different plates as you can.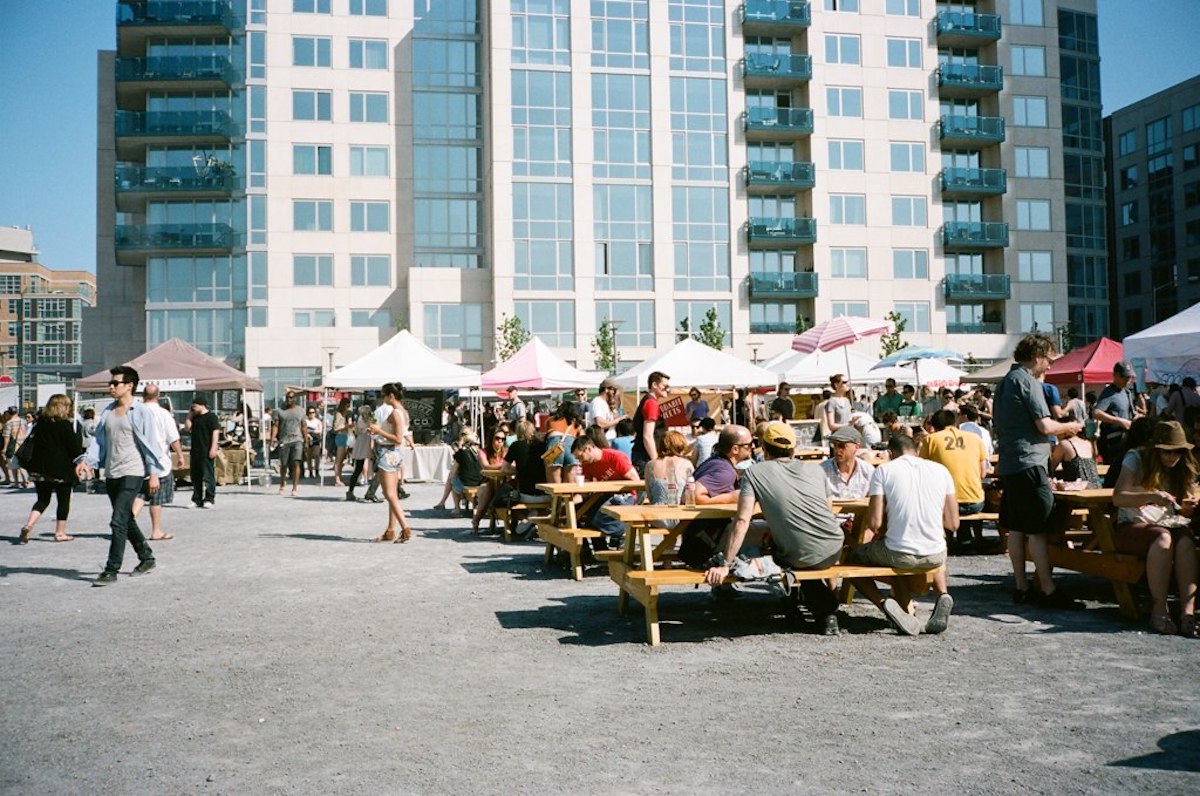 Queens Crossing (Downtown Flushing)
The Queens Crossing shopping center was renovated in 2016, and since then, it's become famous for its food hall on the second floor. There are 12 vendors in the market, offering mainly Asian foods from different countries and cuisines on the continent. Cantonese seafood, South Korean egg dishes, dim sums, and all-you-can-eat buffets are part of the deal.
If you're looking for a modern oriental experience, this is the place to go! There is a karaoke bar and the famous Yasubee Ramen shop as well.
Time Out Market (Dumbo)
The Time Out Market is one of the most famous food markets in NYC. Maybe it's because of its astonishing views of the Brooklyn Bridge from the rooftop terrace. Or perhaps it's due to its three full bars and 21 food venues.
We don't know for sure. We know that people love it, and every weekend, the place is packed with tourists and locals who come to explore international gastronomy, drink wine and cocktails, and chill in the open air. Make sure to try the ice cream at Sugar Hill Creamery or the Indian dishes at Chote Miya.
Industry City (Sunset Park)
Industry City is a huge food market, guaranteeing satisfaction to any type of eater out there. In the center of the food hall, 12 different vendors showcase their culinary, from juicy burgers at Burger Joint to perfect pies at One Girl Cookies.
Kebabs, Chinese street food, and barbecue venues are also enticing options. Go up to the second floor and find Japan Village, packed with shops, tea rooms, and more food.
They offer beautiful views of the city from their open-air sections and a lot of open space for you to roam around.
DeKalb Market Hall (Downtown Brooklyn)
DeKalb Market Hall enchants visitors with its neon light shining upon straight hallways, surrounded by 40 food stalls of various cuisines. Their goal is to showcase the diverse culinary culture of New York, and it ends up looking like a crowded and lively Asian market.
At Dan and John's Wings, you'll find mouth-watering chicken wings that might be some of the best in New York. Want to try something a bit different? Maybe hit Fat Fowl for some Caribbean classics!
The market also has a stage for live concerts and a show kitchen, where they host special performances on different days of the week.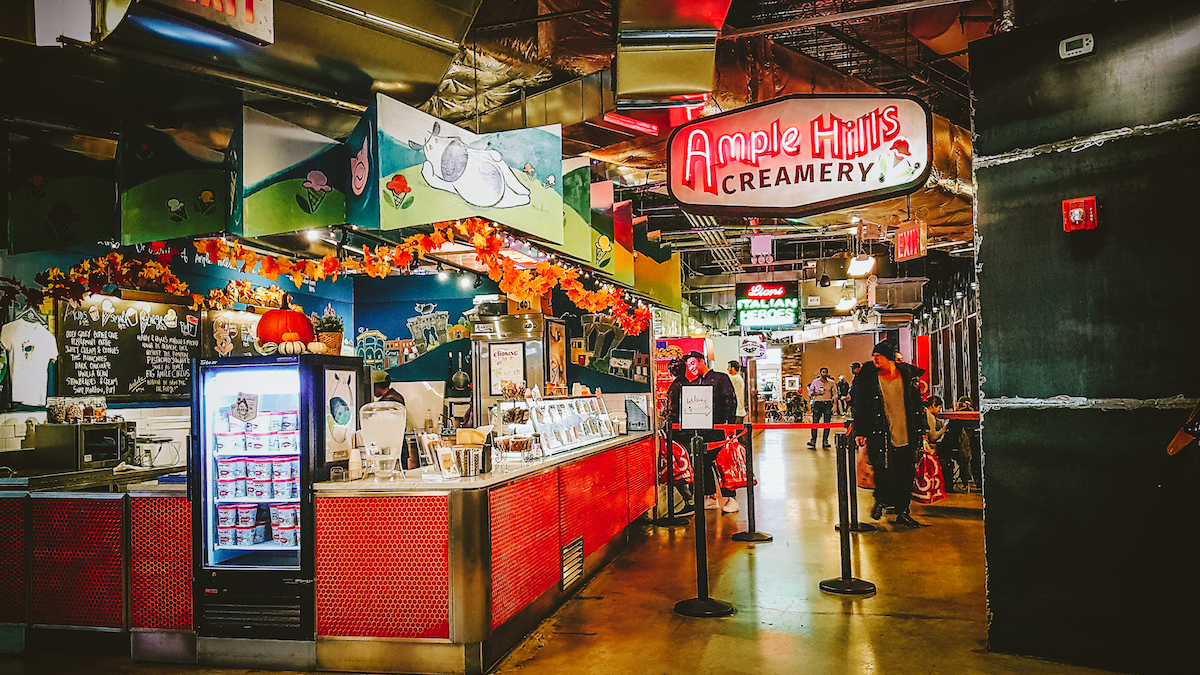 Explore New York's rich cultural heritage and history through iconic family-run eateries and their foods on our Dumplings, Delis, & History: Lower East Side Historical Food Tour. We'll taste a range of different local staples, from those with roots in the 19th century to modern and international treats popular today.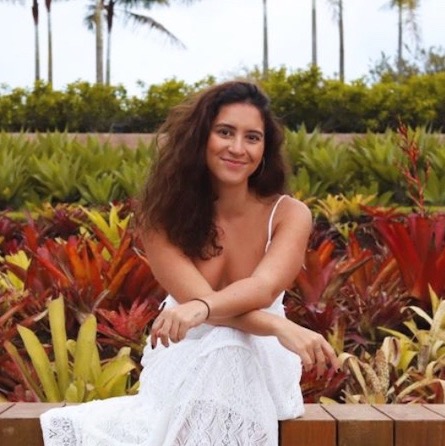 Camila has lived in New York for over six years. Writing about food, drinks, and travel, she has moved around the city gathering tales, flavors, and restaurant recommendations for her fellow explorers. A lover of bars and baos, Camila can introduce you to the most famous and best-kept secrets of New York!