A quick peek at the average grocery store's cheese selection might lead you to think that the list of Dutch cheeses consists of only one or two types: Gouda and Edam. These are, to be sure, the most popular Dutch cheeses, but the cheese world in the Netherlands is diverse—and delicious.
Cheesemaking in what is now the Netherlands dates back to at least 80 B.C.E. (Julius Caesar actually mentions Dutch cheese in his writing), and the Netherlands is today one of the world's top cheese producers.
There are dozens of cheese varieties in the Netherlands, and even sub-varieties (smoked Gouda, anyone?), so sample widely to find your favorites. And, if you're visiting at the right time of year, consider a visit to one of the country's cheese markets for a glimpse at some Dutch cheesemaking traditions.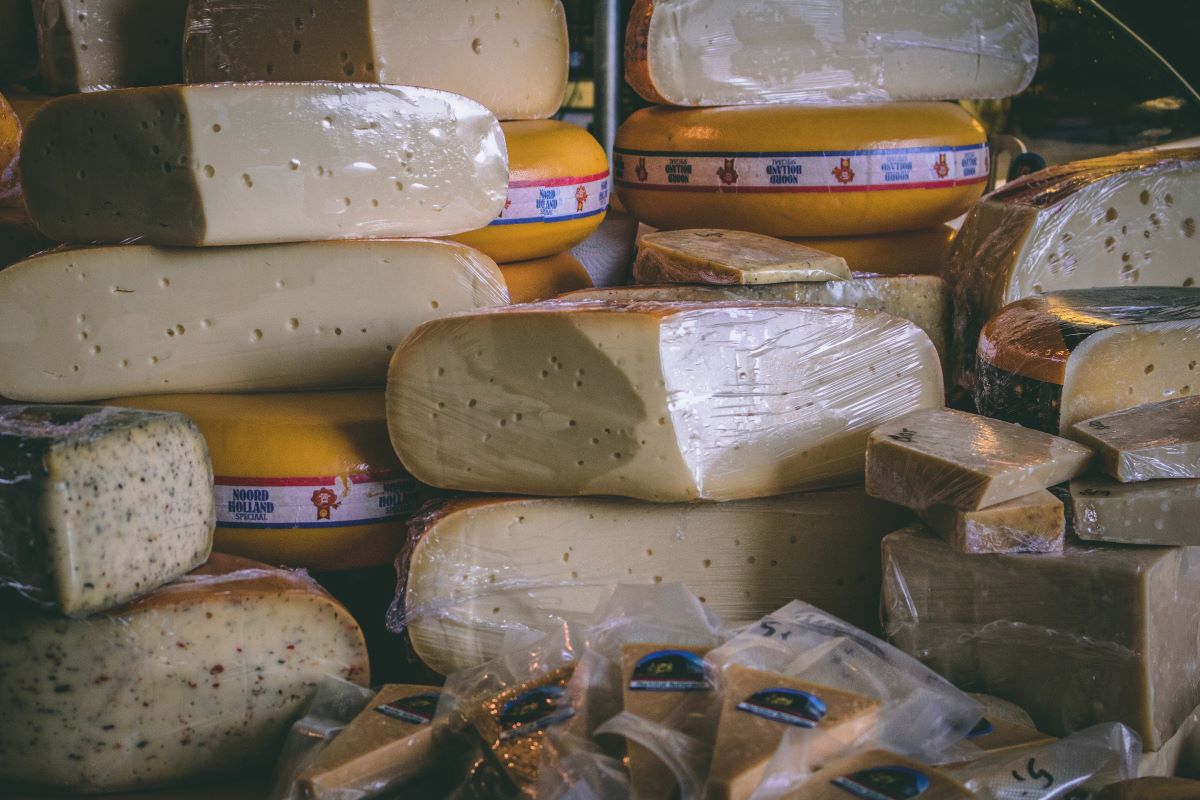 Some of the best-known Dutch cheeses
Gouda
Arguably the most famous of all the Dutch cheeses, especially outside the Netherlands, Gouda is a cows' milk cheese that takes its name from the city where it's made. It can range from a semi-hard to a hard cheese with a nutty flavor that gets sweeter the longer it ages. Older Goudas also develop "cheese crystals:" white speckles in the otherwise golden cheese that are delightfully crunchy and salty pops of flavor. Gouda is the Netherlands's most-produced and most-exported cheese, but make sure you're buying actual Gouda—in some places outside the Netherlands, the word "Gouda" is sometimes used on any Dutch-style cheese.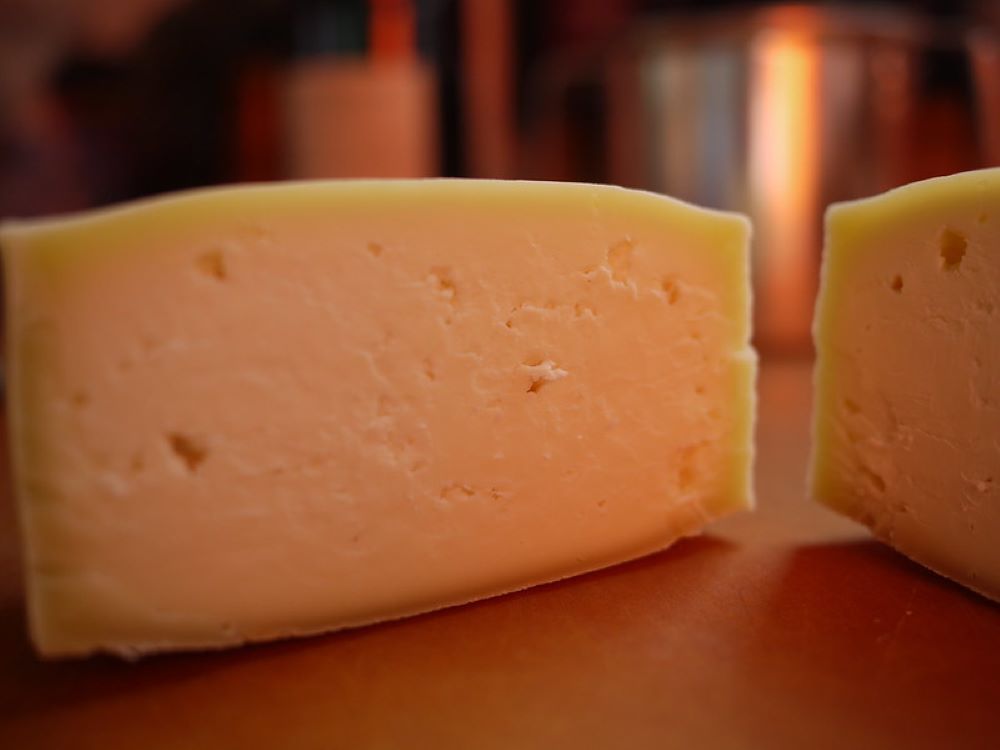 Edam
Another well-known Dutch cheese is Edam, which comes from the town in North Holland of the same name. It's a semi-hard cows' milk cheese typically made in an almost spherical shape (it's slightly flattened on the top and bottom so it sits nicely without rolling), and it has a wax coating of bright red. Edam is aged anywhere from 1-10 months and, thanks to the wax rind, it doesn't spoil—it just gets more firm with age. Younger Edam cheese is mild, and as it ages it can get sharp and quite nutty.
Beemster
Beemster cheese is, like Gouda, a semi-hard cows' milk cheese. But, to be called Beemster, it must be milk from cows that have grazed only on the grass that grows in the Beemster Polder—a former lagoon area in North Holland that's about 13 feet below sea level. The grazing area makes for unique-tasting milk and, therefore, cheese. There are several varieties of Beemster cheese, aged from two months to two years, and they vary in flavor from smooth and mellow to sharp and nutty. Regardless of age, however, Beemster cheeses are known for their saltiness.
Leyden
Leyden cheese also takes its name from the region where it originates—Leiden, in South Holland. This semi-hard cows' milk cheese is sometimes called "spiced cheese," because cumin and caraway are added during the cheesemaking process. The result is a pale yellow cheese with reddish-brown specks, encased in a waxy rust-colored rind. Leyden cheese is aged between three months and two years, and the spices give it a distinct flavor among Dutch cheeses.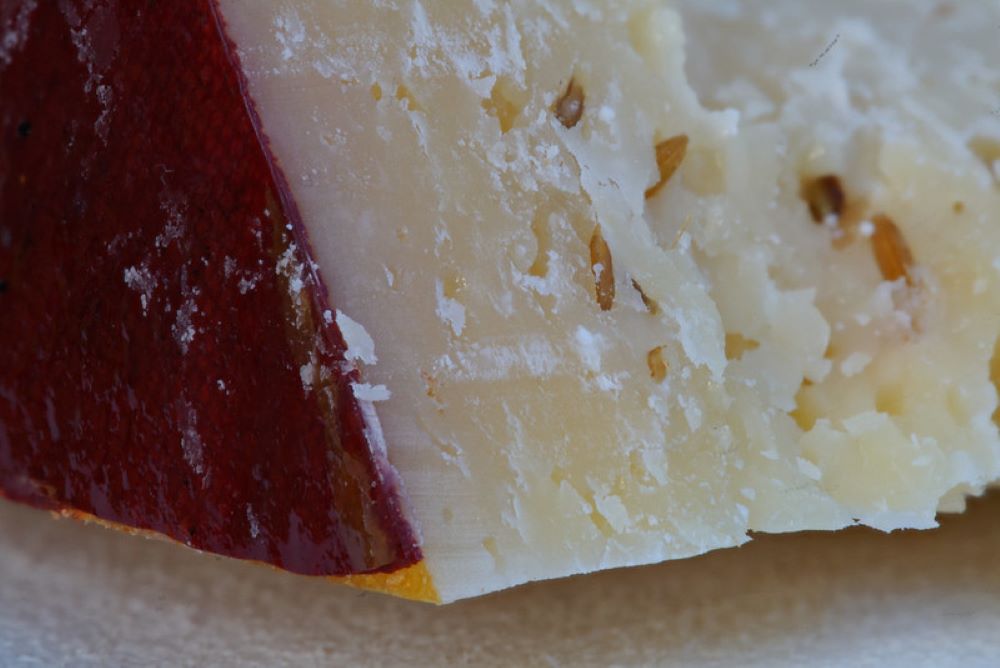 Limburger
If Gouda is famous, Limburger might be infamous. The semi-soft cows' milk cheese is well-known for its singular smell (some liken it to smelly feet), which comes from the ripening method. Cheeses that are "smear-ripened" get "washed" with a solution that encourages particular bacterial growth during the aging process. This produces mold on the exterior, a flavor that can be sweet or even spicy, and a smell that's strong and unmistakable. And while the historic region for which the cheese is named (the Duchy of Limburg) is mostly in Belgium today, it used to include part of what is now the Netherlands—and there are Dutch cheese makers today who still make the odiferous cheese.
Age Classifications for Dutch Cheese
The aging process for any cheese can change not only its texture but its flavor—not to mention its value. When you're shopping for cheese in the Netherlands, here are some aging terms you need to know.
Jong

means "young," and usually means a cheese has aged 4-6 weeks

Belegen

means "ripened," and usually means a cheese has aged 14-18 weeks

Oud

means "old," and usually means a cheese has aged 10-14 months
These terms can also be combined—a jong belegen kaas, for instance, might have aged two months or so. And cheeses that age longer than two years are called overjarige kaas—"overaged cheese."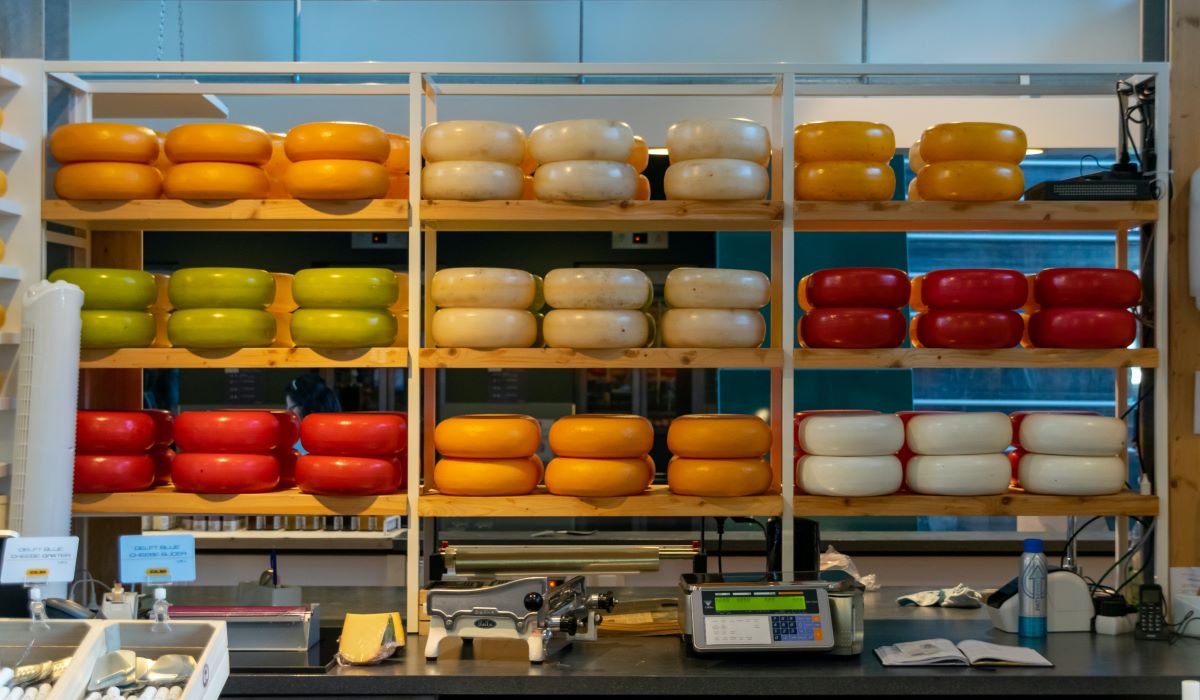 Dutch Cheese Tourism
Local cheeses grace menus all over the Netherlands—but for turophiles who want to do more than just sample the country's best cheese, there are a few cheese-centric destinations to consider. Some have even been dubbed "Dutch Cities of Cheese" by the country's official tourism website.
Gouda
The city of Gouda, the king of Dutch cheeses, is less than an hour from Amsterdam by train with a popular cheese market as well as two cheese museums.
During the Gouda Cheese Market, cheese makers in historic costumes bring their golden wheels of cheese to the city's Weigh House by horse-drawn carts to be weighed and priced for sale. It may look performative these days, but this is still a real market. And the cheese weighing and market in Gouda dates back roughly 300 years.
There's a fair-like atmosphere around the Weigh House during the market, with vendors selling Gouda (naturally) as well as other local foods and crafts, and there's a museum inside the Weigh House about the history of cheesemaking in Gouda. Gouda's cheese market is on Thursday mornings from April through August.
Gouda is also home to a relatively new interactive Gouda museum, the Gouda Cheese Experience. The yellow building is even painted to look like a giant block of cheese. Visitors learn all about the production of Gouda, and cheese samples are included.
Alkmaar
The biggest cheese market in the Netherlands takes place in Alkmaar, which is less than 45 minutes by train from Amsterdam. The Alkmaar Cheese Market is certainly a tourist attraction—there are presentations in multiple languages throughout—but it also has deep historical roots. The market dates to late 16th century.
Great wheels of yellow cheese are brought to the Waagplein (which literally translates to "weighing square") in the old town center on wooden barrows suspended between two cheese carriers in traditional costumes. They have a specific gait for the task, which helps keep the cheese from toppling to the ground. Once at the scale, the wheels are inspected and sampled before being weighed and sold.
The Alkmaar Cheese Market typically happens on Friday mornings from late March through late September, and also on Tuesday evenings in July and August (but double check these times if you plan on going).
Alkmaar is also home to the Holland Cheese Museum, which includes exhibits about the history and making of Dutch cheese. There are historic cheesemaking tools on display, as well as cheese-related art.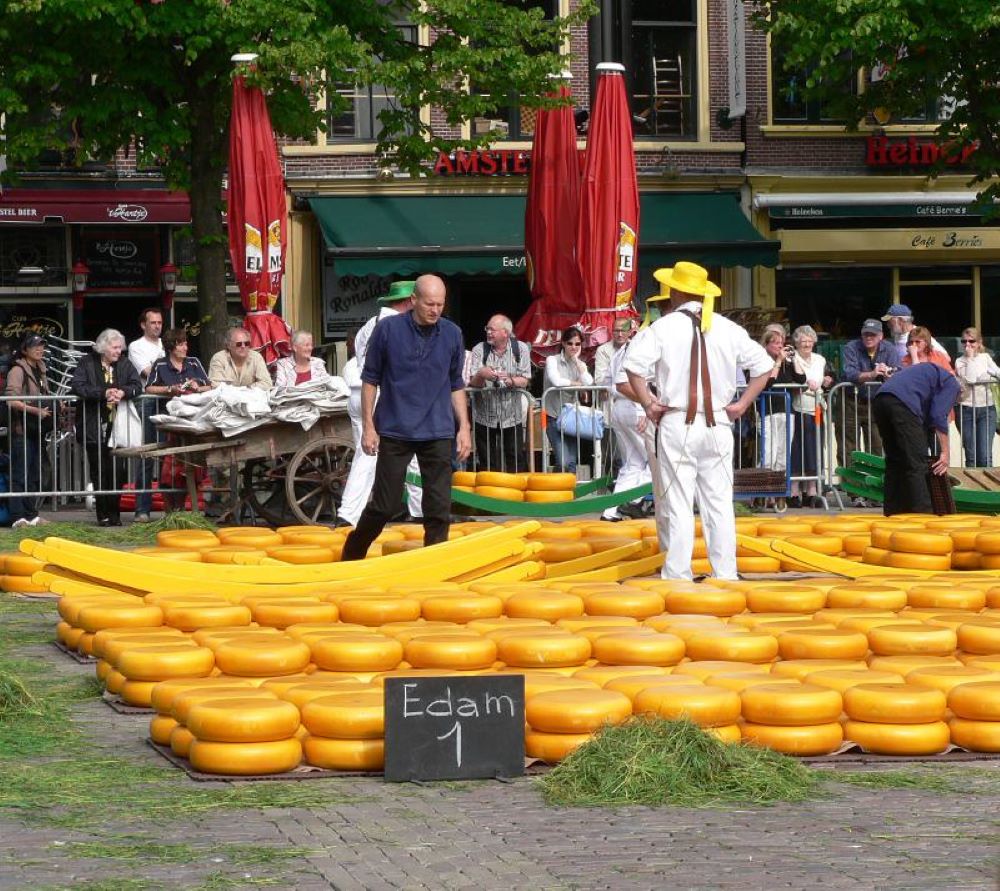 Insider's tip: The Netherlands has all sorts of delicious food markets to explore. If you're spending time in the capital, don't miss the best food markets in Amsterdam (plus great recommendations on what to eat!).
Woerden
Woerden, located about 40 minutes by train from Amsterdam and less than 20 minutes by train from Utrecht, has what some say is the last "real" cheese market in the country. By this, they mean that Woerden's market is commercial first, tourist attraction second. And there is a bit less of the spectacle atmosphere, though cheese makers still don traditional costumes.
Visitors can watch the cheese negotiations, which involve some shouting and clapping, and do some cheese tasting in the Cheese Shacks that pop up for the market. The Woerden Cheese Market happens every Saturday morning from early May through August. 
Edam
There's a long cheesemaking tradition in Edam, which is about 30 minutes by bus or 40 minutes by train from Amsterdam, but the city's modern market is more of a reenactment than an actual market. The commercial market stopped running in the early 1920s.
During Edam's market show, bright red balls of Edam cheese are transported to the city by horse-drawn carriages or by boat (since Edam is on a lake). They're presented to the gathered audience as well as to the weigh house for tasting and pricing. Edam's cheese market has traditionally taken place on Wednesday mornings from late June through mid-August.
Insider's tip: And as you explore Dutch cheese and other culinary delights, be sure not to miss out on a quintessential Dutch spirit, the Dutch Jenever. It's a must-try!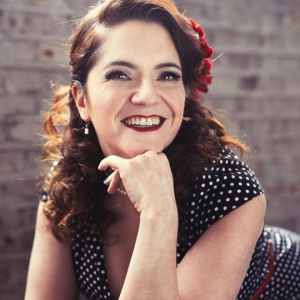 Jessica fell in love with Italy on her first visit and has been channeling that affection into Italy travel guides for more than 15 years. She especially loves the stories food can tell us about a place. Living in often-rainy Portland, Oregon means Jessica is often in the mood for a steaming bowl of Tuscan ribollita. When not writing, she's probably knitting.