Naples and the region where the city is located, Campania, are known for their incredible food. You've probably heard of some of their savory delights like Neapolitan pizza and mozzarella di bufala. But what about their sweets?
Gelato and lemon-flavored everything are summery go-to treats, but a year-round local favorite is the still-warm, crunchy sfogliatella. We want to share just where you can find the best sfogliatelle in Naples. Andiamo!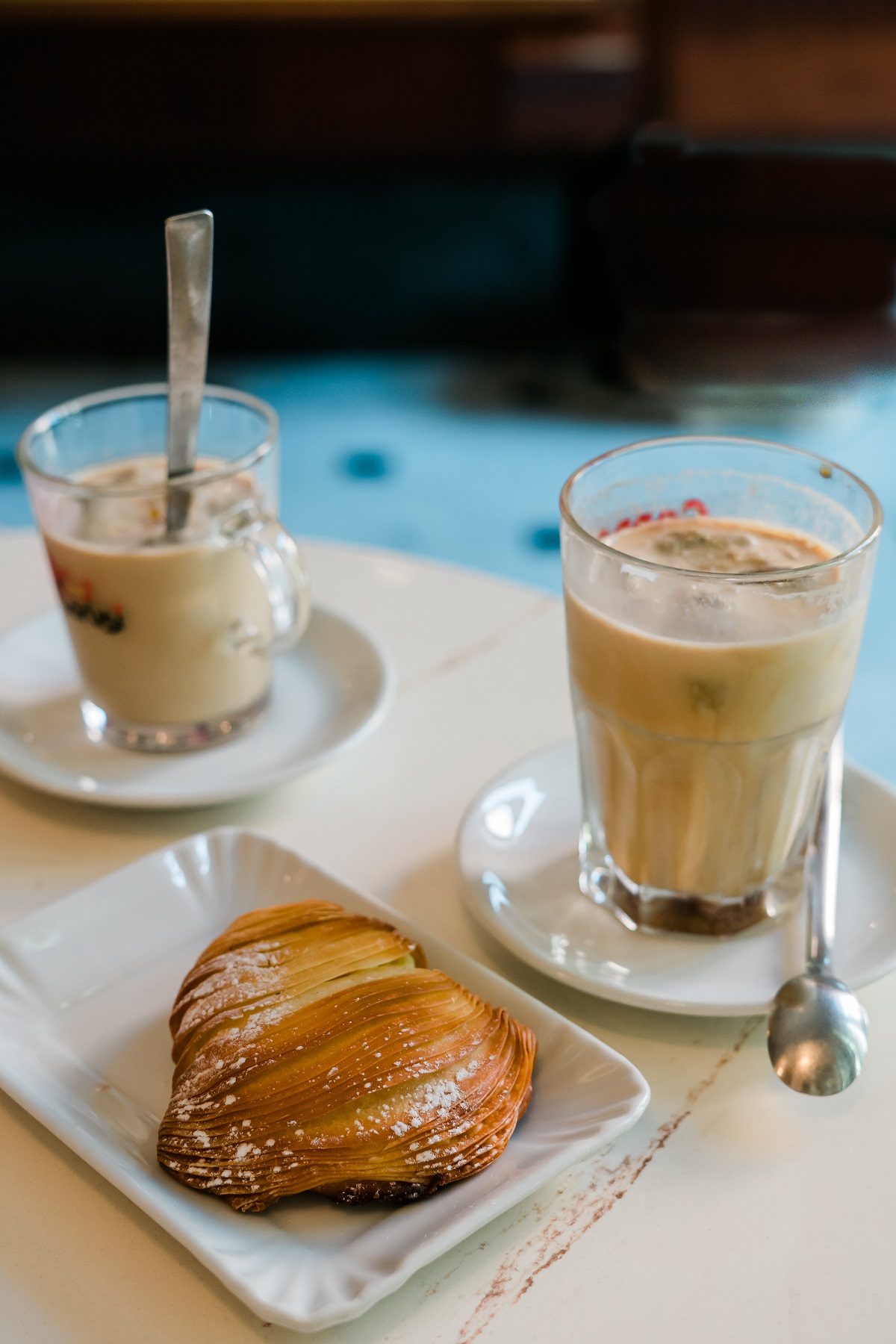 What is sfogliatella?
Before we get into where to find the best sfogliatelle in Naples, you'll probably want to know a little more about what makes this pastry so good.
Sfogliatelle – or sfogliatella, singular – is a traditional sweet from the Campania region. Outside of Italy, you may have seen it in bakeries as a "lobster tail" pastry, filled with cream. The original is only slightly different.
The recipe for sfogliatella dates back to 1700. It is said that the very first recipe came from the Santa Rosa monastery located on the Amalfi Coast. There the nuns would prepare a sfoglia (crispy pastry dough) filled with a custard-like cream and rich black cherries. It was a baked sweet similar to the Italian zeppole.
However, the recipe was altered as it made its way to Naples.. Today you can find many different flavors and variations of the sfogliatelle, but the classic is filled with a ricotta-based cream and just a hint of lemon.
Sfogliatella riccia and sfogliatella frolla
When eating your way through Naples, you'll find two versions of sfogliatelle: riccia and frolla. Sfogliatella riccia is what you imagine as a "lobster tail" with thin layers of crispy dough, while sfogliatella frolla is a round, bun-like sweet made of crumbly pastry dough.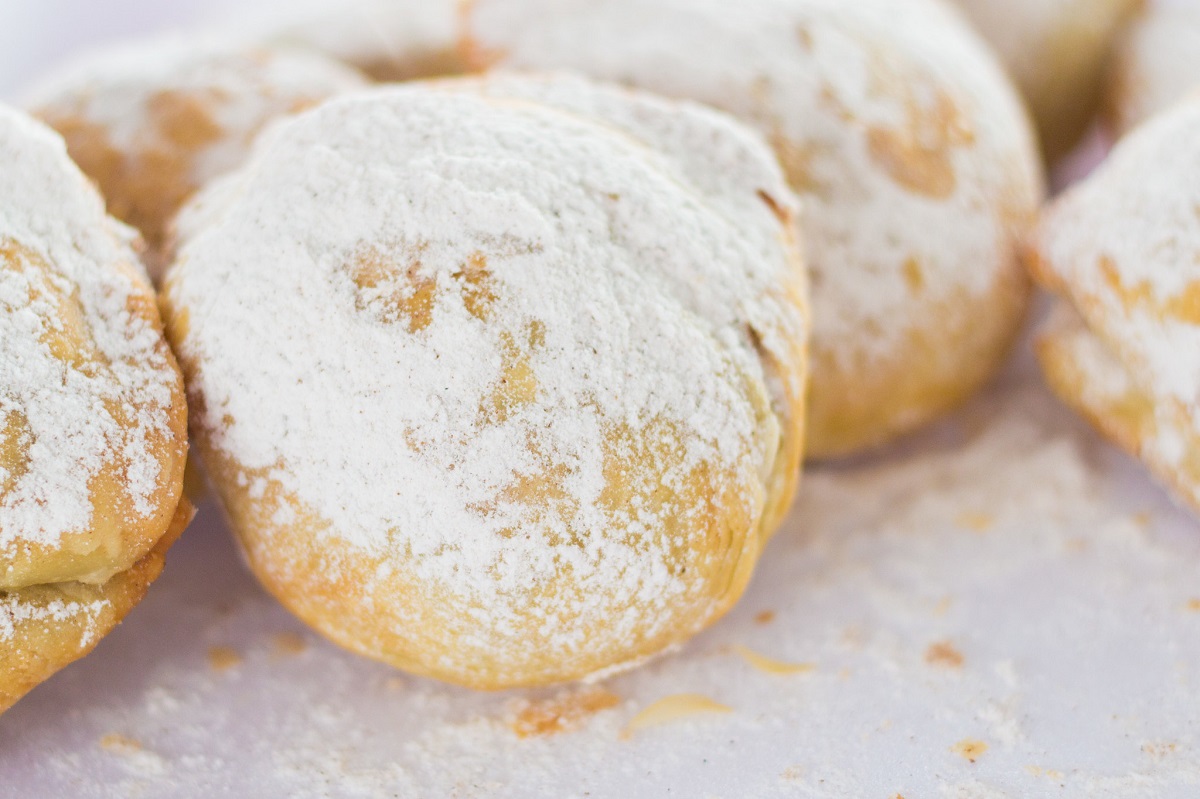 Eating sfogliatelle like a local
When is the right time to enjoy this delicious local tradition? Whenever and wherever!
Sfogliatelle are often small, so don't be afraid to order pairs of two. You can enjoy them at breakfast, either sitting down or on the go.
They also area a great snack to give you a burst of energy during your walk through Naples' winding streets. Fill up with a famous pizza al portofoglio, then add a sweet touch to your Italian "fast-food" meal with a sfogliatella!
They really are delicious at any time of day, but they are best enjoyed fresh, and still warm. So let's have a look at the pasticcerie where you can find the best sfogliatelle in Naples.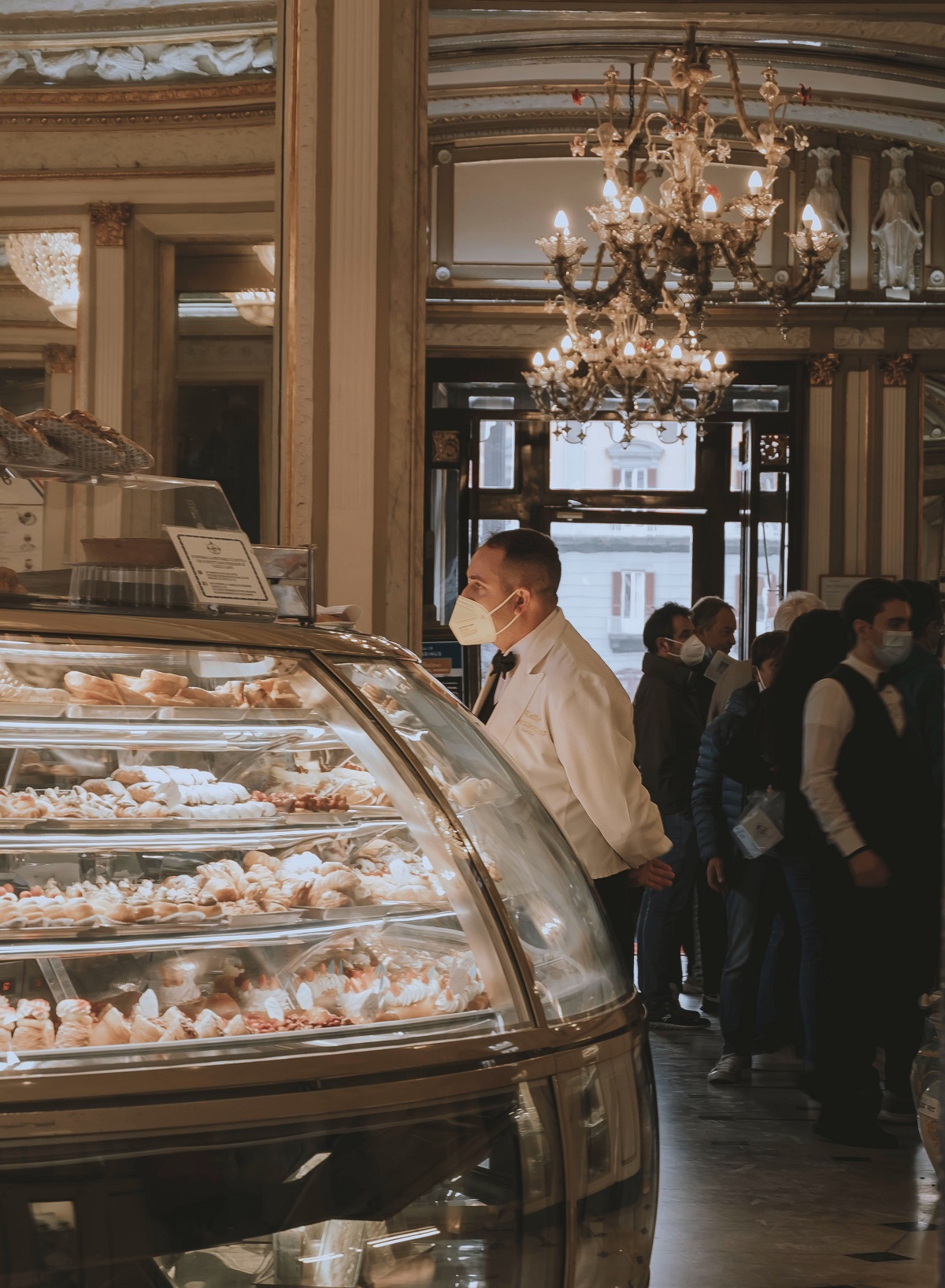 Can't-miss bakeries for the best sfogliatelle in Naples
Pintauro
A true Neopolitan classic, Pintauro pastry shop is a local staple beloved by visitors and locals alike. How did it become so famous?
Well, Pintauro was actually the first chef who is said to have "stolen" the sfogliatelle recipe from the nuns in Santa Rosa! Though today the management has changed and you won't actually find the Pintauro family, it is the historic location of their tavern and serves a delicious sfogliatella.
For those of you who don't have that much of a sweet tooth, Pintauro also serves a savory sfogliatella made with zucchini, fior di latte cheese, and ricotta.
Attanasio
Hop off the train in Piazza Garibaldi and welcome yourself to Naples with one of these delicious sfogliatelle. This is an absolute must for a fresh sfogliatella.
Attanasio bakery has dedicated its production to sfogliatelle and runs its ovens all day long to constantly have a fresh batch. Careful when you take a bite – they'll most likely still be piping hot!
Insider's Tip: Attanasio's location close to the train station and its popularity among locals of all ages means there might be a little line. However, we promise, it will be worth the wait!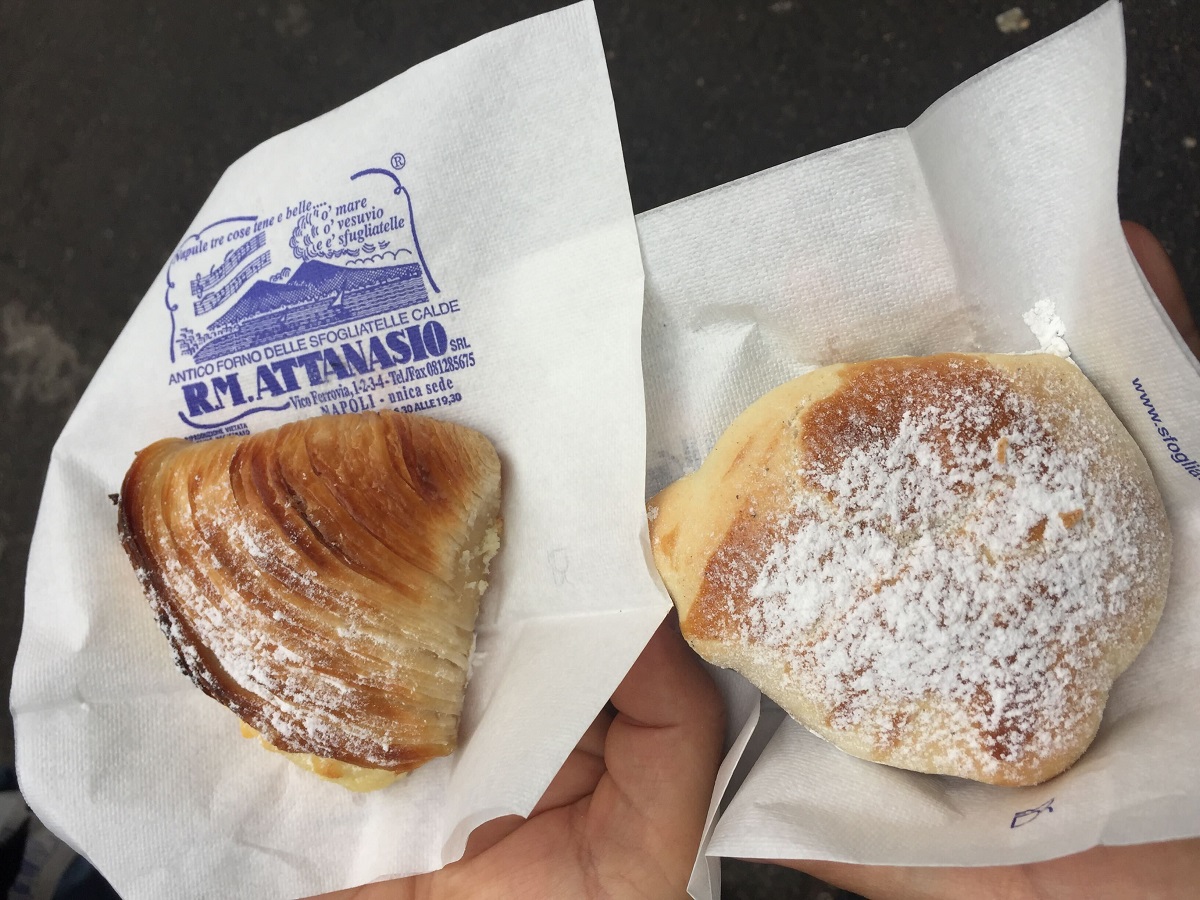 SfogliateLab
If you aren't feeling the wait at Attanasio, nearby you can also grab a sweet bite at SfogliateLab. This pastry shop has been family-run and managed for the past 70 years. SfogliateLab even started a brand called Cuori di Sfogliatella, which creates over 25 different sfogliatelle filled with unique creams and flavors.
They are known not for the so-called "classic" sfogliatelle, but for something with their very own creative flavor. Try their delicious sfogliatella amarena, filled with rich ricotta cream flavored with the amarena – black cherries, covered with white chocolate and an extra cherry on top.
Just be aware that their flavors are subject to the seasons. You'll find different fillings depending on what fruit happens to be ready in season and available.
Augustus
Naples has no lack of historic bakeries. And if they've all been in business for so long, they must be doing something right!
Another delicious stop on your adventure through Naples is Augustus, where you can grab an incredible sfogliatella, as well as some savory bites to enjoy later on. Augustus opened in 1927 and became a local favorite for its sweets. All their sfogliatella are made by hand and served fresh.
Scaturchio
You can find Scaturchio in a few locations around the city. The original location of this historic bar and pasticceria can be found at Piazza San Domenico Maggiore 19.
While sfogliatelle might often be considered a good snack to take on the go, this is one location you might want to enjoy it sitting down while sipping a Neapolitan coffee.
Scaturchio first opened in 1905, and the family was known for being the pastry providers. Offering delicious baba and sweets made with pasta di mandorla, sweet almond dough. But they also serve up excellent sfogliatella riccia and sfogliatella frolla.
All their sweets are made exclusively with family recipes handed down for generations. Grab a seat and enjoy a sweet peek into Napoli's culinary history.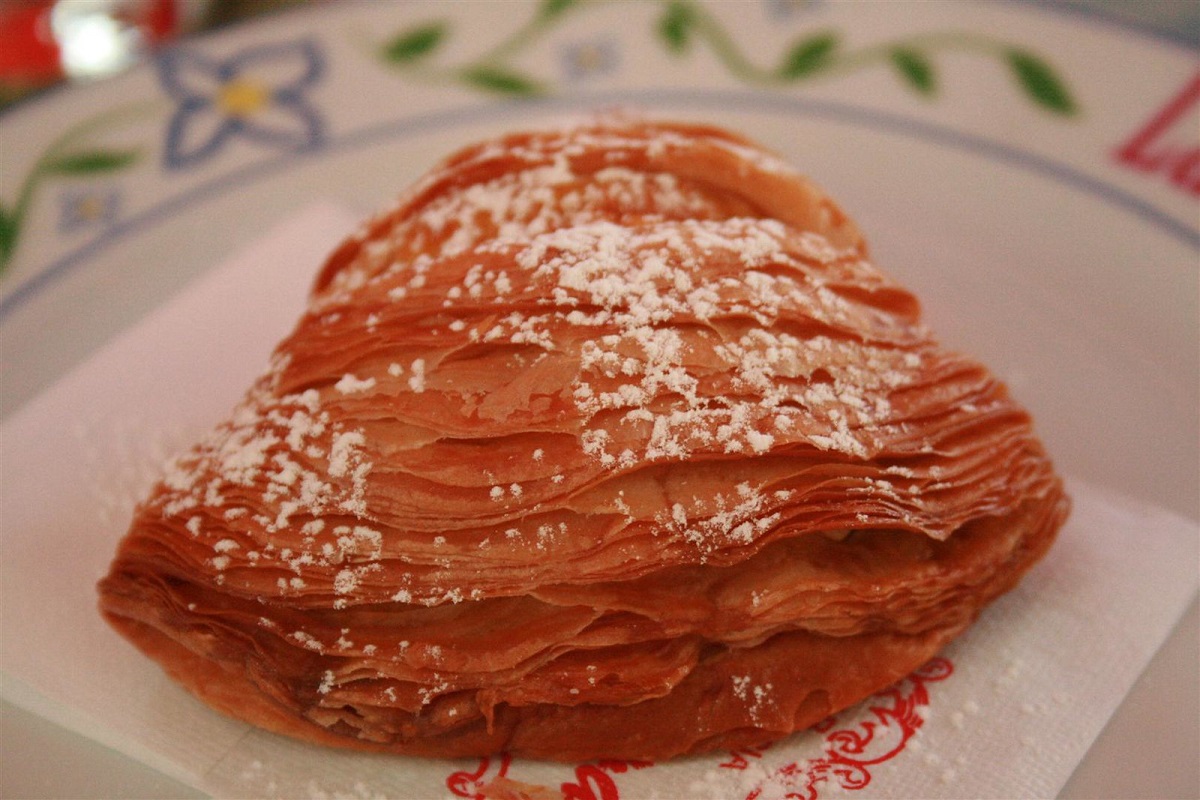 Salvatore Varriale Maestro Pasticciere
Salvatore Varriale, the owner of this pastry shop, is a master pastry chef certified by the Italian Academy of Master Pastry Chefs. And this status shows through with his delicious sfogliatelle. Maestro Pasticciere takes great care in every detail of his preparation, and the beautiful pastries are sure to call to you.
Whether you choose sfogliatella riccia or frolla, both are equally unforgettable. But be warned, when you visit this pastry shop, you might have a hard time stopping just at a sfogliatella.
Discover Italy's unofficial culinary capital as you taste your way through the pastry shops, wine bars, and pizzerias of Naples on our Ultimate Naples Food Tour! Join us for 10 food tastings, two glasses of wine, a coffee and a limoncello throughout four vibrant neighborhoods in Naples.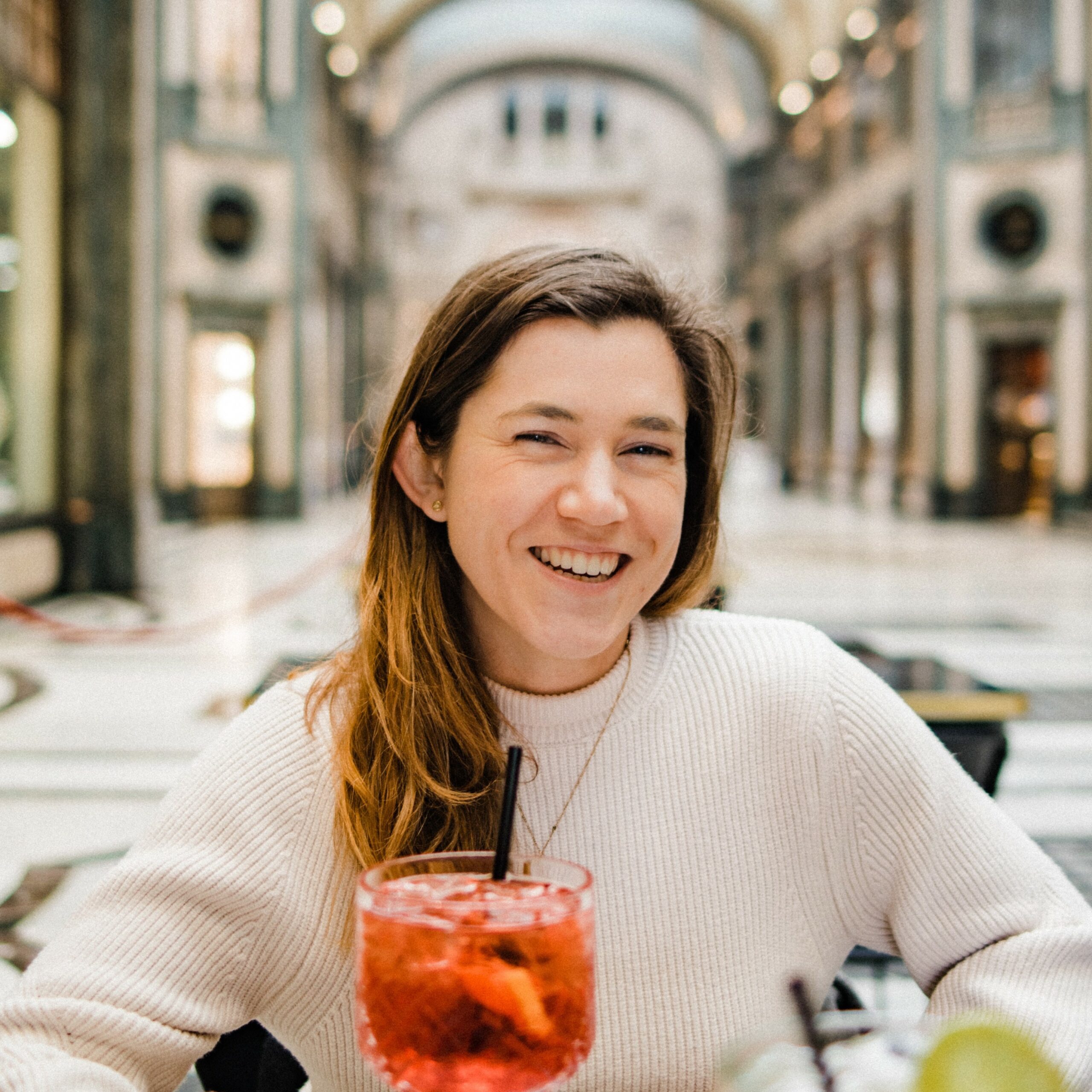 An Italy local for nearly 10 years, Evelyn has traveled to nearly every region getting overly excited about cute doors and nonni cafes. She's an archaeology and art history major who fell in love with Italian wine, getting her Sommelier and Italian Wine Scholar certifications. She's transformed her passion for La Bel Paese into a travel planning and relocation consultancy with Colline Alle Montagne. You'll find her on Instagram @collinemontagne, always sipping a glass of wine and sharing the authentic life in Italy.