This blog post was originally posted on November 30, 2014 and was updated on November 3, 2017.
As Christmas draws closer, the shopping season springs to life in the Spanish capital. Madrid is home to its fair share of great Spanish gifts.
When it comes to Christmas in Madrid, there is a whole host of amazing gifts you can buy to take a piece of Spain back home with you. Here are our top picks for the best Christmas gifts from Madrid, perfect for wowing friends and family back home!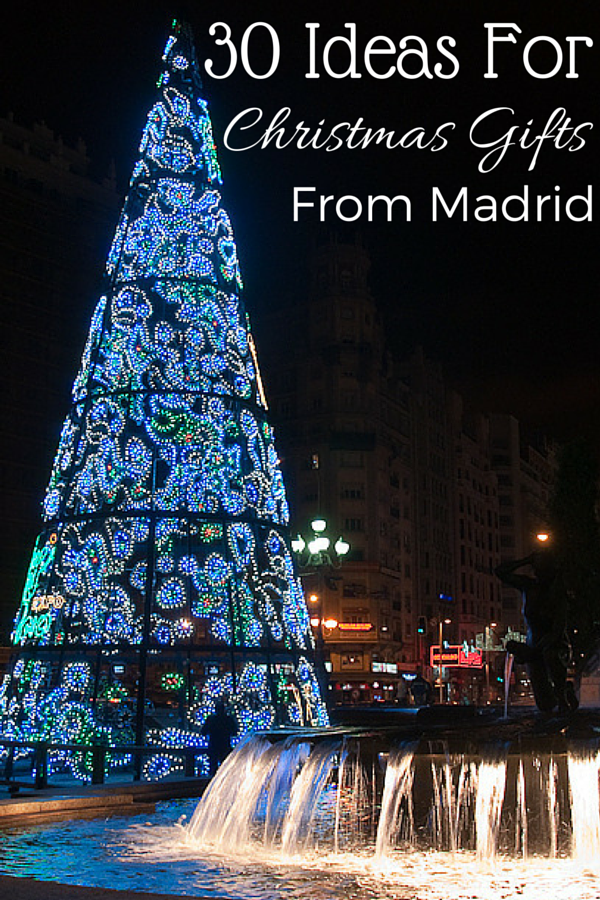 Photo Credit: Mi (Text Overlay: Devour Madrid)
Food and Drink
Did you expect any less from us? We've already compiled a great list of foodie souvenirs from Madrid, but for quick reference here are some of our favorite food gifts from Madrid!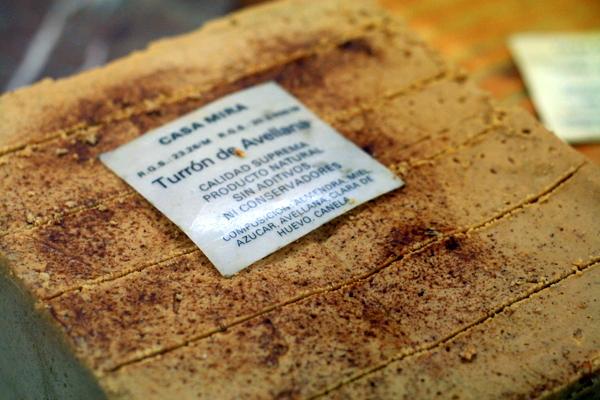 1. Violet candies from La Violeta
2. Turrón from Casa Mira or Turrons Vicens
3. Cava from La Cava de la Villa
4. Spices and teas from Spicy Yuli
5. Sweet wine from El Anciano Rey de los Vinos
6. Embutidos (think jamón, chorizo, and all that is pork) from Ferpal
7. A bottle of vermouth from La Hora del Vermut (try Casa Mariol if they have it!)
8. Rabitos Royales (chocolate covered figs) from Cortes Inglés
9. Extra Virgin Olive Oil and other gourmet products from Dónde Sanchez
Leather goods
Shoes, purses, briefcases, gloves… Spain is all about leather so here are some great places to buy leather goods in Madrid.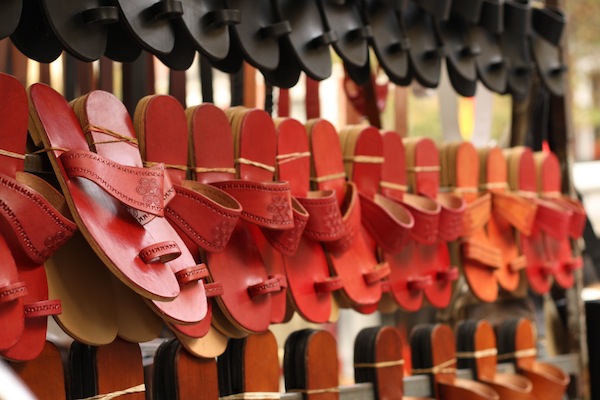 10. Taller Puntera for handmade leather goods in Madrid
11. Aplauso shoe stores for Made in Spain leather shoes
12. Guantes Luque for exquisite handmade Spanish gloves
Spanish Ceramics
Yes, ceramics are a quintessential gift from Spain but that's because they're beautiful! Madrid is quite close to Talavera de la Reina, one of the country's most important towns for ceramic goods. You can find ceramics at select shops in the city. Here are three of our recommendations for some of the most one-of-a-kind gifts from Madrid.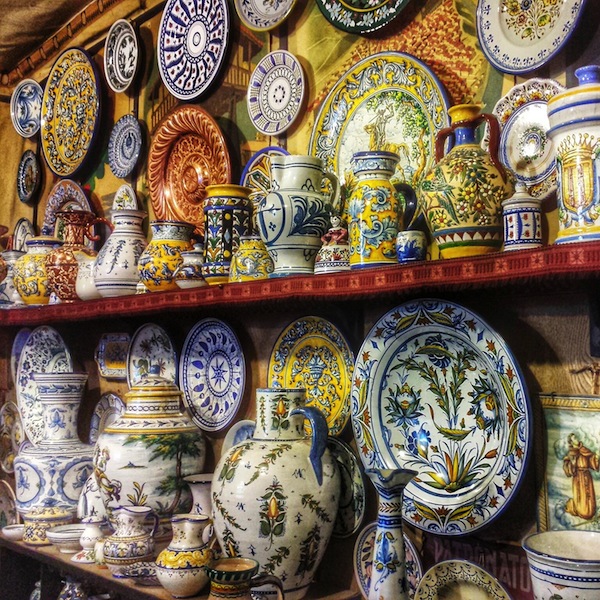 13. For incredible ceramic art in a shop that should be a museum, check out Antigua Casa Talavera
14. For ceramic souvenirs from all over Spain at great prices try San Miguel Artensania
15. For a trip back in time, visit Amparo at her tiny ceramics shop La Cacharrería on Calle Echegaray– she's been there since she was a child and her parents owned it since the 1940s!
Spanish Cookware
Once you've sampled all the delicious food Spain has to offer, you need to be able to replicate these delicious dishes in your own kitchen. Here are some shops that have you covered.
Pick up a pan for a Christmas paella!
16. Mini Cooking: All the supplies you need, and in mini form too!
17. Alambique: One of Madrid's most famous cooking shops, you'll find paella pans, mortar and pestles and much more! These make the perfect gifts from Madrid for any aspiring chef.
Spanish Cookbooks
There's no point in having great Spanish cookware without the Spanish cookbooks! Here are our favorite Spanish cookbooks, which you can easily purchase on Amazon (leaving a little more room in your suitcase!).
18. Delicioso! The Regional Cooking of Spain
19. 1080 Recipes
20. La Cocina de Mama: The Great Home Cooking of Spain
21. The Food of Spain
Tip: You can also pick up fun Spanish cookbooks at the La Central bookshop and café (Calle Postigo de San Martin, 8) in the center of Madrid.
Made in Spain
Madrid is filled with markets and boutiques selling handmade goods, and what a better way to support the Spanish economy than by buying something local! These gifts from Madrid are sure to be unique, so no worries about having to return them.
22. Casa Hernanz: For custom fitted espadrilles (this place supposedly invented the espadrille!).
23. Codo 3: Hidden away on the quaint Calle Codo (steps away from the Plaza Mayor) you find a lovely jewelry shop that specializes in Spanish made jewelry.
24. El Rastro Flea Market: The main drag is filled with souvenirs but on the side streets you can find unique art, clothes and antique items.
25. Mercado de Motores: This funky market is help a couple times a month at Madrid's railway museum. You'll find everything from customized baby booties to a leather wine sack!
26. Mercado Central de Diseño: This cool market only happens once a month, but when it's in town it's definitely worth a visit for the selection of handmade art, clothing, shoes, and accessories.
27. Plaza Mayor Christmas Market: Madrid's most famous Christmas market sells nativity figurines, decorations and ornaments.
Flamenco Gear
While most people won't be in the market for a €300+ flamenco dress, flamenco accessories and knock off gowns make great gifts for future Halloween costumes and kids' dress-up ensembles. You can also find castanets, Spanish fans, flamenco aprons and flamenco music, and if you are staying in Madrid for the holidays the city is home to some of the best live flamenco shows in the world!
28. Grab cheap flamenco souvenirs at El Flamenco Vive
29. For quality flamenco gear (still starting at very low prices) check out Disfraces Maty
30. Check out the flamenco show at Cardamomo or Cafetín la Quimera, and the flamenco jazz at Off de la Latina (Calle de los Mancebos, 4). Or even better, join us on our Tapas and Flamenco Tour, where we'll visit an authentic show, and enjoy some classic tapas in locally loved eateries!
Are we missing anything?! What are your favorite Christmas gifts from Madrid? And if you could get only one item on the list, what would it be?