Sweet vermouth has long been a pillar of Spanish tradition and, whilst 'abuelos' throughout the country have never abandoned their favorite aperitif, in recent years the drink has been enjoying a renaissance all over Spain!
You'd be forgiven for immediately associating vermouth with a Dry Martini or Manhattan, but here in Spain this fortified wine is infused with botanicals such as cinnamon, cardamom and even ginger to create a vermouth unique to each bar! Here we highlight the best places to try some delicious vermouth in Seville.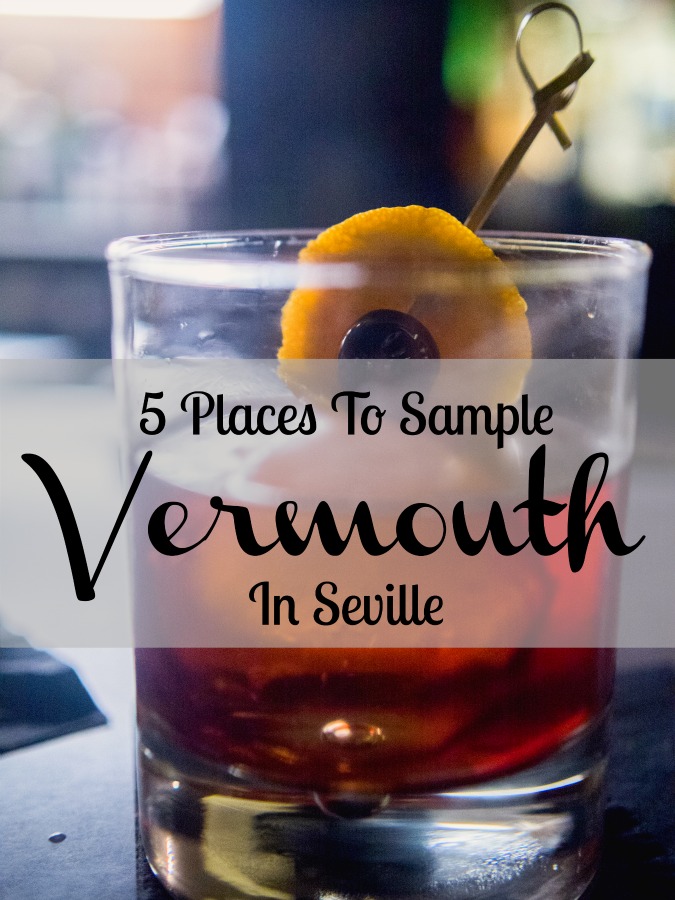 Photo Credit: Edsel Little
1. El Rinconcillo
Perhaps the most talked-about bar in all of Seville, El Rinconcillo is also the city's oldest! From its incredible tiled walls to the smartly dressed waiters, everything about this bar screams tradition, right down to the way they scribble down your bill in chalk on the bar! The vermouth here is outstanding, especially when paired with a few wafer-thin slices of delicious cured ham, sliced on-site from one of the many pig's legs neatly hanging from the bars ceiling! In line with longstanding tradition, there are not many places to sit in this bar, so prop yourself at the bar and soak up the authentic Sevillano atmosphere.
Address: Calle Gerona, 40
2. Casa Morales
Walking in to Casa Morales is like taking a journey back in time! The main entrance leads in to a charming front bar where locals gather round small, wooden tables; but step in the side entrance to see the huge clay wine vats still in place since the bars opening as a bodega in 1850! Given its beginnings as a wine store all those years ago, Casa Morales of course has a wonderful selection of wine and sherries, but you can't leave without trying the incredible vermouth along with a delicious selection of montaditos.
Address: Calle García de Vinuesa, 11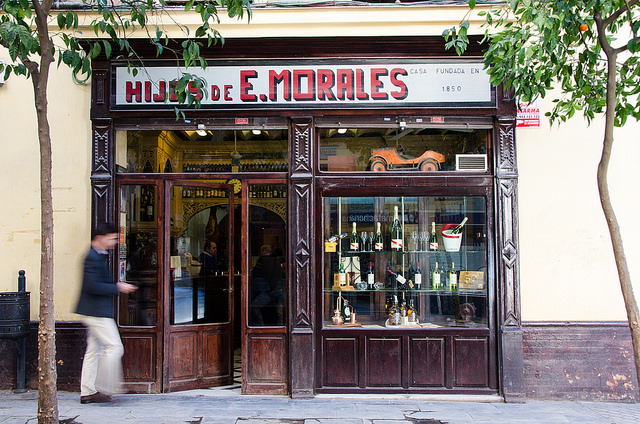 3. Casa Vizcaíno
Located on Calle Feria, near the Alameda neighbourhood, locals gather around tables in the street outside Casa Vizcaíno, as they savor some exceptional vermouth and pick on olives and potato chips before beginning their tapas adventure through the city! Clientele in this street-side bar range from locals who have treasured the vermouth tradition for decades, to those fueling the drinks current revolution and experiencing it for the first time! The perfect place to start a magical evening in beautiful Seville!
Address: Calle Feria, 27
4. El Comercio
Considered to be the best place to get churros in the city, this bar is equally renowned for its amazing vermouth! Founded in 1904 by the Rivera family and passed from father to son for generations, El Comercio maintains all the traditional charm we would expect from an early 20th Century establishment. Be it on a stool by the bar or in a seat out the back, El Comercio is the perfect place to take in some beautiful, traditional decor while sipping a delicious vermouth!
Address: Calle Lineros, 9
5. Casa Fundida
People say that the Mercado de Triana is a marketplace which combines some of Seville's most treasured traditions with a range of modern introductions to the city, and Casa Fundida is the perfect example of that combination! Not only does it provide beautiful vermouth, but with live music twice a week and a variety of art exhibitions in place throughout the year, this modern bar has something for everybody! All food prepared in the restaurant is sourced within the market itself and they provide both modern and traditional tapas to combine with your glass of traditional vermouth!
Address: Inside the Mercado de Triana, Calle San Jorge, 6