Do you like hotels with stylish interior design? Hotels that are small and charming? Hotels that offer a personalized service? Then you might be interested in staying at one of these boutique hotels in Seville.
Many people find that while on vacation their experience is greatly affected by the accommodation they stay in. In Seville there really is something for everyone, whether it's hostels, budget friendly hotels, or larger, luxury hotels with everything you might require.
But for those looking for accommodation with that special touch, there is a range of boutique hotels that boast carefully planned design coupled with personalized service, making your hotel a highlight of your stay in the city.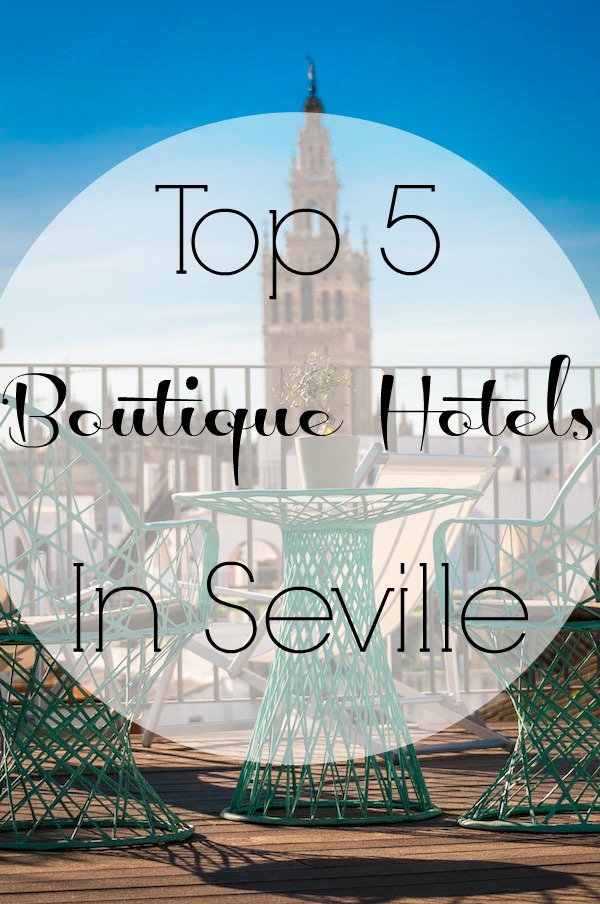 Photo Credit: Hotel Amadeus
1. Hotel Amadeus
As the name might suggest, Hotel Amadeus is all about classical music and is a must for every music lover! This building is a typical Sevilliano style 18th century mansion, which has been converted into a hotel. The rooms and suites are carefully decorated, simply, with just the right amount of color and design and the central indoor patio is filled with musical instruments.
When you are finished playing the instruments (yes, you can play them!) head to the roof terrace where you can enjoy breakfast or have a dip in the hot tub. Located in the beautiful winding streets of the Santa Cruz neighborhood, this hotel is perfectly located for getting lost in this atmospheric part of town and exploring all the big attractions that Seville has to offer.
2. Corral de Rey
Corral del Rey is a 12 room hotel located in a 17th century house tucked in the back streets of the Alfalfa neighborhood. This charming hotel offers personalized service from the moment you enter the door. The friendly staff will make sure you are well looked after and the rooms are elegantly decorated, making use of the wooden floors and soft tones.
Although the hotel is in a quiet backstreet, it's only a short stroll along the cobblestones to reach Seville's big monuments. But if you don't feel like exploring on the own, the hotel arranges all kind of experiences where you will be picked up from the hotel by your guide, including cultural tours, art tours, craft tours, as well as outdoor and sport activities and cooking classes.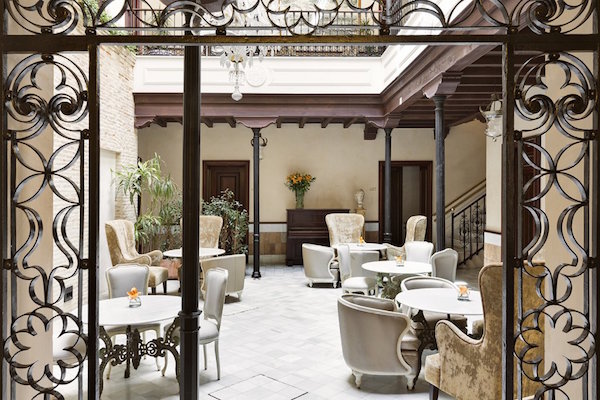 3. Hotel Casa 1800
Elegance is the name of the game at Hotel Casa 1800 – think chandeliers, original balconies and hand carved wooden furniture. During the warm summer months, head to the rooftop and relax by the pool – this hotel has one of the best roof top swimming pools in Seville! Otherwise, take advantage of its amazing location.
You can explore the Cathedral and Alcázar which are located just around the corner, get lost in the winding streets of the Santa Cruz neighborhood, and gorge on tapas in the bars and taverns that you will discover. Bodega Santa Cruz, a bar with a buzzing local vibe and delicious traditional tapas, happens to be located right outside, so you don't have to go far to find some great food!
4. Casa Romana
Casa Romana is a stylish hotel that combines modern design with touches of Andalusia's past. You'll find a central indoor patio with beautifully tiled floors and walls, and a water fountain – a style of architecture brought by the Moors who occupied Spain for centuries. The rooms, however, have been styled with a much older civilization in mind who were once present in Seville – the Romans, with the decor harmonious and lots of light.
The hotel is centrally located, just 10 minutes walk from the Cathedral & Alcazar, and a short stroll down the road to the Alameda de Hercules, which is a great neighborhood for experiencing food, drink and nightlife in Seville!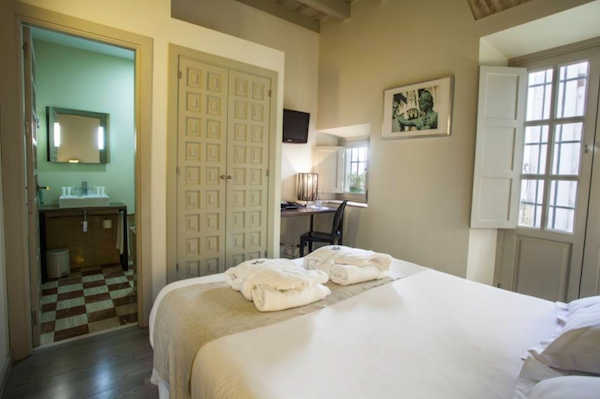 5. Casas de Santa Cruz
Casas de Santa Cruz is another hotel that wonderfully blends Andalusian features, such as an indoor patio, beautifully tiled walls and floors, water fountains, and original high ceiling with open beams, with slick and tasteful modern design.
The hotel has just 7 rooms, keep things small and personal, and a great roof terrace with views of La Giralda, the Cathedral's famous bell tower. Located smack bang in the winding streets of the Santa Cruz neighborhood, this is the place for those who want to stay in the heart of Seville.