Beloved nationwide and famous around the world, you certainly won't be short of places to find souvlaki in Athens.
On any trip to Athens, it's virtually the law that you must have at least one souvlaki a day. But with so many souvlatzidika to pick from, you might need a little guidance to find the best options in the Greek capital.
Read along as we dive into all things souvlaki in Athens, help you understand its importance, and share our favorite places to enjoy it!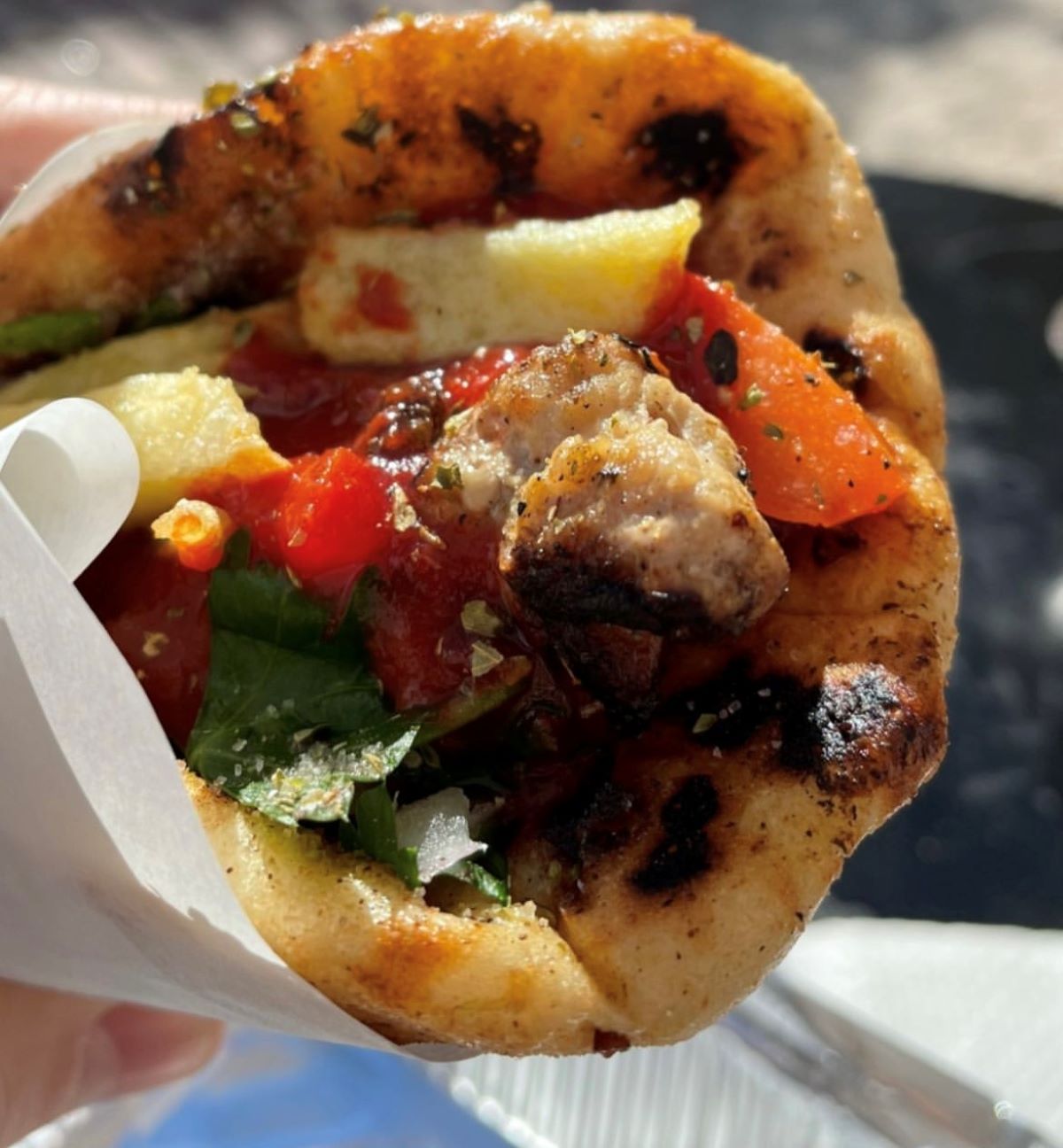 What is souvlaki?
A nostalgic dish for locals from all walks of life, the souvlaki/kalamaki is cubed meat on a skewer, grilled with a liberal dash of salt, and served either as street food or in a restaurant setting. The words are sometimes used interchangeably but generally, if you order a kalamaki, you will receive just the meat on the skewer with a slice of lemon and a bit of bread on the side.
Souvlaki in Athens usually means a sandwich. There's a never ending array of extras that could go into elevating it, but you're most likely to find tomato, onion, fries, parsley and tzatziki alongside the protein inside a warm pita bread.
Not a meat-eater? Nowadays you can even find vegan versions of souvlaki in Athens, made with veggie skewers instead of meat ones.
A history of souvlaki in Athens (and beyond)
Before we dive into the list, a quick peek at souvlaki's past. There are many theories involving many people and places but you can trace the souvlaki back to the ancient poet Homer.
In his work "The Iliad," Homer wrote the following passage:
"Automedon held the meats while lordly Achilles carved them into quarters, cut them well into pieces, pierced them with spits, and Patroclus raked the hearth, a man like a god making the fire blaze. Once it had burned down and the flames died away, he scattered the coals and, stretching the spitted meats across the embers, raised them onto supports and sprinkled clean pure salt."
And as we saw above, this isn't a world away from how it's prepared today. Hungry to know more? Let's get into the best places for souvlaki in Athens.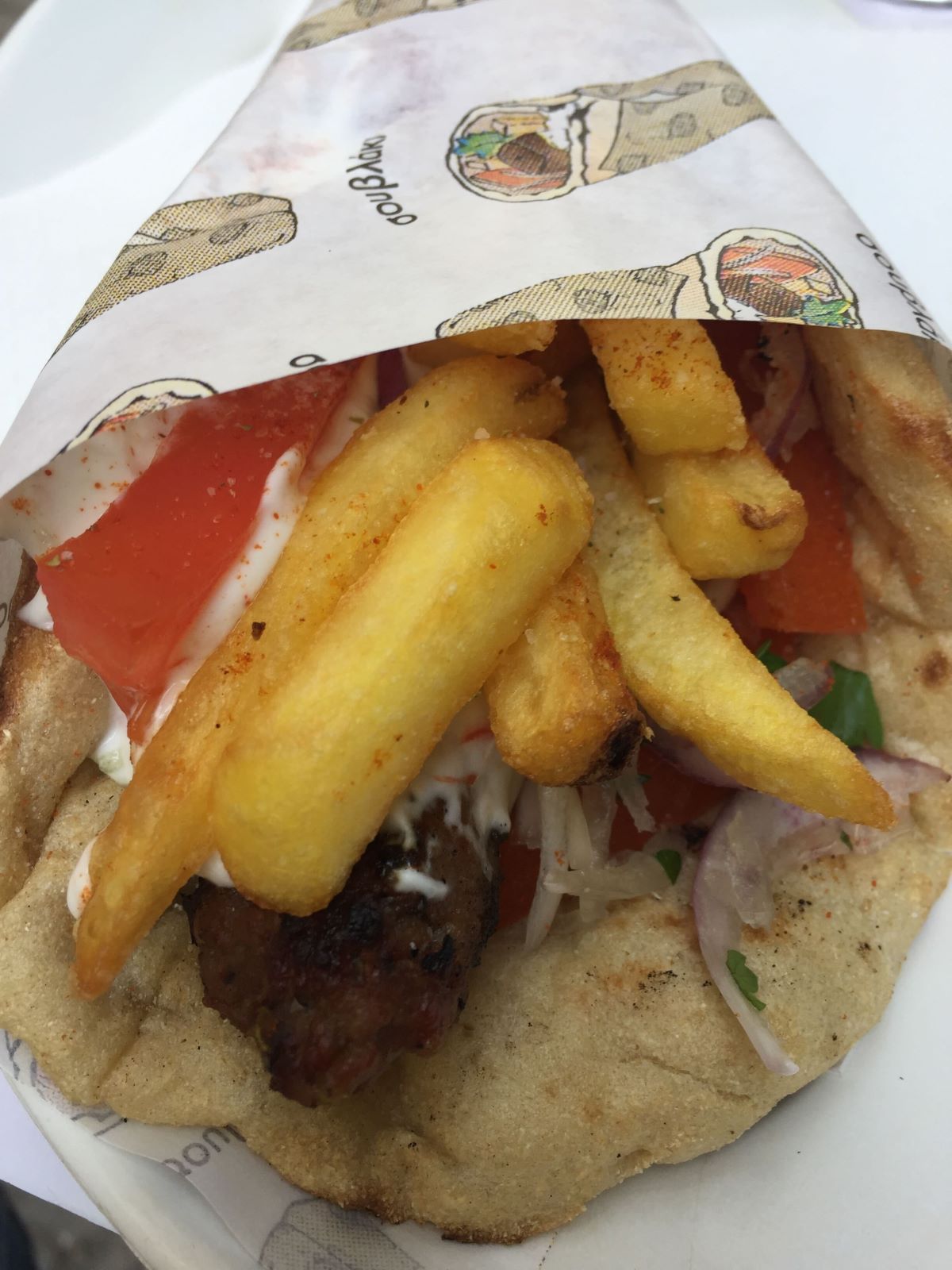 What are the best places for souvlaki in Athens?
O Kostas
This institution is probably one of the most famous places for souvlaki in Athens. That's also because it's one of the best. Serving up the good stuff since 1950, the unassuming O Kostas (Pentelis 5) on a hidden square in Syntagma has always been a family affair. Now run by the grandson of the original founder, there will be lines and it will be worth the wait. The unctuous pork souvlaki with their moreish tomato sauce will set you back just a few euros.
Insider's Tip: They have pretty unusual opening hours for a souvlaki shop, getting grilling in the morning and closing by late afternoon. They'll also close shop when they've sold out, so try to get there early.
Lefteris o Politis
Tucked away on a quiet backstreet, Lefteris o Politis is another hidden gem in Athens, a charming hole-in-the-wall establishment with a rich history dating back to the 1950s. They've been dishing out delightful souvlaki all through the tumultuous fall and rise of the Omonia Square area (Satovriandou 20) and with another new location (Romvis 18), they're showing no signs of slowing down. This place is about something other than pork for us. Instead, we opt for the beef (bifteki), a flavor-filled patty served with all the usual trimmings and a little paprika kick. Like with most of the traditional shops for souvlaki in Athens, it has no website, but they're also on Instagram.
Elvis
Want to try the King of Kalamaki? While Elvis Presley wasn't necessarily famous for his love of Greek food, we think he'd have appreciated the simplicity of tender chicken, pork, or sausage, grilled fresh and served with fries on the side in this tiny joint bearing his name. With two locations (Archimidous 1-5 and Plateon 29), the "Athenian Elvis" is cool, reasonably priced, open late and best washed down with a can of Mamos, an iconic greek beer, or a sip of raki, a traditional Greek spirit (more specifically, a type of brandy or pomace brandy).
Cookoomela
Vegan and wondering if the souvlaki in Athens is for you? You're in luck. Cookoomela has hit the scene, offering the first plant-powered souvlaki in the city. And it's been a huge success. Using mushrooms for the kalamaki protein, they have various sandwiches to get your mouth around including:
Red, a tomato-based option
Yellow, which is mustard-led
Rainbow, which sees your souvlaki filled to the brim with a vibrant salad, avocado and almond cream cheese. Eating green and clean has never tasted so good.
Hoocut
To wrap this up, let's check out one of the newer kids on the block for souvlaki in Athens.
Hoocut has three locations spread out across central Athens but their manifesto remains the same. In their own words, they aim to "make from scratch every part of souvlaki, wrapping up the very best of ingredients cooked with simple techniques and infused with culinary thinking."
Insider's Tip: Try the squid with taramasolata, a traditional Greek dip made with fish roe. Is this considered Authentic souvlaki? Maybe not but it's new, it's fresh and it's utterly delectable. Happy souvlaki-ing!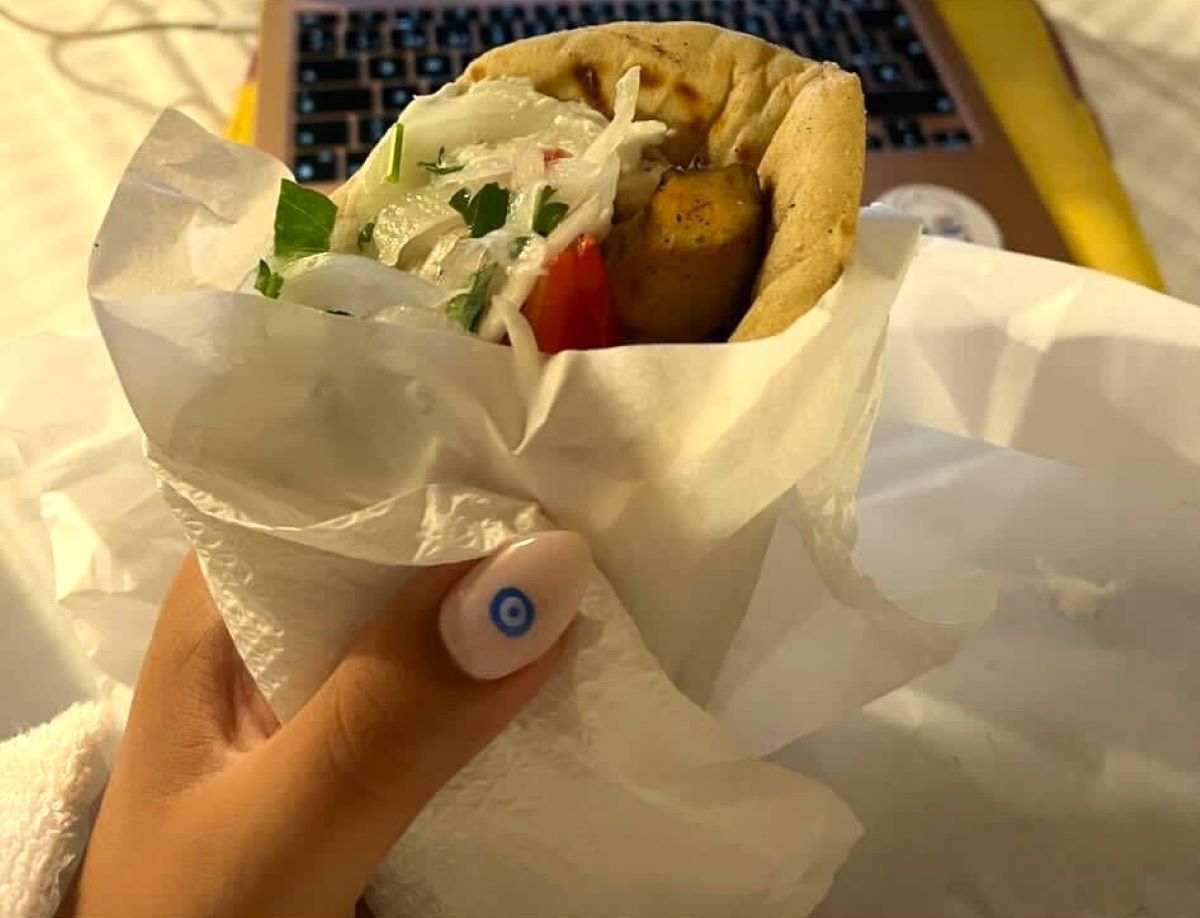 Fancy souvlaki in Athens but also looking to explore the rest of the mouthwatering Greek food canon? Then join our Ultimate Athens Food Tour for four hours of traditional tastes and history in Athens, led by a passionate local guide. Devouring Athens has never been so easy.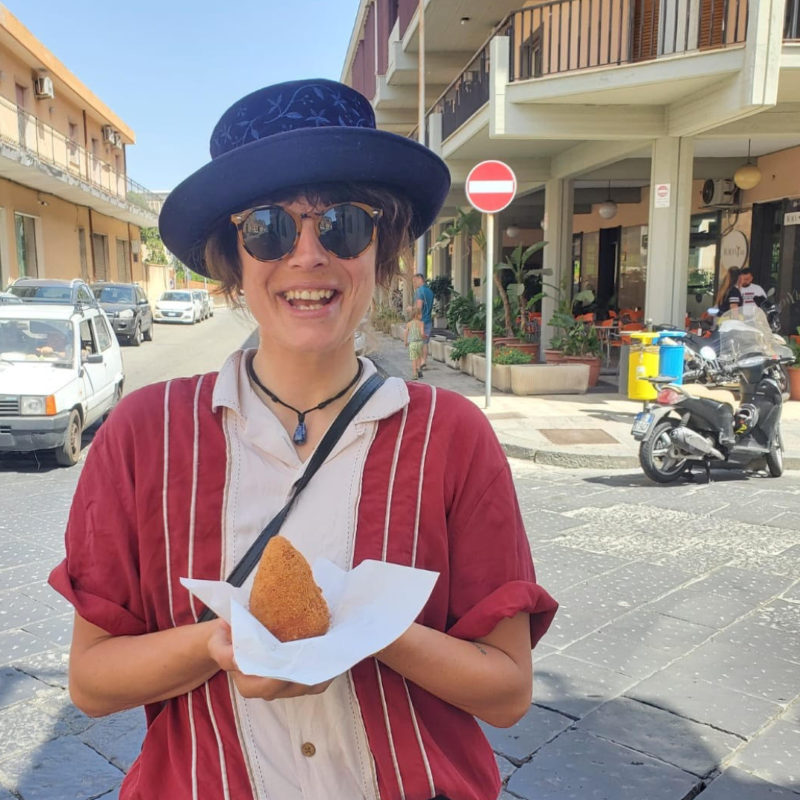 Born in Britain and made in the Med, Shabby is a true 'Enfant de Bohême', splitting her time between her native London and her adopted home on the island of Malta. As a tour guide, writer, wanderer, and culinary history obsessive, she adores challenging assumptions about the food in her birth city. Spoiler alert: it's fantastic food. Follow along on her adventures via Instagram at @shabbyontour