This blog post was originally posted on July 15th, 2016, and was updated on January 19, 2018
Wine is undoubtedly a huge part of Spanish culture. Although most people think of wines produced in the north of Spain, Andalusia is quickly becoming a hub of unique, delicious wines for you to enjoy.
While perhaps best known for delicious sherries, the south of Spain also has some beautiful wines from wineries that are breaking the mould when it comes to vino production. And with cosy wine bars dotted throughout the city, it's only right that there is also a selection of great wine tastings to participate in while you're in Seville. So pull up a chair and learn from the experts at our favorite wine tastings in Seville!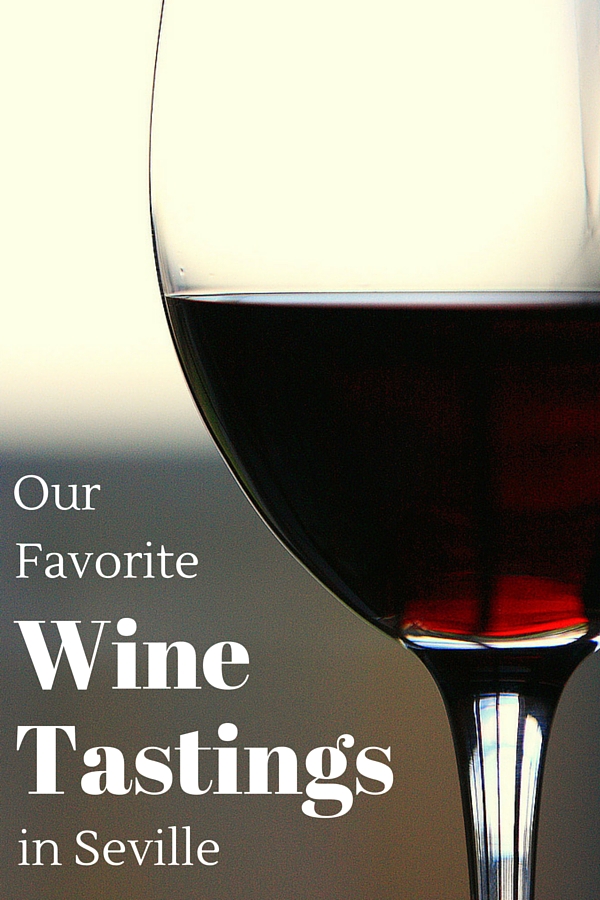 Photo Credit: Dana Moos (Text Overlay: Devour Seville Food Tours)
Flor de Sal Vinos
In business since 2010 and with a lovely new location in the Nervión area, Flor de Sal Vinos hosts fascinating wine tastings almost daily for you to enjoy. And with a selection of the 80+ wines sold on site, what's not to love?
Expert locals will talk you through a tasting of 4 to 6 different wines at this excellent wine bar and shop. Expect to try Spanish classics, Andalusian specialties and a selection of local bites. You'll leave armed with new knowledge on the intricacies of Spanish wine, along with how to best pair your favorite drink.
Group tasting inquiries can be made via the website or by email ([email protected]), and are available in Spanish, English & German. Or, to really expand your knowledge of Spanish wine, you can even sign up to specialized wine courses. They are between 6-16 hours long and help you to fully understand each unique type of Spanish wine and the differences between them.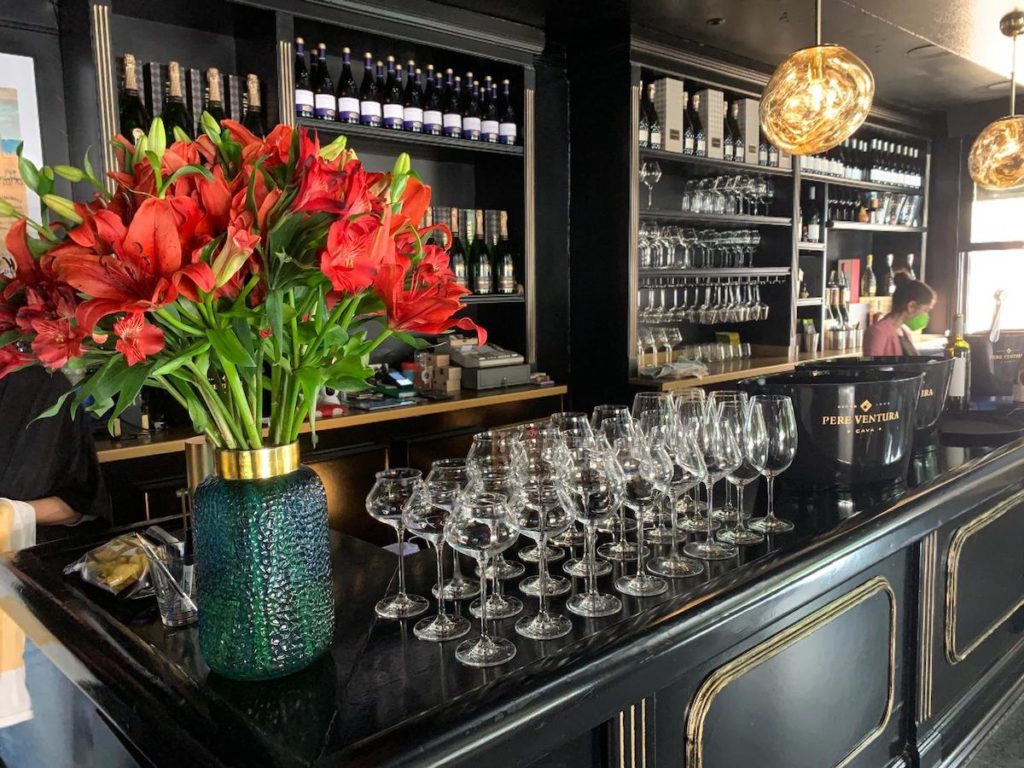 Azotea Vinos & Mas
Part of the ever-expanding Azotea franchise in Seville, the Vinos & Mas store near the Alameda neighborhood hosts a number of regular wine tastings. Along with tasting a number of delicious wines, you can also try some foodie delights, such as local cheeses and meats. What's interesting about this tasting is the special emphasis on Andalusian and Californian varieties. Check out the website for further details and prepare yourself for one of our favorite wine tastings in Seville!
With so many wine regions to choose from, ordering wine in Spain is often not so straightforward. Devour Tours expert wine guide Luke takes you through some of the basics of ordering wine in Spain like a local in this video
Lama La Uva
With a cozy location behind the iconic Las Setas monument, Lama La Uva is an amazing space to enjoy some unexpected wines and pairings. Founded just over a year ago, this passion project is part wine shop and part tasting space. However, what really makes this establishment special is owner Ana, a fountain of knowledge on all of the wines she has in stock, be they iconic Riojas or lesser known Andalusian varieties. You can swing by the shop anytime and chat to Ana about her vino selection, or come to one of her wine tastings hosted every Thursday. Additionally, you can contact her directly to organize a special private tasting, tailored exactly to your needs. With a knowledgeable host, an amazing wine and food selection and a comfortable space to enjoy them in, you can see why this is one of our favorite wine tastings in Seville.
Flores Gourmet
If you're looking for an informal place to try some local wines before you buy, head to Flores Gourmet. The shop brings to life the old abacería tradition. In these establishments, locals would swing by and taste some of the finest produce available before making their purchase. With a huge selection of wines from all over Spain, you're bound to find something you'll absolutely love.
Although official tastings can be organized through the website, you can also just pop into the shop unannounced. There, you can sip some wine and pick the expert staffs' brains on which is the best variety for you. They'll even help you pick out some local cheeses, olives and ham products to pair with your newly acquired drink.