Tuscany's beauty goes way beyond the limits of Florence. If you are planning a trip, make sure you carve out some time to explore the surrounding countryside and historic towns.  
One of the best spots to visit in Tuscany is Siena. A beautiful medieval city to the south of Florence famous for its pici pasta and annual horse race, Siena is the perfect distance for a little day trip from Florence.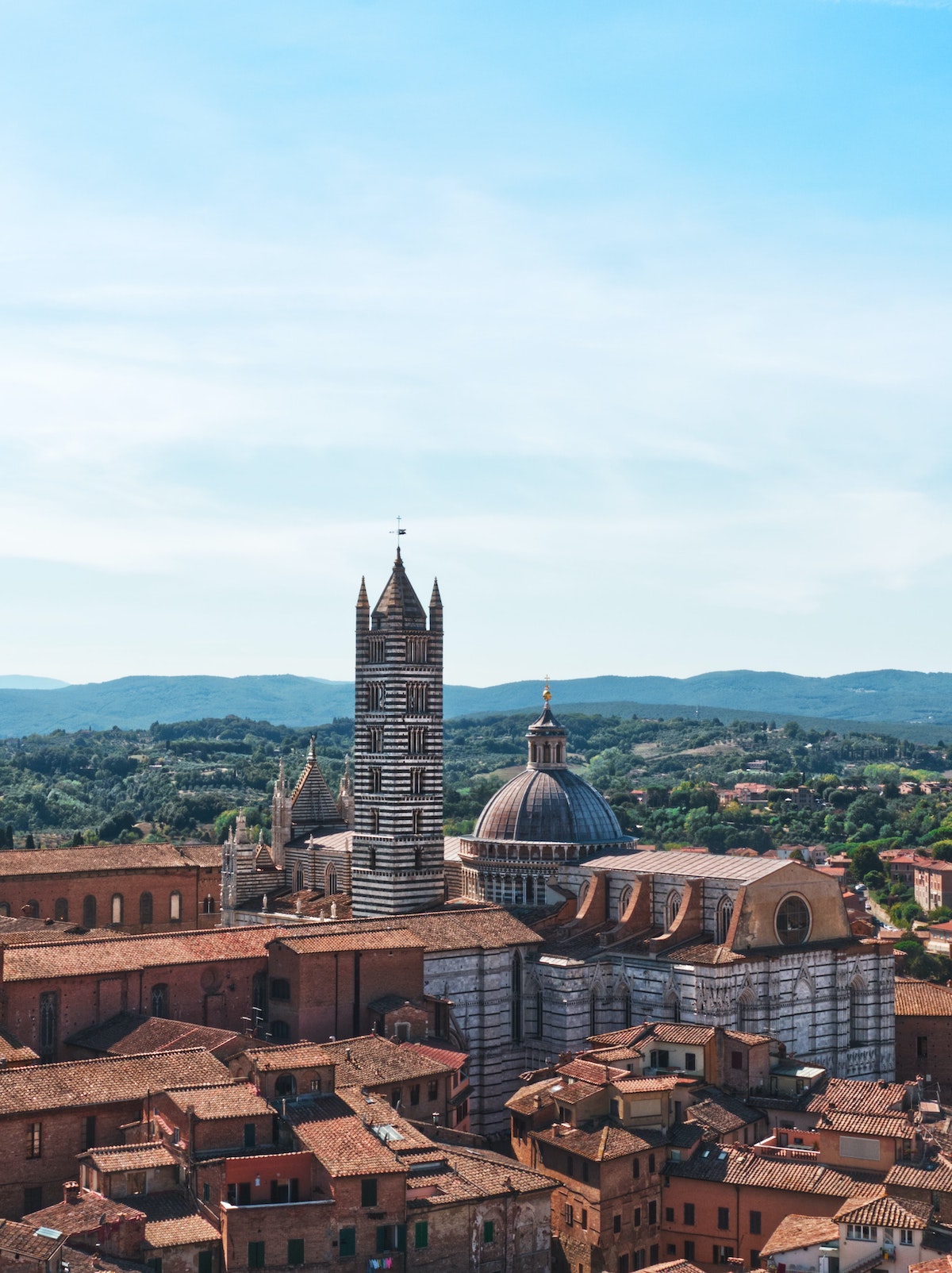 While much of the countryside can be tough to get to without a car, Siena is easily reached by train or bus! This makes it a favorite destination for many. So let's get into how to best take a Florence to Siena day trip. 
Getting to Siena from Florence

 
By Bus

 
Taking a trip to Siena from Florence takes about 1.5 hours. There are actually two different bus lines, express or regular. The time difference is about 15 minutes. 
You can grab the bus from the bus stops right next to the Santa Maria Novella train station, or at Porta Romana. You'll need to buy your tickets ahead of time; they can be purchased at any tabacchi shop, identified by their big T sign. 
When you arrive in Siena, the bus will drop you off right outside the historic center of the city. 
The great thing about these buses is they run quite frequently. Check out the schedule ahead of time if you want to better plan your trip.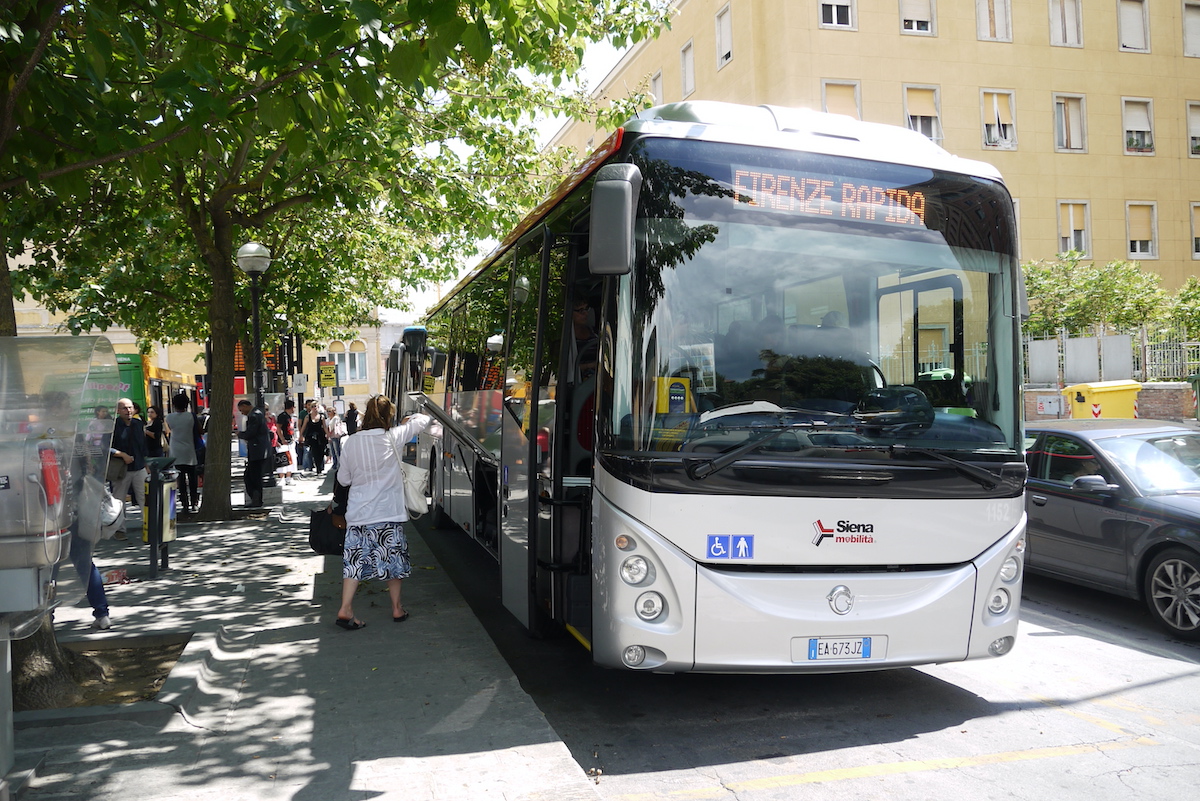 By Train

 
In reality, the journey to Siena by train actually takes a little bit longer than the bus ride, as it has more stops along the way. However, it does run twice an hour so you can count on it for a frequent schedule. 
The train leaves from Santa Maria Novella and will drop you off at Siena's train station at the bottom of the hill. The historic center, where you will most likely visit, is up at the top of the hill, so you'll have to go for a little walk. 
You might want to choose the train over the bus if you'd like a little more space and to be a bit more comfortable. Otherwise, there isn't much reason to choose one over the other. Be sure to check out the train schedule ahead of time, too! 
Siena History

 
Siena is one of Tuscany's oldest wonders. According to local legend, the city was founded by the sons of Remus, the brother of Romulus who famously founded Rome.  But a more accepted foundation actually dates to 30 AD when the Romans set up a military outpost there. 
Through the years, the city passed through many hands. While you explore the center you'll see signs of its Lombard and Frankish history. But what really made this city so popular—transforming it into a culture center—was its location along the Via Francigena.  
The Via Francigena was a pilgrimage route that linked Rome to France. It passes through much of Tuscany and was a popular route during the Middle Ages.  
By the 11th century, Siena had gained its independence and was its own governed republic. As it grew economically, it began having disputes with nearby Florence. While there were many battles between the two from the 13th and 15th centuries, eventually Siena fell under Florentine control. 
During the Middle Ages, Siena truly thrived artistically. This period was when many of the monuments around the city were built.  
However, there were some bumps in the road—specifically in 1348, when Siena was hit with a horrible plague that wiped out three fifths of the local population.  
Today the municipality is known primarily for its tourism, thanks to its extensive artistic heritage.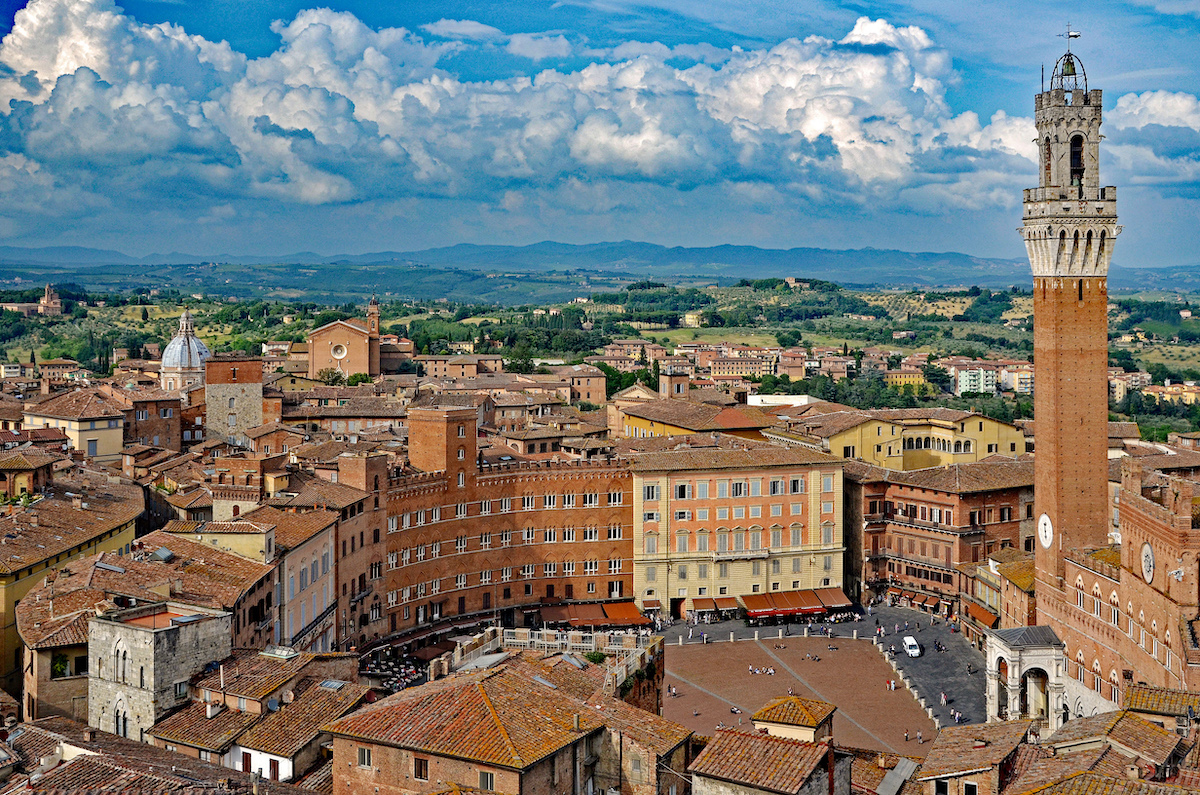 Top Things to Do in Siena
Explore the Central Piazza del Campo
Any trip to Siena must start with a stroll through Piazza del Campo. Right in the heart of the city, this impressive shell-shaped piazza is a must-see. 
A large open space that lets you take in the whole city, part of the piazza's fame comes from it being the main location of the famous Palio di Siena horse race. 
Take a Trip to Palazzo Pubblico

 
Right in Piazza del Campo you will come across the Palazzo Pubblico. This was the headquarters of Siena's famous council, the administration of the republic. Today it is the local Civic Museum, decorated with beautiful frescoes and architectural elements from the Medieval and Gothic styles.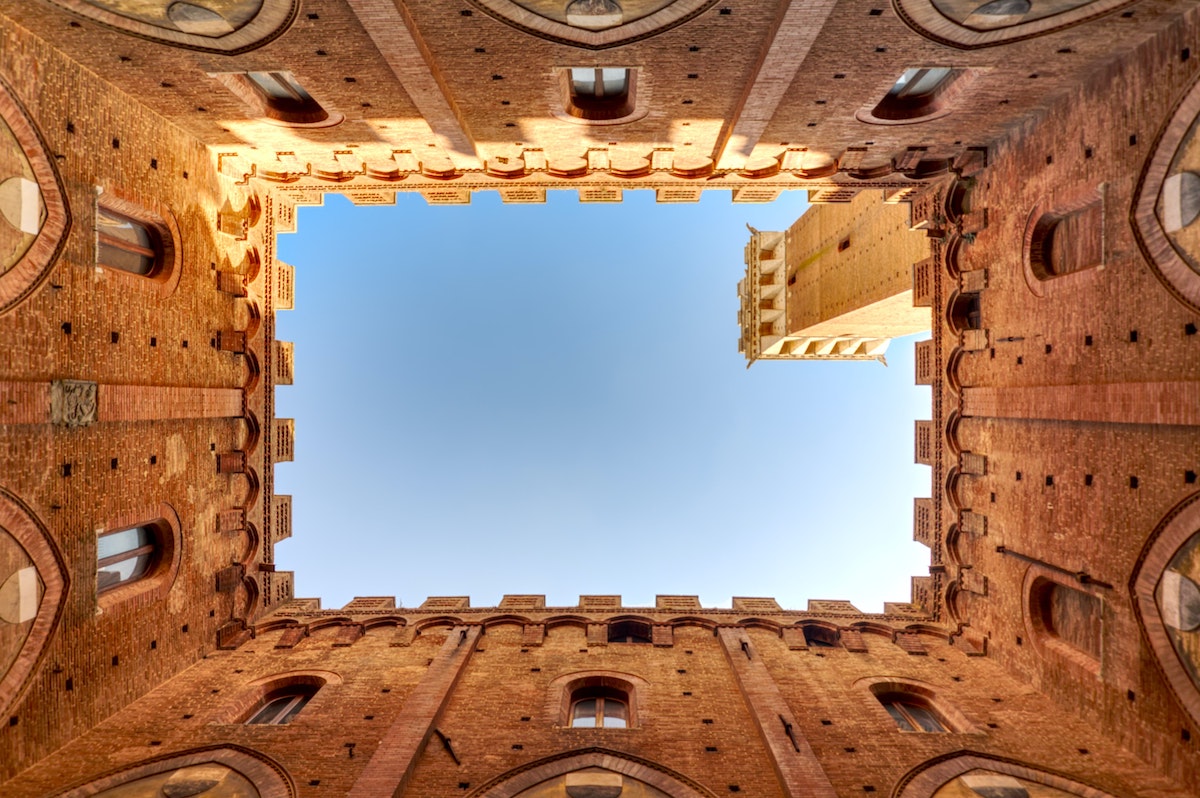 Climb Torre del Mangia

 
Still in the center of Piazza del Campo, Torre del Mangia stands as the highest point in the city. The tower is 87 meters high, and it takes about 400 steps to reach the top.  
Though the climb is a bit tiring, if you can make it up to the top you'll have one of the most beautiful views! You can see a full open panorama around the city and beyond.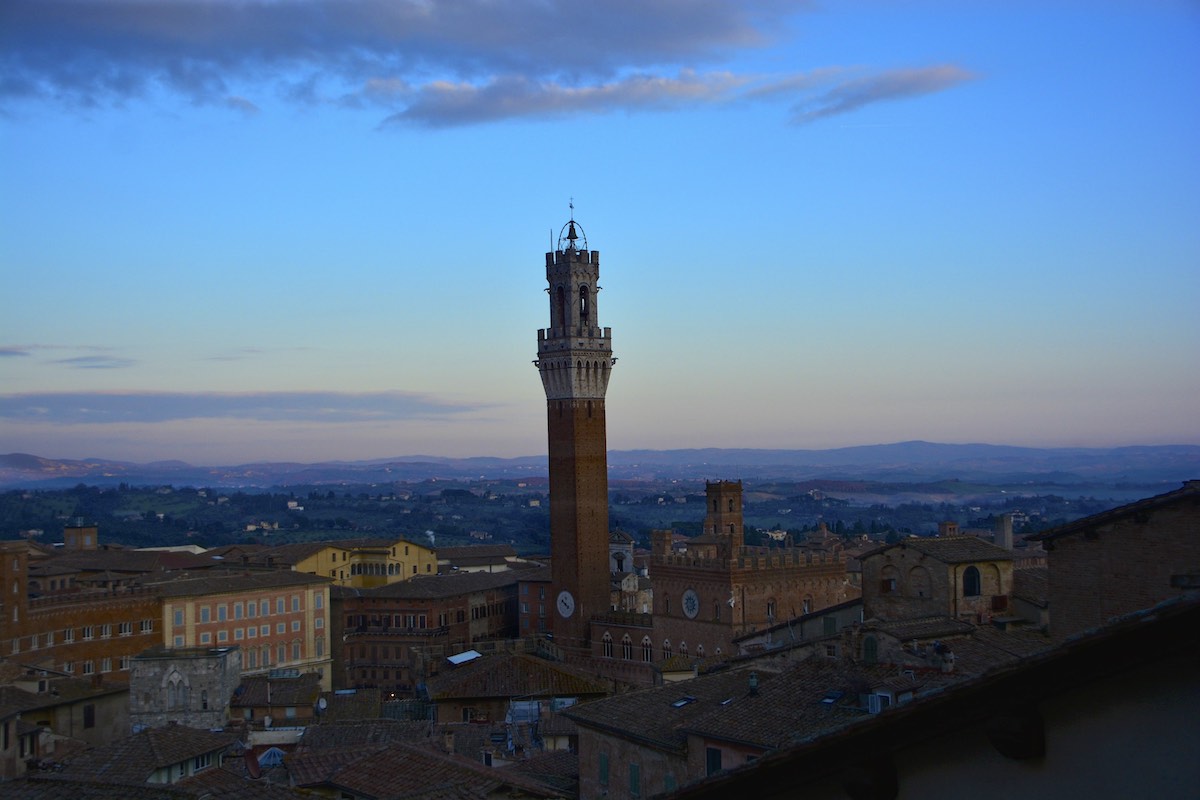 Take a Peek at the Fonte Gaia
The beautiful Fonte Gaia is not to be missed on your day trip to Siena.  The impressive fountain can be found right in Piazza del Campo. 
It was built in 1419, and the natural water that pumps through comes from an underground spring which is 25 km away! It's able to be pumped through a series of intricate underground passages. 
Fonte Gaia actually means Fountain of Joy, and the name came from the joyful celebrations that took place when it was unveiled.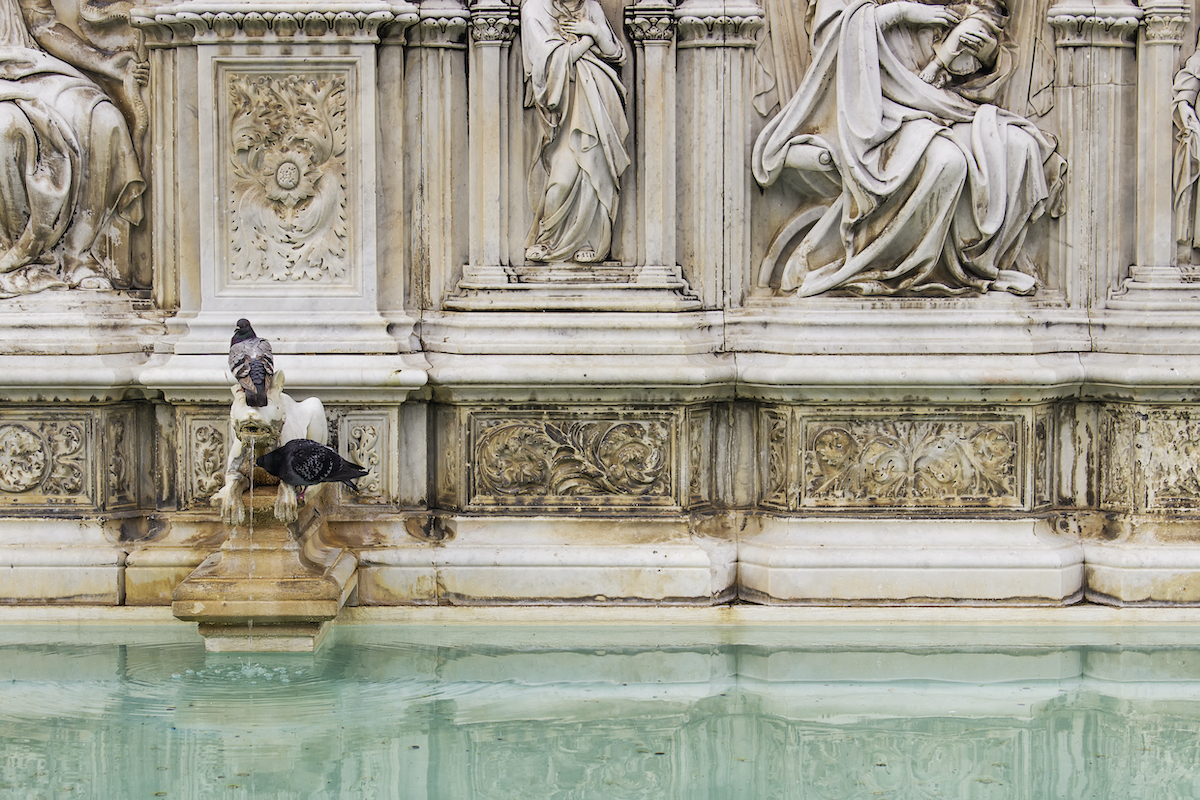 Make Your Way to Piazza del Duomo
A beautiful stroll to enjoy the best of Siena, walk down from Piazza del Campo directly to the Piazza del Duomo, where you can marvel at the Cattedrale di Santa Maria Assunta.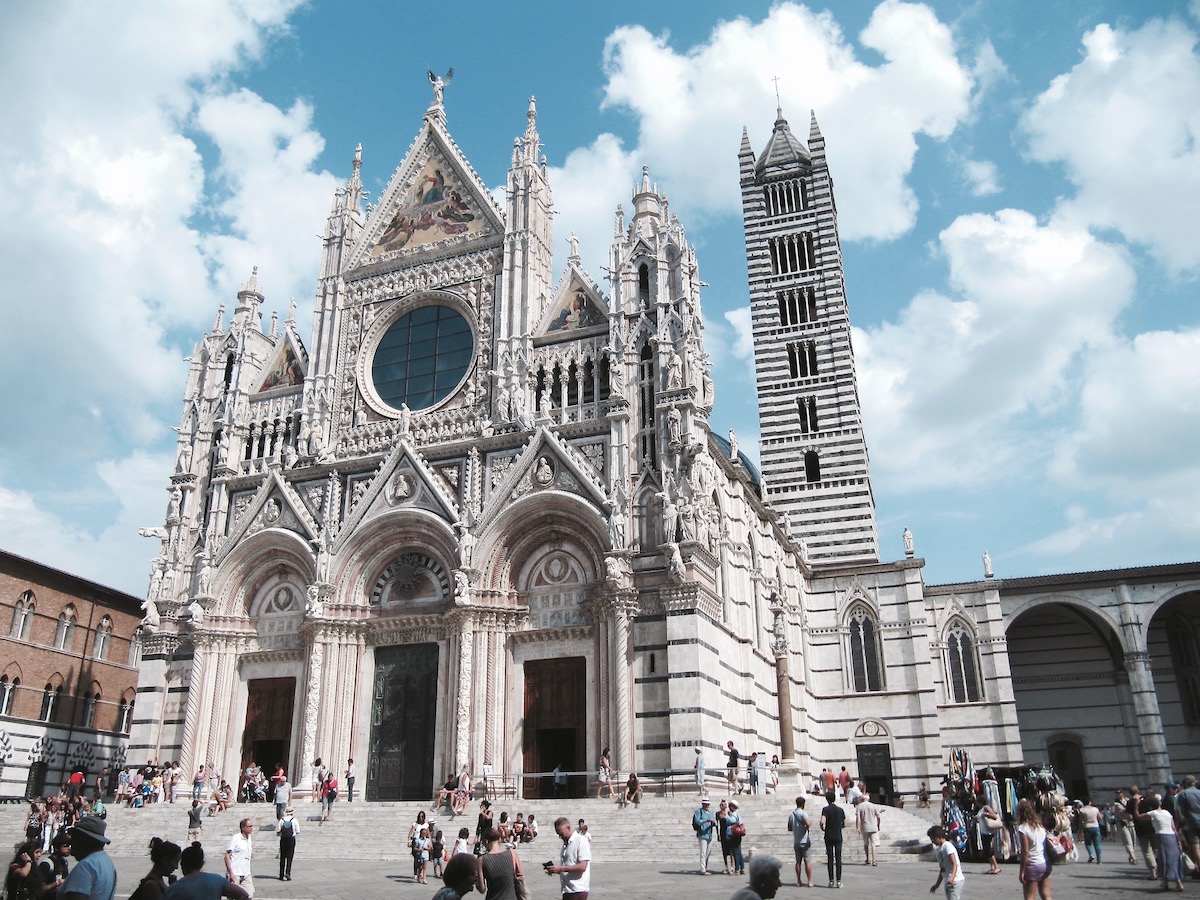 Wander Into the Cattedrale di Santa Maria Assunta 
You might have heard it called the Duomo di Siena, but its full title is really the Cathedral of Our Lady of Assumption.  
This church is a Gothic beauty, truly an architectural and artistic masterpiece. This church currently stands on what was once the ancient temple of the Roman goddess Minerva. The Duomo itself was built in the 13th century, although the top dome was finished much later.  
If you look alongside the church, you'll notice a standalone wall that looks a bit odd. This was actually supposed to be an addition to the cathedral, but it was brought to a sudden stop when the plague hit in 1348. 
However, it hasn't all gone to waste! This wall actually has an observation deck built on where you can enjoy another great city view. You can get to it by going through the Museo dell'Opera, another great place to hop in for a visit.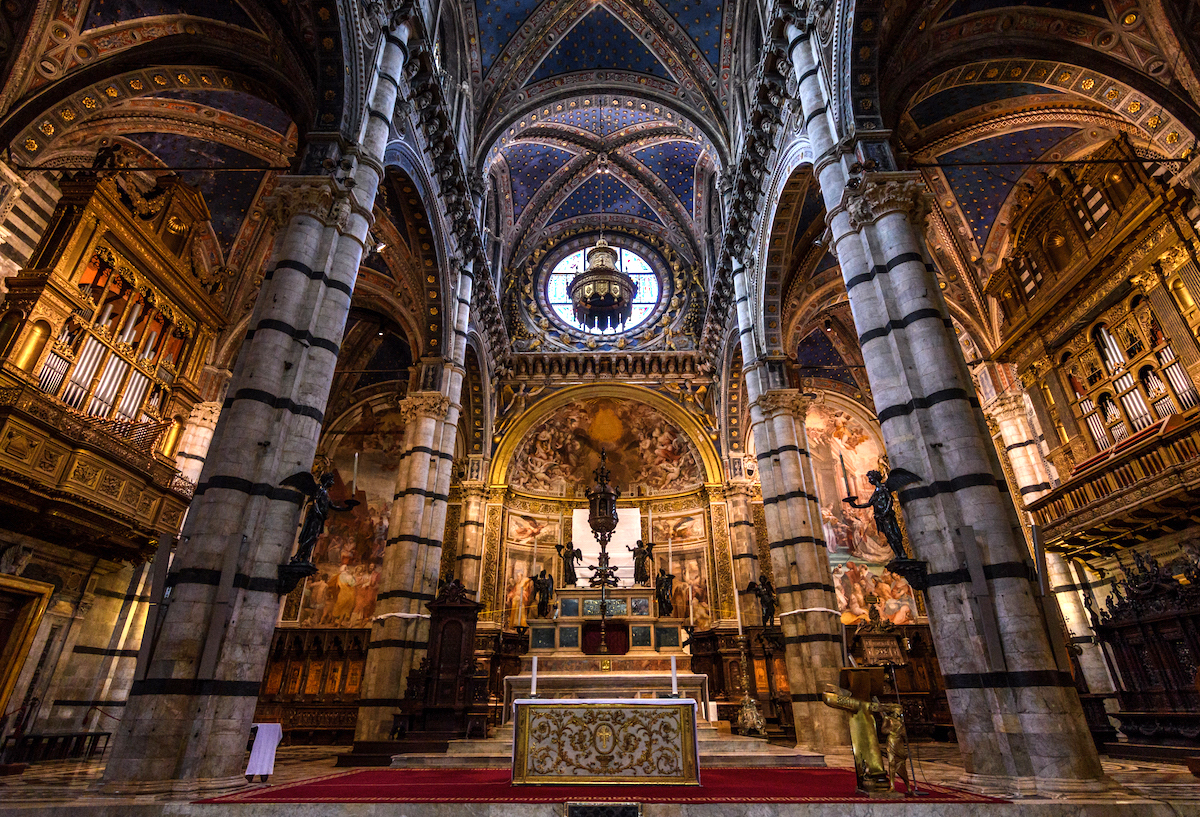 Pass Through the Loggia della Mercanzia
The Loggia della Mercanzia, known in English as the Merchants' Storehouse, is another must-see on your day trip. This was once, and still is today, the commercial heart of Siena, located on a quaint narrow street. You might find that it often gets a little crowded, so if that isn't your style, you might want to avoid it!  
The historic Loggia building is tough to be taken in all at once since the street is quite narrow. So be careful not to miss checking out the full effect. The building is an impressive structure, with a spacious gallery inside supported by three arches decorated with elegant columns. 
On to the Next Piazza: Piazza dei Salimbeni
Siena has no lack of beautiful open piazzas from which you can adore this great city. The next one you should stop by is the Piazza dei Salimbeni.  
This is a rectangular piazza bordered by three famous buildings: Palazzo Salimbeni, Palazzo Cantucci, and Palazzo Spannocchi.  
All three of these historic buildings are formed together to host the world's oldest bank in the world! Monte dei Paschi has been in business since 1472.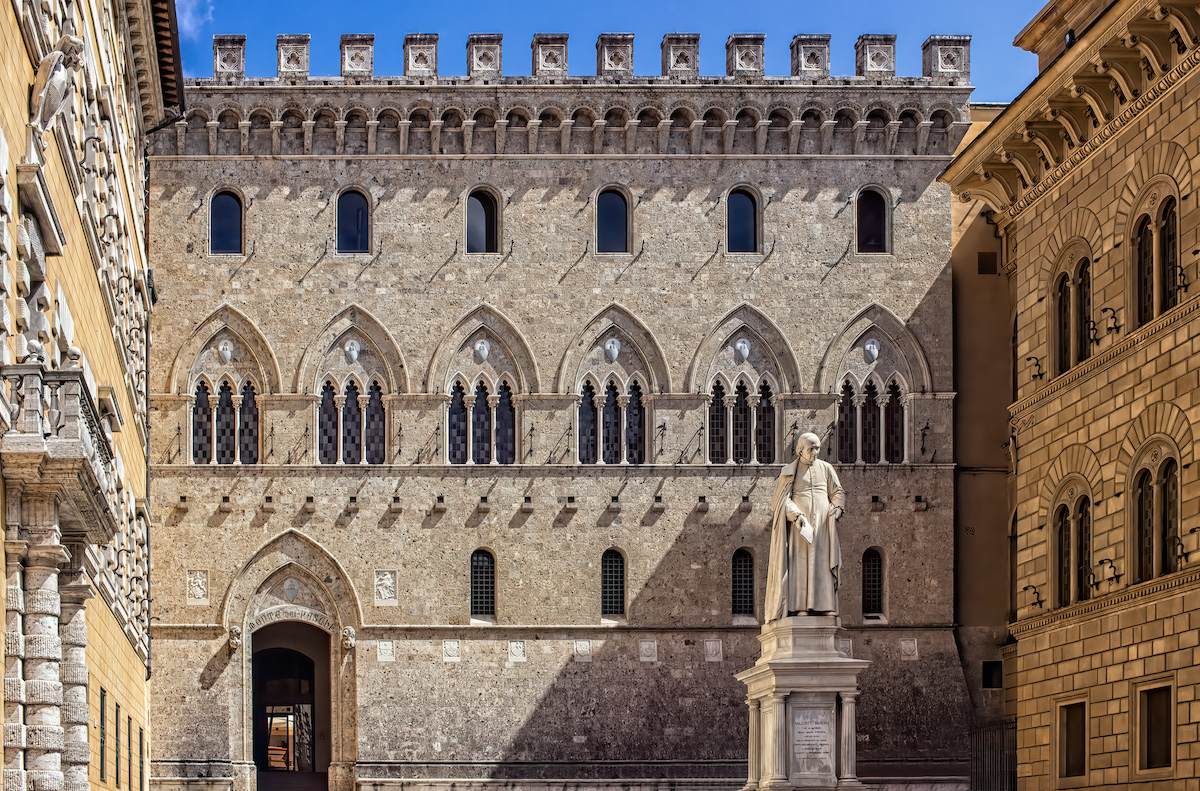 Visit Chiesa di San Cristoforo
Finally, you shouldn't miss the Chiesa di San Cristoforo (the Church of St. Christopher). This church was originally built around the 11th century, but unfortunately suffered severe damage during a terrible earthquake in 1798.  
The city was able to sponsor reconstruction, but this did change the church a bit. For example, the brick façade you see today was actually added in the 1800s. 
What to Eat in Siena

 
It wouldn't be a day trip through Tuscany without eating some great food. So when you pass the day in beautiful Siena, what should you eat? 
Much of what you will find is the classic Tuscan cuisine, pecorino, truffles, and wild boar. But some things stand out as local specialties! 
As a sweet, Panforte is a local favorite. A sweet, chewy, fruit and nut cake that was originally developed in 1200, it's still a favorite throughout Italy around Christmas time—but in Siena, you can enjoy a bite all year round. 
When it comes to wine, Siena is located right in the Chianti region so you are bound to find many good bottles of local wine. 
A glass of that Chianti will go very well with the local Siena pici! Pici are thick noodles that soak up the sauce very well, especially a thick ragu. But if you are vegetarian you can opt for pici all'aglione, made with a sauce from locally grown garlic sautéed with vegetables, tomato, and white wine.  
If you are looking for another pasta alternative, look for gnudi senesi on the menu. This isn't exactly pasta—it's the inside of a ravioli, made with spinach, borage or nettle, ricotta, and eggs to hold them together, all served in tomato sauce. Basically all the goodness of ravioli without the pasta carbs!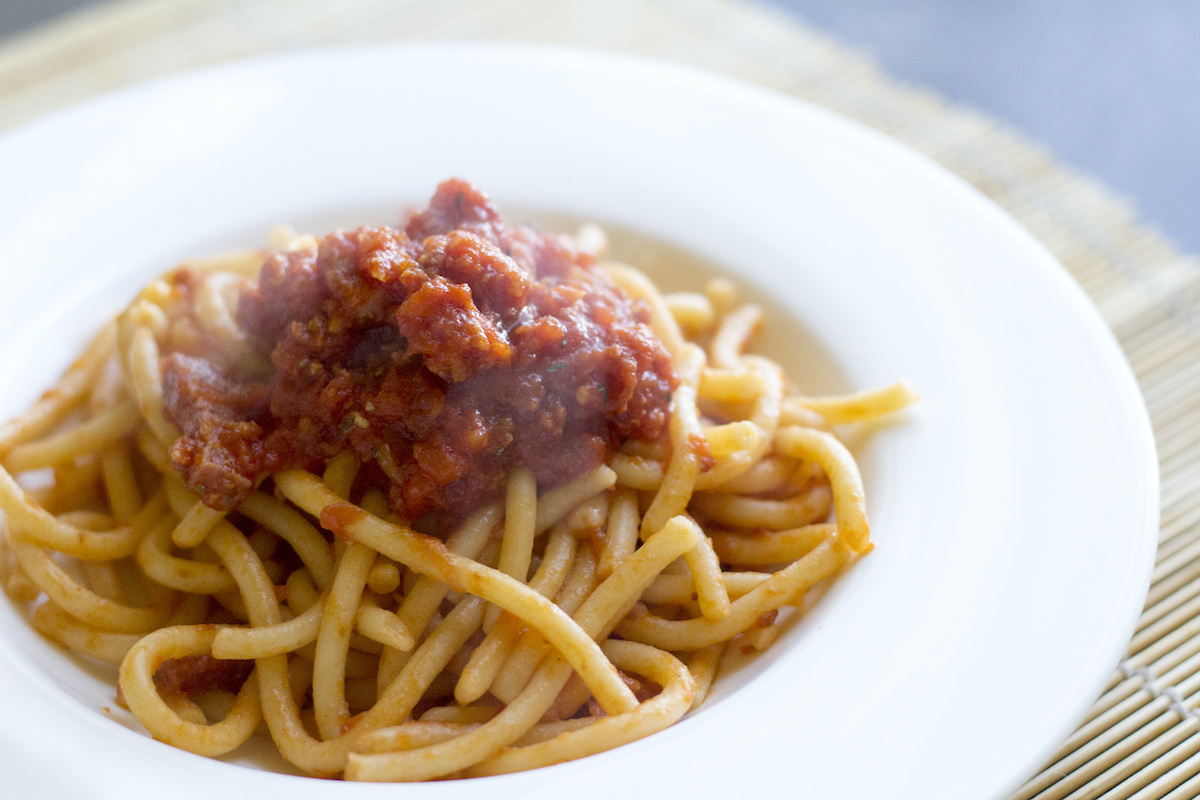 Itinerary for a Florence to Siena Day Trip
When you arrive, head straight to Piazza del Campo, the center of Siena and a beautiful sunny start to your visit.  
Get a little caffeine kick on your way with a stop at Torrefazione Fiorella on Via di Città. A torrefazione is a roastery, serving its very own fresh coffee. Fiorella also wins the spot as one of the best places to grab a coffee for their excellent pastries to pair.  
You should grab a rice pudding tart, as it's one of the best around. And if you love the coffee here, you can always grab a bag to take home! 
Once you have a little more energy, it's time to climb up Torre del Mangia for one of the best views of the city.  Of course, this hike up can be tiring, so you might want to swing by Fiorella for another coffee after.  
While the morning is still fresh, walk on down to the Duomo of Siena—the Cattedrale di Santa Maria Assunta. You'll want to have some time to visit this church as it is quite beautiful. Since every chapel has its own story to tell, you'll want to spend some time taking it all in. 
Once you've walked around quite a bit, and worked up an appetite, it's time for a little local lunch. 
Head over to the Osteria Il Grattacielo at Via dei Pontani, 8.  This is a rustic, historic osteria and former wine bar that first opened in 1840 and is a favorite of locals and visitors alike. Lunch gets a little busy, so try to head early or make a reservation. 
Rather than a menu, the owners of Il Grattacielo sweep by your table with the dishes all ready to present to you. They're happy to share every detail of the dish, including the local origin of all the ingredients! They also provide a detailed description of the care used in sourcing and selecting the finest local products.  
After a full lunch, you'll want to get back to walking before the siesta vibes set in. This is your chance to circle back to any of the sites you might have missed in the morning. But if you've seen the city from tip to toe, head to the beautiful Pinacoteca Nazionale or Opera Metropolitana. Both art museums are home to local masterpieces.  
And as the afternoon goes on, let's be honest—it's time for a little gelato! Head to La Vecchia Latteria on Via S. Pietro, 10. A spot that makes artisanal gelato from scratch, their flavors are a mix of the classics—like fior di panna and fruits—to unique options like crème brûlée and salted caramel. 
If a museum doesn't sound like your style and you'd prefer to pull up a chair and watch the life of Siena pass by, then it's time to settle in for an aperitivo. Head over to Morbidi on Via Banchi di Sopra 75. 
This is both a specialty shop and aperitivo stop, meaning if you love anything you taste, you can buy it to bring home. You can order a glass of local wine, craft beer, or cocktail and enjoy it with a large tasting spread of local products. 
While you enjoy this delicious aperitivo, just be sure to keep an eye on the time so as not to miss your train or bus back to Florence!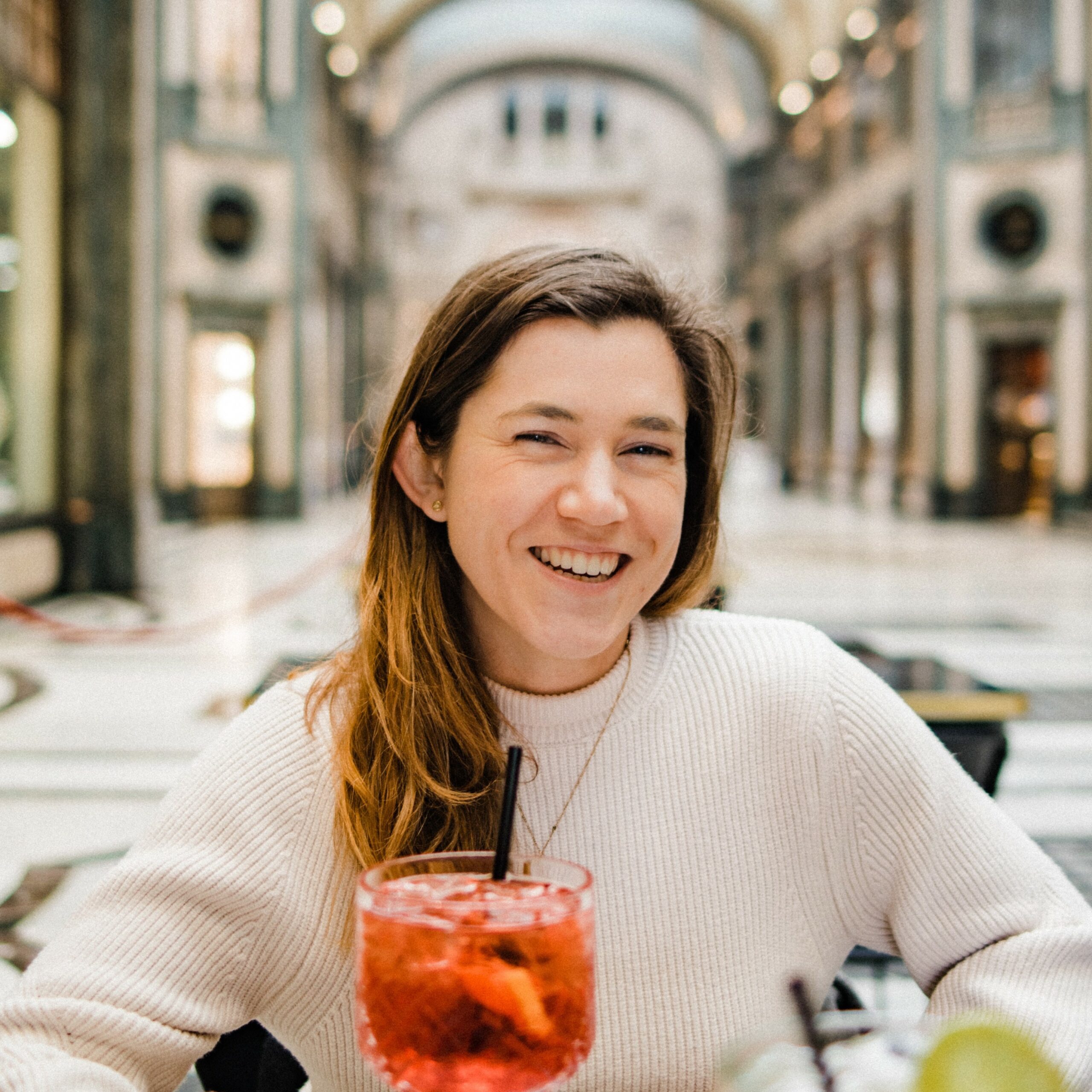 An Italy local for nearly 10 years, Evelyn has traveled to nearly every region getting overly excited about cute doors and nonni cafes. She's an archaeology and art history major who fell in love with Italian wine, getting her Sommelier and Italian Wine Scholar certifications. She's transformed her passion for La Bel Paese into a travel planning and relocation consultancy with Colline Alle Montagne. You'll find her on Instagram @collinemontagne, always sipping a glass of wine and sharing the authentic life in Italy.