Anyone who knows anything about Spain knows that we're always ready to party. And while Basque culture is quite different in many ways, the same rings true. As a result, there are so many great festivals taking place in San Sebastian throughout the year. If you're looking to get immersed in Basque culture and celebrate like a local, look no further. Save the date for these events and you'll be well on your way.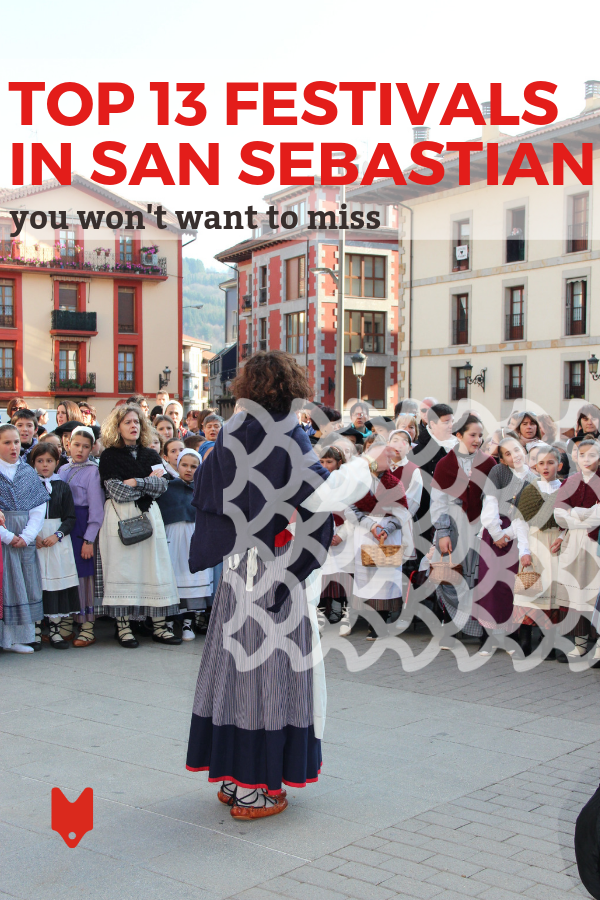 Photo Credit: Ordiziako Jakintza Ikastola, Text Overlay: Devour San Sebastian Food Tours
Three Kings Day (January 5 & 6)
First up on our list of festivals in San Sebastian also happens to be the most eagerly anticipated days on the calendar for children throughout Spain. You see, Three Kings Day is an even bigger deal than Christmas here in Spain. Children wake up on the morning of January 6 eager to open their presents that the Three Wise Men of biblical lore have left for them overnight.
But the fun actually starts the day before on January 5, when the kings arrive in San Sebastian and parade throughout the city greeting the eager spectators that have lined the streets to see them. There's extravagant floats, colorful costumes, and a seemingly neverending shower of candy raining down (seriously, watch out so you don't get pelted!). It's a celebration beloved by people of all ages who come together and share in the season of giving.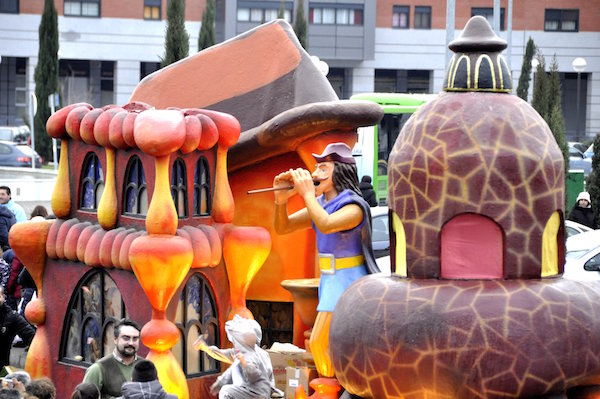 St. Sebastian's Day/Tamborrada (January 20)
Spain is an overwhelmingly Catholic country, and as a result, we take our patron saints pretty seriously. Here in San Sebastian, January 20 is the feast day of the man himself—St. Sebastian—and to honor him, we stage a massive 24-hour-long drum parade known as the tamborrada.
At midnight on January 19, the event officially kicks off with the raising of the flag in Plaza de la Constitución. From there, it's 24 hours of nonstop drumming, dancing, and good vibes filling the streets throughout the city. Around 125 drum lines participate in the event every year, each bringing their own unique style and touch to the festivities. As one of the most authentic festivals in San Sebastian, it's loud, vibrant, and downright fun—just the way we like our parties to be.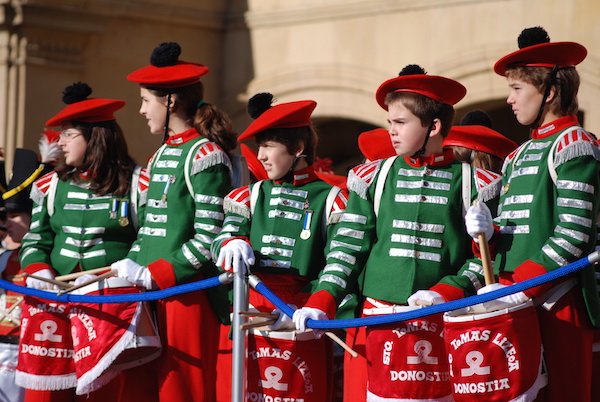 Caldereros (first Saturday in February)
Carnival is one of the most popular festivals celebrated throughout Spain. Here in San Sebastian, we like to get things started weeks in advance by celebrating the arrival of the caldereros—a celebration that officially kicks off the Carnival season.
The caldereros were traveling artisans arrived in the city hundreds of years ago from Hungary or Turkey (sources vary) prior to the arrival of Carnival. Today, locals honor the whimsical group by reenacting their arrival every year on the first Saturday in February. They make their way through the streets dressed in traditional costumes, singing and accompanying themselves on makeshift musical instruments made out of pots and pans.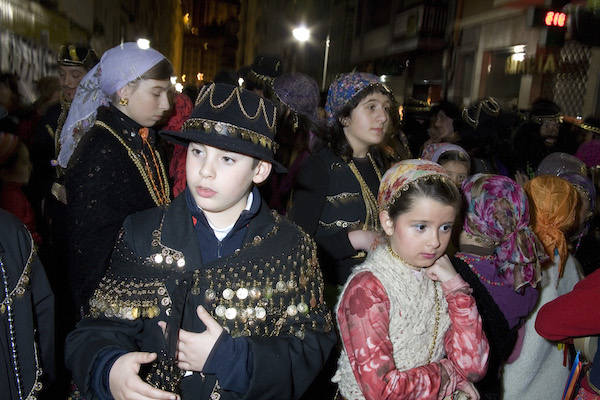 Inudeak eta Artzaiak (first Sunday in February)
The fun doesn't stop with the caldereros, though. The very next day, it's time to celebrate another one of the most unique festivals in San Sebastian: the shepherds and nursemaids festival, or Inudeak eta Artzaiak in Basque.
This fun and flirtatious festival serves as a perfect precursor to Valentine's Day later in the month. It's a celebration and reenactment of the shepherds coming down from the mountains into the city many years ago and then proceeding to court the nursemaids. Dozens of shepherd-nursemaid couples make up the parade, which also includes plenty of other characters in traditional dress and more than 60 Basque drummers.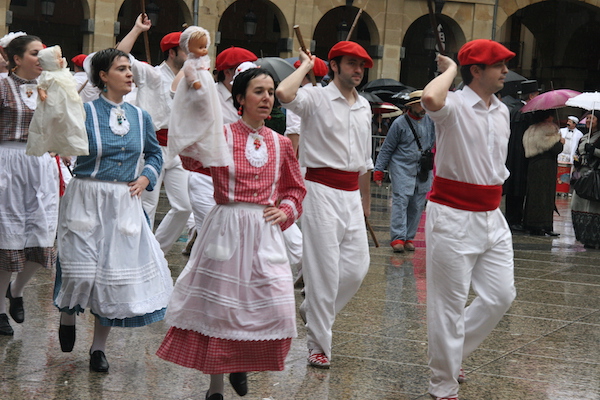 Carnival (February or March)
After the arrival of the caldereros to San Sebastian in February, the celebrations finally culminate with the main event itself later in the month or in early March. With crazy costumes and nonstop partying, Carnival is easily one of the top festivals in San Sebastian. For celebrations with an even more unique twist, take a day trip to one of the surrounding villages: Ituren, Zubieta, Lantz and Tolosa each have locally famous celebrations with their own special twists.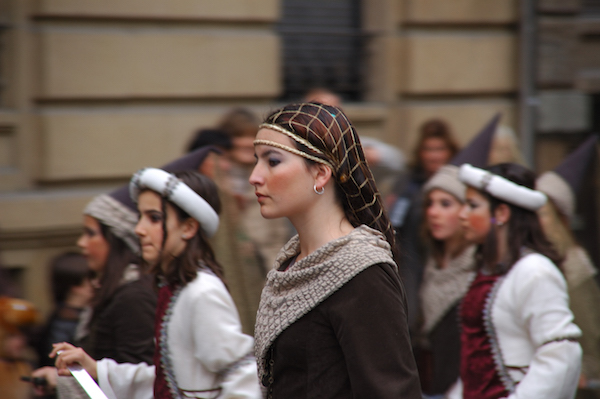 Olatu Talka (late May, early June)
All of the festivals in San Sebastian we've discussed so far have bordered on the traditional and the timeless in order to celebrate Basque heritage. Olatu Talka, which takes place in the late spring, brings this proud spirit of culture and identity into the 21st century by celebrating San Sebastian and its people in the modern age.
Created in 2010 during San Sebastian's campaign for the European Capital of Culture title, this is a festival created by the people, for the people. It turns the entire city into a creative and cultural space, with concerts, workshops, art installations and more. With such a broad and unique offering, it's hard to sum up this fantastic festival in a small amount of space. We guess you'll just have to experience it for yourself!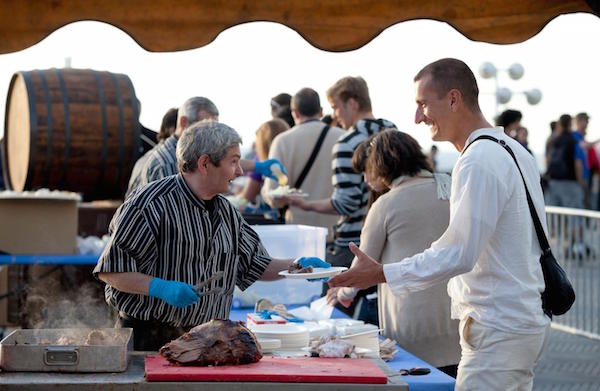 Heineken Jazzaldia (July)
Music lovers, this one's for you. Every summer, the biggest names in jazz descend upon San Sebastian to take part in Jazzaldia, one of the world's biggest and longest-running jazz festivals. For several days in July, venues ranging from casual seaside terraces to grand concert halls will fill with the smooth sounds of jazz's biggest talents. If you're a jazz lover, you won't want to miss this once-in-a-lifetime opportunity to see several of the genre's top stars performing all in one place.
Semana Grande (mid-August)
If you're looking to experience the biggest, most important festival in San Sebastian, save the date for the week of August 15. This week is the one and only Semana Grande ("Great Week"), and as its name implies, it's a nonstop celebration of Basque culture and heritage.
The celebrations for Semana Grande in San Sebastian kick off with the ceremonial firing of the cannon in Alderdi Eder park. From there, it's a full week of concerts, traditional Basque athletic events, an international fireworks competition and more. If you're traveling with little ones in tow, this is easily one of the best festivals in San Sebastian for kids—they'll love the giants parade and pirate race!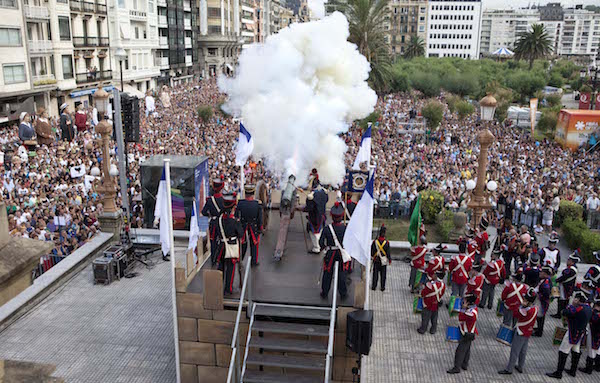 Euskal Jaiak (early September)
Couldn't make it for Semana Grande? No worries. Euskal Jaiak (literally translating to "Basque Festivities") takes place just a few weeks later, usually at the beginning of September.
While similar in scope to Semana Grande in that both celebrate Basque identity, Euskal Jaiak takes a bit more of a traditional route, with authentic clothing, music, dancing and more filling the city throughout the weeklong celebration. There's also an exciting regatta in La Concha Bay, and (our personal favorite) San Sebastian's annual Cider Day falls during this week as well!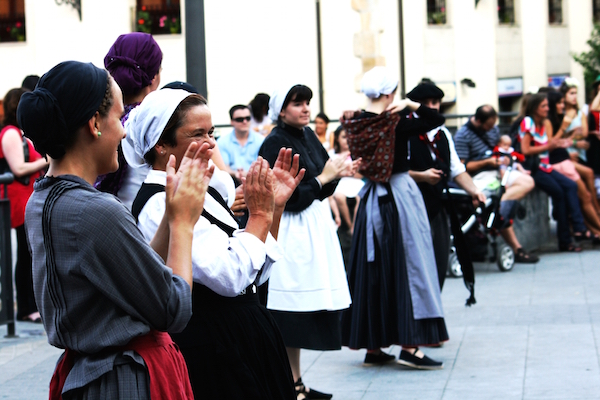 San Sebastian International Film Festival
By far the best-known of all the festivals in San Sebastian outside of the Basque Country, San Sebastian's annual film festival draws cinephiles from near and far. From up-and-coming talent to internationally known household names, participants in the festival offer a little bit of everything. It's a fantastic opportunity to screen dozens of the year's best films from all over the world.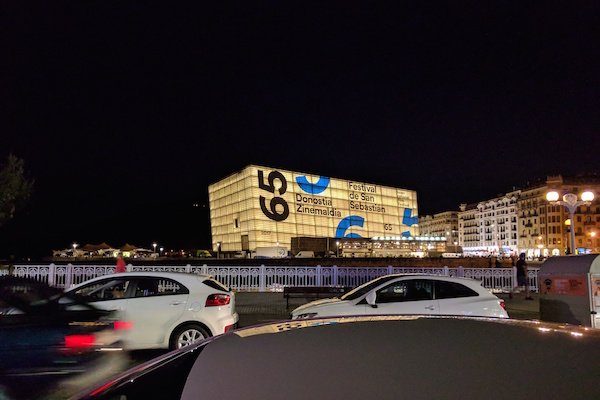 St. Thomas's Day (December 21)
Love farmers' markets? So do we. That's why one of our favorite days of the year in San Sebastian is December 21, when the entire city transforms into one massive country market in honor of the feast of St. Thomas.
Farmers and craftsmen from San Sebastian and neighboring villages set up shop in the form of stalls throughout the city, where they sell fresh produce, homemade artisanal goods, and more. If you get hungry, be sure to stop and grab a bite of txistorra—this local sausage (similar to chorizo, but native to the Basque Country) is the traditional snack of choice at the festival.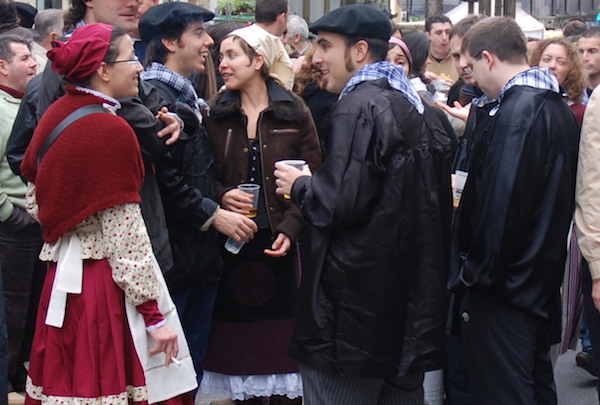 Olentzero & Mari Domingi (December 24)
Winter in San Sebastian is a time of gift giving and celebrations with family and friends, just like in the rest of the world. However, here in the Basque Country, we welcome two of our own characters into the mix: the peasant Olentzero and his wife, Mari Domingi, who bring gifts to children all over the region on Christmas Day.
While the Three Kings are a tradition recognized all over Spain, Olentzero and Mari Domingi are unique to the Basque Country. Every year on December 24, they come down into the city from Mount Urgull and make their way through the streets in a fun and fabulous parade. Along the way, they make a stop to greet the eager children who come to tell the two characters what they want for Christmas.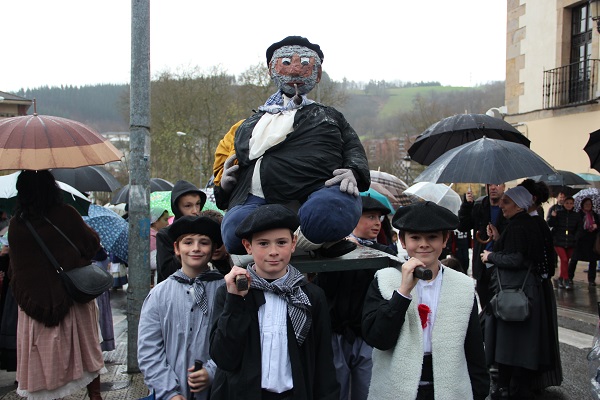 Nochevieja (December 31)
Last but certainly not least on our countdown of festivals in San Sebastian is the one and only New Year's Eve. But this isn't your average end-of-year celebration. New Year's Eve in San Sebastian includes a beachfront race, elegant galas, and of course the can't-miss 12 midnight grapes. Head to Plaza Gipuzkoa for the traditional countdown as you ring in the new year surrounded by locals.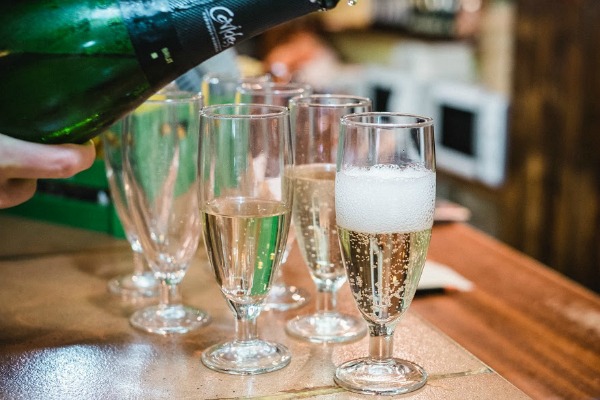 Want to discover the best of San Sebastian in a single day? From historic landmarks and cultural institutions to scenic waterfront vistas and mouthwatering pintxos, you'll see it all on our San Sebastian in a Day Small Group Tour with Private Boat Ride!