This post is a part of our Spain for Everyone series. The information below was curated by our expert guides across the country. They are coffee lovers too, and this is their bucket list for you!
There's nothing we love more than starting our day with a piping hot cup of coffee in Spain!
Luckily, Spain is home to traditional coffee shops, trendy and modern cafes, and everything in between. There's no shortage of places for you to enjoy your morning caffeine fix, no matter which corner of the country you may find yourself in. This complete guide to coffee in Spain will give you an insider's look at our favorite specialty cafes all over the country where you can enjoy your coffee of choice in style.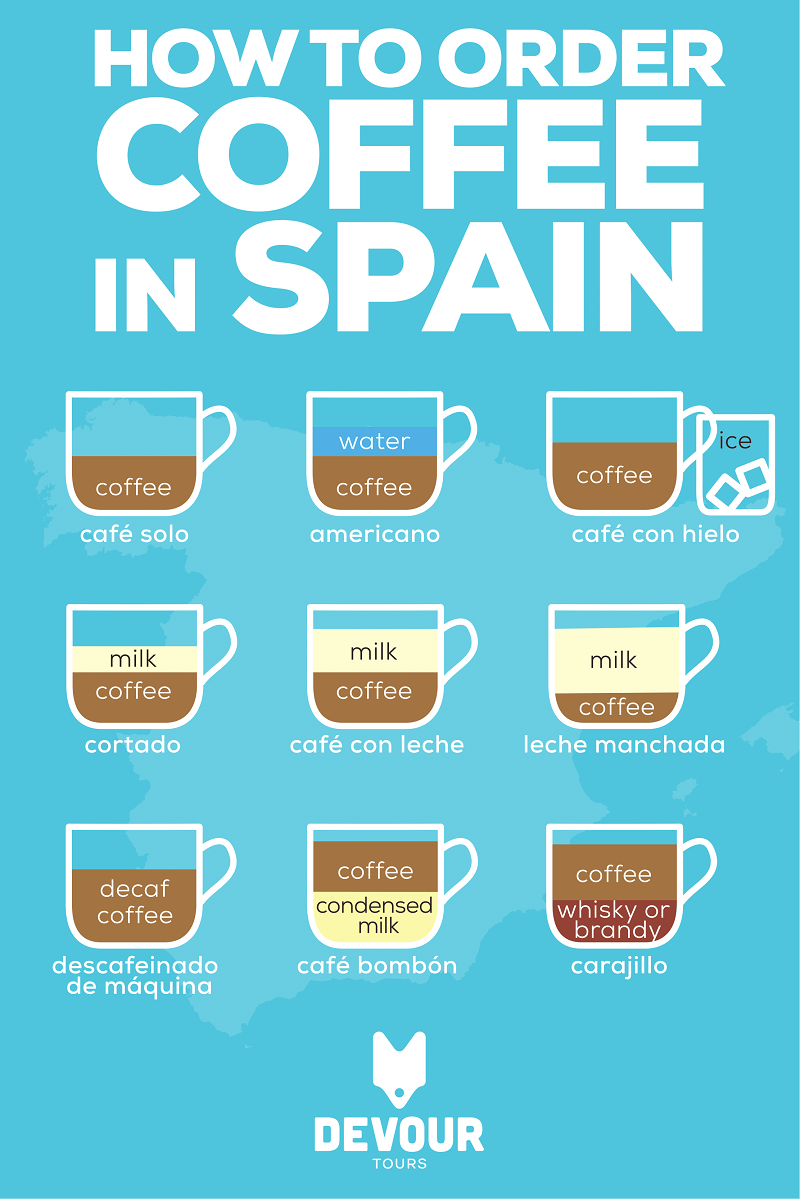 Click to expand or embed this image on your site
Madrid
One of our favorite places to enjoy coffee in Spain is the bustling, vibrant capital. Madrid has no shortage of incredible specialty cafes and is a reference on the national coffee scene. If you're looking for the best coffee in Madrid, here's where to go!
Toma Café
With its sparsely decorated, minimalist spaces, Toma Café wouldn't look out of place in a hipster hotspot such as Portland or Brooklyn. If you're looking for more than just a great cup of coffee, this is the space for you. They offer courses and workshops to teach you everything you need to know about your favorite morning pick-me-up. If you can't make it to one of their two locations, they even deliver their specialty coffee beans by bike! The coffee itself is deliciously varied, with flavors extending far beyond the traditional café con leche. 
Address: Calle La Palma, 49 (Malasaña) or Calle Santa Feliciana, 5 (Olavide) 
Hola Coffee & Misión Café
You know a cafe is good when the masterminds behind it are Spain's barista champion and runner-up roasting champion! Those two are Pablo Caballero and Nolo Botana respectively, and their passion for excellent coffee shines through in their two Madrid cafes, Hola Coffee (Calle Doctor Fourquet, 33) and Misión Café (Calle de los Reyes, 5). They roast their own coffee and are committed to providing only the highest quality products.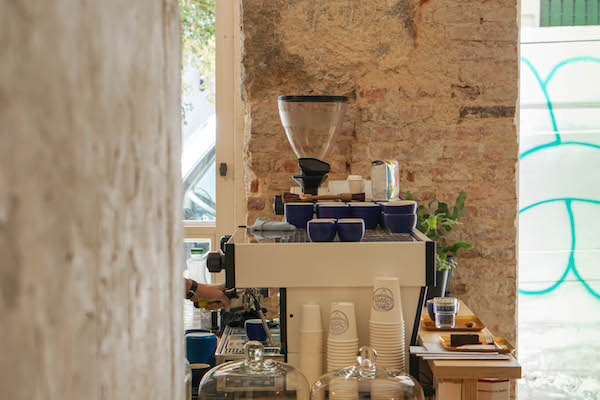 Cafelito
A casual, friendly vibe and some of the best coffee in Madrid await you at Cafelito. Located in the trendy Lavapiés neighborhood, it's a meeting point for coffee lovers from all over the city. Their coffee, ground in the moment and flavored with all kinds of different spices, tastes perfect when accompanied by one of their delicious breakfast items. They also host all kinds of cultural events inside their cozy space, making it so much more than just a cafe.
Address: Calle del Sombrerete, 20
Barcelona
The bustling Mediterranean metropolis that is Barcelona is home to some of the best coffee in Spain. Some of the most creative coffee creations in the country have their roots right here in the Catalan capital. However, it's also a great place to enjoy a classic cup. Here are our favorite spots for coffee in Barcelona!
Nømad Coffee Lab & Shop
Having worked the technique for the perfect cup of coffee down to an exact science, Nømad Coffee features a new, modern approach to everyone's favorite morning drink. They serve several excellent varieties that they roast themselves, and the menu changes seasonally to reflect the best current products. They also offer tastings and courses. Take advantage of their expertise and learn how to be your own barista even at home!
Address: Passatge Sert, 12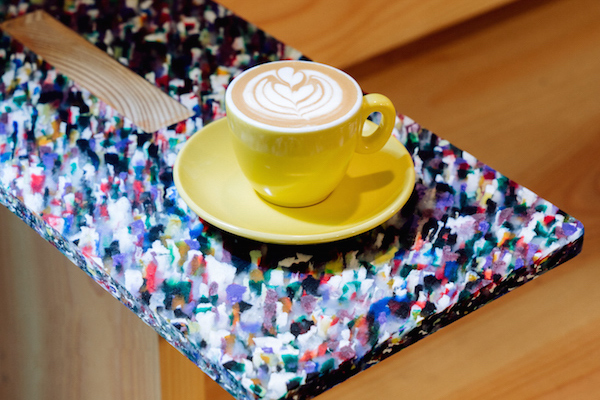 Koffee Barcelona
Tucked away in the city center, this cute and cozy cafe serves some of the best coffee in Barcelona. They have their own coffee roaster and grinder in-house to ensure maximum freshness. Their delicious cakes are also an excellent way to treat yourself, whether as a sweet breakfast or an afternoon treat.
Address: Baixada de la Llibreteria, 1
Morrow Coffee
Having just opened its doors in 2017, Morrow Coffee is relatively new on Barcelona's cafe scene. However, they have quickly made a name for themselves in that short time. Coffee lovers from all corners of the city flock their for their unique creations, such as coffee and tonic (don't knock it 'til you try it!). Their gorgeous, inviting space is set up in such a way that you can watch every single part of the preparation process: from roasting and grinding the beans all the way to the glorious moment when they pour it into your cup.
Address: Avenida Gran Vía de les Corts Catalanes, 403
Seville
As Andalusia's passionate capital, it's no surprise that Seville is catching onto the specialty coffee craze. An evolving taste for something beyond the typical café con leche has taken root here. Although the city doesn't have nearly as many specialty cafes as Madrid or Barcelona, it's all about quality over quantity. Here are a few of our favorite Seville cafes where you'll find some of the best coffee in Spain!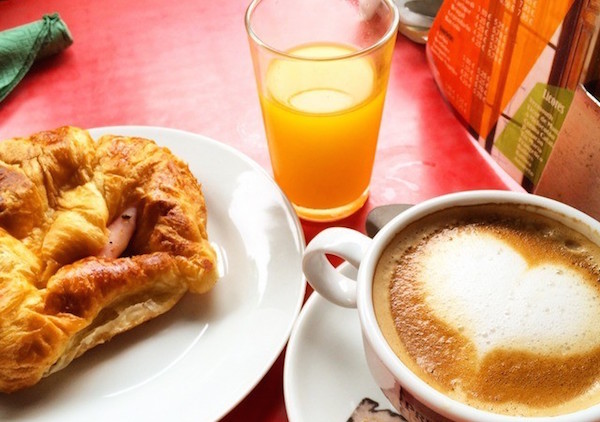 Torch Coffee Roasters
Two sisters who are passionate about good coffee introduced Torch Coffee Roasters to Seville a few years ago to outstanding success. As one of the small brand's three stores (the other two are in North Carolina and China!), the cozy cafe features a perfect location between Triana and the city center. They offer a small, rotating selection of seasonal coffees and a commitment to protecting the environment and growers in the countries that provide their beans. The sense of community just adds to the cafe's hospitable, friendly feel.
Address: Avenida Paseo de las Delicias, 3
Virgin Coffee
Getting coffee to go is a relatively new concept in Spain. Luckily, Virgin Coffee has caught on to the concept! Their tiny cafe offers takeaway artisanal coffee, all 100 percent arabica, roasted and brewed to perfection. What the space lacks in size, it makes up for tenfold in exquisite coffee and friendly, professional service.
Address: Calle Regina, 1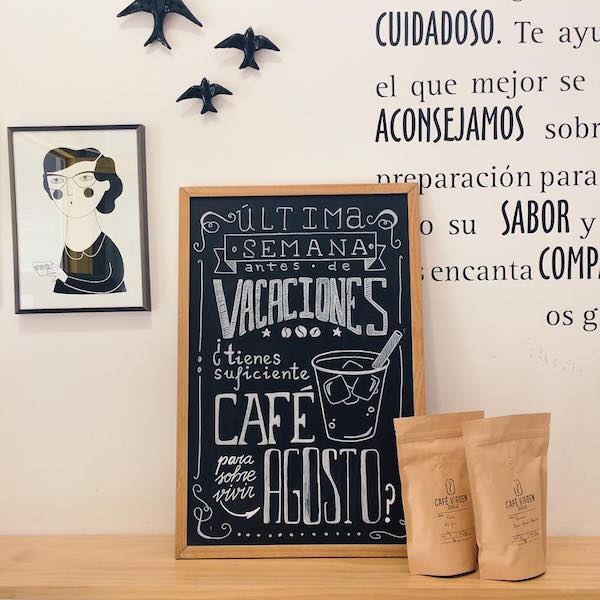 El Hombre Pez
El Hombre Pez is a microroastery and artisanal coffee store. While it's not a cafe in the sense that you can order your coffee and have it made there, it's still a worthwhile stop for coffee lovers visiting Seville. They roast their beans in small batches to ensure maximum quality before putting it out for sale in their lovely shop. Stop by and let any one of their staff coffee experts help you find a variety you'll love.
Address: Calle Alfonso XII, 23
Malaga
Is there anything better than enjoying a perfect cup of coffee in a Mediterranean metropolis? We think not! It's easy to see why Malaga is one of our favorite places to enjoy coffee in Spain. With a laid-back atmosphere and ubiquitous beachy breeze, there's practically no place we'd rather be! Here's where to get your coffee fix in the Costa del Sol capital.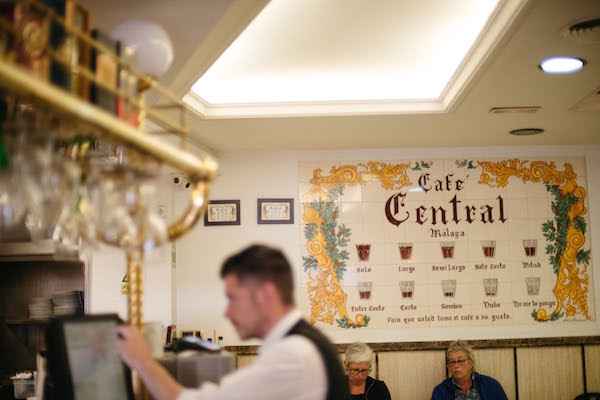 Café Central
Forget about Starbucks—in Malaga, it's all about Café Central! Their original menu, created in the 1950s, set the stage for the unique way of ordering coffee that is prevalent all over the city today. This legendary spot in the heart of Malaga's old town is constantly bustling with locals and visitors alike, all eager to experience a bit of the city's history.
Address: Plaza de la Constitución, 11
Mía Coffee Shop
A cute yet unassuming cafe in Malaga's historic center, Mía Coffee Shop goes practically unnoticed by tourists. Inside, you'll find yourself in a local, friendly and welcoming atmosphere as you sip on some of the best coffee in town. Owner Leo, whose dual Venezuelan and Spanish roots are evident in his signature roasting technique and who named the cafe after his wife, wants every customer to feel at home.
Address: Plaza de los Mártires Ciriaco y Paula, 4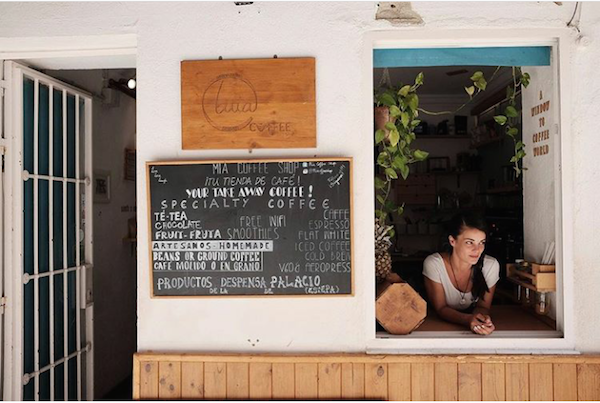 Tejeringo's Coffee
Treat yourself to the best churros in the city while you enjoy excellent coffee, too! Tejeringo's Coffee invites guests to sit back, relax, and step away from the hustle and bustle of modern life. Their commitment to enjoying delicious food and coffee, truly savoring every bite and sip, makes them one of our favorite cafes in Malaga. They offer a delicious variety of coffees, each with their own unique touch, so that there's truly something for everyone to enjoy.
Address: Calle Méndez Núñez, 6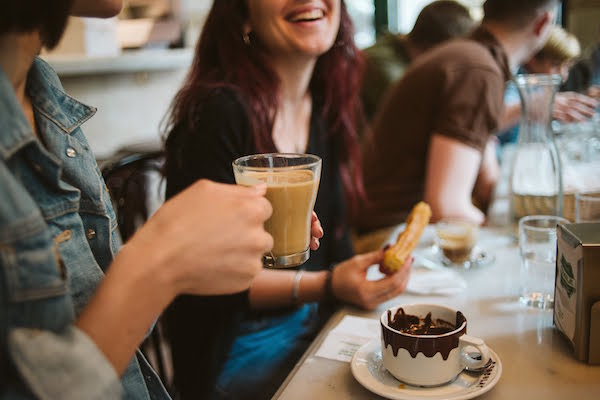 Granada
Nowhere in Spain does old meet new quite as flawlessly as in Granada. Evidence of the city's dramatic history can be seen in architecture and monuments, but a lively community of students and young people gives the city a breath of fresh air. Some of the best coffee in Spain can be found right here among an eclectic mix of old-time cafeterías and modern, trendy cafes.
Lemon Rock
As Granada's first luxury hostel, Lemon Rock has earned a reputation as an international gathering place. However, locals soon became aware of the hostel's fun and lively bar area and began to frequent it as well! They serve great coffee in a unique space that is actually several connected rooms, each with its own distinct feel. Stick around in the evenings for acoustic performances, tasting events and more!
Address: Calle Lavadero Tablas, 24-30
La Finca
It might be hard to find La Finca in Granada's neverending maze of alleyways, but this hidden cafe is a true gem. They roast their artisanal coffee in-house with specialty brewing equipment and give it such an incredible flavor that you won't even need to add sugar! In addition to serving excellent coffee, they also sell their delicious beans so you can take some home. They even host tasting events so you can learn even more about their products.
Address: Calle Colegio Catalino, 3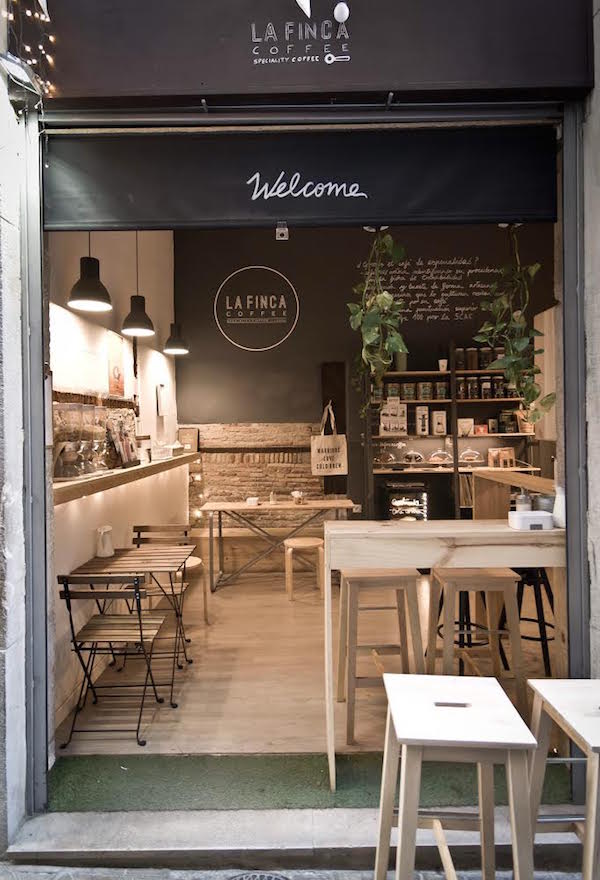 San Sebastian
It probably won't come as any surprise that sleek, chic San Sebastian knows how to serve a great cup of coffee. The up-and-coming specialty coffee scene in the posh Basque city gets more and more popular every day. These excellent cafes will give you the caffeine fix you need before exploring this jewel of a city on Spain's northern coast!
Old Town Coffee
Sustainable, healthy products are the name of the game at Old Town Coffee. Run by two friends—Brazilian surfers who brought their passion for serving excellent coffee all the way to San Sebastian—the laid-back vibe here will make everyone feel at home. The company started out as a small market stall in the Mercado de San Martín and grew so popular that they now operate their own cafe in the heart of the city. Locals and visitors alike flock here for their international coffee selection and organic, vegan and gluten-free treats.
Address: Reyes Católicos Kalea, 6
Sakona
One sip of Sakona's incredible specialty coffee, and you'll see why owner Javier has been crowned Spain's top barista a whopping five times! The small but dedicated team prides itself on serving only the finest coffee that they roast themselves in the quaint Basque town of Irun, on the French border. Their commitment to fresh, seasonal beans and artisanal roasting techniques truly sets them apart.
Address: Ramón María Lili Pasealekua, 2 bajo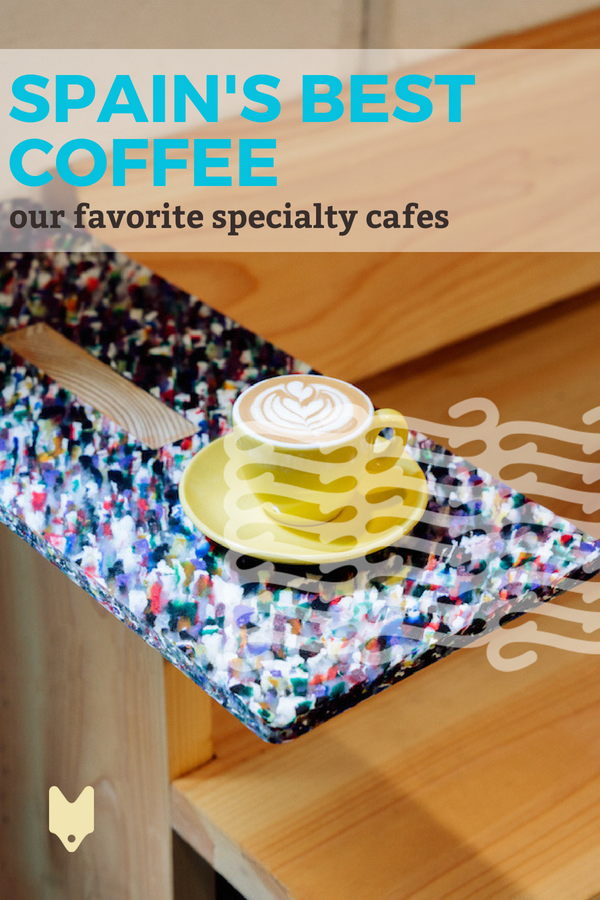 Photo Credit: Enric Bardinas for Nømad Coffee Lab, Text Overlay: Devour Madrid Food Tours