This blog post was originally posted on January 8, 2015 and was updated on January 25, 2021.
Come winter, calçots are the undisputed kings of Catalan cuisine.
The calçot, a cross between a spring onion and leek, is by and large one of the region's most beloved products. For more than a century, they've been an integral part of Catalan cuisine every winter.
Sweet, tender and absolutely delicious when dipped in romesco sauce, calçots in Barcelona are wildly popular—and so is the tradition that comes along with them.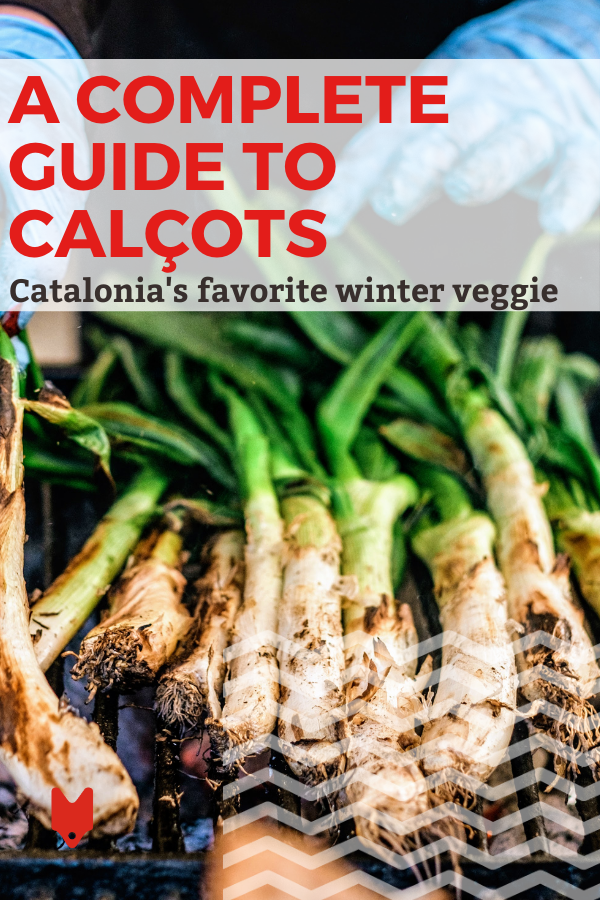 What are calçots?
Calçots are a relatively mild-flavored member of the onion family that are traditionally eaten grilled. Just peel off the outer layer of skin, dip the calçot into plenty of romesco sauce, eat, and repeat!
Though considered native to the area surrounding Tarragona (and enjoyed throughout all of Catalonia today), calçots come into season around November and are available until April or so. They've become such a beloved staple of local cuisine that they've earned a Protected Geographic Indication label from the European Union!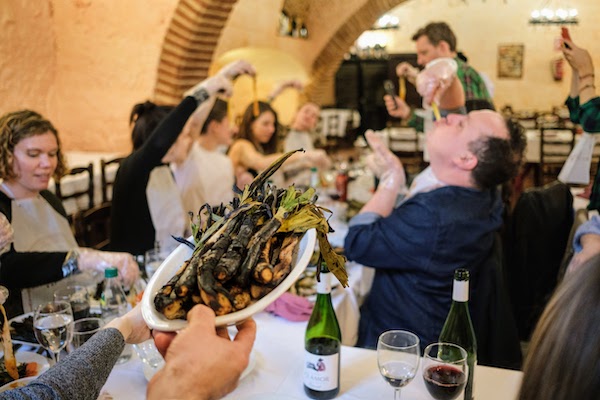 The calçotada
Roughly between the months of December and March, when the calçot is in season, people throughout Catalonia head out to the countryside to enjoy the calçotada.
A calçotada is a winter barbecue where the calçots are packed tight on a grill, charred to perfection, and then dipped in that rich and nutty romesco sauce (but as we said, be sure to remove the charred outer layer first!).
But the feast doesn't end there. After piles upon piles of these guys come all types of grilled meats—like botifarra, the traditional Catalan sausage, lamb, rabbit, and more. These are all delicious when dipped in romesco sauce as well. And of course, it's all washed down with plenty of local wine.
If you're looking to try calçots in Barcelona, you can't miss the opportunity to take a day trip to a nearby town for an authentic calçotada. So come with a good appetite, tie a bib around your neck and go to town with the calçots. It's a messy but worthwhile experience—they only come once a year, after all!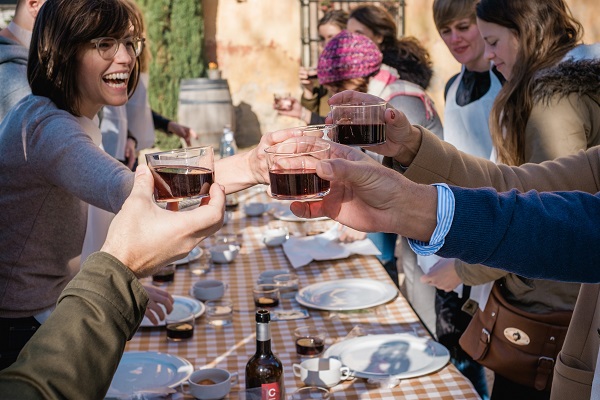 Calçots in Barcelona and beyond: A brief history
So where do the calçot and the calçotada come from?
If you zoom in on a map, about 100 kilometers west of Barcelona, you'll find a small town called Valls in the province of Tarragona. It was here, in this lost little town, that the calçot was born.
During the late 19th century, a village farmer in Valls decided to try an experiment by planting white onion bulbs in trenches as usual, but then increasing the depth of the soil as they grew. The result was the mild, sweet, and incredibly delicious calçot. The Catalan verb calçar, which literally means "to put on footwear," became associated with this unique method of growing these onions by adding more soil to the base, and that's how they got their name.
From that point on, the people of Valls started to host calçotades, or essentially calçot-eating parties, for holidays and special family meals as a way to enjoy this local product with friends and family. However, little by little, word spread.
Today, they've become a popular tradition all around Catalonia. You can even enjoy calçotades in the city of Barcelona (more on that in a bit)!
Where can I find calçots in Barcelona?
If you want to try calçots in Barcelona province, you have two options: the city center or the countryside.
Many would argue that in order to authentically experience the calçot, you have to go outside Barcelona for a day trip. Masias, or Catalan countryside houses or farms, are where you will find the rustic atmosphere traditionally associated with calçots. Here are a few of our favorites near Barcelona.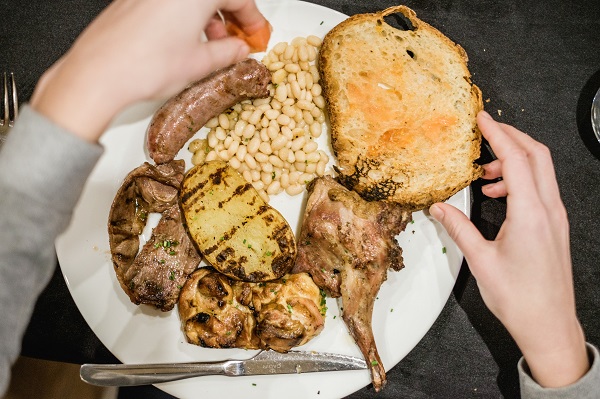 Don't have a whole morning to spare? There are plenty of places to eat calçots in Barcelona, and you don't even have to leave the city center.
Barcelona is home to a number of restaurants that specialize in calçots. If you can't make it out to the countryside, let them bring this seasonal delicacy to you.