The UK has more than 60,000 pubs, and with London being home to almost 4,000 of them, it can be tough to know where to grab a drink. Here at Devour Tours, we don't just focus on food. We also love to know where to find a great pint, especially here in London where it can feel like there's a pub on every corner. But it's always a bonus when the pub does good grub, though!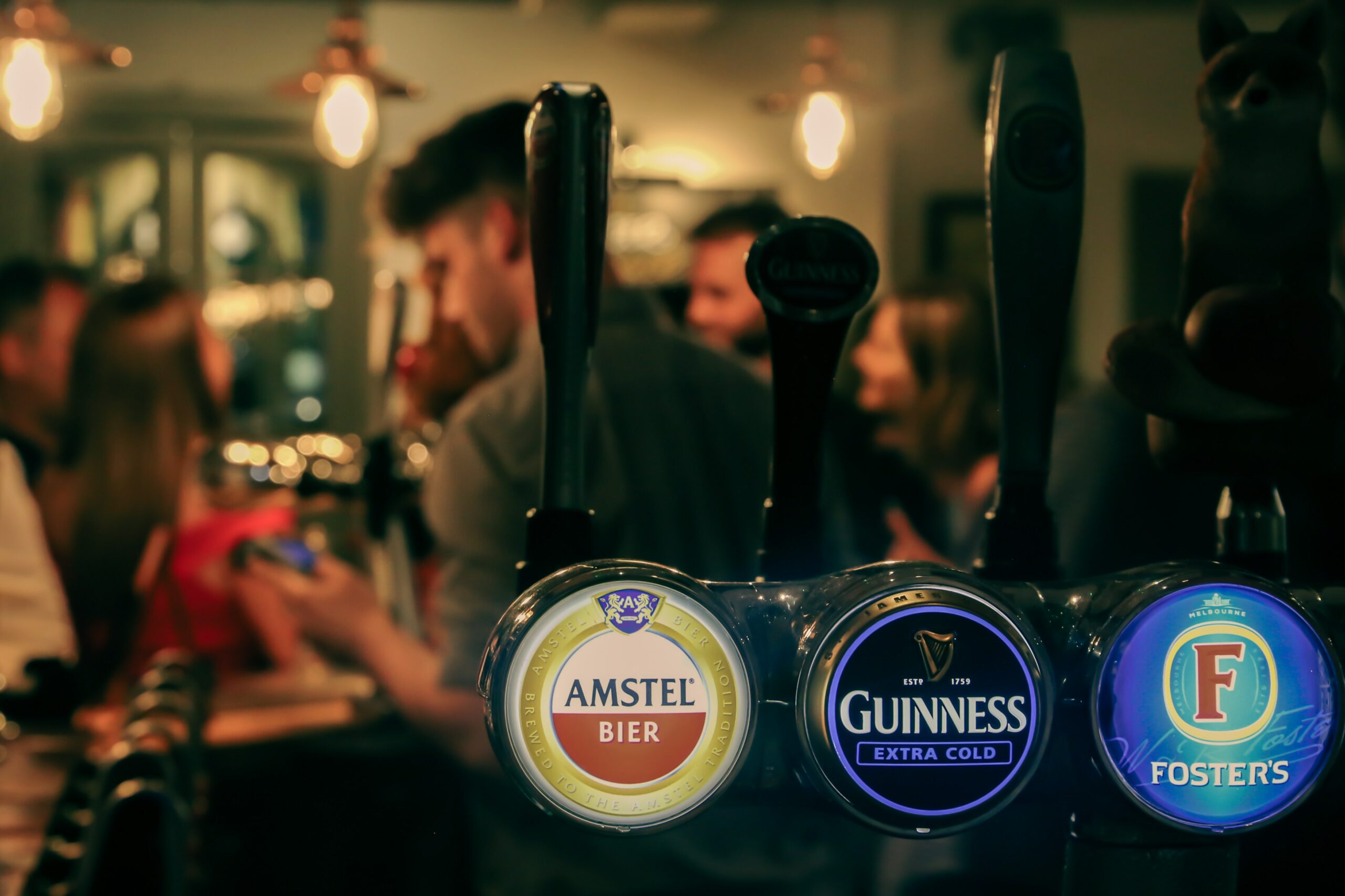 Howl at the Moon – Shoreditch
Shoreditch: home of the hipster! There are so many watering holes in the area, but if you're looking for a "pub that doesn't take itself too seriously, doing mega booze seriously well," then pop Howl at the Moon top of your list.
The beer on tap supports a lot of London's incredible breweries, including Hackney Brewery, Pressure Drop and Redchurch, so you will have plenty of choice. If beer isn't your vibe then they also have a great wine and cocktail list to suit all tastes.
Food is supplied by Fatso's Kitchen and the Sunday roast is well worth booking a table for as it does get busy.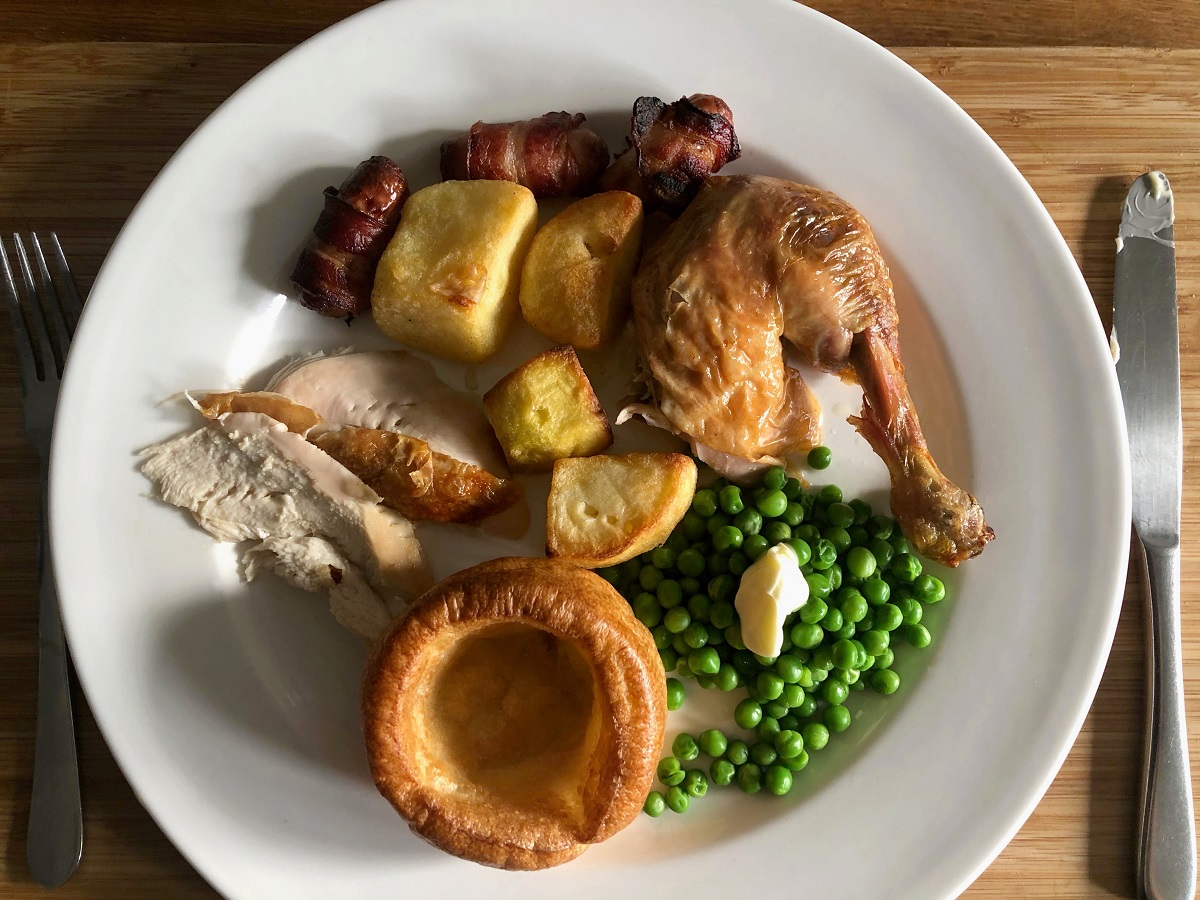 The Cross Keys – Chelsea
Pubs in Chelsea are known for posh grub and decent pints, and this is most certainly the case for The Cross Keys. Having been around since 1708, it almost faced closure due to regeneration in the area, squatters moving in to protest and a refurbishment.
The Cross Keys now offers proper British grub with menus that emphasize their "field to fork" concept and ingredients that have been responsibly sourced. The beers are all Cask Marque-accredited real ales so you're guaranteed a good pint and a great, airy decor with lush exposed brickwork.
The Ten Bells – Spitalfields
We can hardly talk about London pubs without mentioning The Ten Bells! Having opened its doors back in 1666, it's filled to the brim with history, a top-quality selection of beers, a rather extensive wine list, a seriously good cocktail menu, and stories of how Jack the Ripper and the Krays have drunk in this very establishment.
This Grade II-listed building welcomes you with open arms into a whole lot of atmosphere in the form of a bustling bar that's filled at all hours, but don't let that put you off; this slice of London history is a must for any tourist or local alike.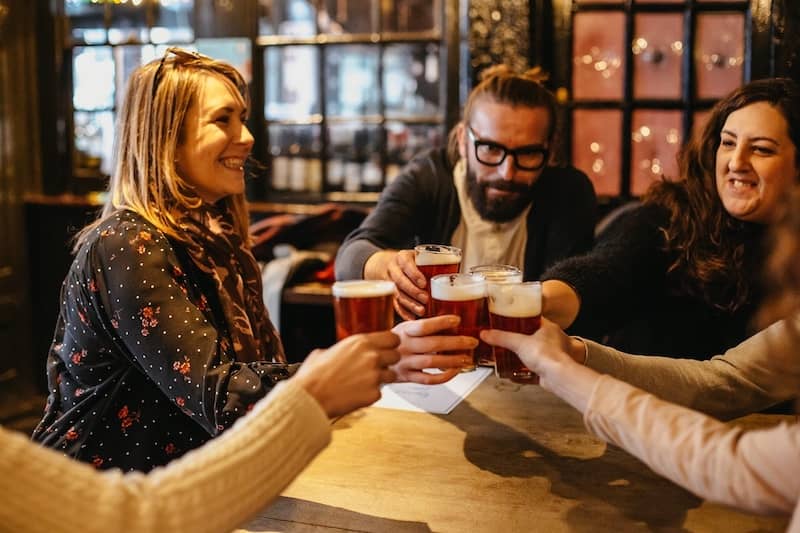 Guinea Grill – Mayfair
If you want to marry top-end cuisine with some of the best poured Guinness you will find this side of the Irish Sea, then it's worth popping into Guinea Grill in Mayfair. 
It is already significant for being on the small list of pubs that survived the Great Fire of London, with its origin story starting in 1423. Although it wears its history well, Guinea Gril is also able to transmit that priceless feeling of being a traditional local boozer rather than just being a relic of the past.  
Nowadays it's known for 2 things in particular, steak and Guinness with 3 taps of the black stuff on the go. The steak tradition goes back to it setting out its stall as a beacon for great steak after rationing stopped in the 1950s, catching on with Americans who travelled across the pond. In fact, many are surprised that there is a high-end restaurant nestled into the back of this traditional boozer. 
The mission is clear when visiting this place. Come for the booze and stay for the food.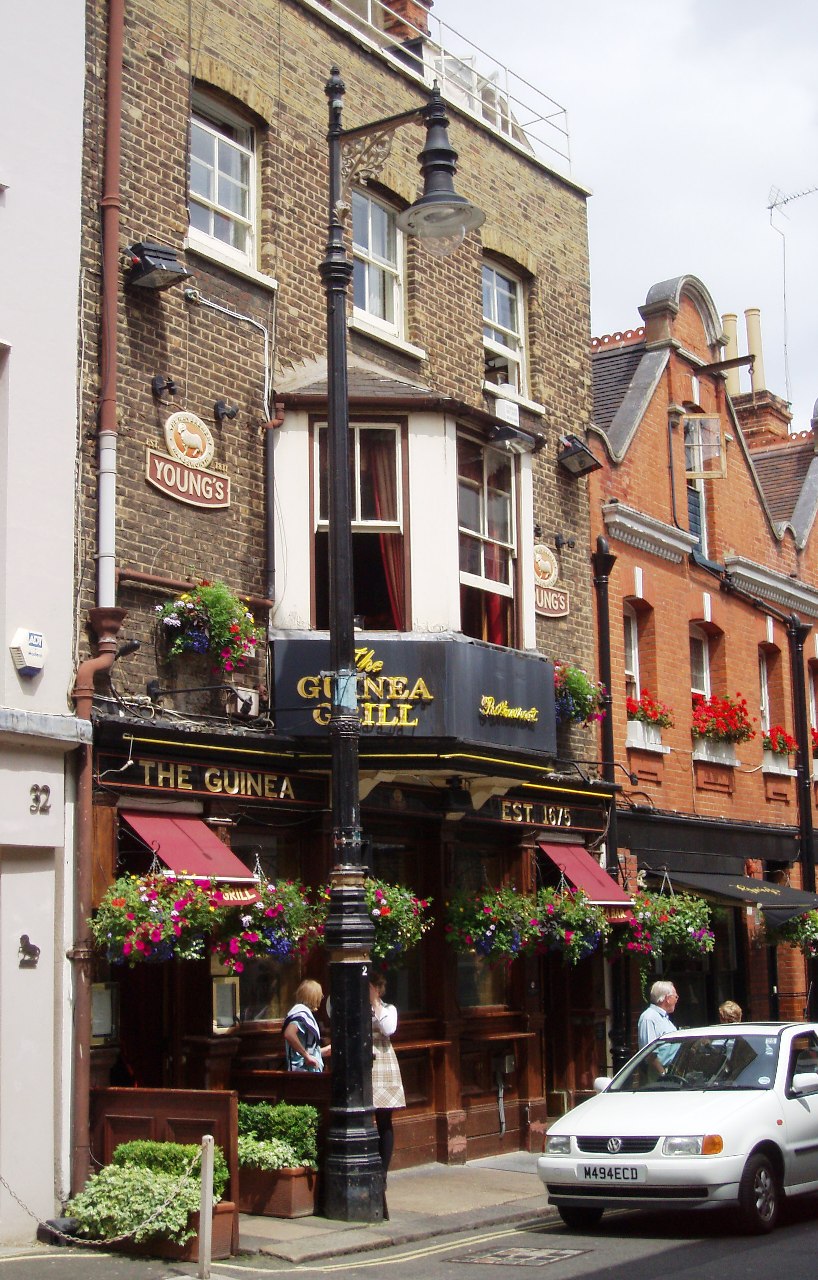 Crown and Anchor – Brixton
Brixton is currently going from strength to strength with new bars, foodie joints and entertainment opening every week, but as you hop by these new establishments, make sure you set some time aside to grab a pint in the Crown and Anchor.
With no fewer than 25 beers on tap, you are spoiled for choice and won't want to leave, so settle down and make yourself at home! Should you get hungry, the open kitchen allows you to see their chefs hard at work whilst they rustle up some great pub classics.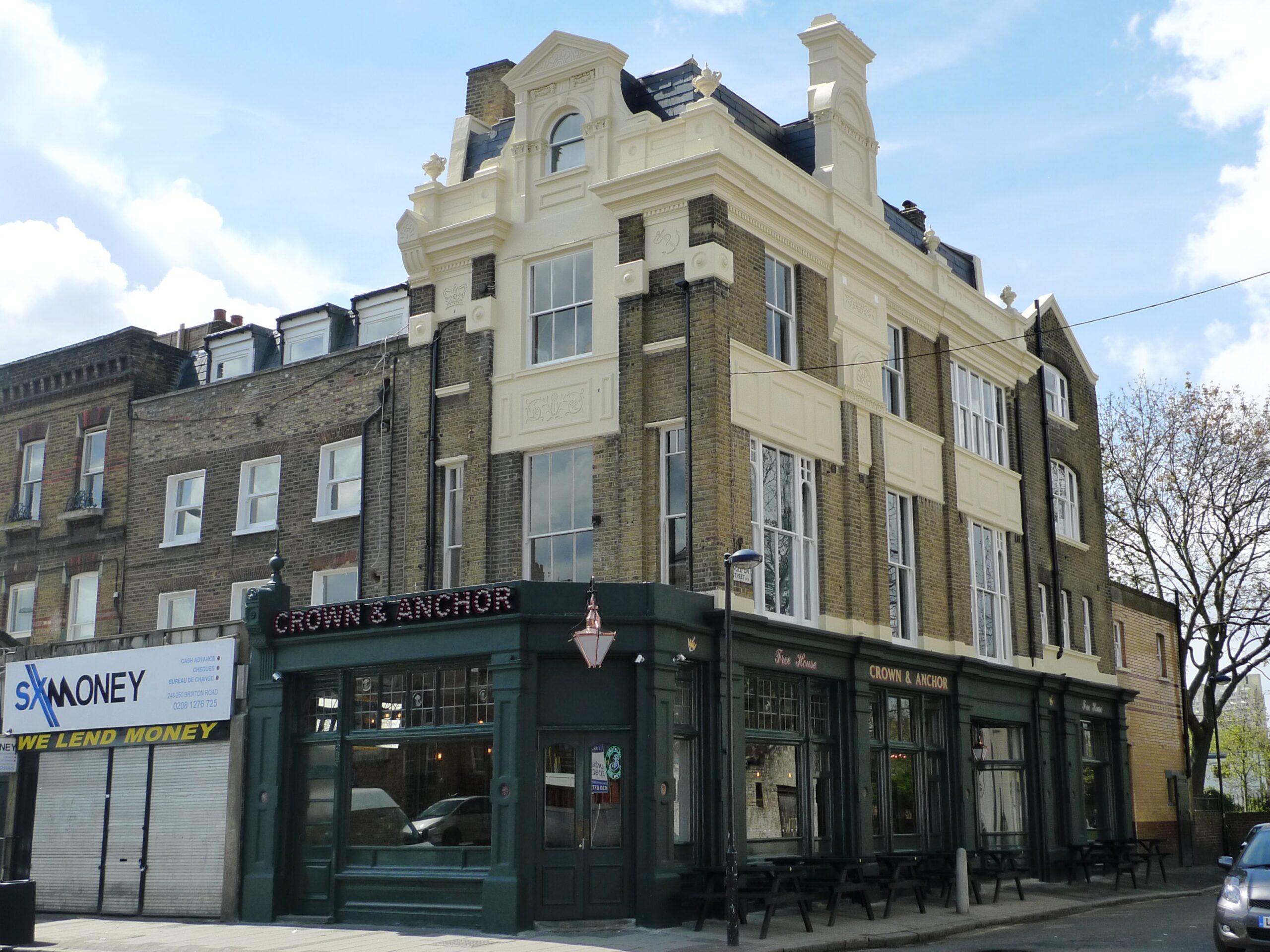 The World's End – Camden
Stepping out of Camden Town station, the first thing you will spot is The World's End and we highly recommend that you stop by and grab a pint. You won't regret it when you set eyes on the quirky decor of a fake London street complete with little shops that has you feeling like you're very much outside. The selection of beers on tap will suit every taste, too.
If haunted pubs are your thing, then you will want to relish in the ghouly history that surrounds The World's End. There have been plenty of ghost sightings as there's been a tavern on this site from 1690 and some past tenants have refused to move on!
Check out their underground gig venue, The Underworld, for a great gig too.
The French House – Soho
If something a little different is something that takes your fancy, then The French House on Dean Street will tick all of your boxes. Soho's best-known pub adheres to its no music, no machines, no television and no mobile phones rule at all times, but this is part of the reasoning that it's become home to many of London's well-known writers, artists and actors.
Another little difference with French House is that they serve more than 30 Champagnes and wines by the glass, and are a lot less focused on the beer. There's also a restaurant upstairs that's open midweek for a few hours at a time.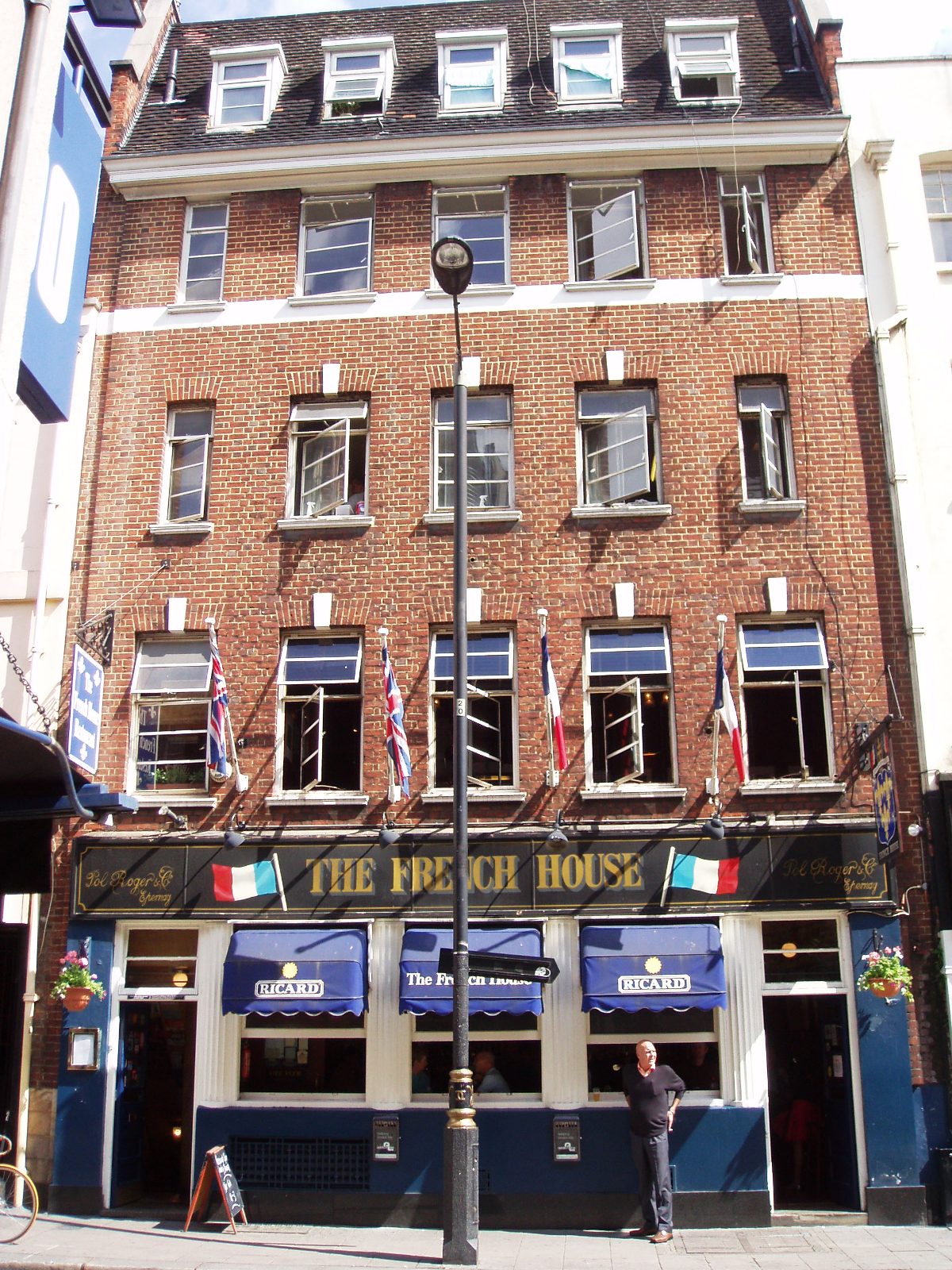 The Harp – Covent Garden
Holding the titles of "Evening Standard's Best Pub" from 2019 and CAMRA's "National Pub of the Year 2010, " along with having won the local CAMRA branch's Pub of the Year in every even-numbered year since this Covent Garden establishment is very highly thought of. There are, on average, 20 beers on rotation, so this is quite a haven for real ale fans. 
The pub itself, flower-adorned, is a rather narrow building whose steep flight of stairs takes you up to the toilets. The decor within is just as you would imagine a London pub: wooden-paneled walls, plenty of paintings and even a stunning stained-glass window that allows the sunlight to flood in.
Rumor has it that it's quite a difficult pub to leave!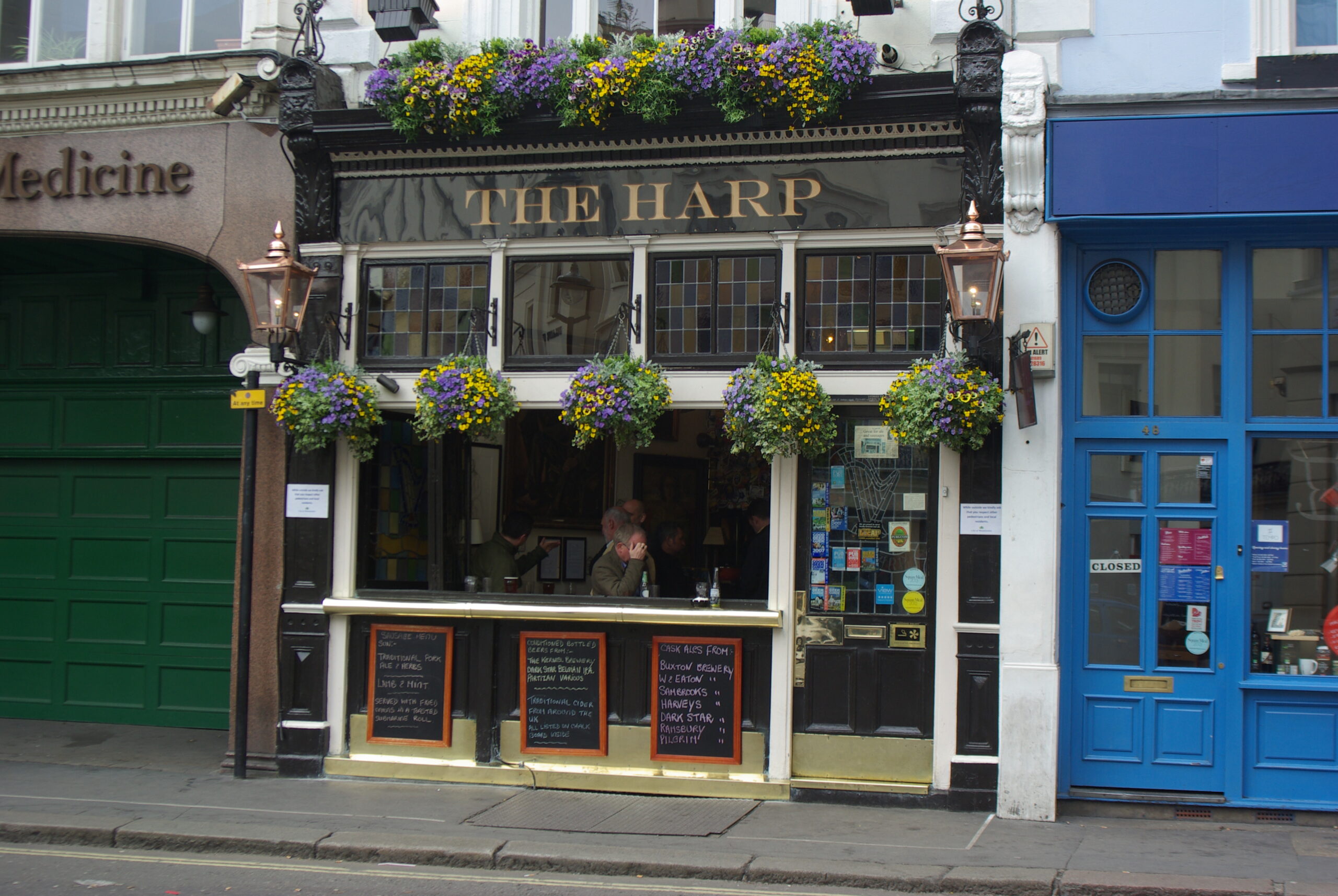 The Scottish Stores – Kings Cross
Situated on the world famous Caledonian Road, The Scottish Stores may be small, but it's a very traditional boozer. Despite being a fairly recent reopening with a rather gritty past, this pub's wood-paneled walls and dazzling selection of beers on tap will make you happy you hustled your way to the bar.
There are around 30 beers on tap at all times, and with tap takeovers happening too, you know you'll find something you like. If not, there are many more on offer in the fridge as well, so you really are spoiled for choice. There's no food on offer (with the size of the pub, this is hardly surprising), but with the incredible beer offering you will want to get comfy, for sure.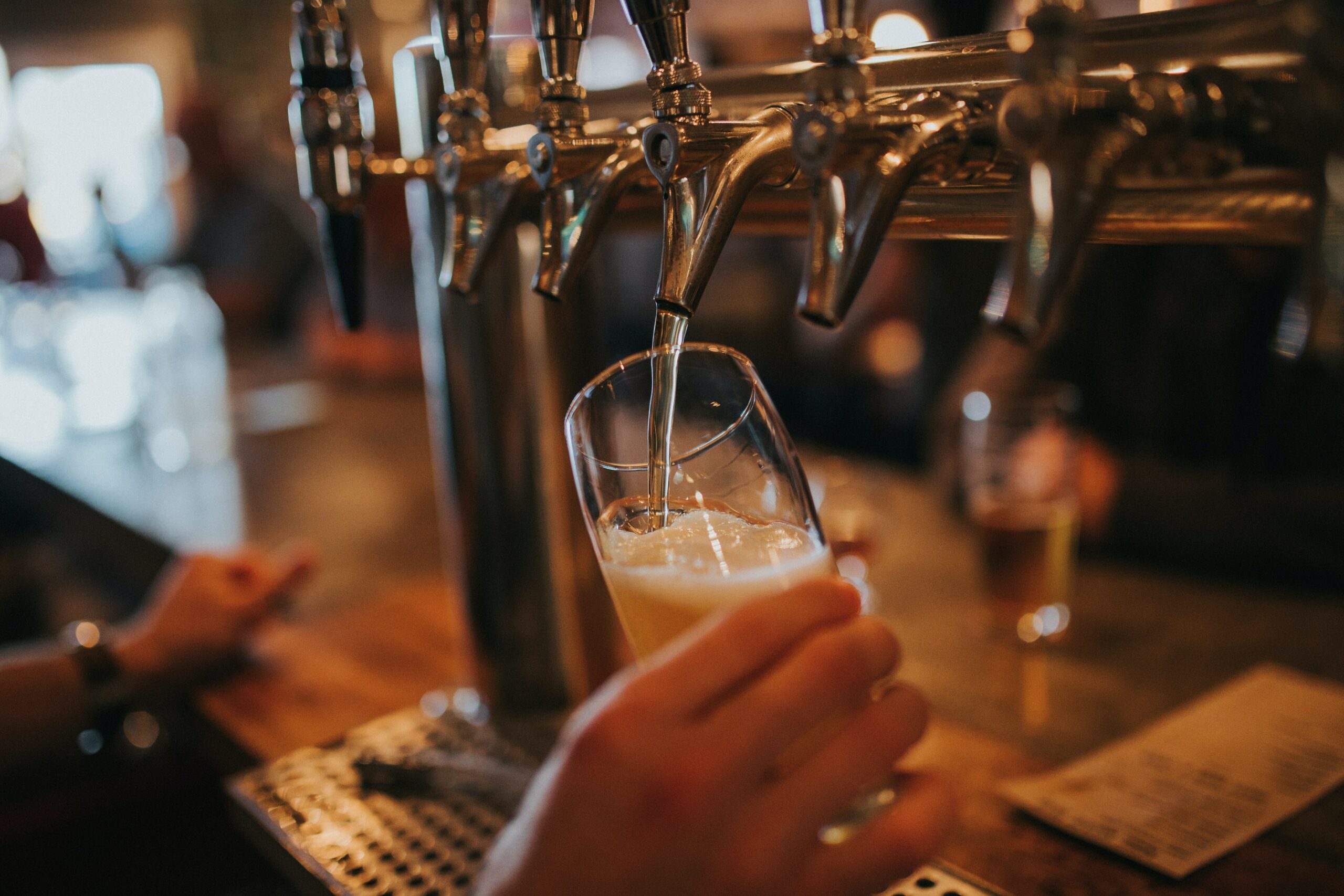 Pelton Arms – Greenwich
If you're into the live music of the film scene, then the Pelton Arms is a stop for you as Frank Sinatra, Tony Curtis and Kirk Douglas all popped in for a cheeky pint whilst filming for "The List of Adrian Messenger."
The Pelton Arms offers live music, a resident cat, wonderful staff and a beer garden that will leave most pubs in London green with envy. Being off the tourist trail, this pub will be filled with locals that keep returning, which says a lot about just how great it is.
Update notice: This article was updated on August 22, 2023. 
Discover the stories, characters, and beers behind London's most historic pubs on our fascinating Food Tour of London's Historic Pubs! From traditional taverns to former haunts of famous authors, you'll discover that the history of this lively capital lies as much in its pubs as it does in its legendary landmarks.