This post is part of our Behind the Bite series: deep dives into the dishes that we can't stop thinking about.
Portuguese stew is much more than meat and potatoes. Learn why it's a staple of the country's cuisine, and where to get the best cozido in Lisbon.
There's something about stew that never ceases to surprise me. First of all, consider the name: it simply does not sound appetizing. Ordinarily, I would never choose "stew" from a menu—why order something I could put together in one pot? 
But despite all my soup-based biases, I can't deny that the stuff is delicious. And when it comes to the world of stews, Portuguese cozido is in a league of its own.
So what makes Portuguese stew so special? What does this iconic yet underappreciated dish have to offer? Why should you try it, and most importantly, where? If these are the questions that keep you up at night, you're in the right place. Read on to learn everything there is to know about this classic Portuguese dish—and where to find the best cozido in Lisbon!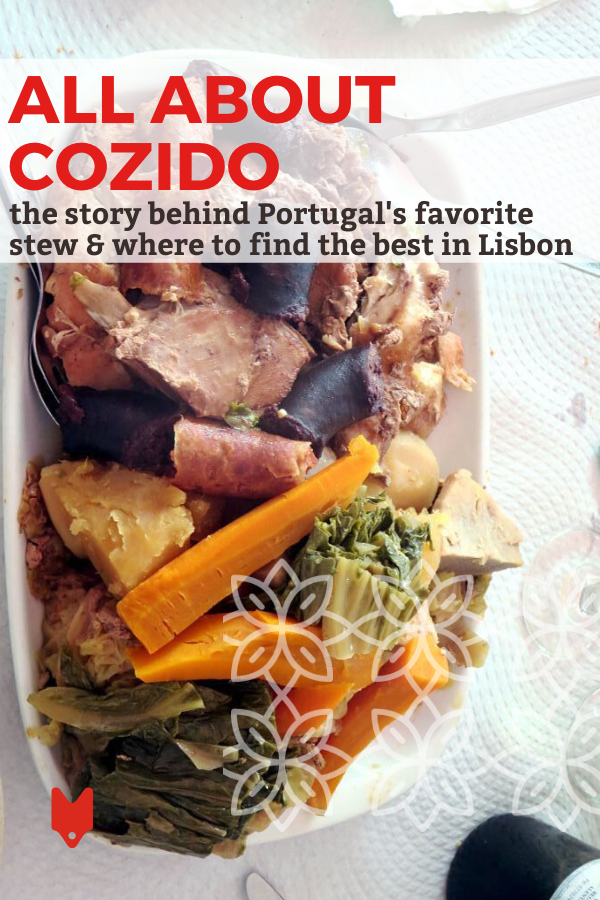 Photo Credit: David Stanley, Text Overlay: Devour Lisbon Food Tours
Portuguese Stew: An Origin Story
Let's start at the beginning: what exactly does cozido mean? The word itself refers to a culinary technique. Just as "stew" can be either a verb (the action of cooking something slowly) or a noun (the result of said cooking process), cozido has multiple meanings.
As an adjective, cozido literally translates to "cooked" or "boiled." As a noun, it refers to a combination of ingredients that have been cooked slowly over low heat. This process allows the flavors of each element to meld, and their textures to soften. Meat becomes tender and succulent; veggies turn into the most appealing kind of mush.
Portuguese stew is a hearty, rich and filling feast that's guaranteed to satisfy even the hungriest diner. While lighter soups like caldo verde are a year-round staple on Portugal's tables, cozido is more commonly eaten in the winter, to warm you up from within. At O Policía in Lisbon, "it's on the menu from the beginning of October to April, but if we had it in summer it would still sell," according to Cristina Miranda, one of the family-run restaurant's owners.
The King of All Cozido
There are many variations of Portuguese stew, but the gold standard is the aptly named cozido à portuguesa. It's a combination of several different kinds of meat and vegetables, stewed together and served with rice. Its preparation is fairly simple: throw everything you have into a pot and let it simmer. In fact, it was most likely invented by poor Portuguese farmers who did exactly that.
The first written recipe for cozido à portuguesa can be found in the book Arte de Cozinha by Domingos Rodrigues, originally published in 1680. Since then, it has become a symbol of national identity. Despite the fact that it's not the most visually pleasing of dishes, eventually it achieved celebratory status; these days, it's often made for special occasions.
According to Maura Rolo, an expert on local cuisine and co-owner of 33 Hostel, "Cozido à portuguesa is a true feast of ingredients and flavors. It's one of the country's most typical and beloved dishes, and a real family meal."
Sound familiar? Cozido à portuguesa is similar in many ways to the legendary cocido madrileño that you'll find in Madrid!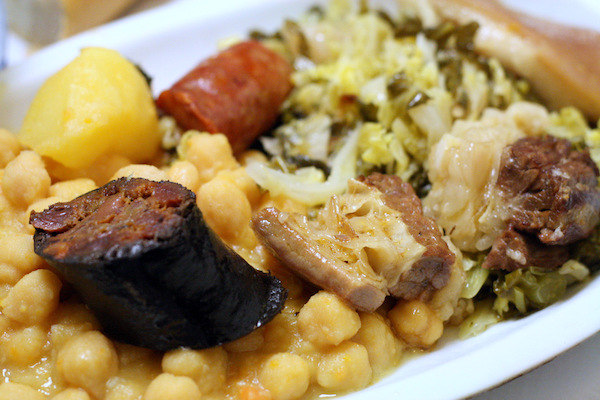 Anatomy of a Portuguese Stew: What's in There?
While the preparation of cozido may be simple, its ingredients list is long. Technically, any combination of slow-cooked delicacies can be called a stew, but let's focus on the most iconic kind. Cozido à portuguesa consists of three different categories: meat, vegetables and accompaniments.
When I say meat, I mean every kind of animal product imaginable. Pork ribs, bacon, chicken, beef, various types of sausage, pig ears and trotters…even straight-up pork fat. As Maura puts it, "Some people like to add chicken or beans, but no one leaves out the delicious flavors of sausages like chouriço, linguiça, alheira or farinheira." Trust me: it's worth it to sample a bit of each meat, no matter how weird it might sound (or look, for that matter)!
While many might say that meat's the main attraction, my favorite part of cozido à portuguesa is the vegetables. Usually, you'll find some combination of cabbage, potatoes, sweet potatoes, yams, carrots, beans and leafy greens. But this stuff is far from vegetarian; it's all cooked together with the meat, suffusing it with a rich, salty and totally irresistible flavor.
Finally, you'll need some simple carbs to soak up all that stew. Cozido usually comes with rice, and I highly recommend asking for bread as well. Dip it directly into the broth, and use it to clean your plate till it shines. I know I said the veggies are the best part, but if you add broth-soaked bread into the equation, it's impossible to pick a favorite.
Want to try preparing cozido for yourself? Check out this recipe to make it at home!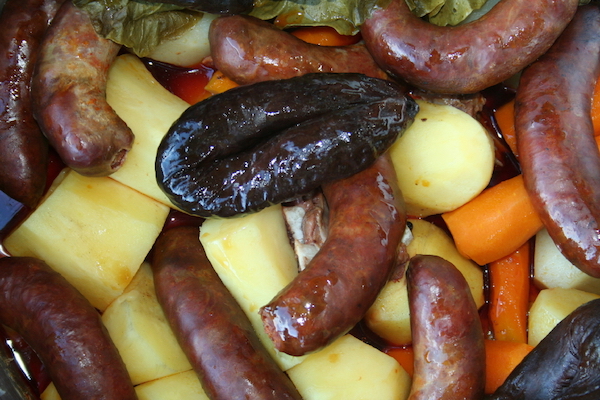 Cozido das Furnas: An Azorean Tradition
The first time I tried authentic Portuguese cozido was on the island of São Miguel in the Azores. Near the island's southeast coast, there's a town called Furnas that's famous for its unique version of cozido. Here the dish is prepared underground, and cooked entirely by the volcanic steam of natural hot springs.
Preparing a meal underground is no novel concept. In fact, it reminds me of similar techniques that I've witnessed thousands of miles away, like curanto in Chiloé and cochinita pibil in Yucatán. But what makes Cozido das Furnas truly unique is how it utilizes nothing but natural heat and the liquids of the ingredients themselves—no additives necessary.
There's a particular area in Furnas reserved for the local restaurants to prepare their cozido. You can walk around and examine the small mounds of dirt where the goods are buried, waiting to be dug up and devoured after several hours. The whole place smells like sulfur, and there are literally boiling hot springs all around you. It's an atmosphere unlike any other, and the perfect place to pass the time while you wait for lunch to be served.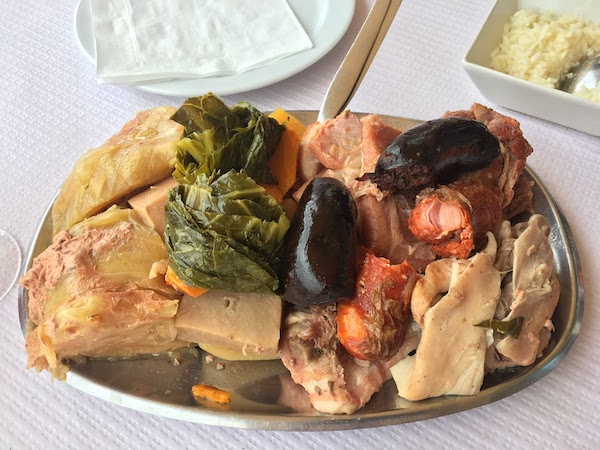 Where to Find the Best Cozido in Lisbon
Maybe you can't make it all the way to São Miguel, but you still want to experience some authentic Portuguese stew. There are plenty of places to try it in the capital, whether you're looking for a basic version or something more unique.
The first thing to know is that cozido is typically eaten for lunch, and is often featured as a dish of the day. This makes it a bit harder to pin down, so keep your eyes peeled for the telltale handwritten menus of Lisbon's traditional tascas. One place that's known to serve it, usually on Thursdays, is A Merendinha do Arco in Baixa—and for under €8 per person!
If you're looking for the most Portuguese buffet imaginable, head to O Padeiro. Located right by the Gulbenkian Museum, this place offers all-you-can-eat cozido for €12.50 every Friday, Sunday and public holiday. The price includes drinks, coffee and dessert…if you can manage to save any room.
Unique Takes on Portuguese Stew in Lisbon
In case you're still thinking about Cozido das Furnas, rest assured that you can have something similar to the real thing right here in Lisbon. At Espaço Açores, they prepare their own version every Friday and Sunday for lunch. It may be missing the key element of volcanic steam, but this is as close as you'll get without buying a plane ticket.
While cozido is arguably best enjoyed at a no-frills neighborhood place—or, if you're lucky, at someone's grandmother's house—a few fancier spots also make a mean version. The prestigious Olivier Avenida restaurant serves Portuguese stew every Friday afternoon, putting a signature touch on tradition. It has all the classic elements, plus additions like pumpkin, green peas and a side of rice and beans with bits of chouriço. Hope you're hungry!
Melissa first moved to Madrid to explore her interests in linguistics and communication, and quickly fell in love with the city's culture and cuisine. She's particularly passionate about Spanish vermouth and canned seafood, and makes it a point to drench absolutely everything in olive oil.