Eggs are not a breakfast food.
At least not in Madrid. Order a plate of eggs for breakfast here and you're likely to get some strange looks! That's because eggs have traditionally been served only at lunch at dinner, alongside other savory tapas dishes.
Some egg dishes, like the famous tortilla de patatas are more well known. But others are criminally overlooked. Huevos rotos falls into the second category.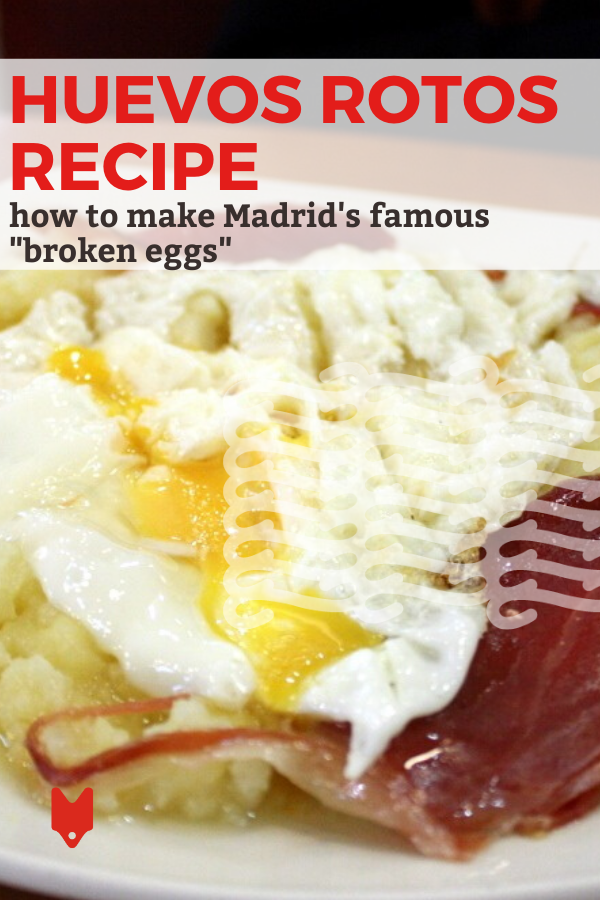 Photo Credit: Krista, Text Overlay: Devour Madrid Food Tours
Broken Eggs: A Dish For Every Mood!
This dish of "broken eggs" is one of Madrid's simplest tapas menu items. And it's also one of the most popular! It's surprisingly similar to the classic Spanish tortilla, made principally with eggs and potato. Together with the Spanish potato omelet, it's one of the most typical foods in Madrid.
The secret to these eggs, though, is to get the yolks just right. You fry the eggs gently in olive oil so that the whites are set but the yolks are golden and runny. When the egg is split, the ribbons of yellow yolk spill over a nest of homemade French fries! The pattern is so iconic that the dish is sometimes called huevos estrellados (starry eggs).
Aside from the potato base, there are more toppings for huevos rotos than you can shake a fork at! Classic tavern options are traditional sausages like chorizo or morcilla, or just simple jamón ibérico. For veggie versions, you can also get it with grilled green peppers.
And the best part? It's super easy to prepare at home!
Get our classic Madrid huevos rotos recipe below, and feel free to experiment with your own favorite toppings.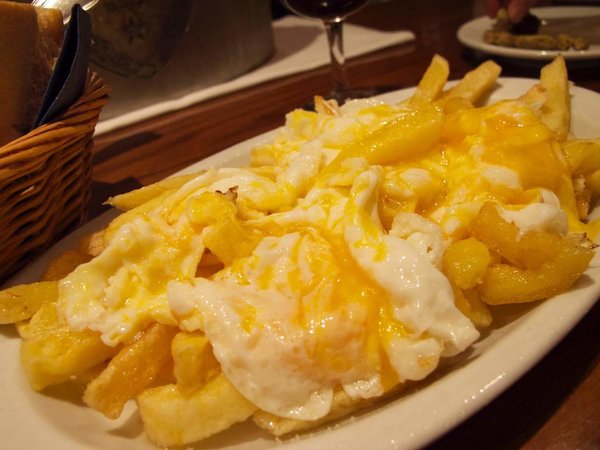 Classic Huevos Rotos Recipe
Recipe Type: Main
Cuisine: Madrileño
Prep time: 10 mins
Cook time: 20 mins
Total time: 30 mins
Serves: 2
Ingredients
2 Yukon Gold potatoes
½ cup + 2 tablespoons extra virgin olive oil, separated
2 large eggs
2 teaspoons smoked paprika
Salt, to season
Instructions
Slice the potatoes into ovals, ¼-inch wide. Cut each oval into thin French fry batons (about 4–5 fries per oval).
Place a medium frying pan over a medium-high heat and add ½ cup of olive oil. Once the oil is shimmering, but not smoking, add the French fries and season with a generous pinch of salt. Fry for 5–7 minutes or until golden brown, making sure to turn the fries to cook evenly. Drain the pan (reserving oil for later use if you want) and set aside the fries on a paper towel to dry and cool. Transfer to a plate when ready.
Put the pan back on the heat and add the 2 tablespoons of olive oil. When shimmering, crack the eggs into the pan and cook until the whites are set. Before the yolks cook, remove from the pan and place on top of the fries.
Dust the eggs with smoked paprika and season again with salt.