Spain might be a traditional country when it comes to food, but in Seville we have some creative, gourmet offerings that aren't to be missed during your visit to the city!
Seville's tapas scene has had a revolution in recent years. While traditional tapas (and historic bars to try them!) are still found all across the city, the gourmet tapas scene has grown immensely, with a whole range of interesting and exciting tapas to be found across the city.
From tapas inspired by international cuisine to tapas using foreign ingredients, or simply traditional tapas and ingredients done and used in new and inventive ways, here are our top 10 gourmet tapas in Seville.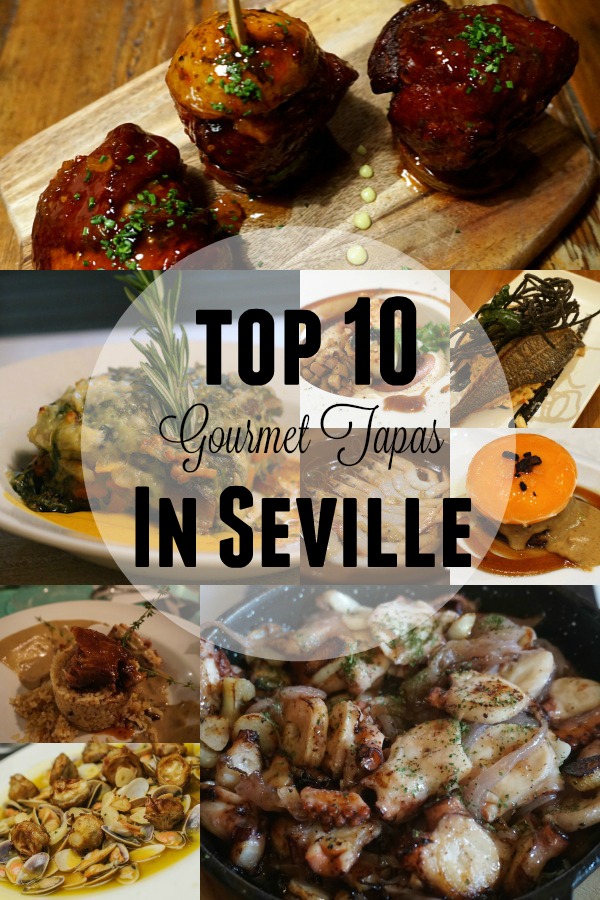 [mv_video key="elelkuzljmrx3oiv2tkp" title="Where to Eat Tapas in Seville: Traditional and Modern!" thumbnail="https://mediavine-res.cloudinary.com/v1602589011/kzwhlfxaz3lodhaixxz8.jpg" volume="70″ doNotOptimizePlacement="false" doNotAutoplayNorOptimizePlacement="false" ratio="" jsonLd=true]
1. Parmesan, truffle & zucchini risotto
What is it: Step aside, paella. If there's one rice dish you can't leave Seville without trying, it's the parmesan, truffle and zucchini risotto. The flavors combine divinely, creating sensations that practically melt in your mouth. It's rich, creamy, and so good you'll want to order another.
Where to find it: This delicious bite is the star of the show at La Chunga.
2. Salmon Tataki
What is it: This salmon has been lightly seared on the outside, leaving the inside raw, juicy and flavorsome. It is finished off with an interesting beetroot sauce.
Where to find it: This tapa is one of the delicious offerings at La Bartola (Calle San Jose, 24), one of Seville's newer modern tapas bars, which is located at the back of the historic Santa Cruz neighborhood.
Local tip: It is quite small inside and very popular – turn up early!
3. Dorada with Creamy Rice
What is it: Dorada (bream) is a delicious white fish, and it is served on a bed of creamy rice with fish roe. There is something about the flavor of this dish that is just so good!
Where to find it: One of Seville's more upmarket offerings that has a relaxed, hip vibe is Petite Comite (Calle Dos de Mayo, 30), in the Arenal neighborhood.
Local tip: Make a booking! There are plenty of tables but no bar space, and this place is popular, especially on weekends!
4. Vegetable Lasagna
What is it: Who knew that Spain, the land of pork and seafood, had such good vegetarian offerings? This is a delcious vegetarian lasagna, made with no pasta, but layers of vegetables and béchamel sauce and not only is one of our favorite tapas, but definitely our favorite meat-free tapa in Seville!
Where to find it: This is on the menu at one of our favorite spots for modern tapas, Mechela Restaurante (Calle Bailén, 34). This gorgeous little place is hidden in the backstreets behind the Fine Arts Museum and is not to be missed in Seville!
Local tip: There are limited tables which can be reserved, otherwise, there is space at the bar. If you turn up around 10pm as the second sitting of reservations moves to their table, you should be able to find space at the bar!
5. Slow Poached Egg on Boletus Cake
What is it: This is an award-winning tapa which is made from a biscuit of dehydrated boletus mushroom, with a slow poached egg on top, and finished off with a wine reduction caramel sauce. It has to be eaten to be believed!
Where to find it: Eslava (Calle Eslava, 3) is one of the original "gastro-bars" in Seville and remains a local instituion to this day. The menu has a range of tapas from typical tapas done in a modern way, to creative offerings such as above.
Local tip: There is always a crowd! If there's space, squeeze in with the locals at the bar, otherwise just grab a drink, linger out the front, and don't forget to put your name on the waiting list for a table. It's worth it!
6. Gambas al Ajillo
What is it: Gambas al ajillo (garlic prawns) are prawns cooked in garlic, a little bit of chili and piping hot olive oil, and this is a typical dish that you try all over Spain. However, we love when classics are taken and cooked (and presented!) in their own beautiful way, and this is one of the best modern versions of this well-loved classic made from delicious, fresh prawns.
Where to find it: These prawns are found at none other than La Pepona (Calle Javier Lasso de la Vega, 1), a wonderful modern tapas restaurant right in the centre of town, that offers a wonderful and ever changing menu – experimentation is the name of the game here!
Local tip: There is limited bar space and tapas are only able to be ordered at the bar. If you sit at the table you are obliged to order raciones (large plates) which are designed for sharing. Also, don't forget to check the wine list! There are more than 80 types of wine that can be ordered by the half glass – luckily, the waiters are very helpful when it comes to recommendations and wine pairing!
7. Fried Octopus
What is it: We love anything to do with octopus, and this octopus fried with garlic and onion then served in a pan is a delicious way to enjoy it. It's perhaps our favorite versions of octopus in Seville!
Where to find it: This is found at another one of the grandfathers of the modern tapas scene, Vinería San Telmo (Paseo Catalina de Ribera, 4), a great tapas restaurant at the back of the Santa Cruz neighborhood.
Local tip: This place gets busy and doesn't have bar space to linger, so it's worth making a booking. The outdoor terrace is a wonderful place to enjoy a meal with friends, it's covered and has heaters so even in cooler weather it's pleasant!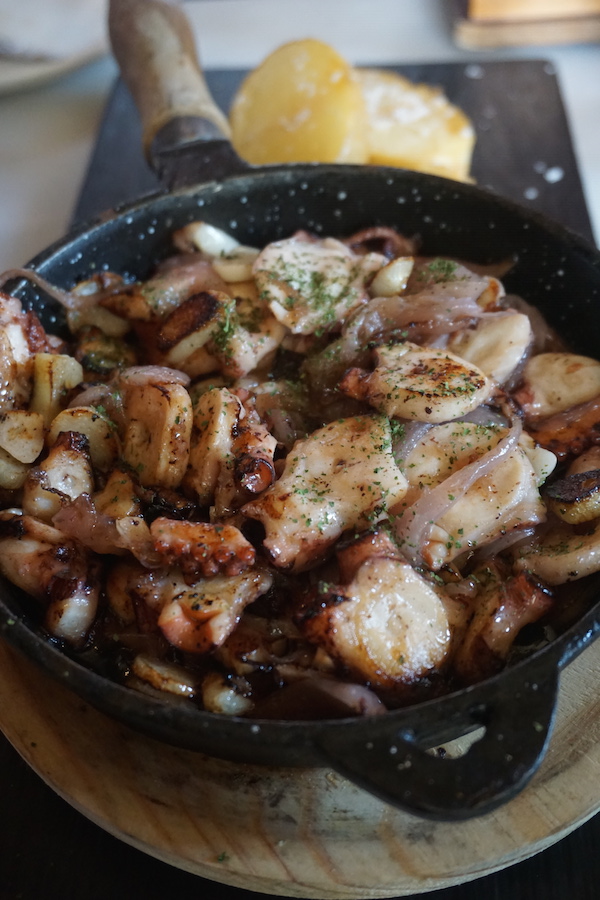 8. Scallops with Cauliflower Cream & Butifarra
What is it: This dish really is one of a kind. It's such an interesting combination of seared scallops, butifarra (white sausage) and creamed cauliflower that sounds a bit strange, but despite all these ingredients being seemingly different, it somehow really works!
Where to find it: This is one of the many delicious offerings at La Brunilda (Calle Galera, 5), a tiny little tapas place in Seville's central El Arenal neighborhood. It's not far from the river or the bullring, so makes a great option for lunch while sightseeing in Seville.
Local Tip: This place is no longer Seville's best kept secret. They don't take bookings so it's worth turning up early (it opens at 1pm for lunch and 8.30pm for dinner). Otherwise, put your name on the waiting list, grab a beer from the bar and hang around in the street outside – they move the tables pretty quickly and it's worth the wait!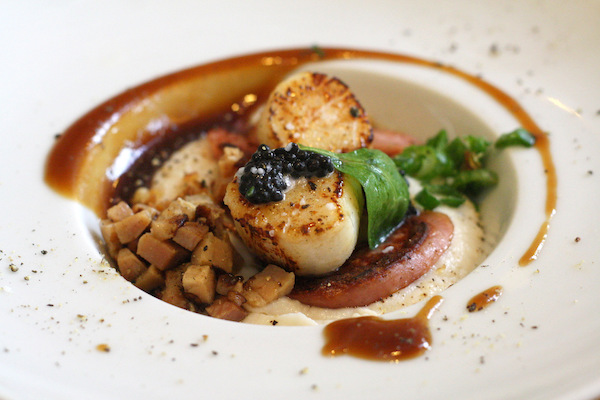 9. Baby Artichokes with 'Coquinas'
What is it: We love artichokes, and this is a delicious dish of baby artichokes cooked with coquinas (cockles) and of course, ham – we love ham in Spain!
Where to find it: This is found at one of Seville's most popular places for gourmet tapas, La Azotea (Calle Jesús del Gran Poder, 31). This place is one of the strongholds in the Seville tapas scene and worth a visit!
Local Tip: La Azotea is a well loved, popular restaurant that now has four different locations in Seville, but in our opinion the restaurants are not all equal. Our favorite locations are the original on Calle Jesus de Gran Poder, or the second opening which is found at Calle Zaragoza, 5c.
10. Arroz con Pato
What is it: This is not technically a tapa, it's a plate found at one of Seville's wonderful restaurants. but we had to include it because it's oh so good! Arroz con pato is a typical rice dish found in the pueblos that surround Seville. It's rice cooked with duck with a delicious sauce – say no more, you just have to go there!
Where to find it: It's found at one of our favorite places, ConTenedor (Calle San Luis, 50), a slow-food restaurant in a non-touristic area of Seville's historic center. This dish is one of the signature dishes here and can't be missed!
Local Tip: This place is a bit of a step up from others in Seville. It's a little more expensive, and locals and visitors alike love this place for a special occasion – birthday, anniversary, or just because! But make sure you book. We regularly see people being turned away as early as 9.30pm!