This post was originally published on January 28, 2015 and was updated on December 5, 2022.
No place does cold-weather comfort food like Spain. Whether it's a soul-warming stew served as the main course at an hours-long lunch, a sweet breakfast of churros and chocolate before heading out to brace the cold, or anything in between, you're spoiled for choice when it comes to Spanish winter dishes.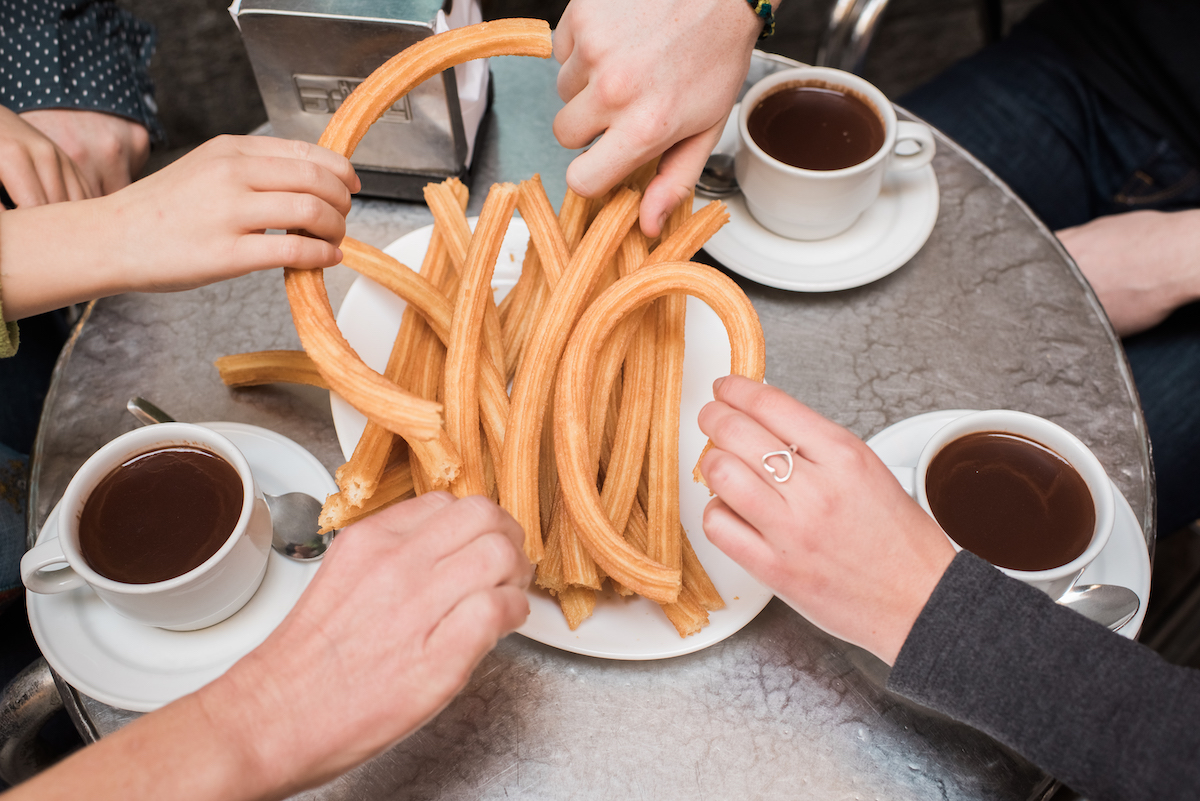 Madrid in winter is nothing short of magical, and not just because of the twinkling holiday lights and charming Christmas markets that set up shop. There's also something to be said for tucking into a hearty stew at a family-run restaurant after a morning of sightseeing, or taking a moment to sit down and enjoy a café con leche on a sunny terrace (yes, even in winter!).
These 10 Spanish winter dishes will just about cover all your meals and snacks over the course of a day, and then some. And if you don't get a chance to sample one of them here in Madrid, no worries—we've got you covered with the recipes as well.
Fabada Asturiana
For a taste of northwestern Spain right here in Madrid, indulge in a bowl of fabada asturiana. This is a hearty stew made of white beans, morcilla (blood sausage), chorizo and pork shoulder.
Though it originated in the region of Asturias, this dish has become a national favorite. For an extra dash of authenticity, enjoy your fabada with a cold glass of Asturian cider.
Where to try fabada in Madrid: Family-run Casa Hortensia is said to have the best fabada outside of Asturias thanks to their commitment to hand-picked, high-quality ingredients.
Make it: Quick Spanish Fabada Recipe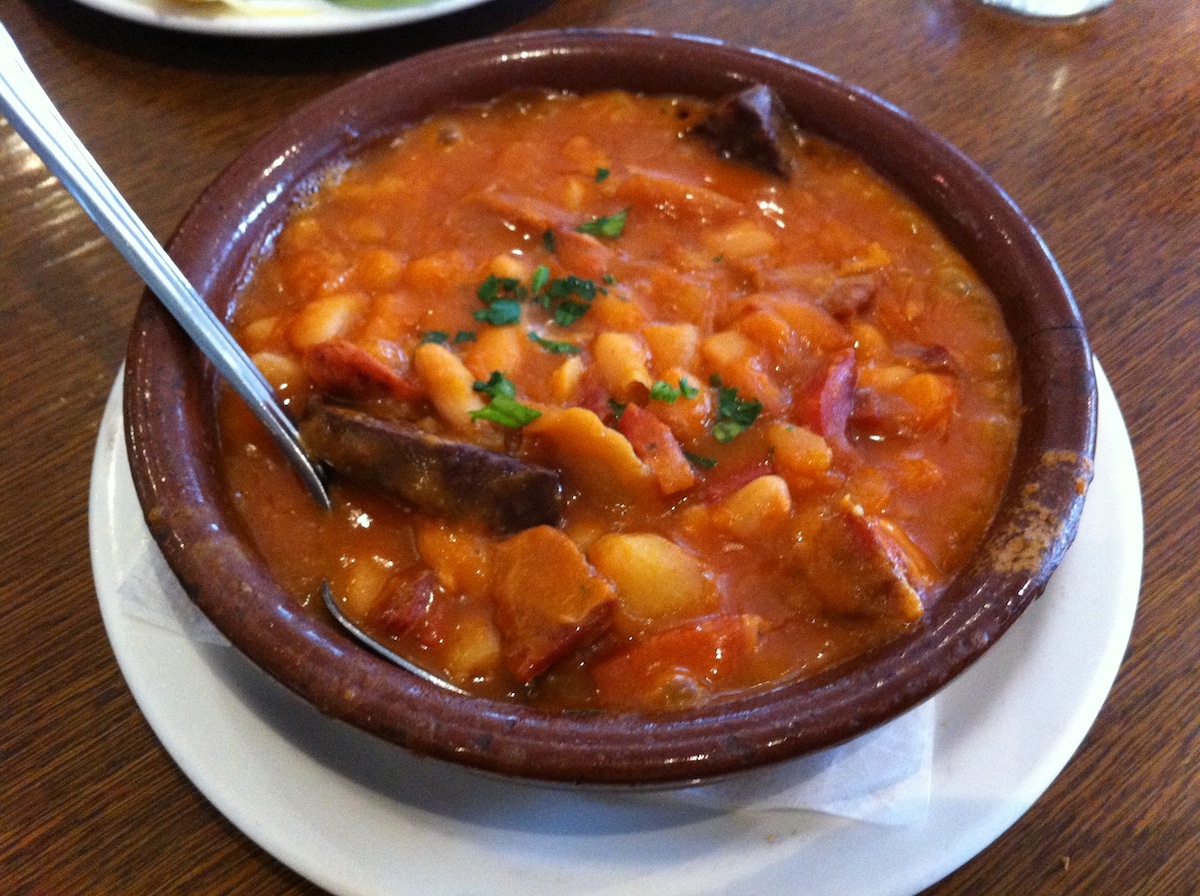 Cocido Madrileño
Feeling super hungry? Your best bet is a cocido madrileño.
As the name implies, cocido madrileño originated here in the Spanish capital. In addition to being one of the best Spanish winter dishes, it's also a must-try food in Madrid in general.
More of a multi-course meal than a single stew, a cocido-eating experience starts with a simple noodle soup. After that, it's on to the main event: chickpeas, potatoes, chorizo, beef shank, and pork belly. Some recipes enhance the flavor even more with carrots, cabbage, and morcilla.
Where to try cocido madrileño in Madrid: The team at Taberna La Bola has been serving up excellent cocido since 1870, so it's safe to say they know what they're doing!
Make it: Traditional Cocido Madrileño Recipe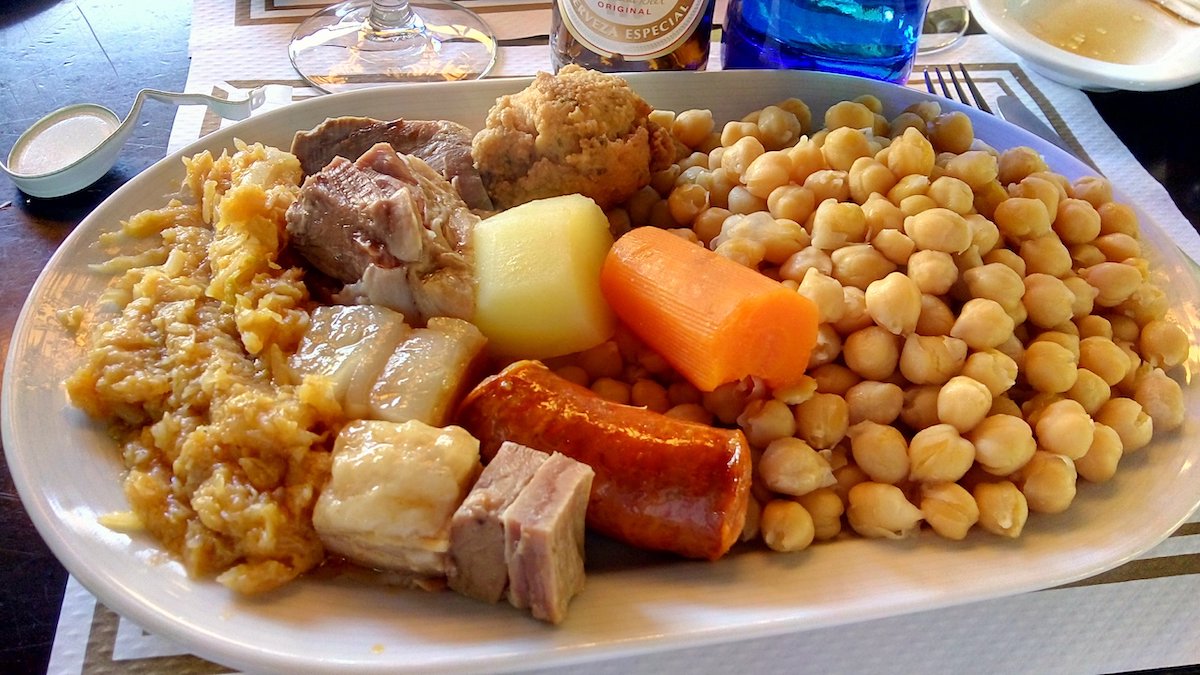 Sopa de Ajo
Sopa de ajo, or garlic soup, hails from Palencia, a city in the region of Castilla y León. It might surprise you to know that the other main ingredient (aside from garlic) is bread! After the bread has been cut into chunks, it's served soaking in a broth of paprika and garlic and topped with a poached egg.
Where to try sopa de ajo in Madrid: Restaurante Ponzano makes an excellent version of this humble soup. Their secret: traditional candeal bread straight from Castilla y León.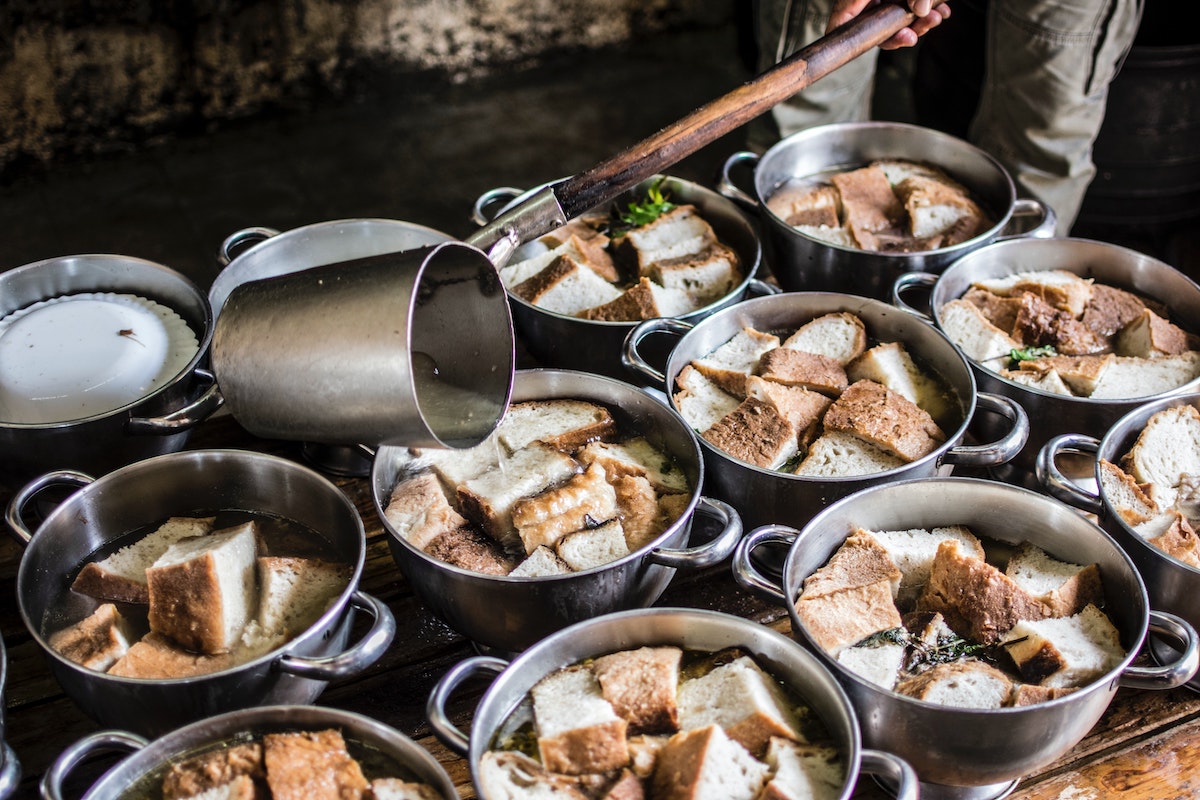 Caldo Gallego
We're heading back up north again—this time to the lush, green region of Galicia. Here, locals fight the cold weather with a satisfying bowl of caldo gallego, a savory soup that includes bacon, white beans, potatoes, chorizo and cabbage.
For those walking the famous Camino de Santiago during the winter months, a large serving of caldo gallego is the perfect way to warm up after a long day of walking in the cold. But thanks to the thousands of Galician migrants who have moved down to the Spanish capital over the centuries, it's now a staple on Madrid restaurant menus as well.
Where to try caldo gallego in Madrid: Mesón Ondiñas do Mendo (Calle de Villaamil, 4) is an excellent Galician restaurant that locals love, and their version of this dish is worth leaving the city center for.
Make it: Caldo Gallego Recipe with Vegetarian Adaptation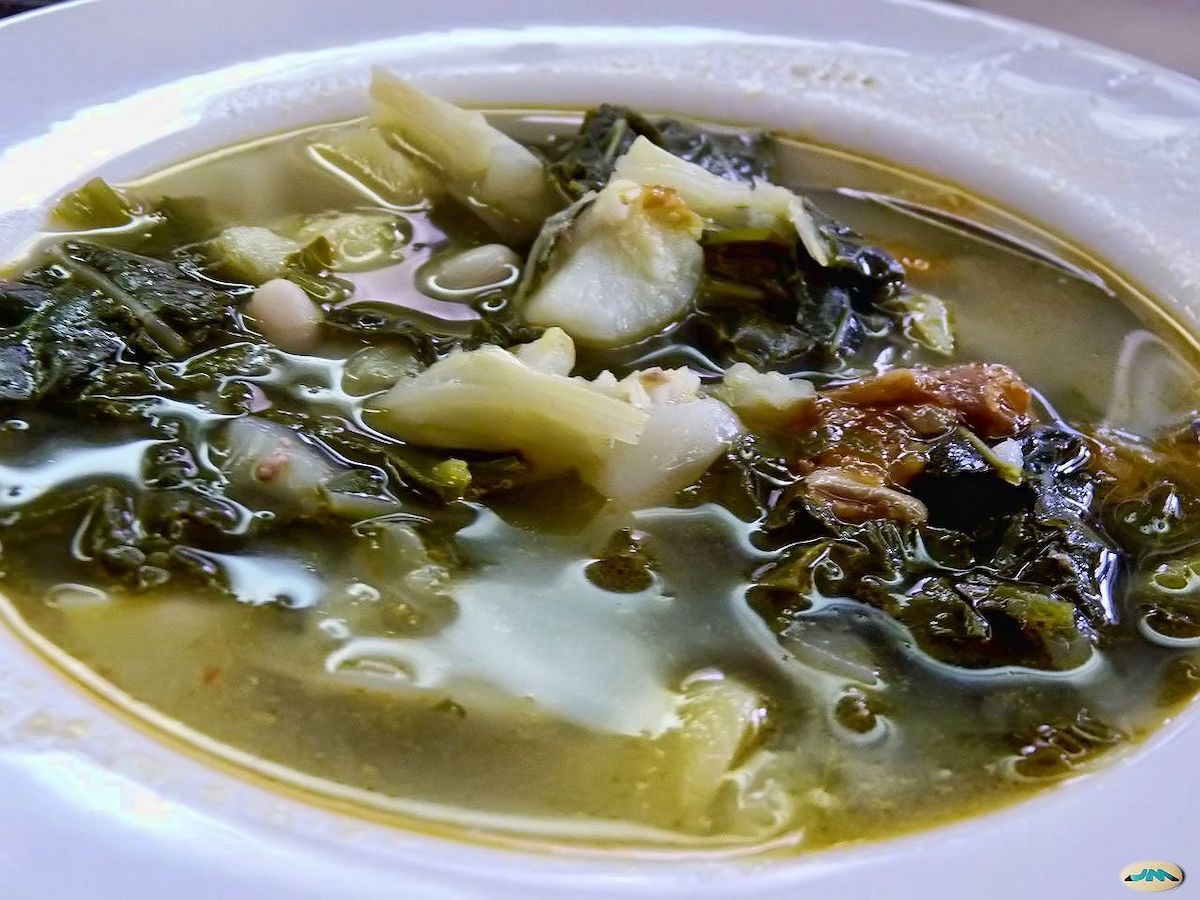 Sopa de Lentejas
Another legume-based dish, the simple but classic sopa de lentejas (lentil soup) is a well-loved household staple. This delicious and nutritious dish is easy to make using lentils, carrots, onions, potatoes, chorizo and some smoked paprika.
Not in the mood to cook? Head out to a traditional Spanish tavern for lunch—chances are it's on the menu somewhere nearby.
Where to try sopa de lentejas in Madrid: The menu at La Ancha changes regularly to ensure quality and freshness, but their excellent lentil soup with garlic and morcilla is a regular fixture.
Make it: Simple Spanish Lentil Soup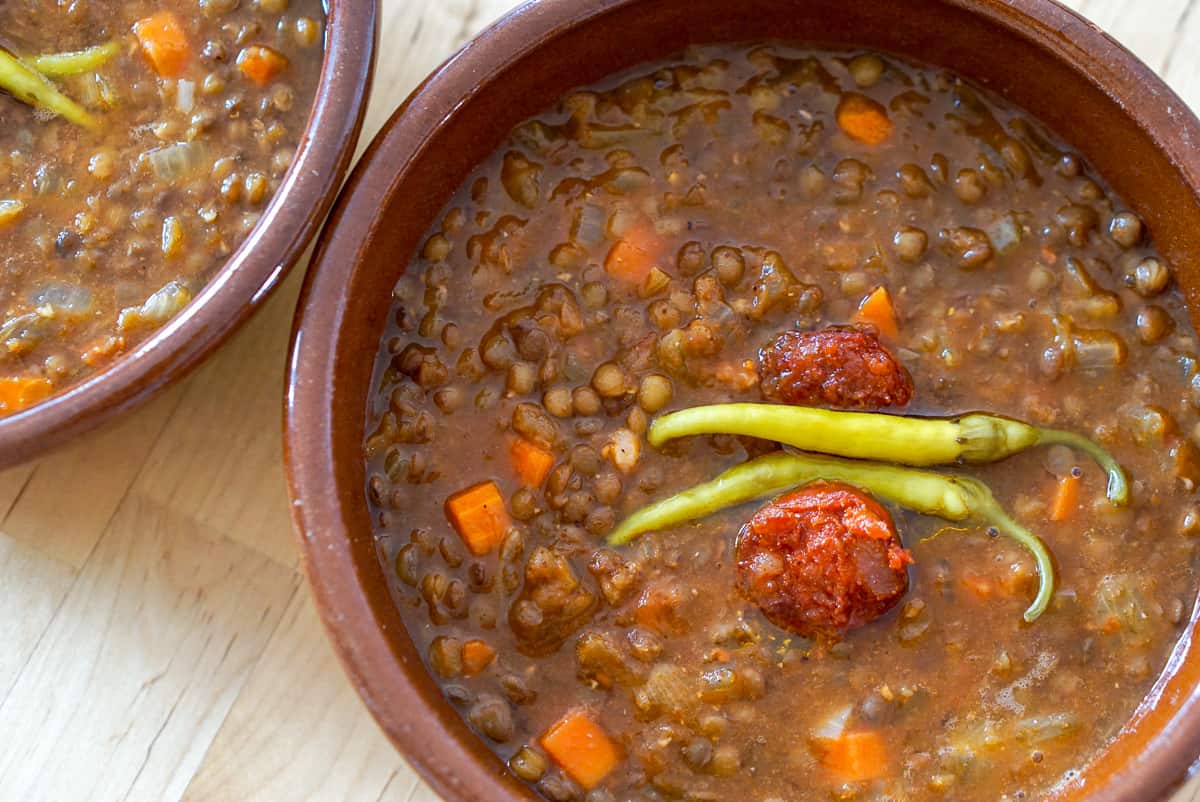 Caldo
Caldo means "broth" and is an unfussy, traditional winter comfort food in Madrid. Made with slow cooked meat, stew bones and vegetables, the resulting broth (served in small mugs or bowls) is a magical elixir on a cold day. 
As you're walking through the city, look for signs on the windows of bars or restaurants stating "Hay caldo" (we serve caldo). It becomes pretty ubiquitous in Madrid during the winter!
Where to try caldo in Madrid: Restaurante Lhardy has been a Madrid institution since 1839, and serves up piping hot bowls of homemade caldo all winter long.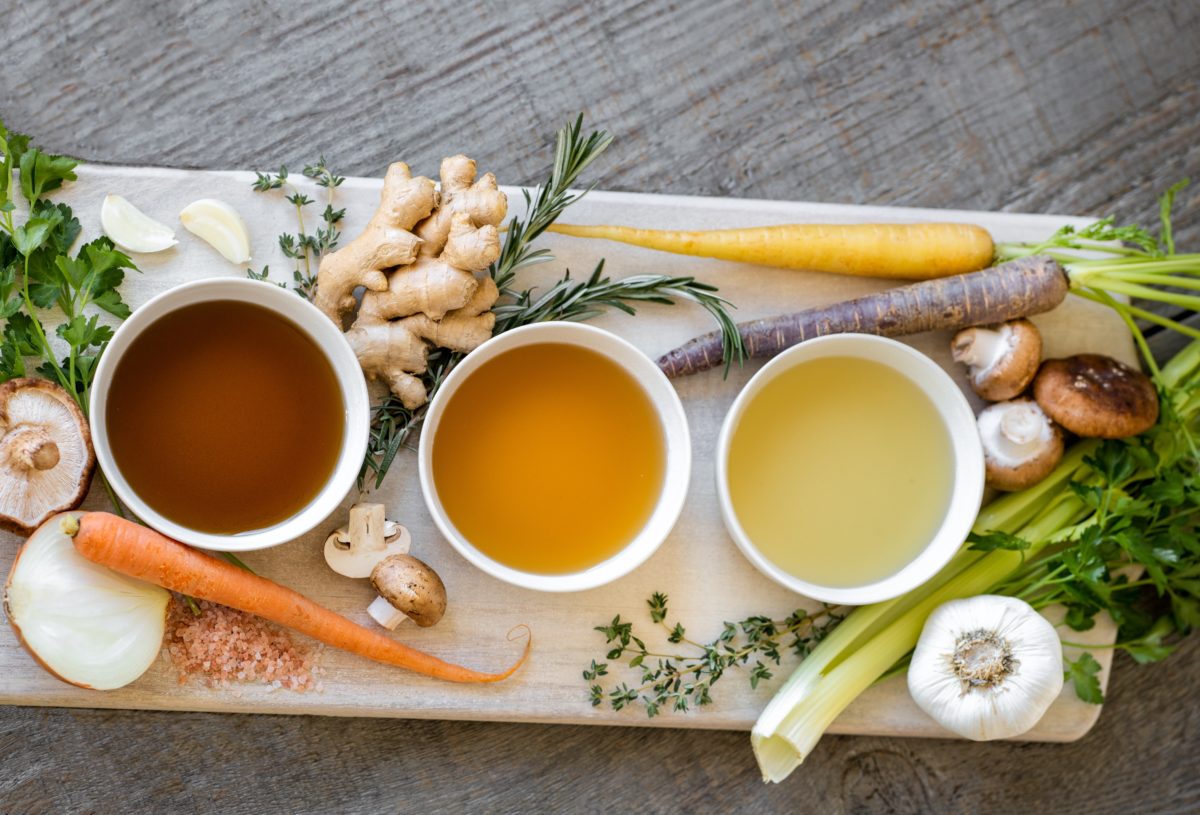 Churros and Chocolate
This indulgent combination is never far away in Madrid. You could drop by any number of cafes for a thick mug of not too-sweet hot chocolate served with crunchy churros. But to make sure you're getting the best of the best, look for a place that fries their churros fresh and uses high quality chocolate.
Spaniards traditionally enjoy churros and chocolate as a breakfast treat or an afternoon snack. For bonus points, try your hot chocolate with porras, a bigger, fluffier version of the more familiar churros.
Where to try churros con chocolate in Madrid: Chocolat in the Huertas neighborhood serves up freshly fried churros and incredibly rich homemade hot chocolate.
Make it: Easy Homemade Churros & Authentic Spanish Hot Chocolate Recipe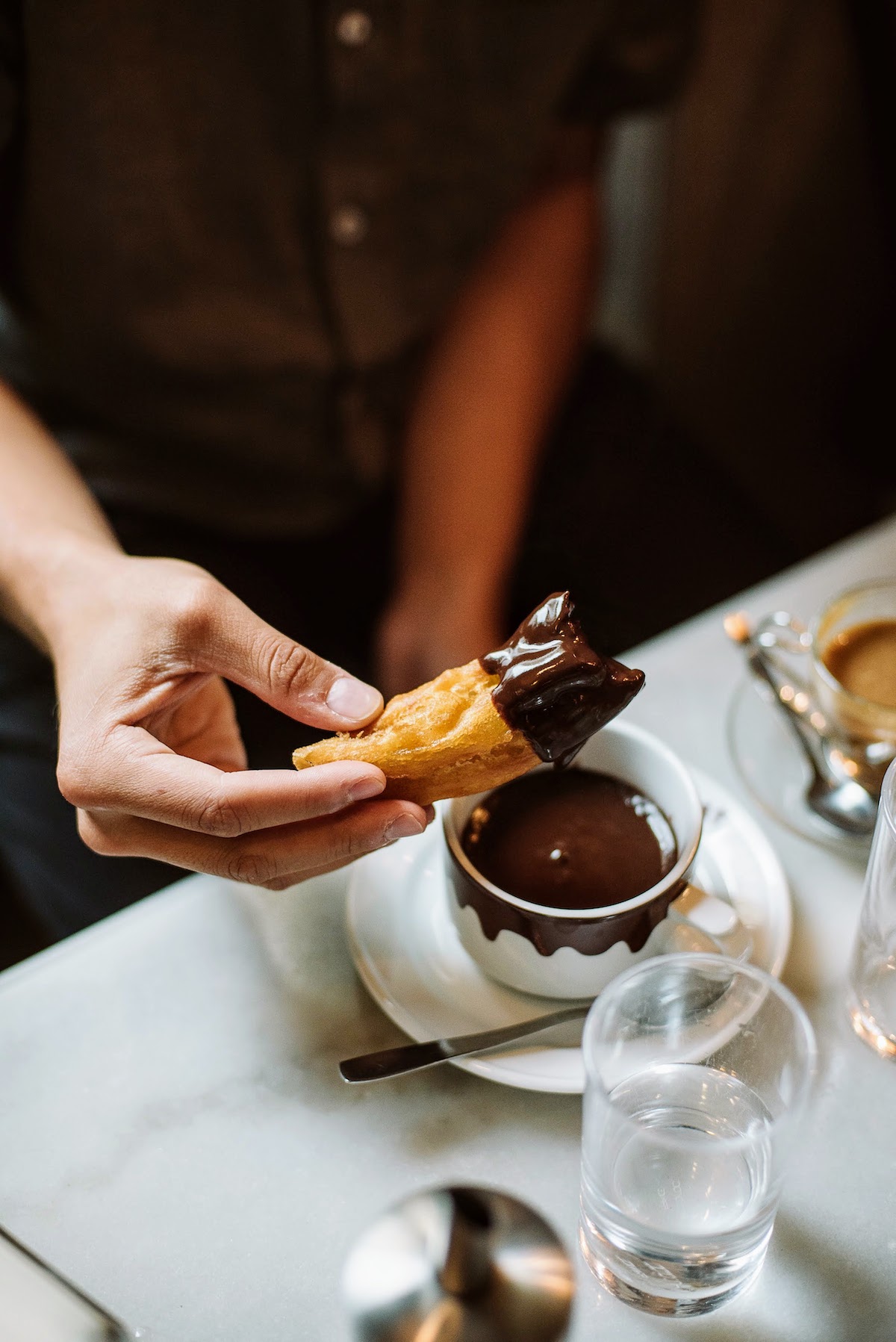 Callos a la Madrileña
For another hearty favorite, try callos a la madrileña. This tomato-based tripe stew is a Madrid classic.
When you consider Madrid's long-standing tradition of tail-to-snout eating, you can see how enjoying callos is like eating a page out of the city's history. You'll be warmed up and ready to battle the cold after sampling this special dish.
Where to try callos in Madrid: Bodegas Ricla (Calle de Cuchilleros, 6) is famous for their callos, which take five hours to cook—and the end result is well worth it!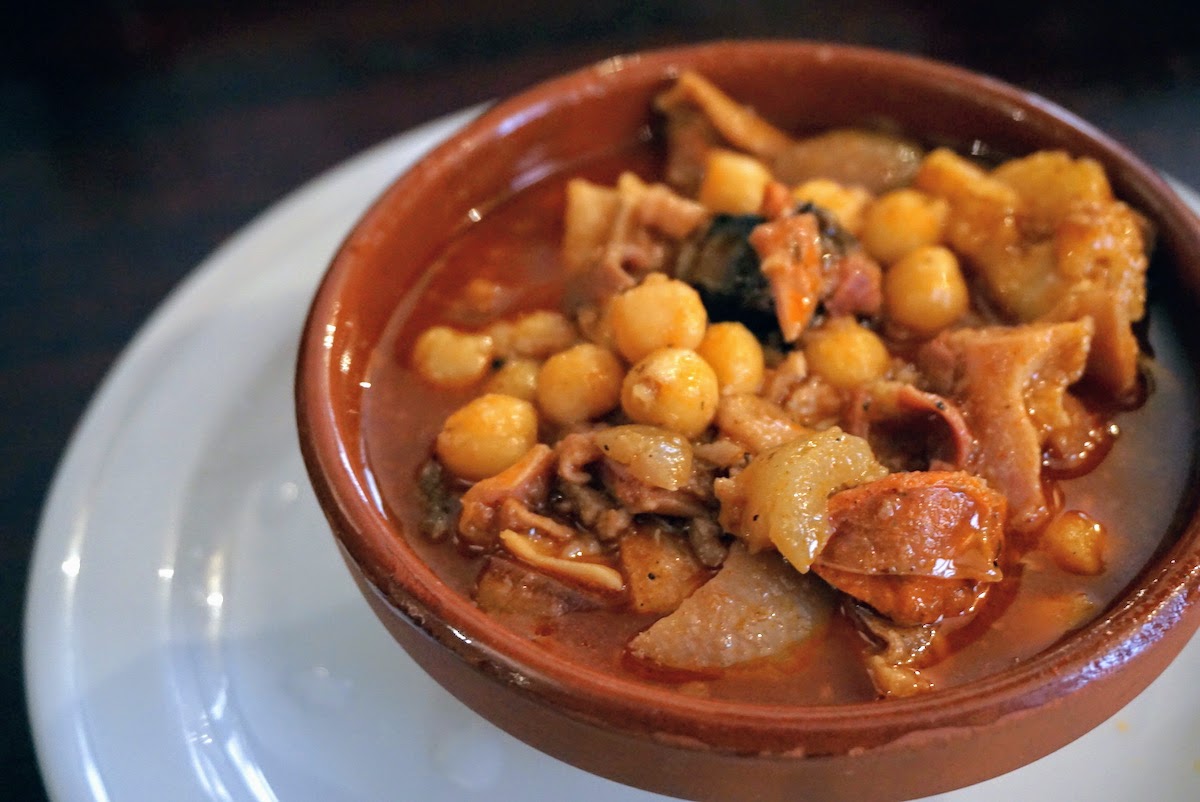 Café con Leche
Feeling chilly and in need of a little caffeine? Take a moment for a café con leche, a shot of espresso with steamed milk. 
Café con leche is the most popular coffee in Madrid and should be delicious wherever you go. If you're lucky, you'll get a little cookie or a piece of chocolate with your coffee at some places!
Related Reading: How to Order Coffee in Spain
Where to try café con leche in Madrid: Any cafe in town!
Make it: Spanish Café con Leche Recipe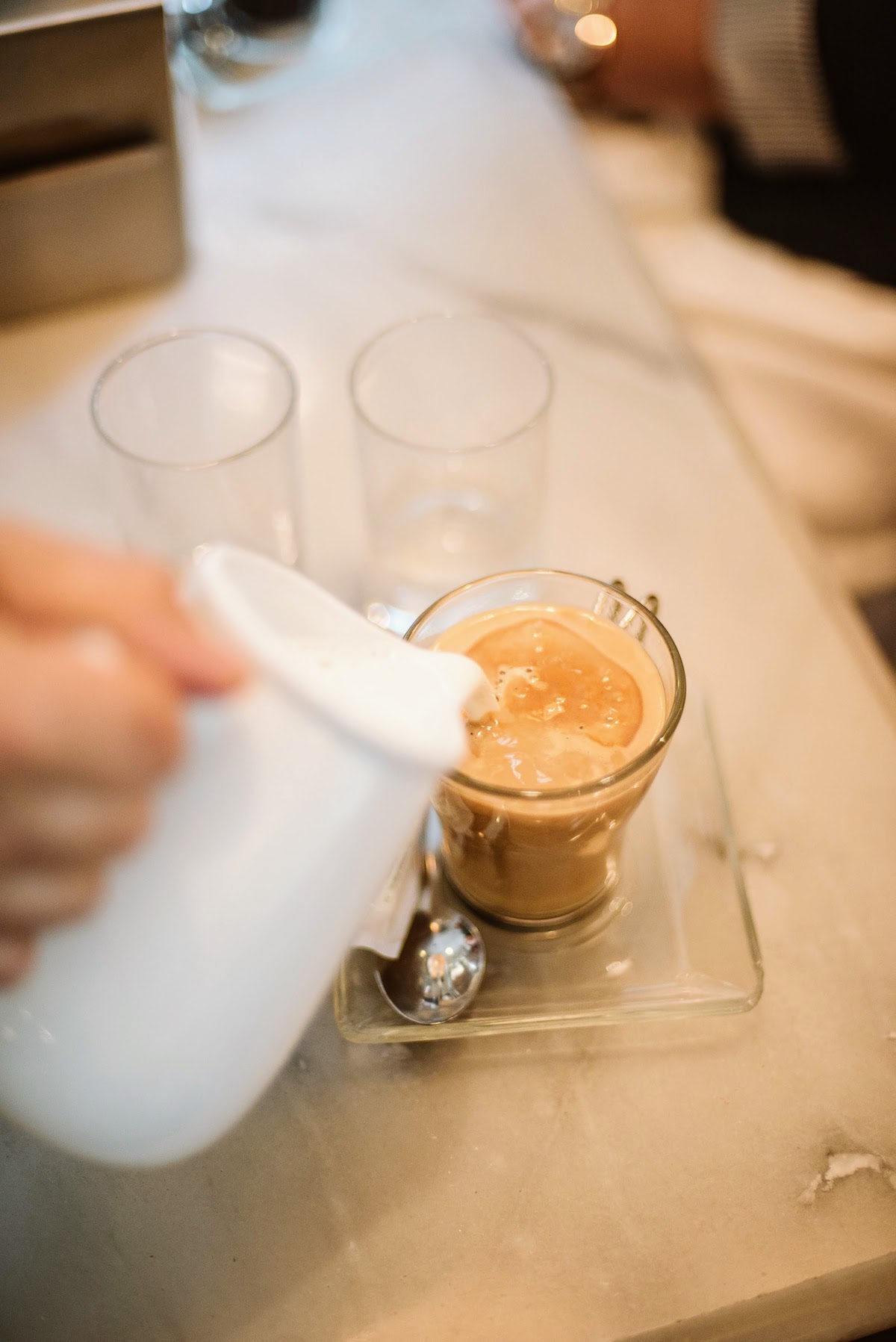 Crema de Verduras
This popular soup is one of the most classic Spanish winter dishes. Crema de verduras, or pureed vegetable soup, is typically made with pumpkin, zucchini, or carrots—or sometimes even all three! A little crunchy bread and a glass of wine to accompany it is all you need for winter bliss.
Where to try crema de verduras in Madrid: Any place that uses the word "casera" (homemade) in the description.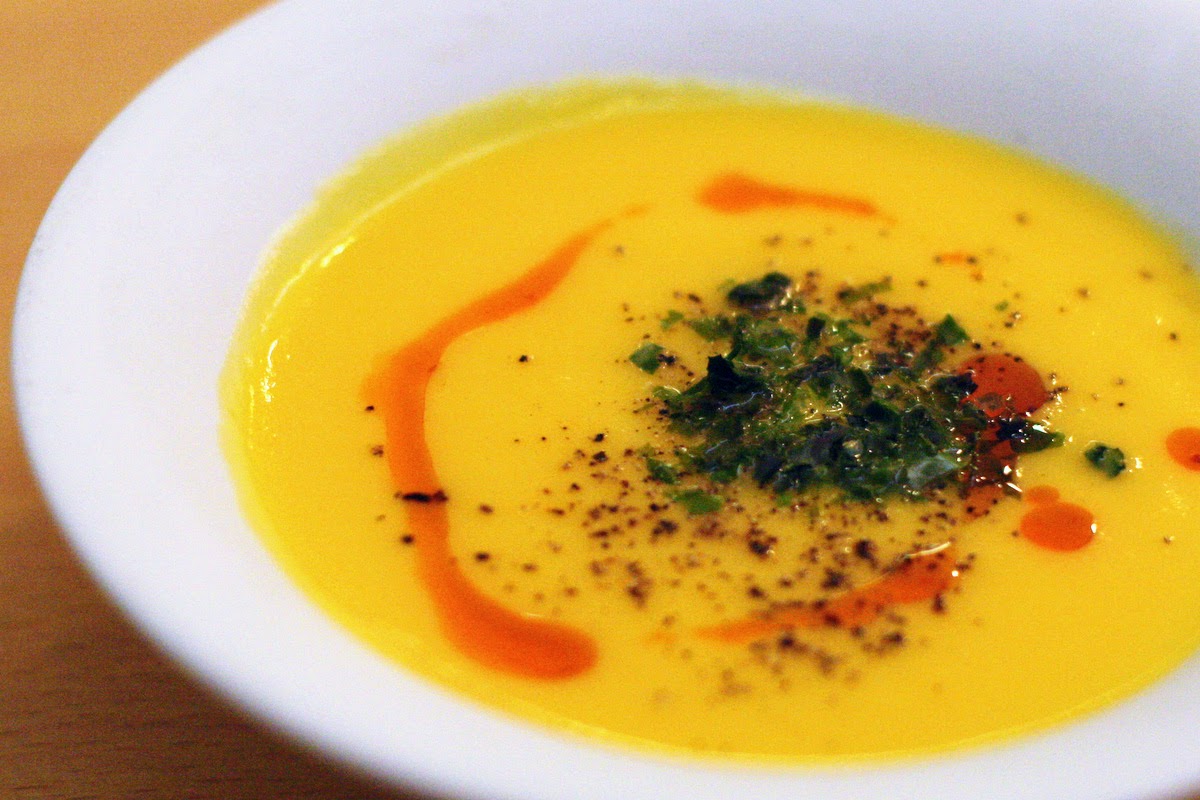 Madrid in Winter FAQs
Is Madrid worth visiting in winter?
Yes! Madrid experiences relatively mild temperatures compared to most other European destinations at this time of year. Winter is also low season for tourism, so the city won't be as crowded as in the warmer months.
How cold does Madrid get in the winter?
Daytime temperatures in Madrid throughout the winter tend to average out in the mid-40s Fahrenheit (6–8 degrees Celsius). The city still gets plenty of sunshine, and snow is rare but possible.
What food is Madrid famous for?
In addition to some of the local foods mentioned here, such as cocido madrileño, there are plenty of other great typical foods in Madrid! Traditional favorites include the calamari sandwich, huevos rotos (eggs "broken" over friend potatoes), garlic shrimp, and the famous tortilla de patatas (potato omelet).