This blog post was originally posted on February 17, 2014, and was updated on December 11, 2017. 
Nothing hits the spot like a well-seasoned burger with fries on the side. Even native Spaniards get that craving that only a burger can fix!
The burger invasion has swept through Madrid, and the Madrileños are smitten. Succulent burgers have arrived in every neighborhood, on every menu and in every combination of beef, pork, ostrich, zebra, you name it. And the toppings are like the Garden of Eden, laden with luscious vegetables, fragrant cheeses and forbidden fruits! Ranging from fancy to funky, Madrid's amazing burger scene has it all, including plenty of vegan and vegetarian options! Check out our top picks for Madrid's best burgers, guaranteed to appease your appetite!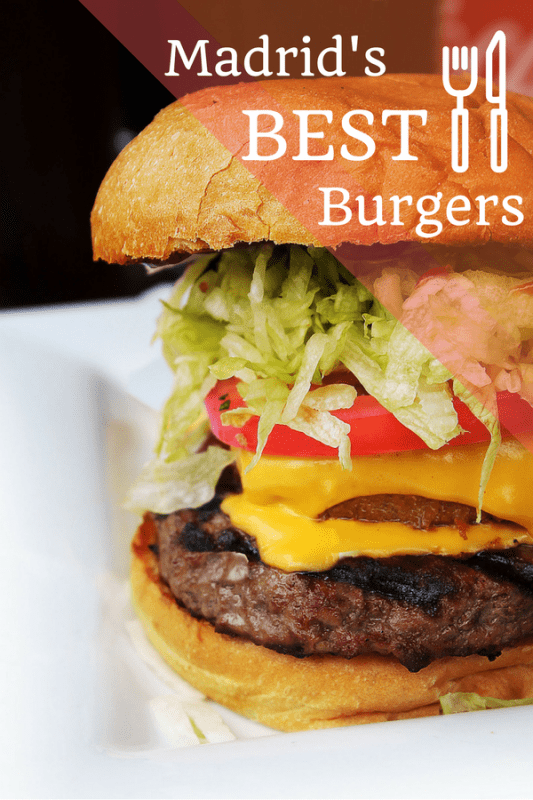 Photo Credit: Alfredo Peñaloza, Text Overlay: Devour Madrid Food Tours 
Bacao
This locale started out as a tiny hole-in-the-wall with just 15 seats, but it didn't take long for news of their delicious burgers to spread like wildfire! Offering up a Spanish-Australian fusion, Bacao's offering is truly unique. Every item is made in-house, from the pickles to the roasted tomato ketchup! Go for their Australiana burger with grilled beetroot and homemade barbecue sauce or the Burgos which is made with lamb. They also offer black bean and chickpea spinach patties, so carnivores and herbivores alike can enjoy a tasty gourmet burger.
Address: Carrera de San Jerónimo, 5
Price: 6.50€ and up
Metro: Sol
SteakBurger
SteakBurger is a go-to spot for when you want to indulge in something truly decadent. With four locations around the city, it's easy to grab one of the best burgers in Madrid. Try their Royale Burger, topped with arugula, grilled tomato, onion confit in a Pedro Ximenez reduction and grilled foie gras. It truly elevates the burger experience to another level! No ketchup, no mustard, just some of Spain's most delicious ingredients topped high on a SteakBurger bun. Yum!

Address: Calle Fuencarral, 73 (main location)
Price: 8.50€ and up
Metro: Tribunal
Nothing elevates a burger like some deliciously rich foie gras.
Zombie Bar
When you walk into Zombie Bar, the first thing you'll notice is the GIANT Ronald McDonald head hanging on the wall. This is a really fun and quirky place to have a delicious burger. With vegetarian diets on the rise, it's refreshing to find places in Madrid that offer options for various eating preferences. Here, they have choices ranging from beef, fish, chicken and vegan burgers. If you love guacamole, try the Mejicana or go for the Black Sabbath, which comes served on a black bun! Each burger is accompanied by thick-cut fries, with a few fried carrots thrown into the mix!

Address: Calle del Pez, 7
Price: 9.50€—12.90€
Metro: Noviciado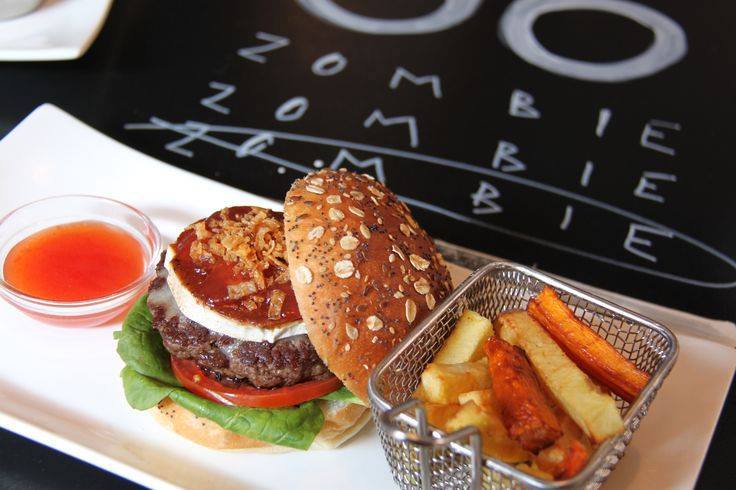 Clandestino Burger
This local burger joint was opened by a group of friends with a passion for good food and good vibes. Posters and graffiti cover the walls, and you'll find recycling bins for every item you use. Everything at Clandestino Burger is homemade, even their bread which is made fresh daily. Their newest item, the La Gaucha burger, comes topped with provolone cheese, grilled peppers and smothered with Chimichurri sauce. Don't forget to try one of their many homemade condiments. Mix the curry ketchup and cilantro mayo for an unbeatable combination!
Address: Calle Eloy Gonzalo, 12
Price: 8.50€ and up
Metro: Quevedo/Iglesia
The Toast Café
Another contender for one of Madrid's best burgers is The Toast Café. This is the perfect place to relish authentic American food. Owned and run by Americans, the restaurant has a vintage New York touch. The Toast Café prides itself on offering a NYC-style brunch, however no place is truly American without some hamburgers on the menu. When it comes to burgers, this is another spot that considers their veggie customers. With its American authenticity, great customer service and varied menu, The Toast Café is a great choice if you are craving a scrumptious and healthy vegetarian burger.
Address: Calle de Fernando el Católico, 50
Price: 9€-11€
Metro: Argüelles/Moncloa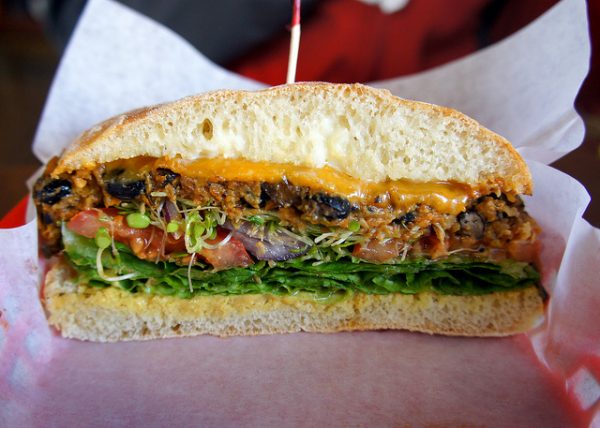 Home Burger Bar
Home Burger Bar transports you back to another time and place. With minimal decor and a retro feel, it's as though you're enjoying a meal in a 1950s American diner. Serving certified ecological beef, this burger joint prides itself on the quality of its products. They also offer the option to replace any burger with a vegetarian-friendly patty. Choose from toppings like brie, walnuts and caramelized pears to take one of Madrid's best burgers to the next level.
Address: Calle Espíritu Santo, 12 (one of multiple locations)
Price: 11.25€ and up (fries and cole slaw included)
Metro: Tribunal
Goiko Grill
Ask anyone in the city where to find one of Madrid's best burgers and Goiko Grill is guaranteed to be on their list. Plus, you can order as many patties as you want, whether it's a double, a triple or even a quadruple! For a delicious heart attack on a bun, try the Kevin Bacon—the patty is made from ground beef with pieces of crispy bacon mixed in. Another great option is the Aita Burger, which is layered with Idiazábal semi-cured cheese and strips of roasted red pepper dressed with truffle oil. Does it get more decadent than that?
Address: Glorieta de Bilbao, 3 (one of multiple locations)
Price: 9.90€ and up 
Metro: Bilbao