This blog post was originally posted on October 23, 2014 and was updated on August 4, 2017.
Exploring Barcelona with kids? This city is filled with wonderful places to eat as a family! Read our guide on eating with kids in Barcelona and get ready to work up an appetite.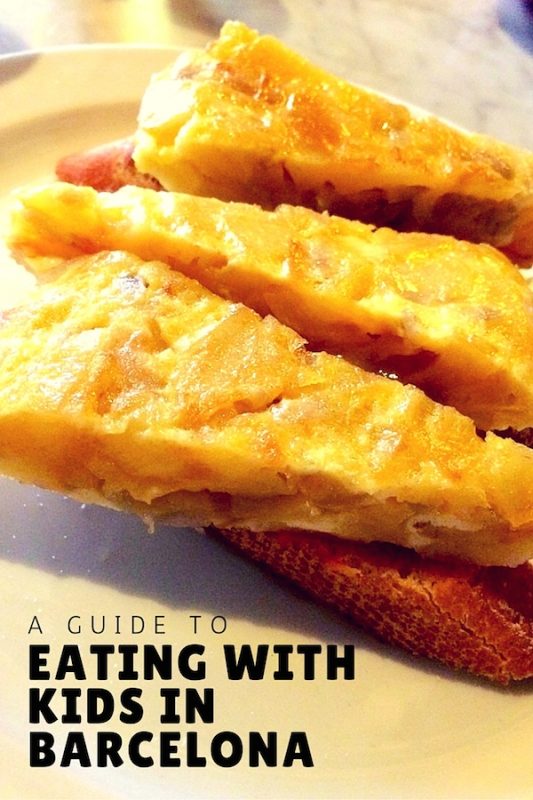 Not long ago, we wrote about things to do in Barcelona with kids. The city itself is very family-friendly, which is great for people traveling with young families—but sometimes it can be difficult to choose from so many great spots!
Let's start by making clear that children are welcome at virtually any restaurant in Barcelona and of course all of Spain, too. Spaniards are not known to entertain in their homes and it's very common to eat out for lunch or dinner with friends and family. Furthermore, you will notice that children often take part in late dinners with their families, as an early bedtime would impede their participation in this very social aspect of Spanish culture—eating!
All the same, there are a few different spots in Barcelona that are particularly kid-friendly. You might find with some of these that not only will your children enjoy eating out, but they may not even want to leave! Here are a few spots that are especially great for eating with kids in Barcelona.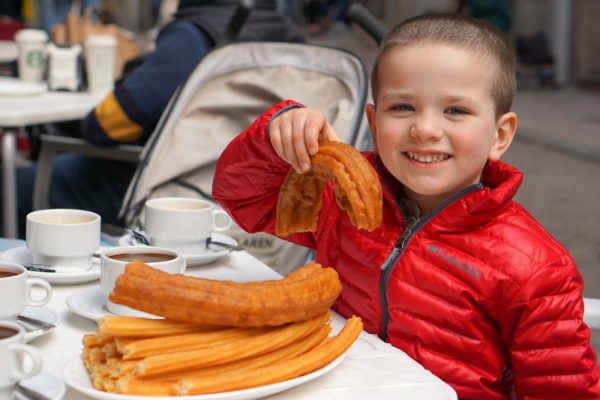 Kasparo
For a simple and delicious lunch or dinner, try Kasparo. It's a great and affordable tapas bar in a charming square in the Raval. Not only is the square lovely, it also sports a playground for kids that sits right at the edge of the Kasparo terrace. We recommend their famous patatas bravas or the flavorful mushroom croquettes, which will have your kids drooling for more.
Address: Plaça Vicenç Martorell, 4
La Nena
La Nena is a cafe and chocolateria that is arguably one of the most kid-friendly places around. Up in the Village of Gracia, La Nena is not only known for amazing Spanish hot chocolate, but also for homemade pastries and simple and delicious lunch fare. They also have an amazing collection of second-hand children's books, games and toys to keep kids of all ages entertained.
Address: Carrer Ramon y Cajal, 36
Semproniana
Semproniana, a cozy, eclectically-decorated restaurant in the Eixample district, is well-known among local families. Not only are they renowned for their delicious reinventions of Catalan and French cuisine, but also for their kids cooking workshops. On Saturdays between the months of September and June, parents can have lunch while their kids attend Patacutxie, a cooking workshop for children ages 4 to 10. From 1.30 p.m. to 3.30 p.m., kids have a ball while parents disconnect and enjoy a relaxing lunch on their own. For a mere €20 (which includes child's lunch), it's a fantastic idea and a perfect plan for eating with kids in Barcelona (or should we say without them!).
Address: Carrer del Roselló, 148
Picnic in Ciutadela Park
With all the sunny days Barcelona has to offer, even a picnic in January can make sense. Year-round, Barcelona's central city park is lively and beautiful. It's perfect for hanging out in the shade of trees in the hotter months or stretching out in the sun during the winter. Grab a few bocadillos de lomo (hot pork-chop sandwiches) from any bar, or head to Pim Pam Plats just around the corner. We love this place for delicious and homemade takeaway and more importantly, picnic-ready food.
Local's Tip: Find some great picnic treats at the Santa Caterina Market. We love this neighborhood gem. Take a walk around in the video below with Lauren, our lovely co-founder.
El Convent de Sant Agustí
Housed in a 14th century building, the Convent de Sant Agustí is one of the Born's best hidden gems. Though the building itself has undergone various phases of use, today it serves as an alternative civic center. It now hosts a variety of events and lots of different activities, classes and workshops every month for families to enjoy. The cafe makes incredible chocolate croissants, homemade quiches and delectable sandwiches, just to name a few. In one spacious corner, children's games and books abound, as well as small tables and chairs, assuring their endless entertainment. The terrace, in the old cloisters, is one of the most beautiful in the city.