This blog post was originally posted on June 3, 2015, and was updated on April 25, 2017.
Seville might be known for its grand monuments, such as the Cathedral and Alcazar, but for the budget conscious traveler, there are plenty of cheap things to do in Seville.
Whether you are looking for amazing views, interesting museums, or just somewhere to relax and wind down, there is something for everyone! Here are our top suggestions of cheap things to do in Seville.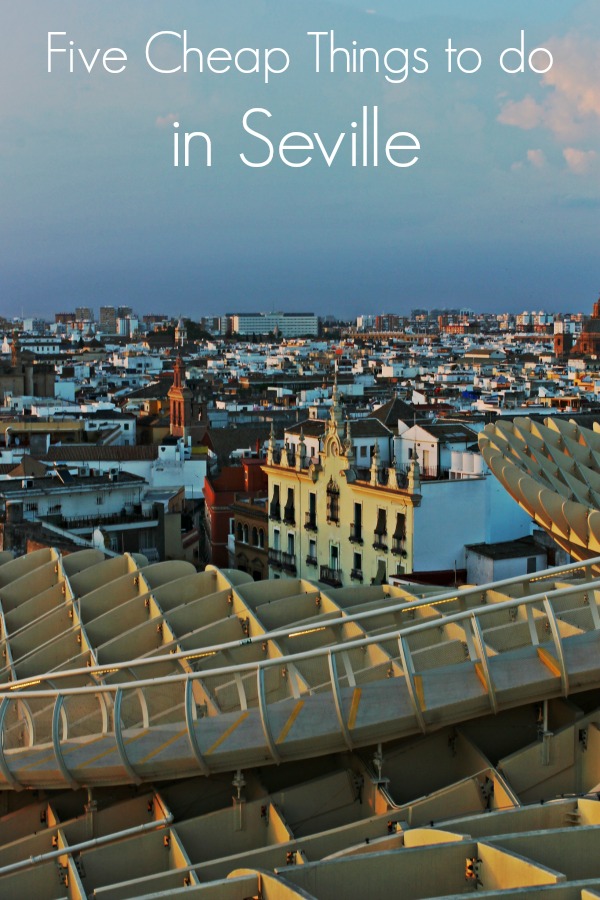 Photo Credit: nnewman4, Text overlay: Devour Spain.
1. Go up to the top of the Metropol Parasol
One of our favorite things to do in Seville is take the elevator to the top of Metropol Parasol, Seville's most modern building — which is fondly known to the locals as "Las Setas", due to its appearance resembling a field of mushrooms.
Once at the top you can take a drink from the bar and walk around the pathway to enjoy one of the best views of Seville. We recommend going up after dark, when the air is cool and many of Seville's buildings are lit up under orange flood lights, giving the whole city a wonderful glow.
Address: Plaza de la Encarnación
Hours: Open Sunday-Thursday 10:00 – 23:00, Friday and Saturday 10:00 – 23:30. Ticket office closes half an hour before closing time.
Price: 3 euros, which includes a free drink at the bar and a postcard at the gift shop!
2. Visit the Museo de Bellas Artes
A visit to Seville's fine arts museum, Museo de Bellas Artes, is a must for any art lover. This museum, situated in an old convent, is one of our favorite museums in Seville — not just for its budget-friendly nature, but also its beautiful building and works of art.
Here you will find the work of some of Seville's most famous painters and sculptors including Velázquez, Zurbarán, and Murillo. The museum is known for its religious art, as well as paintings depicting daily life in Seville. If you visit on a Sunday, make sure to take a minute and stroll through the outdoor art market in the square just in front of the museum.
Address: Plaza del Museo, 9
Hours: Open Tuesday-Saturday 9:00 – 20:30, Sunday and Holidays 9:00 – 14:30. Closed Mondays.
Price: 1.50 euros, free for EU citizens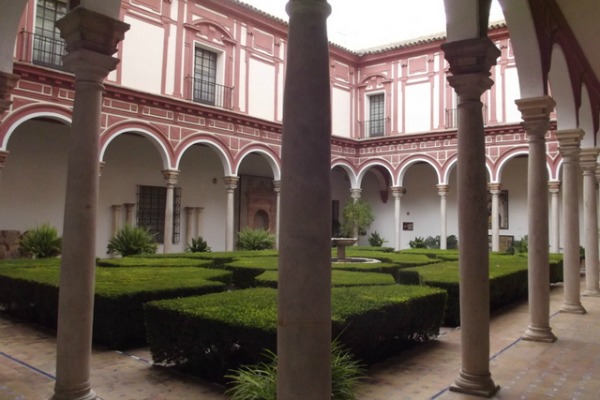 3. See flamenco in action at La Carbonería
Seville is known as the city of flamenco, and there are many places offering authentic flamenco throughout the city — for a price tag. If you are looking for a budget friendly version pay a visit to La Carbonería, an authentic flamenco bar in Seville's Santa Cruz neighborhood which offers a nightly flamenco show at 11 pm.
Entrance to the bar is free, so you only pay for what you drink — and given that beer and wine in Seville is generally cheaper than Coca-Cola, your evening's entertainment will come at a low price tag!
Address: Calle Levies, 18
Hours: Monday – Sunday 20:00 – 2:00 (show at 23:00)
4. Visit the Museo Arcaeológico
Of course, a trip to Parque de María Luisa should already be on your itinerary so you can visit the stunning Plaza de España and spend some time relaxing in the shade of the gardens. However, while you are there, don't forget to check out the Archaeological Museum. It's housed in an interesting baroque and neoclassical style building that was designed for the 1929 International Exhibition held in Seville.
Here you will find one of the most extensive collections of Roman works of art from the province of Seville. You'll see different marble statues of the emperors, recreations of Roman tombs and beautiful floor mosaics. It's definitely worth a visit, especially if you are interested in learning more about the Roman past in Seville and the surrounding area.
Address: Plaza de América
Hours: September 16 – June 15: Tuesday – Saturday 9:00 – 19;30, Sunday & Monday closed; June 16 – September 15: Tuesday – Sunday & Holidays 9:00 – 15;30, Monday closed
Price: 1.50 euros, free for EU citizens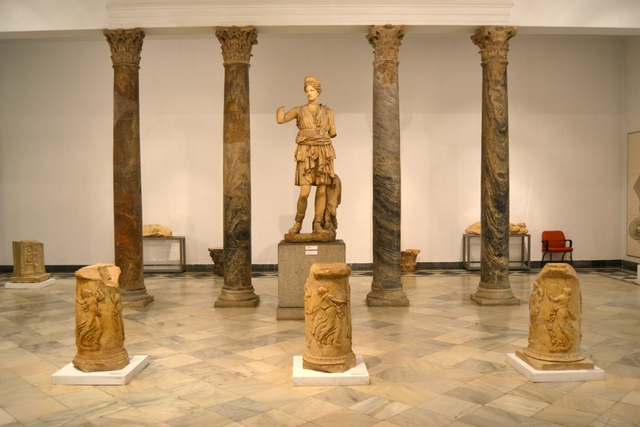 5. People watch in Alameda de Hercules
And finally, head out for a spot of people watching. When it's time to wind down in the afternoon, escape to the shade of the trees that line the Alameda de Hercules. This area is known for a good place to visit at almost any time of the day or night, whether it be to grab a drink, eat some tapas, or just relax in the vibrant alternative atmosphere.
Relax on one of the benches in the middle of the boulevard, or take a seat in one of the bars that have a terrace out the front. The beer is cheap and people watching is free!
Address: Alameda de Hercules