Forget everything you learned in your high school Spanish class. Here in Barcelona, it's all about Catalan.
Sure, many people regularly speak Castilian Spanish here in Barcelona. But pride in the local language runs deep in Catalonia, and making an effort to speak a little bit of Catalan will immediately make the locals smile. It shows you respect their language, identity and culture.
To start you off, let's turn to our favorite topic: food. We'll show you some essential Catalan food vocabulary, and even throw in some suggestions for the best local restaurants where you can put your newfound knowledge to the test.
Breakfast & coffee in Barcelona
If you're like us, you can't even think about starting the day until you've had your caffeine fix. Luckily, there are some seriously great spots for breakfast in Barcelona where you can start your day off on the most delicious note possible—coffee and all.
SEE ALSO: Our Favorite Cafés in Barcelona
Once you've found a spot, it's time to take on your next challenge: ordering in Catalan. Here are a few handy words and phrases to get you started, with their English and Spanish (where applicable) equivalents.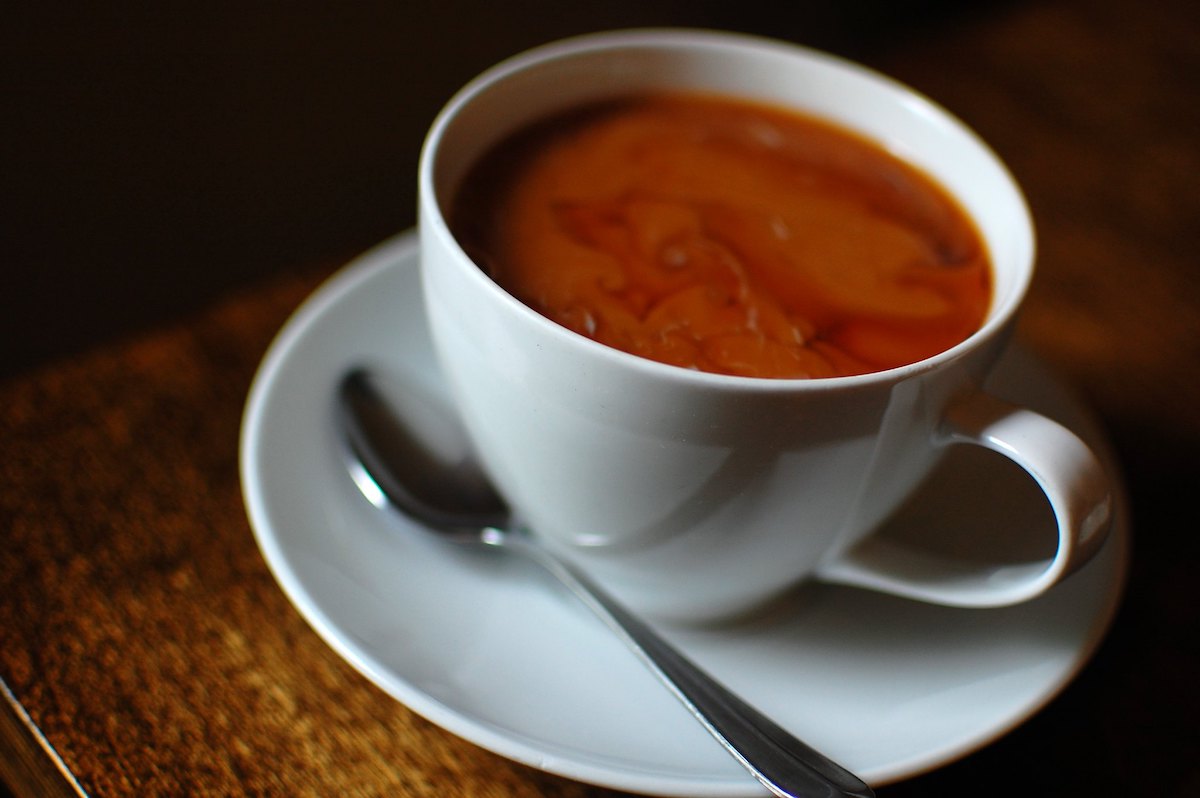 Ordering coffee in Catalan
Tallat: cortado (mostly espresso with a splash of milk)
Cafe sol: solo (a small cup of just espresso, no milk)
cafe amb llet: café con leche (equal parts espresso and milk)
Ordering breakfast in Catalan
Truita de patata: tortilla de patata (Spain's ubiquitous potato omelet)
Melindro: soletilla (a traditional Catalan cookie similar to ladyfingers)
Bocata: bocadillo (a simple sandwich served on a baguette)
Cava: traditional sparkling wine, similar to champagne. And yes, it's a breakfast staple!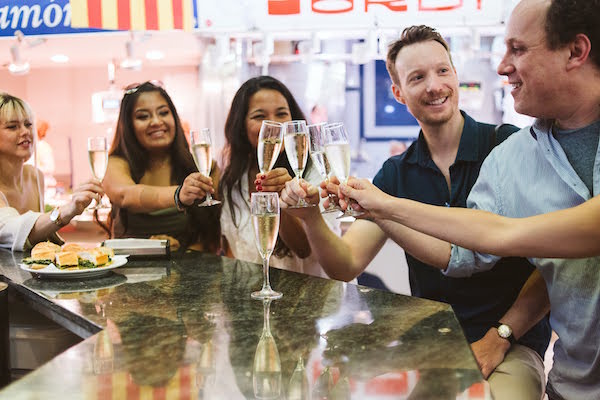 Lunch in Barcelona
By midday, you've likely been exploring the city (or chilling out on the beach—no judgment here). Either way, you're probably getting hungry. It's time for lunch!
Remember that here in Spain, we tend to eat much later than you might be used to. Don't expect locals to start heading out for lunch until 2 p.m. at the absolute earliest. If you find a restaurant that's serving lunch at 12 noon, run—it's a tourist trap.
Insider's Tip: Always go for a menú del día when possible. This multi-course meal deal gets you a starter, main, bread, a drink and dessert or coffee all for one low price (usually under €20).
Basic Catalan food vocabulary
Porc: pork
Vedella: beef
Pollastre: chicken
Peix: fish
Marisc: seafood
Aig: water
READ MORE: Useful Catalan Phrases You Should Know
Typical Catalan starters
Espinacs a la catalana: sautéed spinach with honey, raisins and pine nuts. You may also see the Spanish word espinacas instead of the Catalan espinacs.
Escalivada amb (con) romesco: roasted eggplants, red bell peppers and onion, served with romesco. This sauce is a Catalan staple made from roasted almonds and hazelnuts, ñora peppers, vinegar, tomatoes, garlic and olive oil. 
Esqueixada: a traditional Catalan salad made with shredded salt cod, tomatoes, onions, olive oil, vinegar and salt. Some versions also add a garnish of olives or hard-boiled eggs.
Canelones a la catalana: a sheet of pasta filled with slow-cooked pork and covered with bechamel sauce. While traditionally eaten on Christmas, most typical Catalan restaurants now serve this dish year round.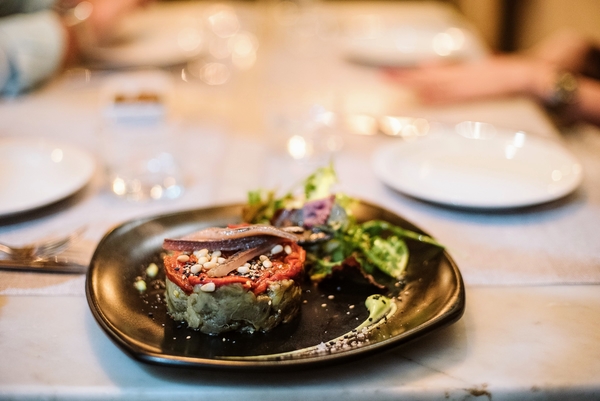 Typical Catalan mains
Mar i muntanya: Think surf and turf, but with a Catalan flair. Here in Barcelona, it's very common to eat dishes that have both meat and sea food, like meatballs with cuttlefish.
Botifarra amb mongetes blanques: pork sausage with sautéed white kidney beans
Fideuà: a seafood dish that's similar to paella, but made with angel hair noodles instead of rice.
Great lunch restaurants in Barcelona
By now your Catalan food vocabulary is sufficient enough to help you order. Of course, before you do so, you'll need a place to eat! Here are some of our favorite spots in Barcelona for authentic Catalan fare, from the classic to the contemporary.
Gat Blau: With a focus on organic, seasonal and local products, this trendy spot in Eixample serves up farm-to-table, modern Catalan dishes unlike any other.
Zero Patatero: This Born restaurant also lives by the farm-to-table philosophy, serving up contemporary twists on beloved Catalan dishes made with seasonal ingredients.
Ca L'Estevet: Looking for something more traditional? This place has been serving tasty typical Catalan dishes since 1890. Come by on Thursday for their delicious seafood paella.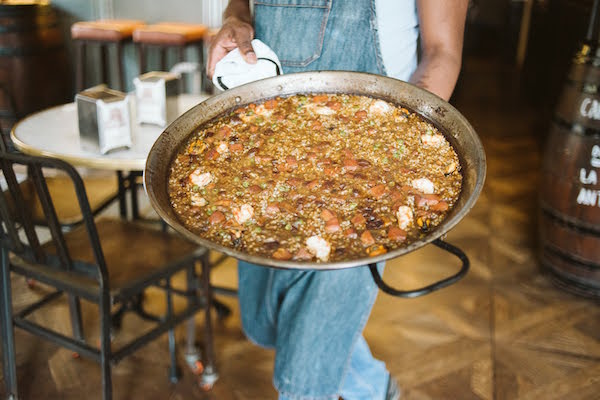 Dessert in Barcelona
We hope you saved room for something sweet! After all, Catalan desserts are some of the best out there.
Crema catalana: Think crème brûlée, but better. The Catalan version is made with sugar, egg yolks cinnamon and lemon, and is burnt on the top to give it that delicious caramelized flavor.
Mel i mato: A soft, unsalted goats cheese served with honey and sometimes walnuts.
Panellets: Small round sweets made with almonds, sugar, eggs and pine nuts. They can be rolled in any number of coatings, but the traditional ones are rolled in pine nuts.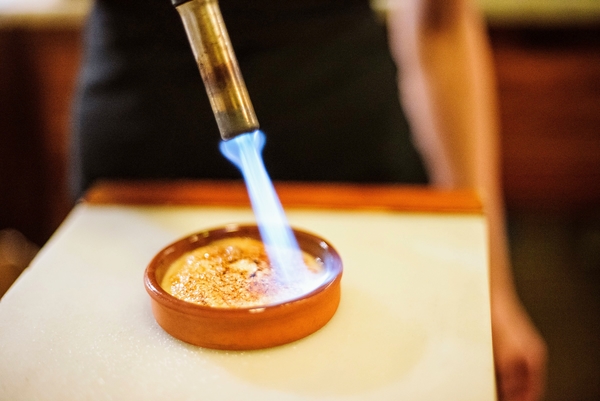 Want to really put your Catalan food vocabulary to the test—and learn even more while you're at it? Our Tastes & Traditions of Barcelona Tour is perfect for curious foodies like yourself. Spend the morning navigating the spots that give Barcelona its heart and soul, including a bustling market, some of our favorite bars and bodegas, and more. Our only rule: come hungry.