This blog post was originally posted on January 26, 2015, and was updated on February 9, 2017.
It's incredible how fried dough can taste so good first thing in the morning, but churros are proof that it definitely does!
When you make your way into one of Seville's many churros bars early in the morning, you'll see a crowd of regulars chowing down on the thick sticks of fried dough, usually opting to dip them in sugar or coffee and occasionally in a thick cup of chocolate too!
There are many places to eat churros in Seville, but here are some of our favorites. Remember – here in Spain churros vary by region in thickness and consistency. The ones in Seville are thick and airy, almost hollow in the middle at times. They are generally served for breakfast or for an afternoon snack – and never for dessert!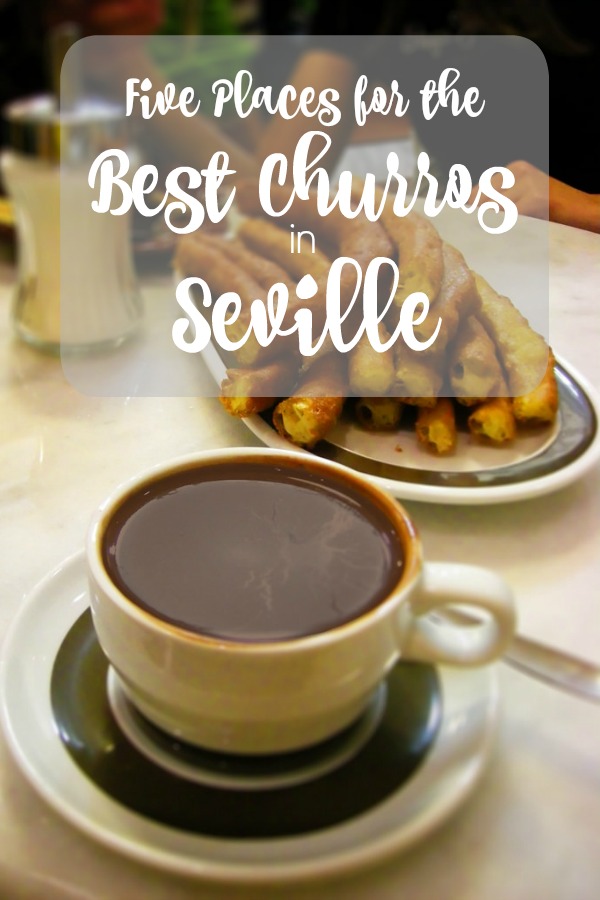 Photo Credit: Oscar, Text overlay: Devour Spain

1. Bar El Pilar
This classic bar is always full of locals, most of them chowing down on a heaping ración of hot churros. Bar El Pilar undoubtedly makes some of the best in the city, and they're always served fresh! There are multiple locations, but we love the one on the corner of Jose Laguillo.
Address: Avenida de José Laguillo, 2
2. La Centuria
The Plaza de la Encarnación might have changed quite a bit these past years, but Bar La Centuria has stayed mostly the same. Its loyal clients pile in each morning for some of the area's best churros.
Address: Plaza de la Encarnación, 8
3. Bar Comercio
Many claim they're the best churros in Seville, and they might just be right! This charming bar, Bar Comercio, was founded in 1904 and is still part of the Rivera family. You might have to wait for a table here, as their breakfasts are famous throughout the city.
Hot Tip: Not only churros! Bar Comercio also does great tapas, and we visit them on our Tapas, Taverns and History Tour!
Address: Calle Lineros, 9
4. Churrería los Especiales
The churros here are a bit lacking compared to the other excellent choices, but the views are something special! At the beginning of the Triana bridge (technically called the Puente de Isabel II,) you'll find a tempting place to eat churros with some of the best views in town. They're worth it to gaze out over the Guadalquivir River and enjoy the fresh air!
Address: Paseo de Cristóbal Colón (right where the Triana bridge begins on the Seville side)
5. Chocolatería Virgen de Luján
The star of the Los Remedios neighborhood, this churros shop is a classic that's outside of the city center. Perfect for those who want to explore the Triana neighborhood, and stop in for an afternoon snack!
Address: Calle Virgen de Lujan, 41